A2 Hosting vs BlueHost, two web hosting companies that are on the top of their game.
We will give you an unbiased comparison between these two, we will let you know which is the right one for your business.
BlueHost is one of the hostings that are officially recommended by WordPress.org. Founded in 2003 and currently hosting over 2 million websites.
BlueHost offers a free domain name when signing up with a free SSL certificate as well.
A2Hosting is one of the top hostings today, focused on their speed, they have phenomenal features that will help you with your business. They were founded in 2001.
Also, allow you to choose a data center when you sign up. Let's talk about pricing.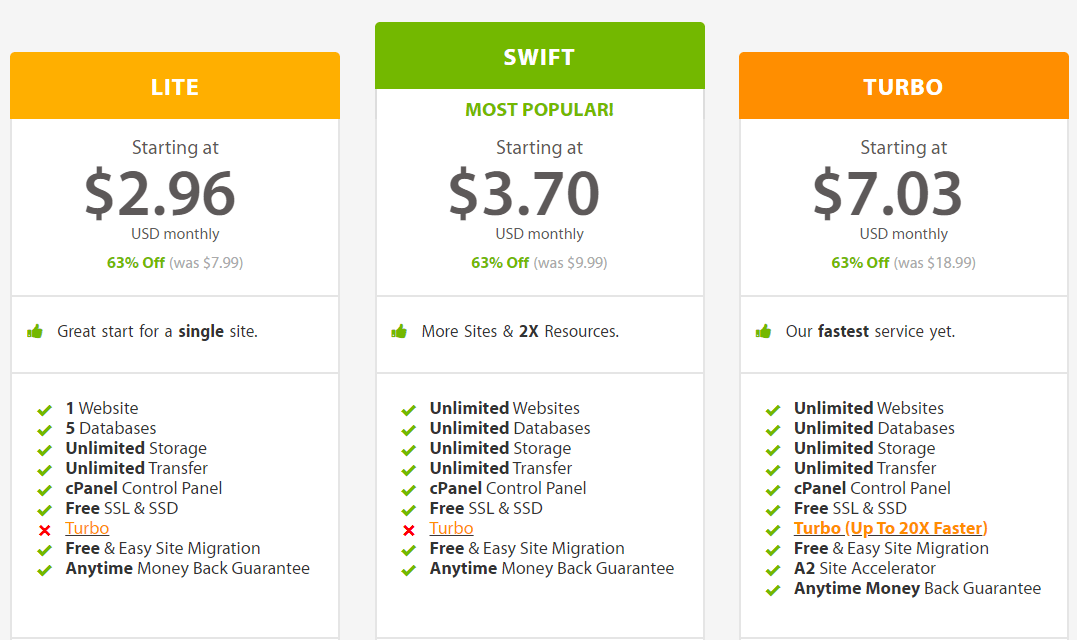 Lite ($2.96/mo) – 1 website (5 databases), unlimited storage and transfer, no turbo, anytime Money-Back Guarantee
Swift ($3.70/mo) – Unlimited websites and databases, unlimited storage and transfer with no turbo, anytime Money-Back Guarantee
Turbo ($7.03/mo) – Unlimited websites and databases, unlimited storage and transfer with TURBO (20% Faster), anytime Money-Back Guarantee
All of the above-shared plans come with free migration, all of them use SSD storage. If you wanna host multiple websites, go with the Turbo plan.


Basic plan ($2.95/mo) – Free domain, 1 website to host, 50 GB SSD storage, unlimited bandwidth, and free SSL certificate.
Plus plan ($5.45/mo) – Free domain, unlimited websites to host with unlimited SSD storage and unlimited bandwidth, free SSL certificate with spam experts.
Choice Plus plan ($5.45/mo – higher renewal for next payment) – comes up with all the benefits Plus plan offers, plus domain privacy and protection and CodeGuard basic.
Pro plan ($13.95/mo) – Free domain, unlimited websites to host, with unlimited SSD storage and bandwidth, High-Performance hosting, 2 spam experts, domain privacy + protection and Dedicated IP.

A2 Hosting vs BlueHost – Speed and Uptime
Having a slow-loading website and not having an uptime of 99.99% can kill your success online.
Recent studies have shown that if the website took 3 seconds to load, the visitor will leave.
You are also leaving money on the table when the customer is trying to open your site, but the website is down due to poor servers.
I currently use both BlueHost and A2Hosting for different websites, so I will analyze them and show you what I got.
According to the Pingdom test, A2 Hosting took 982 ms to load, while BlueHost took 689 ms to load.
For both of my websites hosted on both A2 Hosting and BlueHost, I use their cheapest plan.
I need to let you know that if you use A2 Hosting Turbo Plan, you will get up to a 20x faster plan.
So if you having multiple websites you should go with A2 Hosting and their turbo shared hosting plan.
How easy is it to use them?
Both A2 Hosting and BlueHost are extremely easy to use, both offering cPanel for all of their hosting plans.
They also offer 1 click install scripts like WordPress Joomla etc.
A2 Hosting vs BlueHost Features
BlueHost keeps promoting that they are the best hosting when it comes to starting a website, with getting a free domain name, SSL certificate, etc.
But for me, I give a slight edge to A2Hosting and will explain why.
They have these features:
Anytime money-back guarantee: If you are not satisfied with their services, they will give you a refund easily no questions asked. They don't think you will be canceling them, and they think that their hosting is the right one for you.
More hosting options: VPS, unmanaged servers, managed server, SSD servers etc.
Free Migration: Every hosting plan comes up with free migration. If you are currently using bad hosting, open A2Hosting and let them know you want to transfer your files from the previous host and they will do it free of charge.
Customer Support

Having a 24/7 customer support is a must if you want to run a successful business online. There are tons of things that can go wrong with WordPress. From not updated plugins or themes, bad scripts, malware, etc.
You need to have customer support that you can contact at any time.
BlueHost and A2 Hosting both of them offer 24/7 support via live chat and phone. A2Hosting also offers email support.
They have also a knowledge base that explains everything and you can easily educate yourself as well.
Their chat agents are very well knowledgable and very friendly. They will provide you the answer instantly and will try to solve any problem that may occur.
Money-Back Guarantee

A2 Hosting is better when it comes to testing their services. They believe in their services and they believe you will stick with them in the long run, and that is why they offer anytime money-back guarantee.
BlueHost, on the other hand, offers a 30-day money-back guarantee. This means you can test their services within 30-days, and if you are not happy, you can ask for a refund.
Conclusion
My team thinks that BlueHost is better suited for small businesses and small websites. They offer everything that can help you set-up your website easily, their customer support is very helpful.
If you are just starting a brand new website, they offer free domain name, free SSL certificate and a ton of other features that will help your site to run smoothly for cheap. That's one of the reasons why you want to start with BlueHost if you are a beginner, they have amazing security features as well.
The cons of BlueHost are that if you have a website and wanna move to them, they will charge you 149.99$. While A2Hosting does this for free.
My team prefers BlueHost, but if you own more websites, you should go with A2Hosting.
I recommend A2 Hosting for multiple website owners, you should definitely start with their Turbo plan, I'm very impressed by them.
You will have super-fast websites with the Turbo plan, which can be 20x faster than the rest shared hosting plans.
Both hosting companies are affordable.
Writing this comparison, hopefully, make you decided which is the best next web hosting for you and your business.
Click here to get the best deal with A2 Hosting.