This will be a complete guide on how to start a blog successfully and learning on how to make money blogging online. I will cover some important topics so buckle up.
"If you want to build a great wall, start by laying down every brick as perfectly as you can" – Soon you will have a great wall!
I love this quote and I actually use the method for almost anything I do in my life. And that's exactly why I made this post as perfectly as I can, without skipping any details.
This is probably the best guide on the internet that teaches you how to start a blog website for a profitable audience. It tells you all you need to know and it's saves you all the effort of searching the web for every small step in your blog journey. And I know that you have a lot of questions like where to start a blog, how I'm gonna monetize it, etc. I will explain them all in this how to start a profitable blog step by step guide.
What is a blog?
A blog is a website where you publish new content that will attract readers and generate your income. The blog can be run by an individual or a small group. The content is written in an informal or conversational style.
Should you start one?
Starting your own blog today can be one of the easiest ways to express yourself and your passion from anywhere in the world. You don't even need to have any credentials or experience in order to be successful. If you have any skills or anything that you mastered, you can write about it and reap the benefits from your blog. You can start a blog in many different niches like lifestyle, traveling, food and recipes, makeup, etc. 
Is Blogging easy?
Blogging is easy, as long as you have a passion to write topics, you can start blogging. As a beginner you may think that monetization can be difficult, it can be but it is not something impossible to do, you need a simple strategy that will bring you from point A to point B. The quote above sums it up perfectly.
Before we start on how to start a profitable blog successfully I want you to think about the purpose of it. Finding an inspiring and meaningful purpose will keep you going for the long-term and will get you results. After all, what's the point of wasting all that effort if you're not getting awarded.
Few good purposes would be:
I want to share my knowledge with people!
People will hear my voice and get inspired!
I want to show people my vision.
Market your product or service
Personal satisfaction to help people.
The blog will help me establish myself as an expert.
Bad purposes are:
Blogging will make me famous!
I want to make a lot of money and go to strip clubs!
I want to have a website, it doesn't matter what it is about!
Will spam my way to success.
As Albert Einstein used to say "Try to become a man of value not a man with money" So, find a meaningful purpose, that's my first advice.
Ok, it's time to build your website,  let's learn all we need to know about building it!
1. Blog Name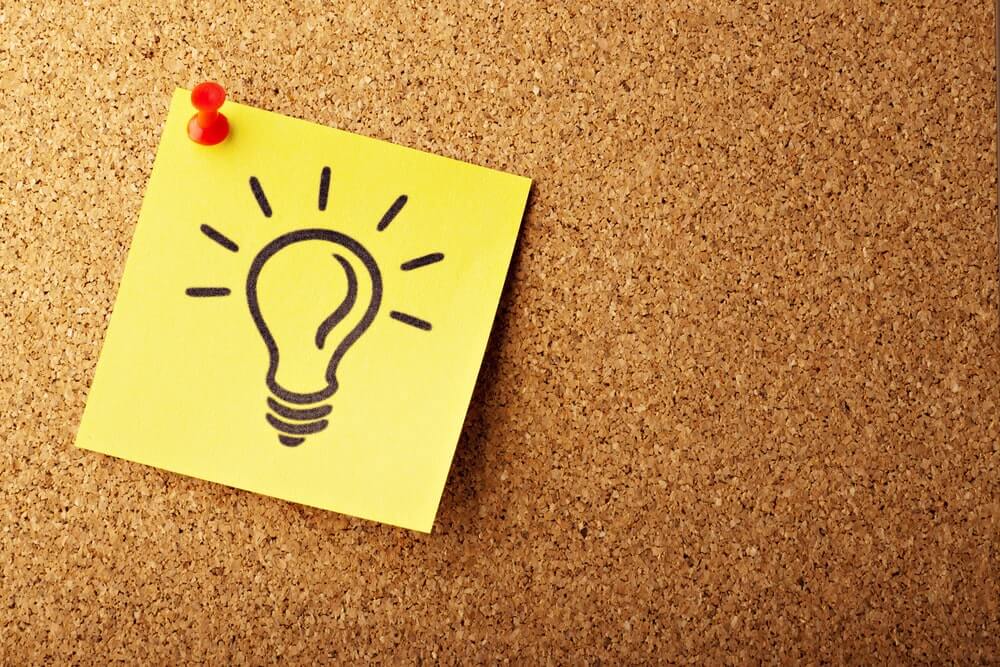 Most likely the hardest is figuring out a good name that can be easily remembered while being available to buy it. I always recommend .com if you are targeting a worldwide audience while ordering domain because builds trust with your visitors.
You can even use yourname.com or if your name is short you can add some keyword (blog, blogging) next to it (depending on your niche). It is the first thing visitors will see in the search results, and this will be good to remember you as well. The shorter the name is can help your audience to easily remember your blog.
You can check your competition and see what names they use and how they brand themselves.
It is also important to put yourself in your reader's place, you need to know who is the ideal reader of your blog, what they want to read, what topics gonna grab their attention, etc. This is really important, and here are some great blog examples:
Smart Passive Income
The History Blog
We Learn Code
Computer World
ECom Elites
These are some examples that people use to name their blogs. One of the smart ideas will be to use your name+blog for your blog or for example, if you want to start a review blog, you can use your name + reviews.com.
2. Creating a plan on How to Start a Blog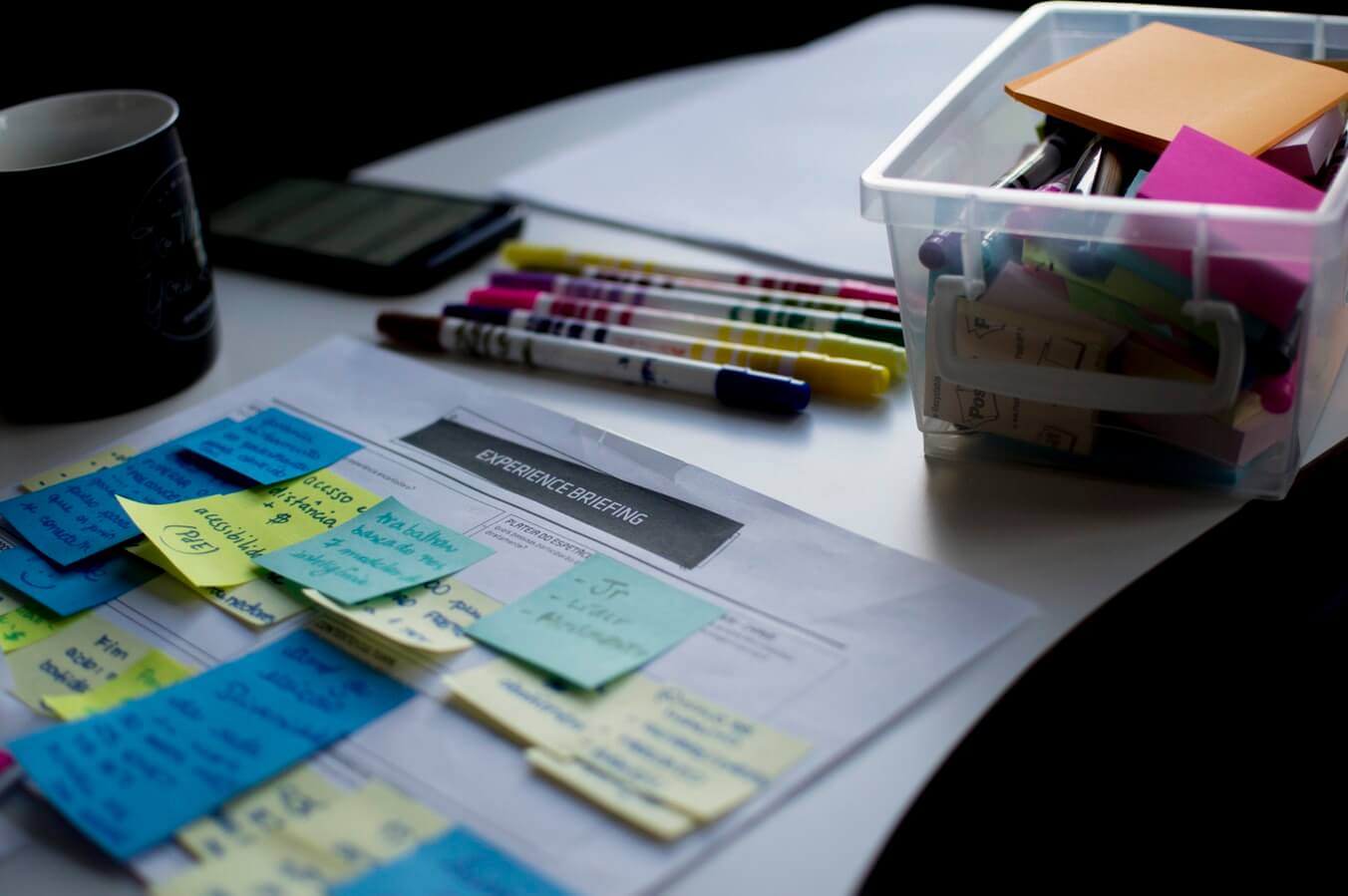 Often overlooked by online marketers, but there are a ton of blogs that don't have a single post on them. You need to have a plan before you looking for how to start blogging, something like:
Where I'm gonna host my blog?
What WordPress theme will be used?
What I'm gonna write about?
Logo/header?
How I'm gonna monetize it?
What niche will be?
How to write perfect blog posts?
Should I have social media profiles for my blog?
I will cover all of these questions.
First, you want to make it easier for yourself to purchase the domain name at once with your hosting plan. This way you're going to have your domain name automatically set up on your hosting cPanel. This is where BlueHost comes in.
3. Hosting
Getting hosting for your website is the first step you must take. Avoid the free hosting websites that create subdomains on their domain names. Also, they will be full of ads and your visitors will avoid even reading your website.
There are a couple of websites that come in mind and offer this service like wordpress.com, weebly.com or blogspot.com.
Your website will look something like blogname.weebly.com, and this will not bring trust to your visitors. And it can be shut down much easier because you do not have full control over the website. Google doesn't index them very well and having your website indexed is really important. Where to start a blog or how to start a blog business for free are some of the most common questions we get on our email.
That's why I recommend starting a blog that will last for years that you can have complete control. 
Hosting is an actual physical server where your website content is going to be uploaded and thru there accessible to everywhere in the world 24/7. You must have a hosting server to host your domain and install a content managing software on it.
Having a fast loading website is crucial these days with search engines. They want very rich content and images on the posts that can keep readers engaged while websites loading super fast.
That's why I recommend BlueHost because the website loading with them is always good and around 1-2 seconds. And your domain will look like blogname.com which builds highly more trust with your visitors.
There've been studies done that if the website took longer than 3 seconds to load, visitors leave. We don't want to leave any money on the table, that's why you need to have proper hosting like BlueHost. They also offer 24/7 customer support, and I learned that great support can be very useful over time. They check all the important boxes for new bloggers, that's why it is one of the most popular hosting company today. 
If you are ready on how to start a profitable blog successfully, let's begin.
Usually, the domain name could cost you $15 per year, and a web hosting per month could cost you around $7-10 per month.
This can be a lot of money for beginners, and that's why I have a special deal for you.
For as little as $2.95 per month, you will get a completely FREE domain name for one year, free SSL certificate (protecting visitors data), amazing security features with 24/7 customer support and 60% OFF on hosting.
You can start your website for just $2.95 a month.

You will see the homepage of BlueHost, then you need to hit the green button Get Started.
Then you will see the hostings plans that they offer, I recommend using the Basic plan, you get unmetered bandwidth and 50 GB of storage which is perfect for beginners.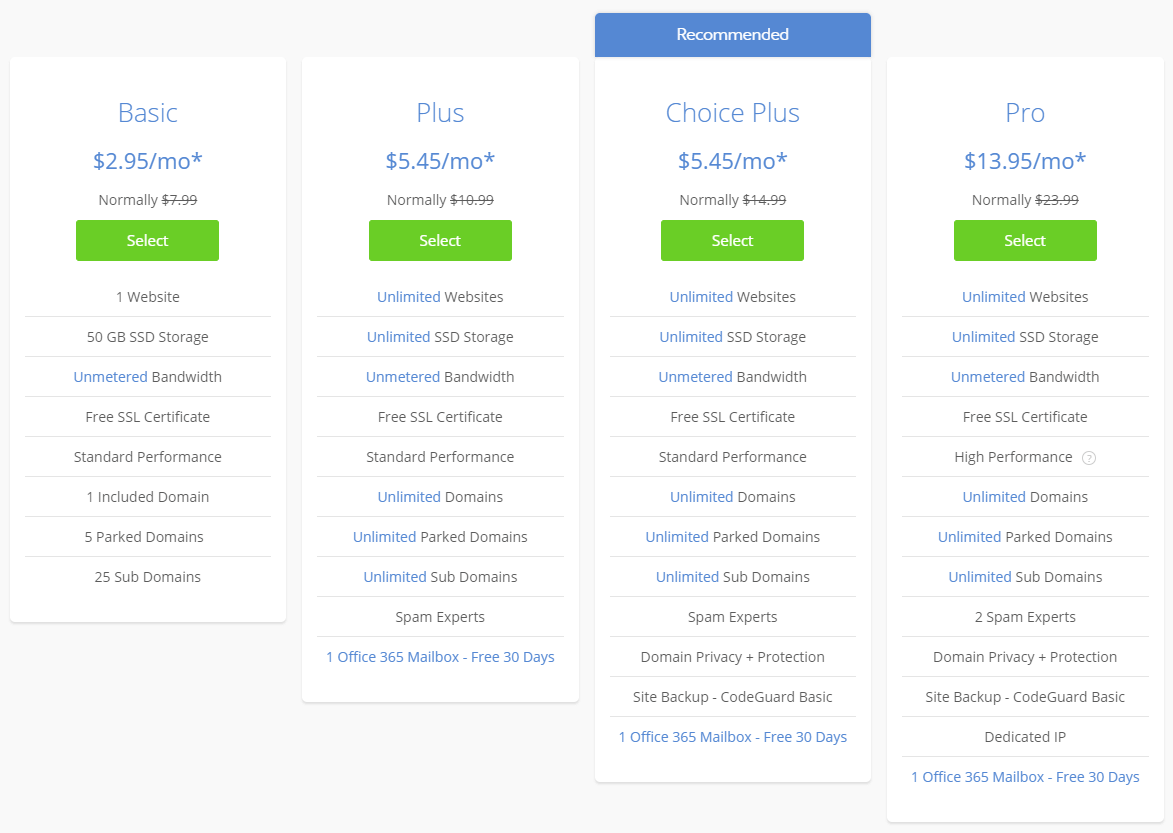 Once your blog gets more popular, you can always upgrade so don't worry. Getting the 36-month price is good to lock down the lowest possible price for hosting, and you will not be worried about hosting bills for 3 years. You can pay upfront for 1,2 or 3 years, and BlueHost doesn't offer monthly payment options and companies that do charge much more. This is a great deal for starting a blog and getting it to run instantly.
BlueHost offers a 30-day no questions asked money-back guarantee if you are not satisfied for some reason.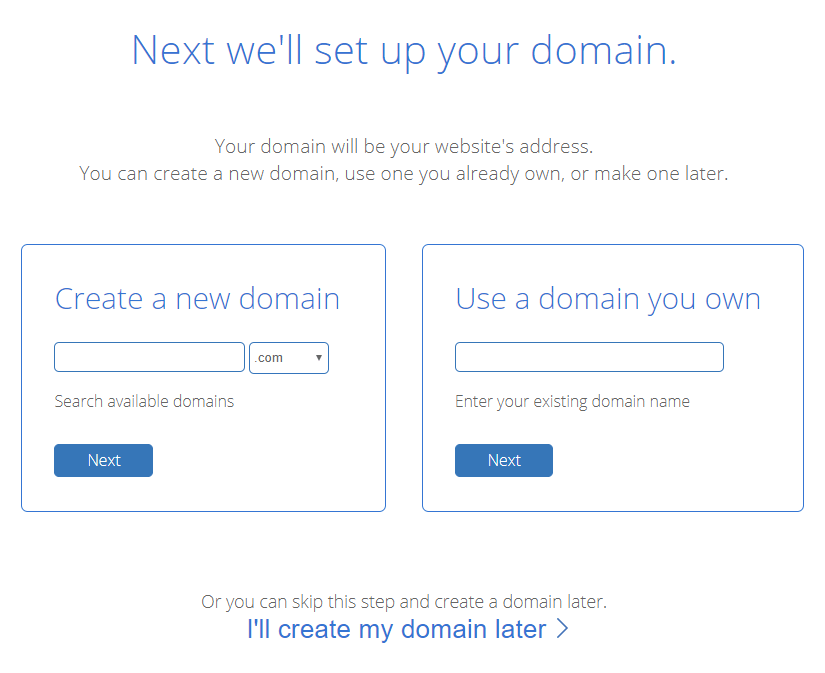 You need to type in the domain name you gonna get with BlueHost, and if you already own a domain name just type it on the right where it says to use a domain you own.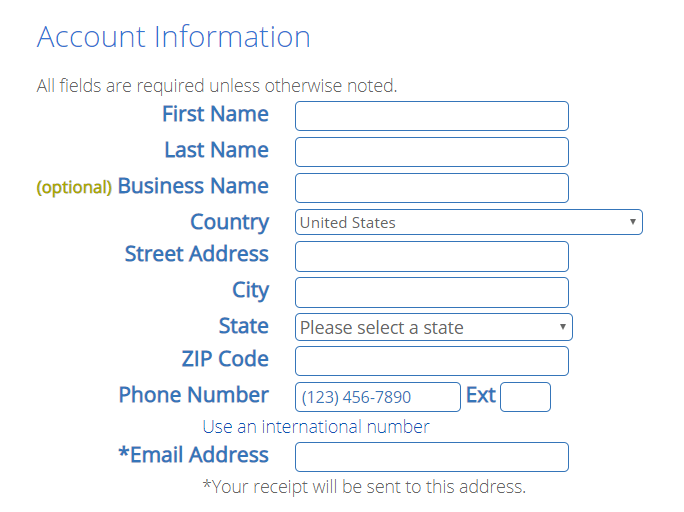 You need to fill your personal information next and then make the payment. I recommend getting domain privacy because BlueHost information will be public and not yours. All your personal information will be safe and they will be private if you choose to get the domain privacy. If you decide to go with a bigger plan, then the domain privacy protection will be listed as free.
This way you avoid any annoying calls from people that wanna help you with your website. But if you don't have enough funds you can always upgrade later.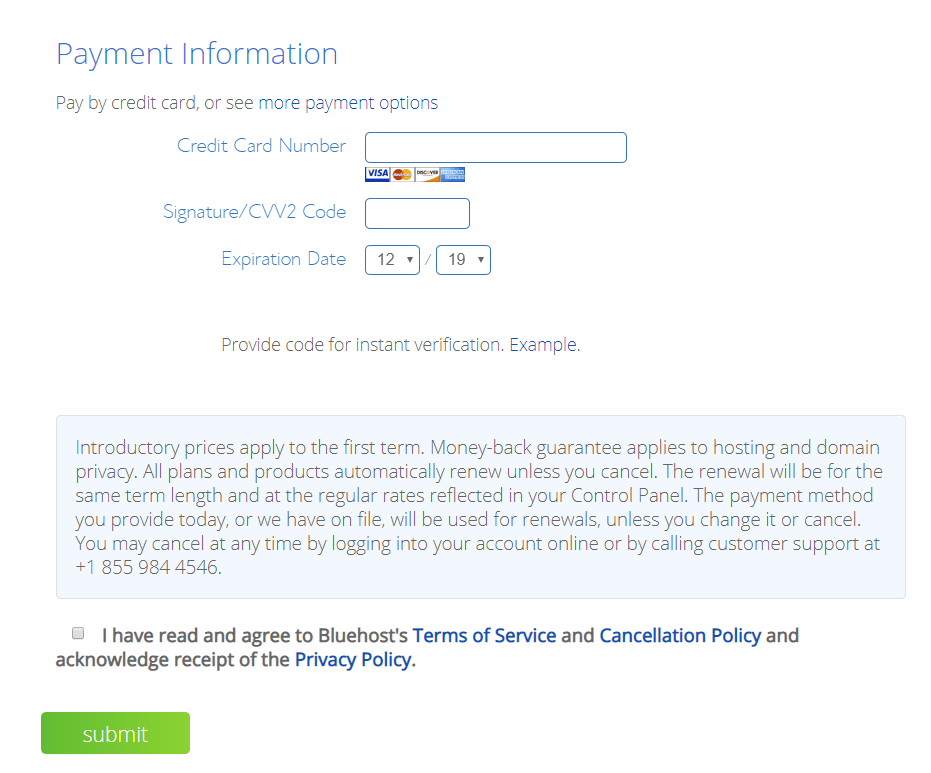 You need to click the box that you agree with BlueHost's terms of services and hit the green Submit button.
Congrats on starting your own blog.
The next step is installing CMS on your website. We will go through all the steps to make sure your blog is very well optimized and SEO friendly. We will work on installing some free plugins that will help your website speed and finding a great theme so your blog can look good.
Alternative blog hosting platforms
HostWinds: I host multiple websites with HostWinds, they offer all the similar features BlueHost does, but they are slightly more expensive. They have incredible 24/7 customer support and they offer a pay-per-month plan, so you can pay each month for your hosting plan. HostWinds offers free migrations from your previous hosting as well. They will migrate your website without any downtime. My detailed review for HostWinds.
SiteGround: This is something I recommend for people with more websites, their GoGeek plan is really amazing, they offer Advanced Priority Support on this plan as well. The prices are much more expensive but worth it. SiteGround offers free website migration from your previous host as well.
4. Content managing software (WordPress)
A content managing software is a software that once you install it on your hosting provides you a login link to your domain from where you can access all your data, manage your posts, design, widgets, photos and everything else you want on your site on a user-friendly interface. WordPress is the best way to go and the smartest option you can choose. Google will index the WordPress site much easier than any other platform, plus it is free. WordPress makes your site SEO optimized and accessible to google crawl robots more than every other software out there. It also has an "easy to use" interface for professional usage.
BlueHost allows you to install WordPress and it is really easy. You can even contact the support team of BlueHost to do for you. It is extremely easy to manage the backend and there are endless tutorials on how to install yourself. After you install WordPress, you maybe wonder how to log in.
The usual login link looks like this:
https://www.example.com/wp-login/
You need to type in your username and password and boom you're inside your dashboard.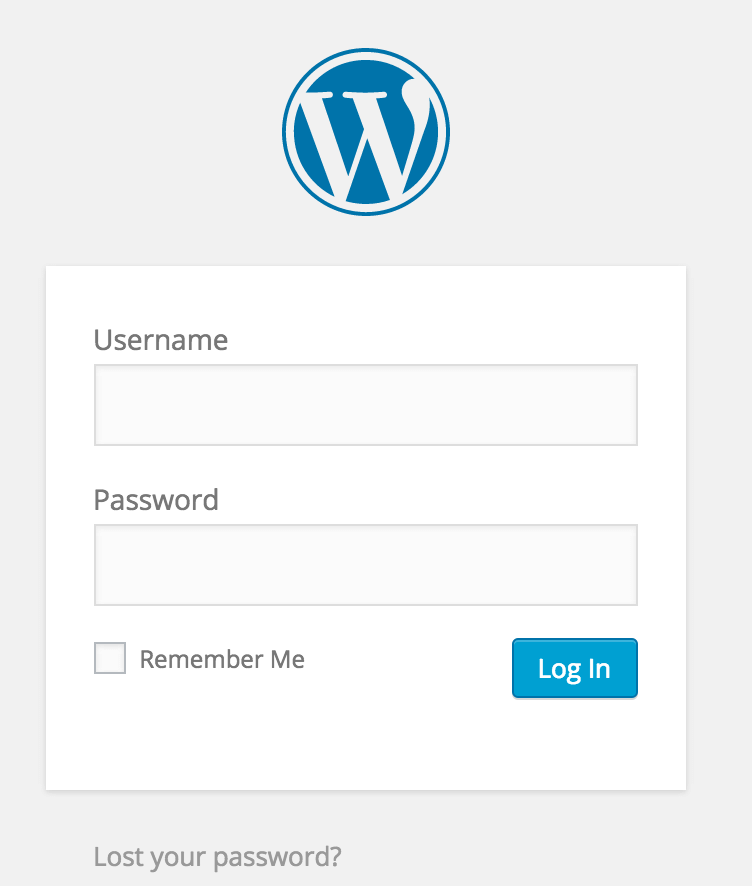 The first thing you wanna do when you see the dashboard is to go to Settings -> Permalinks.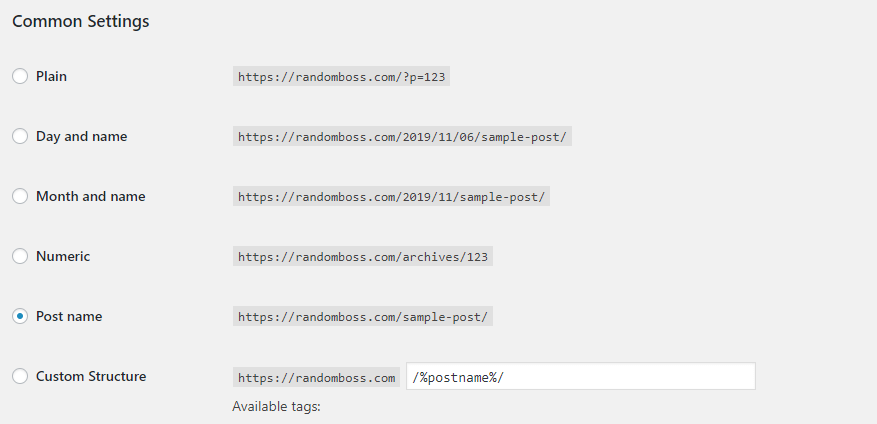 You need to select "Post name" and save changes. This means your blog posts will be shorter and better for search engines.
Example: yourdomain.com/blog-post is far better than yourdomain.com/2020/12/12/blog-post.
5. Install WordPress Theme
You want your blog to be easily navigated within and that's why you need to choose a good theme for it. It will allow your visitors to have good and engaging time with your blog. Your readers really care about how your blog is looking because they will instantly know if they will trust you.
This doesn't mean to have a ton of fonts and colors, it is important to be simple and clear for them to read. For beginners, I do not recommend starting with a Paid theme, it is important to start a free WordPress theme because you will quickly learn to tweak it and make it better.
Once you get some traffic and start generating some income, it would be a great idea to upgrade to a premium theme.
You have two options for the blog theme:
Free Themes: They do the job just fine, but after some time your blog will become popular and that's why you want to have a premium theme that can have all features available. A lot of themes that are a free offer PRO version of the theme, so if you want you can always upgrade later once your blog gets profitable. 
Premium Themes: These themes will make your blog unique, and they are always up-to-date with all the important updates because their developers take good care of them. Depending on each theme and its features, you can usually pay for a premium theme of $20-250. I recommend StudioPress WordPress themes because they are super SEO-friendly and they are fun to work on. 
What themes to look for:
Simple themes: You want to share content that can be easily consumed, you don't need to have a fancy blog where people can only be confused about where to go and what to read. Simple themes are amazing because they don't have many codes in them, so your website will be faster, and Google loves fast websites. Simplicity is key.
Works on different browsers? Make sure to test this, check if your blog works the same on Safari or Firefox like it worked on Chrome. You don't want to leave any visitors bouncing off your blog.
Responsive: Your website needs to work the same for mobile as it works for desktop. Google loves mobile-friendly websites and pushes their rankings higher in search results. Test your blog on Google mobile-friendly test page, and it should look something like this:

You can go to your dashboard and on the left side you go Appearance -> Themes and then Add New. You can search for popular themes in the marketplace and choose a theme that you think will suit your blog.
Once this step is completed, we move to plugins, this will allow your blog to be optimized for performing better in the search engines and loading speed.
6. Install Plugins
You need to install a couple of plugins to help your website to perform better and you don't want to overdo it. You want to install lightweight plugins that will not use too much CPU from your hosting. This way we will make your website performing the best.
Avoid using plugins like WordFence, Elementor, WordPress Related Posts, WordPress Popular Posts, MyReview, Google XML Sitemaps. These are some of the plugins that are notorious for consuming too much CPU power, make sure to avoid any plugins that offer sliders, portfolios, page builders, chats, you can identify some of them with GTmetrix waterfall or by using Query Monitor plugin. 
On the left side of the dashboard, you point to Plugins, and you will see Add New.
These are the plugins I recommend installing:
Yoast SEO: that will help you create sitemap.xml for the google search console that your posts and website can be easily indexed.
Social Pug: this is a plugin that will allow visitors to share your posts on social media.
Block Bad Queries (BBQ): Security plugin to prevent malware on your website.
Classic Editor: WordPress updated their style for writing, and I'm not really a fun of it, I like the old style.
WP Forms: Plugin to help you create a page where your visitors can reach and contact you.
WP Fastest Cache: This can cut down the work that your hosting server needs to do, and will make your website load faster. It will also allow your website to be connected with Cloudflare or any other CDN provider.
Autoptimize: Will make your site faster by optimizing CSS, JS, Images or Google Fonts and much more.
Async JavaScript: This will give you full control of which scripts to async or defer to exclude so will increase website performance.
Heartbeat Control by WP Rocket: Complete control on WordPress heartbeat. I disabled Heartbeat for WordPress Dashboard, Frontend, and Post editor.
Self-Hosted Google Fonts: This works with any theme or plugin, you just need to enable this.
WP-Optimize: Great plugin, will clean the database, will compress images and all cache pages. 
WP-Rocket: This is a paid plugin, it has features for every plugin from WP Fastest Cache till WP-Optimize. You will avoid installing those plugins by paying $49 for full support and updates for 1 website.
Every plugin except WP Rocket is free to install. They do the job very well for a lot of websites of mine. After your website gets more visited you can always pay for their premium features on all plugins. But they do the job just fine for beginners.
Following the steps above, I've managed to get phenomenal performance on GTMetrix for my website, here are the results:

7. Setting up your Blog
After we installed a theme and the plugins and changed the permalinks, it is important to do 2 other things, create a menu and set up your homepage.
Head over to Settings -> Reading.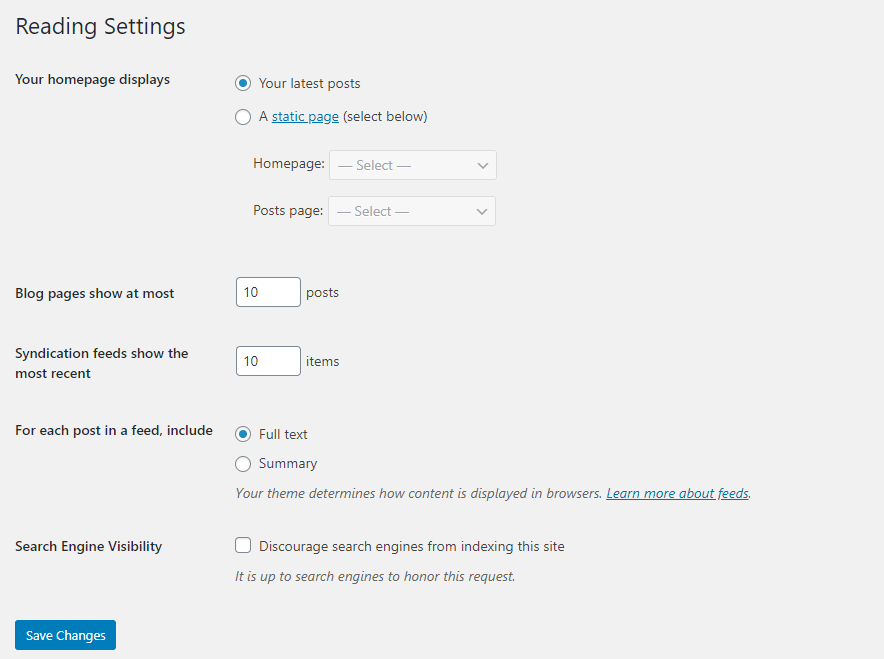 Your reading page should look something like this, you have the option to make it static, but this can be done in the future.
Static can be good if you want to capture emails, or sell any products, but as a starter, it is important to have it on your latest posts.
The next thing you need to set-up is the menu, you need few pages to publish a menu, head over to Appearance -> Menus and create one.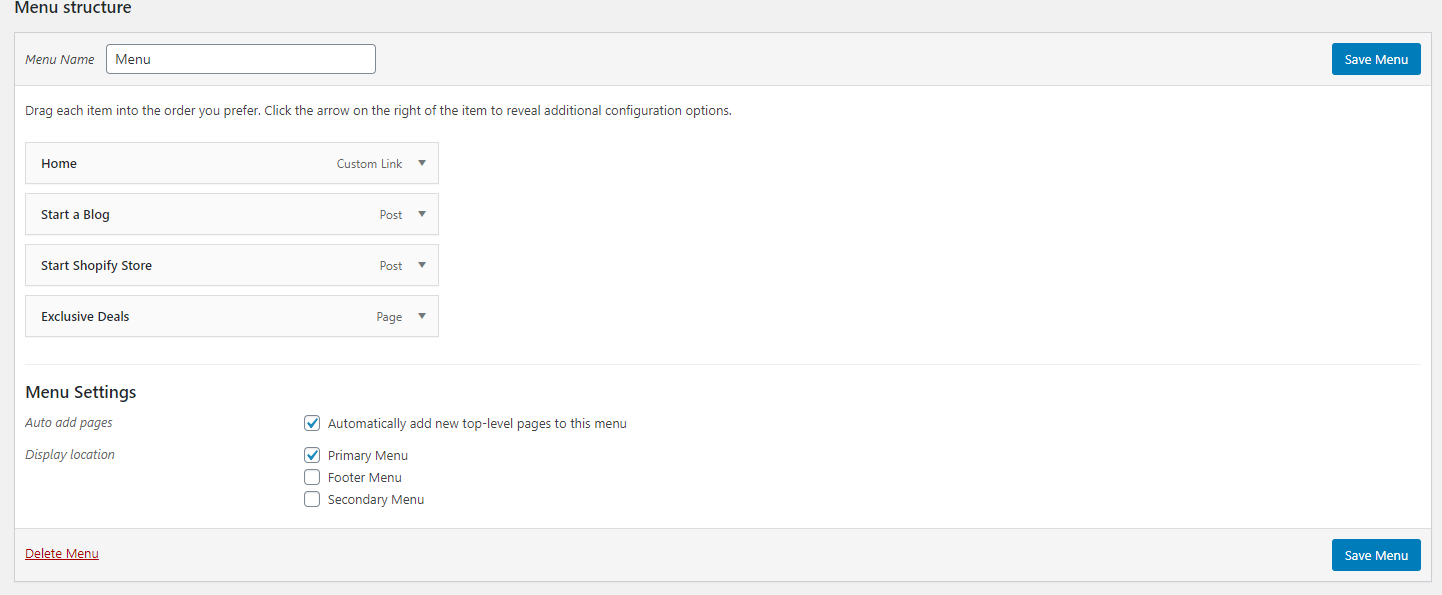 You should select the two boxes for automatically adding new pages and primary menu for display location. Depending on your theme, as soon as you create a page it will be automatically added on the primary menu (usually on top, like in my case).
Next, you need to create a few pages, so let's start with that.
8. Adding Pages
Once you have a couple of things ready you can add a few pages on your blog that your visitors can know a little bit about you. You can put them at the top of the blog or on the bottom.
Pages I recommend:
About page: Where you can write about yourself and what your blog is about. This is one of the best ways to connect with your visitors and always put your social media accounts here. Your visitors may read something and wanna know who the person is, so by telling them a story you can turn them into a fan. Just make sure to not talk too much about yourself, you want to be clear about what value you bring for them. You can talk about how you started, how and what type of blog posts you write, so don't be afraid to be personal. People will connect more. It is very important as well to tell them where to go and redirect them somewhere, this means telling them to read some of your most important posts or sign-up for your email list, this way they will stay on your blog longer.
Contact page: This is where they can send you emails. You need to install the WP Forms plugin for this. This can be perfect if you want people to hire your services, you can say here what you do, who you look forward to working with, usually business-related.
Copyright page: This is a standard page that your content belongs only to your and no one can steal it.
Disclosure page: You can explain here that you use your website and you use affiliate links to make your content free for your readers.
9. Time to write your first blog post
This is one of the most important things for running a successful blog. People read blogs because they care what value the author provides. When you have a blog in a certain niche, you will attract a similar audience as well. It is much easier to stay committed to something you are passionate about, you will have more will power to write posts and make sure that they will provide value to your readers.
Before writing any topics, it is important to use keyword research tools, you will just give them a keyword and they will spit some questions that people search online. You can check those questions on how many monthly Google searches the keyword has, and if you are satisfied, you can start writing a topic about it. I recommend going for keywords that are low competition and have less than 10,000 monthly searches. This can be potentially a profitable niche. Usually, the higher the search numbers are the harder it is to break the top 10 in Google.
It is your platform and your own blog so you can write for whatever you want. Not always the ideas for posts come naturally, that's why it is important to open a Google Sheet and putting topics that you can write in the future.
Here are some of the tips for getting more ideas for writing posts:
Use a keyword research tool to give you more ideas (KWFinder is the best).
Chat with other bloggers to get fresh ideas.
Use alsoasked.com to give you more questions on a specific keyword.
Check the competition and what posts perform well.
You can do a comparison post between specific products.
If this is done right, you will have a fully stocked calendar each month depending on your schedule.
Time for your first blog post
Once you know what you will write about, on the left side on the dashboard point at Posts -> Add New.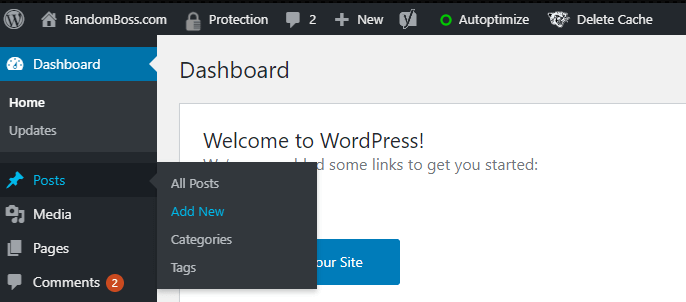 The following screen is where you can write the blog headline and the content.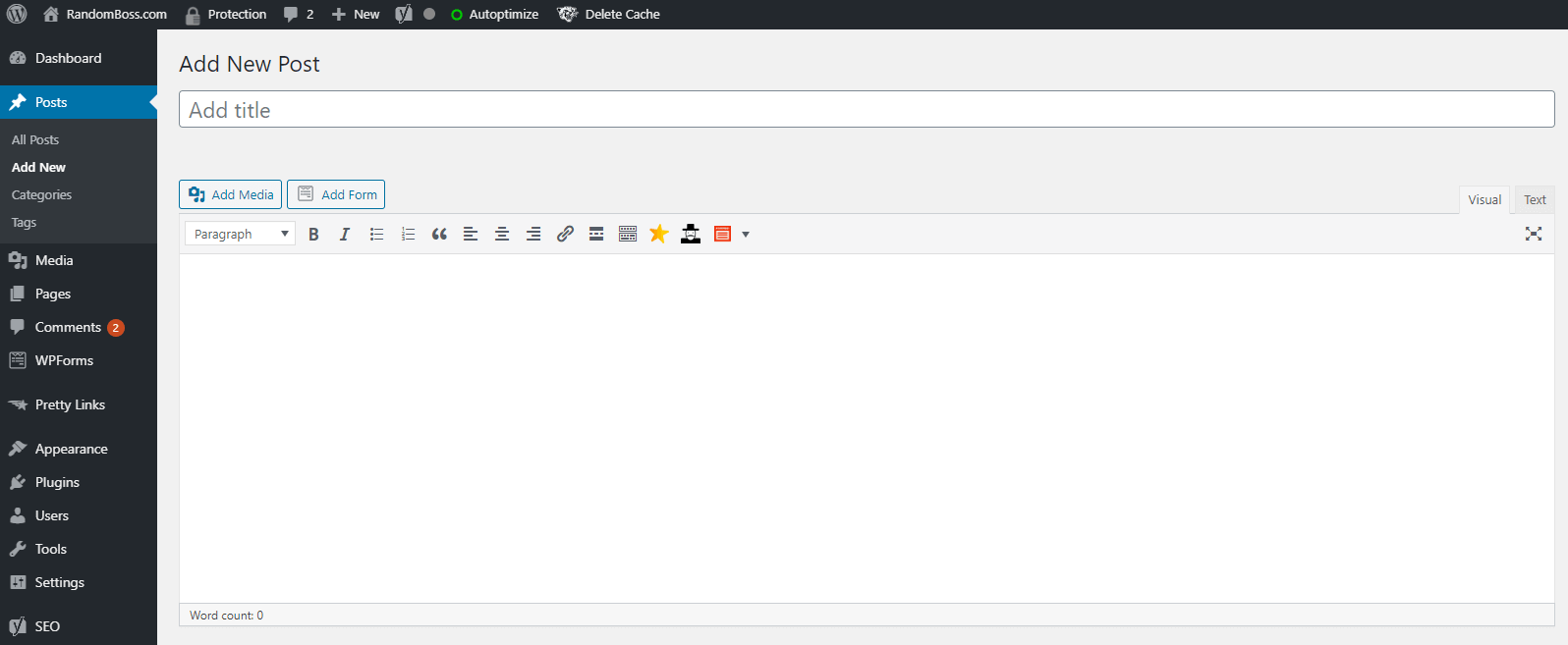 "On average, five times as many people read the headline as read the body copy. When you have written your headline you have spent eighty cents out of your dollar!" – David Ogilvy
A really important quote that I've been guilty of myself. You will spend hours writing a blog post, do research on images, then you are happy how it is finished but you just write the first headline that comes to mind. A perfect way to miss out on success if you don't spend time on writing good headlines.
It is very important to have headlines that will attract new visitors and to be very engaging and interesting. You can use powerful words that will catch the eye on a visitor much easier. Don't forget that your content needs to match the headline because that is one of the most important things for a reader.
You can check an overall score for a headline on websites like capitalizemytitle.com or sharethrough.com. It is a really impressive tool, you can just a paste a headline that you will use and will give you score on a scale of 0 to 100. You will get eventually better as time goes on.
When you are writing your blog post make sure to use quotes, have drama or humor, and always use bold eye-catching formatting. By doing this, you will quickly establish relevance to your readers, they will feel that they have everything in your blog post, so that will be one more reason to share it as well.
It is not about having different fonts or to use a ton of images and videos, you need to make the experience of the visitors as easy it can be so that they enjoy your content. Don't use big fonts and make sure to know many characters should be in a sentence so your readers can navigate easier on your post.
Permalink needs to be SEO-Friendly
As I recommended before, permalinks needed to be changed first so your URL post doesn't have the data when the post was published.
If you want to rank higher in the search engines, you need to optimize the URL of your blog post.
Keep the URL short as possible, make sure each word is separated, avoid using numbers and make sure the target keyword phrase is included!
Good example:

Using more subheaders on your blog post
Having more subheaders in a longer post is really important to break up your content.
Readers can get tired quickly, they can be easily intimidated so they will leave. Yoast SEO suggests sub-header in every 300 words, but depending on your niche you can go less or more. Just make sure it is natural for you.
Publish your first blog post
Now that you have written a blog post, you are almost ready. You need to make sure that On-Page SEO and Readability are green, this means that your blog post is SEO-friendly and very well optimized. This will give you a much higher ranking in the search engines.
This is somehow how should look like.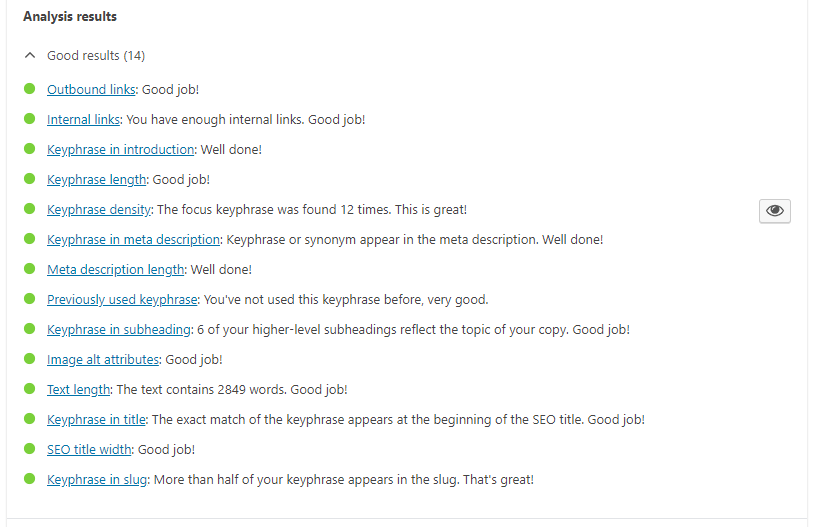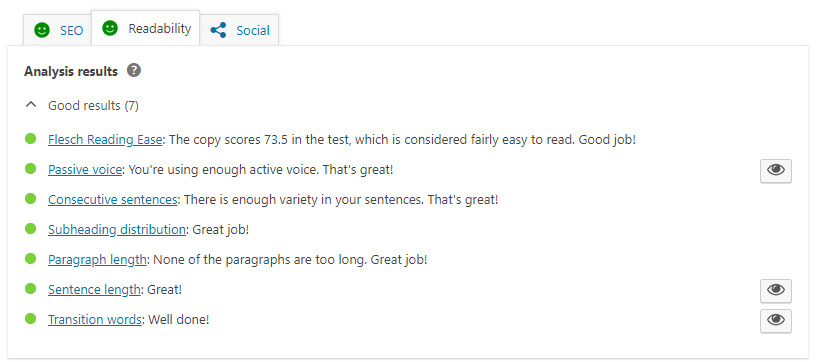 Note: Don't worry if you have some improvements (Dark Orange) to make, it doesn't need to be at 100%. Just avoid having problems (red) with Yoast SEO.
Now you can create a new category like tutorials or reviews, tick that box so the post will be under that category and then hit Publish!
10. Getting Logo or Header
Depending on your budget you have two options on how to get a good logo for your blog. This will make your blog unique and easily recognized from the competition.
Two options for logo or header:
Canva: You can make a good looking logo for free on Canva, you need a few design skills to make a good one. They have already made designs so you can just change the name. I use them regularly for my blog and my youtube channel and within five minutes you can have a good looking logo. 
Fiverr: For 5$ you can have a professional design make a good logo for your blog. Make sure before you order the designer has revisions if you are not happy with the first design he can always go back and change a bit. 
11. How to Start Blog business with Quality

If you wanna rank higher on the search engines you need to have good content. It is better to have 1000-3000 words post that is of high quality than having 200 words post. This will improve your chances go get higher ranking on Google and other search engines. 
That's why I recommended Yoast SEO which can give you a better picture when it comes to optimizing your posts. That's why you need to put the work in to be a successful blogger.
Some people want to start a blog by having their first 1 post already made but I would recommend having a few long posts of original killer content. The quality of your content is after all the main reason why people decide if they will visit you again.
This is how you gonna get visitors, the essence of your website is the content, without it anything is insignificant.
Blogging quality
Quality beats quantity. Look at every new post as a new book project and try to give people real valuable information based on good updated research. If you're giving something in your content that other blogs don't people will share your content and link to you. This is the way to get traffic that will stick with you for a long time and build an audience that will love you. If you have great content people will share it, talk to their friends about it and recommend your site to other people.
Think about what goals you have and what you want to achieve with your blog. You can use a keyword tool that will spit out a lot of questions that are searched on google daily, the website is called answerthepublic.com, will spit out great questions that people search. Start creating content around those questions. 
You can make your blog posts more engaging by using free stock images from platforms like unsplash or pexels. Their images are royalty-free and can be used without attribution required.
Building relationships
You can start thinking about building an email list, one of the best ways to promote new content with your readers. Email lists have great ROI long-term. GetResponse is one of my favorites when it comes to building a good email list. You can provide a subscription form on your blog in each post. You can also create a high-quality lead magnet when a visitor gives you the email you will send him a free ebook on something within your niche (in blogging can be money-making techniques or tutorials). MailChimp is free and it also a great marketing tool to start your email marketing journey.
Guest posts
Contacting other bloggers can be very beneficial for you. You can reach out to them and ask them if you can provide a guest post for their visitors, and they will credit the author so you will get a high-quality backlink for your blog. Start commenting on their posts or try to join in Facebook groups or Pinterest boards as well.
Also, you can guest post on sites like Medium, Linkedin, Quora, Inbound and many others. This is the best way to connect with already established blogs and relevant to your niche. This is a perfect way and strategy to promote your blog content, and you will not be the only one doing. You will have people reaching out to you as well. Try first reposting your blog posts on Medium, it is free.
12. How to Start a Blog and Make Money from Blogging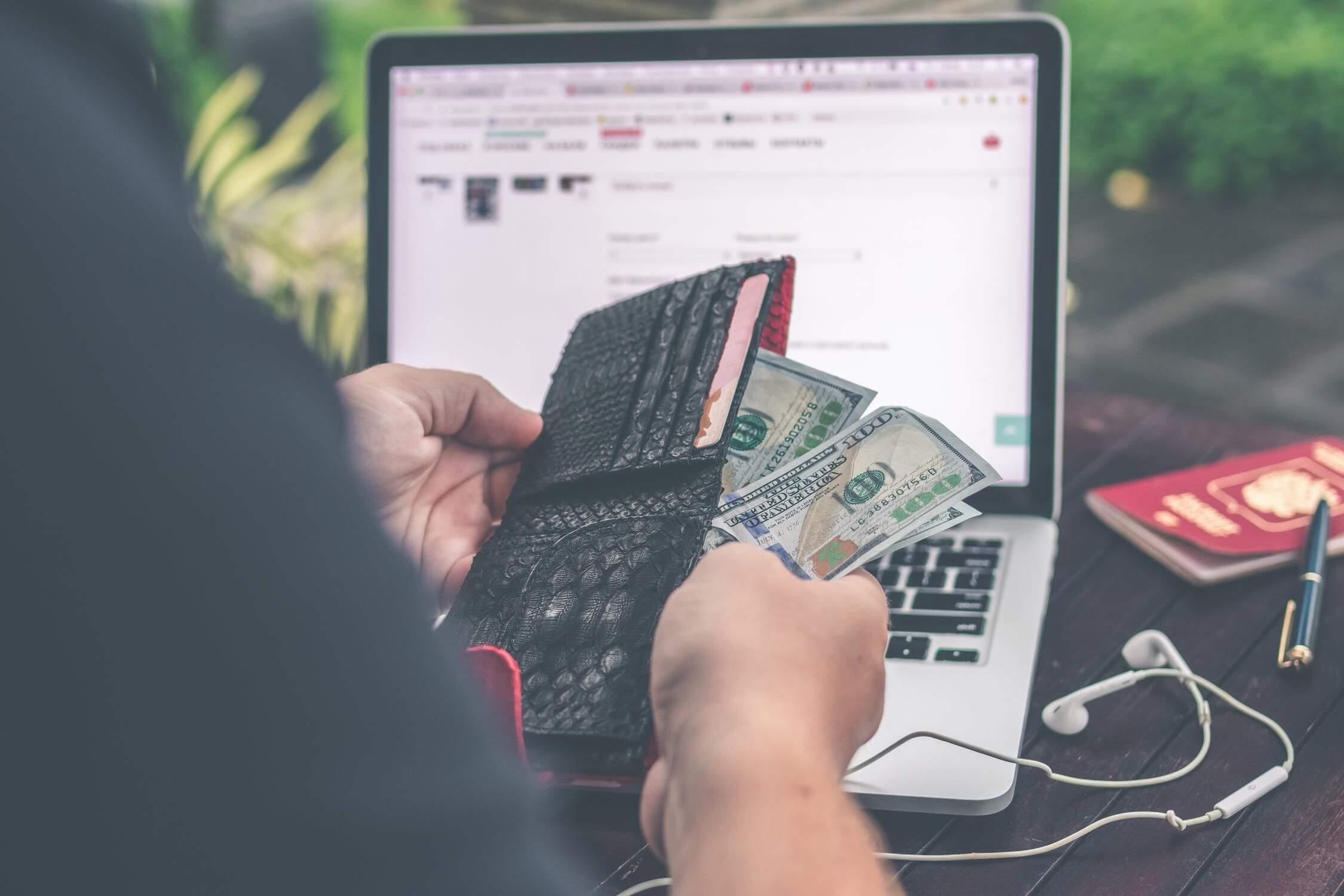 Now once you learned how to start a blog today and we went this far, you are on a fantastic journey and you may wanna think how to move forward. I've seen a lot of questions on how to drive the traffic once you have published a couple of big posts. If you want to separate your blog from the rest, you need to promote your blog really good. Two of my favorite quotes:
"Content is king, but distribution is queen and she wears the pants." – Jonathan Perelman
"It's not the best content that wins. It's the best promoted content." – Andi Crestodina
I've heard a few stupid rumors that are running around that once you publish great content it will just rise to the top automatically. If you believe in that, then go ahead and create the best content and wait… forever. If you want to be successful with your blog, create great content and work hard to distribute it. This is how your content wins. 
Some of the best platforms for you to promote your content.
Instagram: This can bring a lot of people on your blog because of the swipe up feature and putting the link in bio. There are a lot of bloggers that grew their Instagram accounts and always when they post on their blog they notify their followers via story or link in bio. You can monetize your visitors via Google Adsense. You can also use an Instagram schedule tool to automize your posting. Instagram is amazing for high-resolution photos, quotes and having 24-hour stories. You can also promote video content with IGTV. 
YouTube: If you have video skills you can easily put a few videos from royalty videos that are free and made a good video for YouTube that can bring visitors daily forever. You need to put your link in the youtube video descriptions and on the end notify them to visit your blog. They are a lot of people that are doing this to bring visitors to their blogs. YouTube updated its policy and now it is required to have 1000 subscribers and 4000 watched hours. 
Pinterest: This is a platform that your posts can go viral much easier. It is a social media web designed to enable saving and discovering information online using images, gifs or videos. I know bloggers that bring over 500,000 visitors per month via Pinterest.
Twitter: It is perfect for sharing news and your blog posts. There are bloggers with more than 100k followers and bring a lot of traffic to their blogs.
Facebook: Starting your own Facebook group can be very helpful to create a nice community as well. They can share their own tips and ideas on any topic.
Reddit: Awesome network of communities based on people's interests. You can interact with it much easier and it awesome to drive traffic. Just don't drop links and expect it to work. You need to provide value so you can build a relationship and engage with people. 
LinkedIn: This focuses on professional networking and career development. You can use Linkedin to display your resume, enhance your reputation and it is a good social network.
Podcast: You can create your own podcast or email a few people in your industry that they have podcasts and always tell them what you can offer to their listeners. A perfect way to provide knowledge and grow your personal blog and brand.
Snapchat: I've put this last because it is not as popular as the other ones, but let users exchange pictures and videos, and they will disappear after they're viewed. It is still good for people that trust Snapchat.
Bonus: You can use Quora and Yahoo Answers to provide value to people that always ask questions about topics in your niche. I've seen a lot of bloggers that do this and drive traffic to their own blogs, and I do it myself. You can always outsource it for a couple of bucks on Fiverr or SEOClerks. But if you are on a budget, you can search for questions on your niche and always provide in-depth answers with your URL in the answer, those answers will stay there forever so you can bring traffic from Quora and Yahoo Answers. Just don't spam your links because you can easily get restricted from using these platforms. 
Note: There is no point in promoting your content on every social media platform above as well. Just do the ones you're most comfortable and suits your niche the best.
I've seen a lot of bloggers that focus on one or two social media traffic and this gets them more than 40% of their readers online. You need to experiment and see what works for your niche. 
Once you have a few blog posts you can start thinking about making money from blogging. A lot of people make money by blogging in a variety of ways.
How to Make Money Blogging:

Selling services:
If you are an expert or have lots of experience in something like designing websites or logos, then starting a blog can be a very good option for you. You can create a Hire Me page when you can showcase some of the work you've done in the past. 
If you have any skills like writing, design, marketing, social media management, virtual assistance, SEO or any other skill that can be monetized, you can be successful. 
Affiliate Marketing:
The is beginner-friendly and you can make money blogging from the start. There are a ton of websites that offer Affiliate Commissions within your niche. For example. if you have a blog for traveling you can recommend insurance and if someone purchase insurance using your link you can get a commission at no extra cost for your visitors, which brings me to the next point.
Online Courses:
If you have something that you can teach others, you can package all your tutorials and advice into an online course where people can pay to access it. You can promote your course on social media platforms like Instagram if you are building a brand for your blog, and I've seen some successful online marketers do it. 
You don't need to have a high audience in order to start making money from courses.
Ecommerce:
This is really great way to monetize your audience by selling them a physical product in your community. This really depends on what niche you are in and what your blog is about. If you are in a woodwork niche, you can write a blog post on how to build something and include all the products you used for that woodwork project.
I've also seen a lot of dog bloggers that write blog posts on how to train your dog and they always have a couple of products that are dog related. The products are from Aliexpress and they are shipped from China. The eCommerce keeps growing day by day, and I've written a very well blog post on how to start your Shopify store.
Amazon Associates:
Let's say you have a blog about fashion and you make a blog post about top 10 stylish dresses for women. Each of the 10 products if comes from Amazon you can put a referral link and get a 3-10% commission on it. There are a ton of things that you can write and make money from your blog. This will be at no extra cost on your visitors and you can easily make posts about products from Amazon.
Sponsored Content:
This is when a company or individual pays you in order to promote their content on your blog. This is a great way to monetize your blog once you have a bigger audience (5000 monthly readers or more), so you can charge a decent rate for sponsored content to be published on your blog and emailed to your newsletter. 
Patreon:
You will be surprised by how many bloggers make money using Patreon. You can use Patreon and promote some extra content for your patrons like videos on how to or any tutorials and questions that they might have. Once you build a strong following, your loyal visitors will not mind spending coffee money to get extra content from you. 
Blog Advertisements:
I've seen a lot of bloggers use AD networks that will promote small advertisements on the sidebar that will earn them extra income from their blog.
AD networks like Google Adsense, Propeller Ads or Carbon Ads. They are partners with some high-quality websites like Slack (messaging platform), Asana (organize and manage your work), or Upwork. 
It is a great way to add some extra income, but it is not a great monetization way short-term. 
Once you have few visitors coming in you can sign up for Google Adsense. You can put ad banners on the first paragraph on your post and in this way you can monetize your blog. You can also install the Quick Adsense plugin and manage easier the ad banners. After you have over 10k visitors monthly, I would highly recommend switching over to Ezoic or Mediavine and earn 10x on what you did with Google Adsense.
Note: Google Adsense can slow your blog loading speed, that's why I advise doing a bit of research and upgrading to a higher hosting plan.
There are a ton of blogs that make money by blogging using all these methods above. 
Tips for successful blogging
We covered a lot on this article on how to start own blog and make money with it, but I would love to share some extra tips that I've learned over the years for you to be successful.
Creating a writing habit can be very helpful for you. Decide whatever you gonna post once a week or once a day and stick with it. Make it a priority to write 500-2000 high-quality content.
Make sure to optimize your title and description for SEO and always put the exact keyword you want to rank on Google. This way Google will start pushing your site higher in the rankings for similar keywords as well.
Make sure to have your own style. This way your content will look more natural.
Opening a Google sheet to put keywords that are low competition. We as people have short attention plans and we can be easily distracted. If you have done some research and find some topics you want to write, put them in the Google sheet. This way when it is time to write you will have topics ready.
Putting alternative text (alt) on your images is really important. Google can rank you for Google images by just providing better info about your images.
You must include the ranking keyword in the first 150 words is really important. Google will know what keywords to push your website.
Learn from other top bloggers, see what they are doing and what works for them. You don't need to reinvent the wheel, there are a lot of bloggers that are very successful so you can learn and apply within your blog. 
DO NOT COPY content from others. If you see a topic that you really like, don't just copy and paste it on your blog. If you really like that topic, just write an article and use your own images or royalty-free photos.
The only thing that stands you in the way of starting your own blog is you. It is easy to make excuses and tell yourself that is too much, is just a wrong mindset. There a lot of opportunities now and you just need to pay attention. Be excited to write a blog post that will provide value as much as possible for your readers, because blogging is an investment that will bring you bigger returns in the future. Your blog will be a success!
More in-depth tips for successful blogging
Building backlinks to boost rankings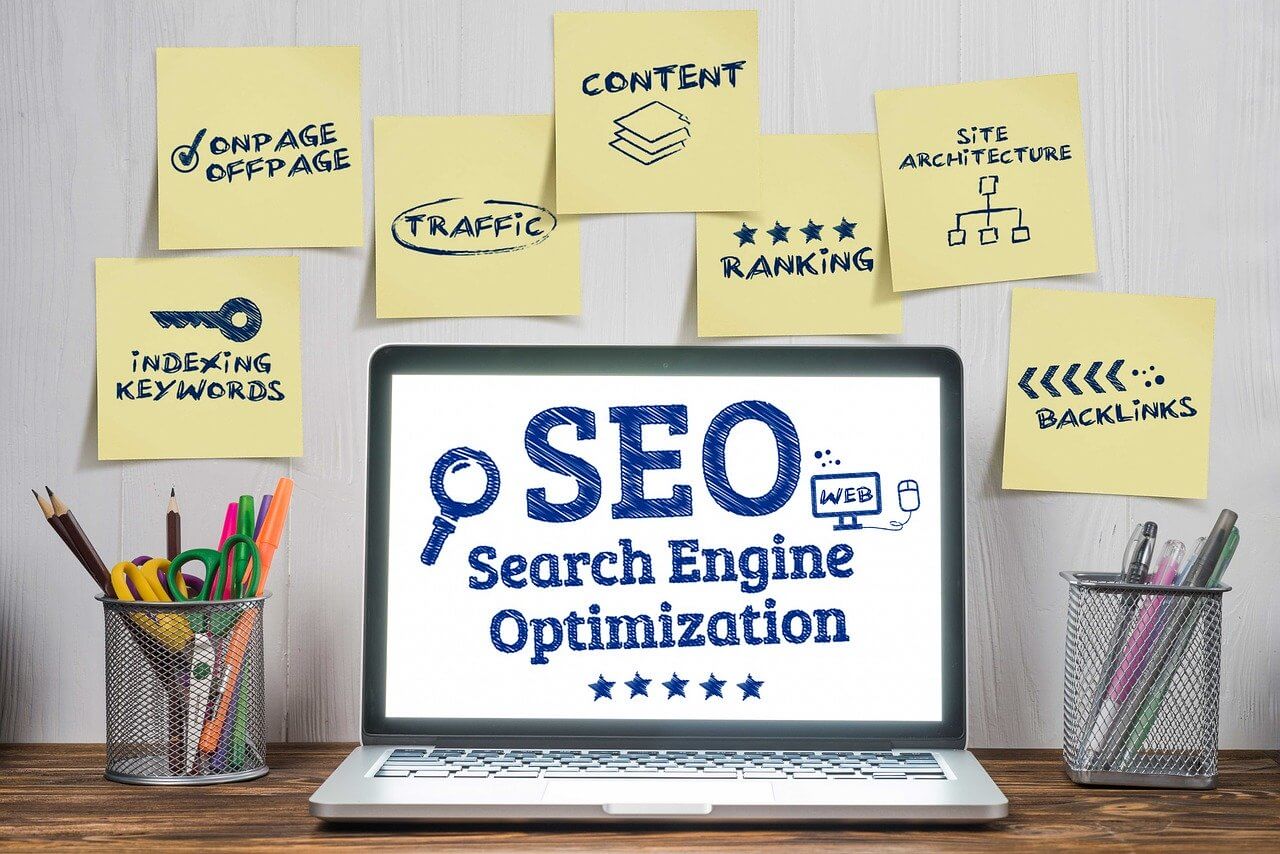 Building backlinks is really important if you want your website to see rank higher for more competitive keywords. This can be a lot of work, but you can outsource it on platforms like Fiverr, SEOClerks or Konker. It is not difficult or complicated, it just important to build a strong relationship with the people that provide you backlinks.
Let's not kid ourselves because the most important thing is your high-quality content. no one is going to link to garbage content, it doesn't matter how much experience you have in blogging.
Once you build high-quality content you can reach out to the people that are linked in your article, some of those people can share it on their blogs and social media since you mention their website on your post.
You should always choose quality over quantity, 1 high-quality backlink can be worth much more than 100 poor quality backlinks. If you have to pay extra for a higher quality backlink, do it.
Hosting should not be overlooked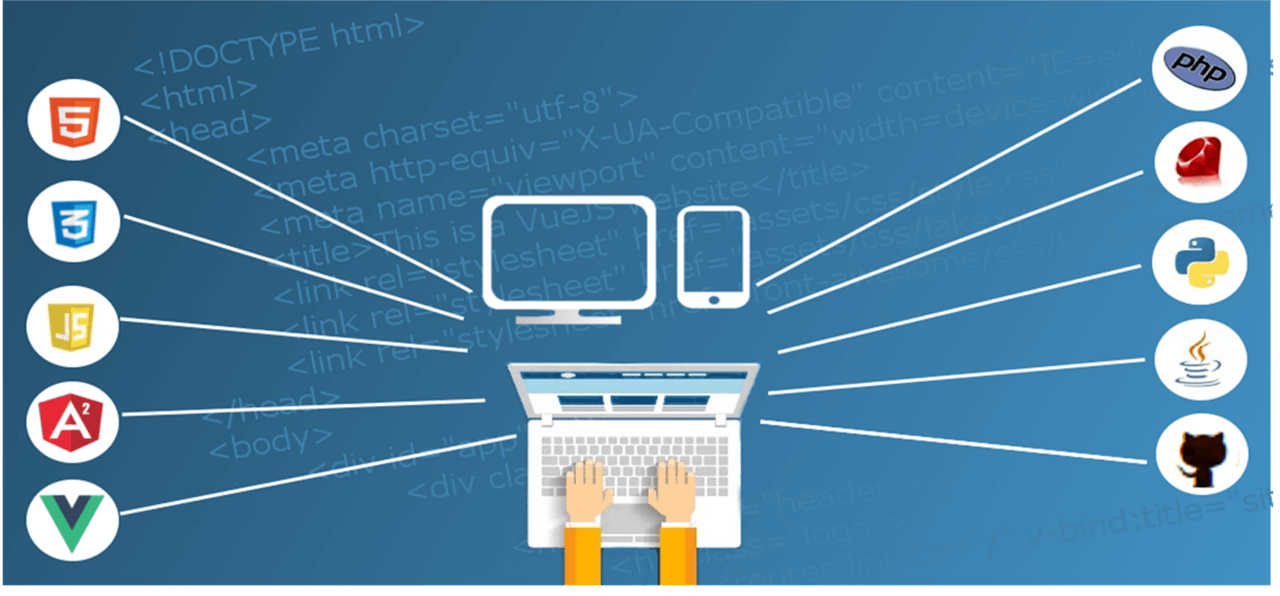 I've seen a lot of bloggers trying to save as much money as possible from the start, they pay $10 for yearly hosting, the performances are low and these hostings lack customer support and a lot of other features. Your blog can be down most of the time and you will try to figure out what is going on. You will look bad instantly in google's eyes. That's why using a hosting like BlueHost, HostWinds or SiteGround right from the start you will not make a mistake. It will cost you a couple of bucks per month but you will know it will be well worth it.
You will have phenomenal customer support with amazing features with website loading under 1-2 seconds. You can't say that for $10-15/yr hosting. I've made a list of my favorite top 10 web hostings check it here.
Paid traffic for Blogging
Many bloggers avoid this, but the smartest bloggers do it. Paid ads are awesome to promote your blog posts as well. You can have affiliate links in that post and you can target specific audiences within your niche.
Always write quality posts
I've seen websites that post content 2 times daily, and the content was really poor. It worked for a while for them because Google used to give merit to the sites that have fresh content. But those websites are extinct now because Google punished them for posting poor content. 
That's why it is important for you to always write high-quality content that your readers will love it and will provide value to them as well, so they will stay longer on your site and Google will know that.
Internal links help visitors and Google
Internal linking is really important for SEO, but for your readers as well. It will help them to navigate better on your website.
It is really a great way for you to promote your old content to the new readers.
Really helps for SEO as well, because the post that has a lot of backlinks and its juice flow will follow some of those pages that are internal and will increase their ranking.
Always Network
It is important to network with other blogs in your niche. You can always look to help other people, you can share other people's content, comment on their blogs, follow them on their social media.
Join groups and forums that are in your niche. There is a lot of fun and you will find yourself learning and meeting people that are in your industry.
Stick to simplicity
I've seen a ton of blogs that are too complicated, too many sliders and slideshows and it is just confusing. They don't build trust when visitors open them, that's why the bounce rate is so higher.
Make sure to have a theme that is simple in style, and has decent features for optimizing SEO. Google loves websites that are dedicated to a topic and they will know what the site is for exactly.
Blogging speed
Really important if you want to rank in Google, these days Google loves content-rich websites with a great website load speed.
I've managed to get my blog to 0.6s loading speed.

Make sure to check your blog loading speed on GTmetrix and Pingdom.com. They are phenomenal websites for speed checking, and your visitors will thank you for having a fast website.
Make sure to do some tests every couple of months so you know everything is going well because you can slow your website with uncompressed images as well. Installing the right plugins for load speed is crucial.
Maintenance
You want to care for your blog if you are here for the long-term. You need to update your WordPress with all the themes and plugins, optimize your database with WP-Optimize and checking for broken links. Also, making a backup monthly won't hurt your blog.
This will save you headaches in the future, your blog will be up and running without issues.
FAQ is important
There are a ton of questions that your readers may want to ask you, they will shoot you an email and you see every question is pretty similar.
You can save yourself time by adding a FAQ section in your most popular posts. The plugin that can help you with this is Structured Content. It is free to install and it has amazing features.
Focus on the important things
I've been guilty of it myself in the past, you will write a good long post and you will keep refreshing google analytics to see if any visitors check it out.
You should focus your time on building good content and promoting it well. I've learned this the hard way, I've been working online for many years and it can hurt your progress long-term. You can decide one day weekly to check your traffic, it will save you time and still will be enough to see how your site is performing.
Don't be afraid to start
I've been in your shoes as a beginner, you consistently search for a *new* method that you think you can start now and make money instantly. You may start something, but give-up in a while. You are in a loop and when you see you see how much time passed you've done nothing. If you want to build something successful, you need to be focused and persistent.
Nothing happens overnight, and it is important to see the benefits of starting a blog. You will meet new people, you will learn more about yourself, you will get exposed to new ideas, create routines in your life, you will grow as a person, you can become an expert in a certain niche, boost your confidence, you will be less bored and expand your perspective on life. 
How to Start a Blog Successfully – Conclusion
Pick your blog name
Get Web Hosting
Install WordPress
Install Theme and plugins
Add a few pages
Write your first blog post
Have long-term strategy
Post regularly and promote your content
People think that there are too many blogs and it not easy as it was once. That is a weak mentality. You need to think that you can always do better than your competitions and your blog will be a unique story. That's the mentality you need to have.
Blogging might be the best thing for you to start online, you can work on your own pace and time. It will not take long to get ranked on low competition keywords.
Your blog will be unique and everything is yours. You are sharing your own story, and can easily stand out from the crowd.
Hopefully, this how to start a blog tutorial is helpful to you and educational.
Now don't be afraid to make the jump.
Good Luck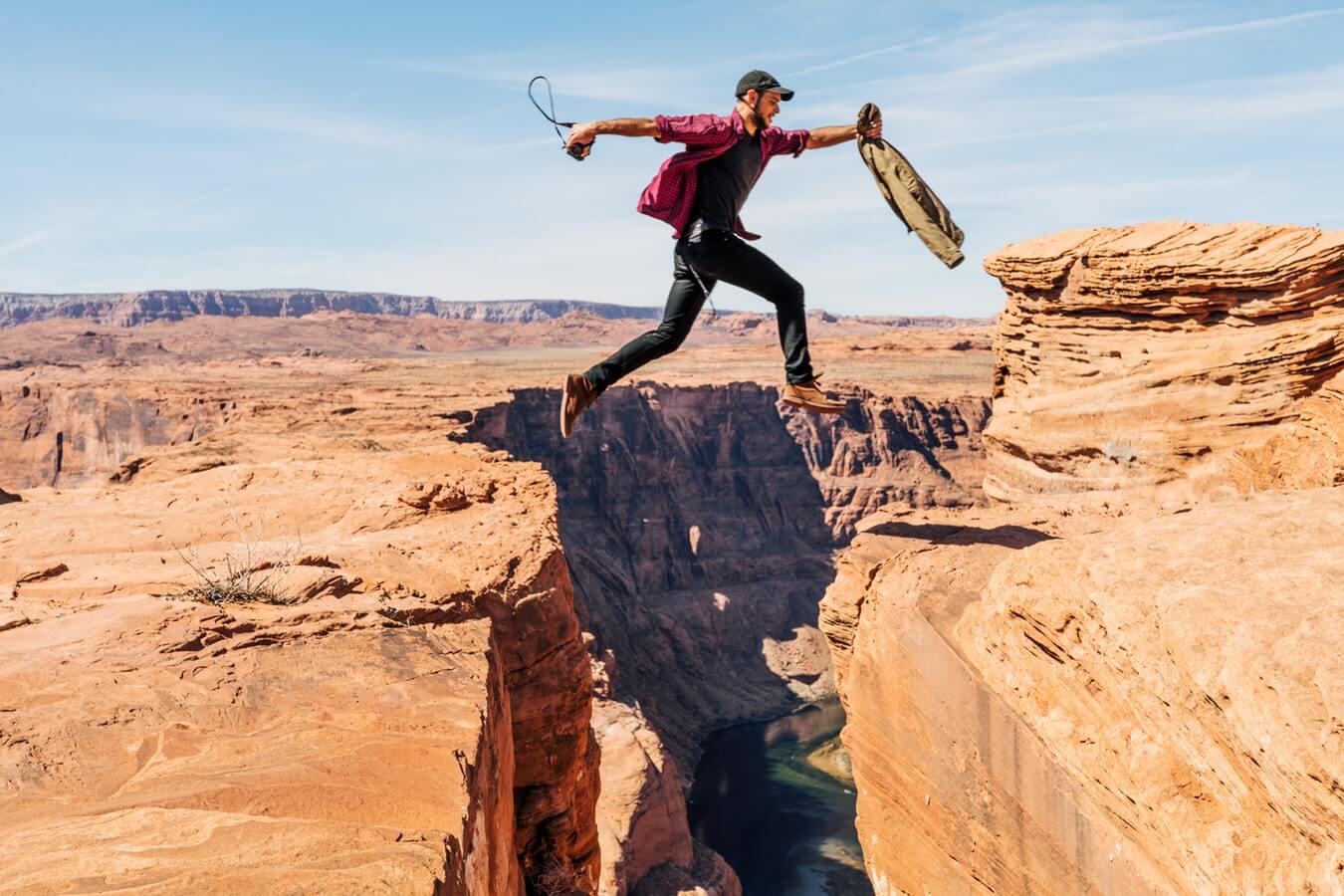 What are the benefits of having a blog
Seems to me that people who are new to blogging see it simply as a way to express your thoughts. For many it is, but for most of the "world-famous bloggers" is much more than that.
A blog is a challenge that proves your business skills, creativity, intelligence, and dedication. A blog is a personality test for hard work and discipline. A full-time business with the equivalent capacity to earn the same amount of money as you would earn from a coffee shop for example, with a huge cut off investment.
And believe me, if you put as much work in a blog as you would in any other big investment business you're going to be awarded quite a similar return of investment.
I listed below a few of them which I think are the biggest benefits of having a blog.
1. Becoming part of a big community of people
World-famous bloggers get personally in contact with more than a hundred people daily. The list usually counts fans, employs, collaborators, guest bloggers, and other people interested in marketing on your blog. More than 1 million readers on your posts, uncountable comments replies, hundreds of emails from fans and followers. All people interested to express their gratitude to you for their questions well answered and problems solved.
Bloggers with more than 1 million monthly readers have at least 300.000 subscribers that can't wait for their next post. All of them ready to share your vision around the world.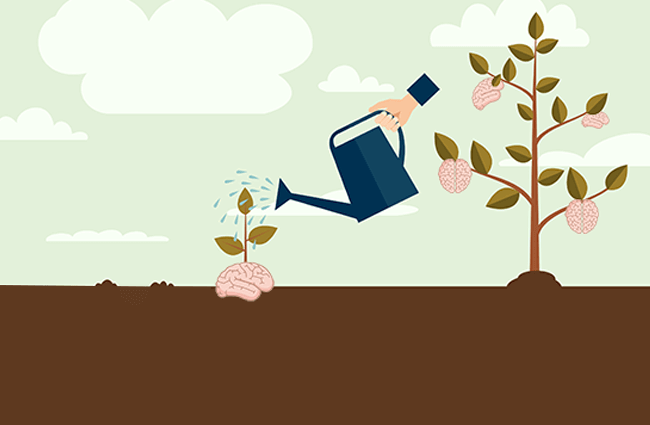 2. Learning many aspects of life
A good blogger as I said above would start a blog looking at it as a business instead of a hobby. Educating himself first on aspects like management, marketing, internet technology, customer service, and much more.
For bloggers, the primary job is to inspire, entertain and answer questions related to different topics. And a good blogger has always the right answers, obtaining them thru extended researches that if frequently done raises his level of information and makes him a highly educated person.
3. Having an influential position in society
If you are a trusted blogger you can become very helpful for society. If you make huge money you can donate some of that on gofundme.com for all the people that struggle worldwide. You can ask your audience to donate as well, by just sending one email to them. You have the power to raise money and help the world. 
4. Making money
Good bloggers that have over 1 million visits per month earn over 1 million dollars a year. Some do it with advertising and Google Adsense, others with affiliate marketing and others by selling their products.
At number 1 from the top 10 earning blogs is The Huffington Post with over $41.6 million per month.
5. Having more free time
If you want to be a full-time blogger, it may take a while to get to this level, but some bloggers spent only a couple of hours working when others instead don't work at all – They hire other people to write for their blogs. A big advantage for people who like traveling and spending more time with their family and friends.
6. The privilege to work from anywhere around the world
Many bloggers spent much of their time traveling to deferent countries every week, tutoring workshops, giving speeches to events and still doing their blogging from their hotel room.
The readers don't care if you're in Africa or India or Europe, as long as you have good quality content they will come to your site. You can do this job from anywhere in the world.
Most bloggers that are worldwide famous, they are consistently invited to shows and asked for interviews constantly. If you wanna become a blogger to give your life a deeper meaning and have your name remembered you choose the right thing.
It's about who you know these days that makes you succeed. Having a good relationship with people from relative websites could help you advertise a lot. If they like what you do they will help you get visitors by mentioning you on their blogs.
Once you targeted who you want to make friendship with these are the few methods that will help you in the process.
Write them an email with compliments
Contribute to them by giving them free resources
Help them gain traffic (link to them)
Visit blogging conferences and invite people to grab lunch with you.
8. Improving character aspects
Blogging is about discipline, hard work, and dedication. Manny blogger claimed that they improved their quality of life and became better human beings. I think because blogging takes you away from the machine of society, taking you away much of the stress from a regular job, revealing you more meaningful aspects of life.
9. Selling your book & courses
Most bloggers make their money by selling their courses on their sites. If your readers like your posts are more likely that they'll be interested to buy your books and courses that you love. People get to your site because they like your vision, your personality and whatever your thing is good as long as you're honest about, they'll think is good as well. Don't ever take advantage of this for negative purposes.
10. I want you to tell me
I invite you all to share your experience and to write a comment with whatever you think is a benefit from blogging.
Frequently asked questions (FAQ)
How to commit my-self to publish blog posts more regularly?
It is really important to create a realistic schedule and to make it easy for yourself to get the work done. Do not pack your schedule to the max, there will be days where you are antsy to write a post, that's why it is important to dedicate a few hours and post 2-3 times per week to provide super high-quality content. So when the day comes for you to write, you have no other option.
Consistency is key if you want to be a successful blogger, it will set the expectation with your readers and from yourself. People will come back and check out for new content (news websites, for example, people always read and watch what is happening lately in the world), this can be very beneficial because the more content you publish, the bigger the chance of going viral can be.
Make sure to not burn yourself by writing blog posts each day for 2 weeks, then you don't publish anything for 3 months. This is one of the reasons why most blogs are not successful. Don't be a perfectionist when it comes to writing, it will kill your ambitions.
Note: Once your blog gets decent traffic, a smart long-term decision can be to move your hosting to a better-managed WordPress hosting provider like WPXHosting, they have amazing features and your website will perform better under load. They are much more expensive but it will be well worth in the long-term.
How do you write a good blog?
You need to know your audience, write attractive headlines, add a couple of subheadings so people can navigate better, use images, optimize it for SEO, and add a clear call to action (ask readers to share your post, follow you on social media, purchase something).
How can I increase my blog traffic?
You can write more blog posts, promote your blog on social media, know your niche better, add social sharing buttons, retweet your past posts on Twitter, invest money in advertising, write guest posts for other blogs, cross-promote to your email list, use Bullet Points, these are some of the most important ones.
How to promote business on my blog?
Write for your customers, they will be the one purchasing, you need to plan your content and create valuable content, frequency is very important as well, make sure your blog is consumable(easy to read).
How to find my niche?
It needs to be a topic that you enjoy talking about, starting a blog is a fun process. It is important to do your market research and pick a small niche that is profitable.
How many words is a good blog post?
This can vary from blog to blog. Usually, most of the readers have short attention plans, so having a blog post under 1000 words will be very sweet. Depending on which niche you are, you may need to write a 5000-word post so you can do well in search engines.
How to have better analysis on my blog?
If you want your website and blog posts to be indexed faster you need to submit your website to Search Console.
You need to verify your domain with a text that Google will give you. This will give you access to great analysis tools and notice you about eventual crawling errors. From google webmaster tools you can submit sitemaps, check your keyword rankings, links pointing to your site and many other things. Sign up for google analytics and add your site to track traffic stats and search traffic information.
How do you write effectively?
Be specific and choose simple words. Make sure you write short sentences as well. Using active voice and keep your paragraphs short. Make sure to use fewer fluff words, don't rumble and don't repeat yourself.
Make sure you don't write intros like you are in high school, as well.
Blogging without hosting, is it possible?
No, you need a hosting where all your website files will be stored. Every website online uses hosting.
I want to remain anonymous, is it possible?
Yes, it is possible. You need to make sure your domain has WHOIS privacy ON.
I think blogging is dead, is it?
I've seen a quote, Blogging is not dead, it's simply reincarnated. Blogging is not dead but it is changed, like everything else in life. The tactics that worked a couple of years ago may not work today.
Why do most bloggers fail?
I believe that the simple reason why bloggers fail is that they give up. They start the blog with high-hopes but fail to deliver it. The other reason is that they have the wrong mindset, like making money without providing much value to readers. Commit to content and marketing. Market your blog more than you spend time on writing posts.
Can you make money blogging for a decent living?
Yes, there are a ton of bloggers that make money blogging for a living and they are in 5-6 figures per month. Most of them also have income reports, there are a ton of lifestyle blogs also where people talk about daily lives and experiences.
Can I earn money by blogging in a different language?
Yes, you can still be an affiliate or have ads on your blog.
How to find blog ideas to write posts about it?
There is a tool called AnswerThePublic.com, you can write a keyword and will throw a number of questions, you can make posts about those questions.
If you have more questions to ask, please comment below or email me so I can provide more answers here. If you found this article helpful, then I'd really love it if you can share it on your social media.