There are a lot of people that travel worldwide and almost all of them are excited to get paid and live the travel life full-time. People travel worldwide, but never did any internet marketing and most don't know how to start travel blogger and start promoting your blog online.
In this post, I will help you learn everything about how to start a travel blog online.
How to Start Travel Blog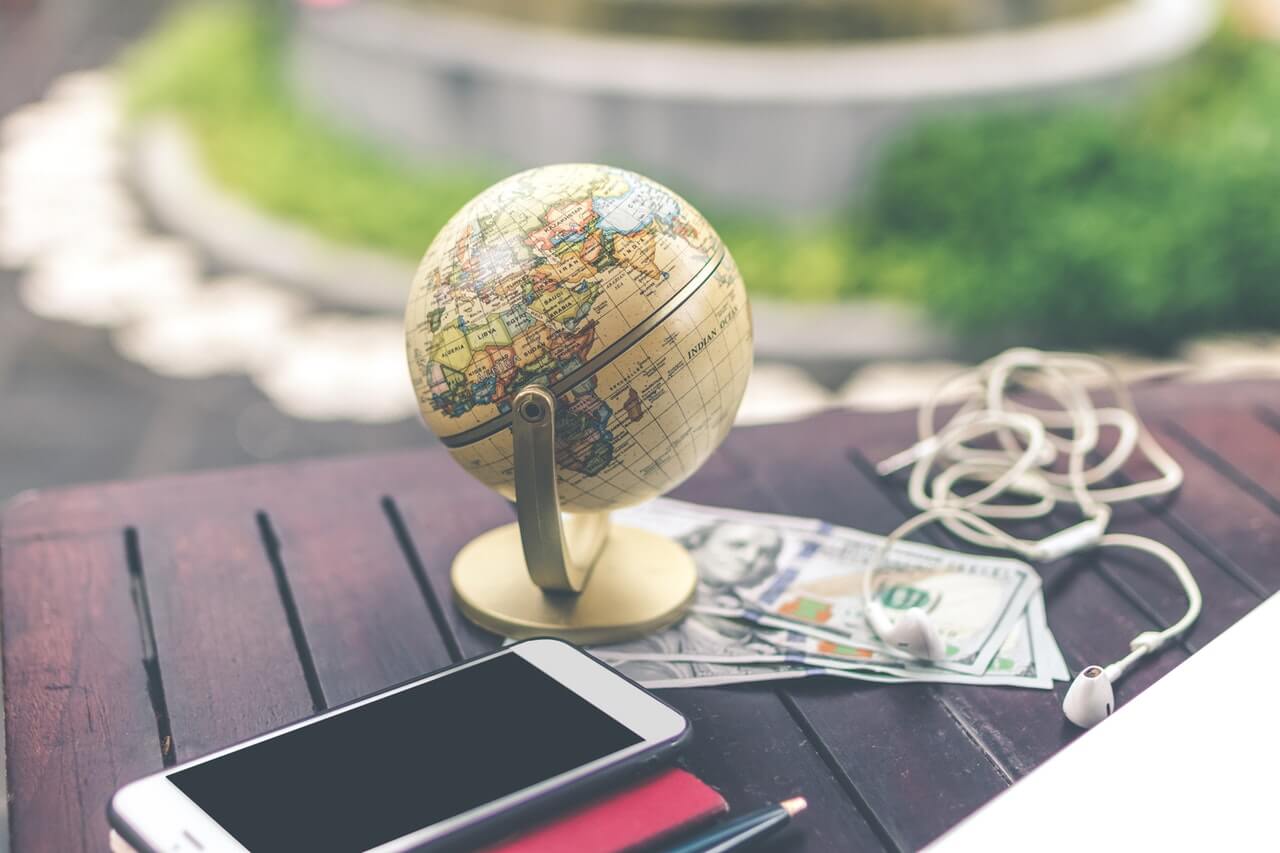 1. Starting a Travel Blog – Travel Blog Name
Most likely the hardest, but having a quality domain name is crucial. You will get the best results on Google and provide trust to your visitors.
I recommend having a short name that can be easily be remembered. This is the best way your visitors can find you, and most of the online marketers always try to have short domain names because it means more visits and social shares online.
The word Travel has more meaning than just checking bucket lists. You want to create a blog that people can be inspired and create a lifestyle of travel. This is one of the most important steps before we learn how to start travel blog. You can put your name in the domain and then add a keyword to it. In the next paragraphs, you will learn how to get the best possible deal on a domain name with hosting.
So if you decide for a name let's go to the next step.
   2. Create a plan
Often overlooked, this is one thing that a lot of online marketers forget to do, there are thousands of blogs that are just left with no content on them.
You need to know what you will do with your blog, that's why I recommended creating a plan before you start like:
Where I'm gonna host it?
What will be the WordPress theme I will be using?
Who I'm gonna help with my blog?
What content will be posted?
Logo?
You need to know these steps on how to start a travel blogger, if you don't I will do my best to help you explain everything in detail.
   3. Hosting
Like I said above, building trust with your visitors is key, that why you want to build something that will be working for years. That's why I advise my readers to not use free platforms and free hostings like weebly.com or blogspot.com. Your blog will look something like travelblog.weebly.com and you will have limited features. Your blog will have a lot of ads that are not yours, and you don't have full control over your blog.
Having a legitimate .com domain name and having a phenomenal web host that can allow your visitors to load your website fast (under 1 second) can be crucial for the search engines.
There have been studies done that websites that took more than 3 seconds to load visitors leave the site.
That's why we recommend using BlueHost.
For as low as $2.95 per month, you can start a website with a FREE domain name, free SSL certificate and 24/7 customer support that is top-notch, extra security features with of course 60% OFF on hosting. This is a deal you do not want to miss.

BlueHost allows you to store your website with them, you rent their services, which means all your blog data and files will be shown when visitors open your domain.
Luckily for you, BlueHost offers a free domain name while signing up on a long plan as well. You pay a small monthly fee to a web host that can protect your blog from any malware and always have fast loading. I have been using BlueHost for many many years on a lot of my websites, they have phenomenal features and they have amazing customer support.

Their agents are available 24/7 online. And if you experience any issue you can always contact them to help you solve it.
They also offer a free SSL certificate that a lot of hosting website charges for that feature, which means that you get the best deal possible with BlueHost. They offer unmetered bandwidth on their cheapest plan as well.
You need to be careful with the size of your photos and videos, BlueHost offers 50 GB of SSD space, while SiteGround with their cheapest plan offers 10,000 visitors per month with 10 GB of webspace. Once your traffic starts growing, you may need to upgrade your plan to get a bigger bandwidth.
How to sign-up with BlueHost?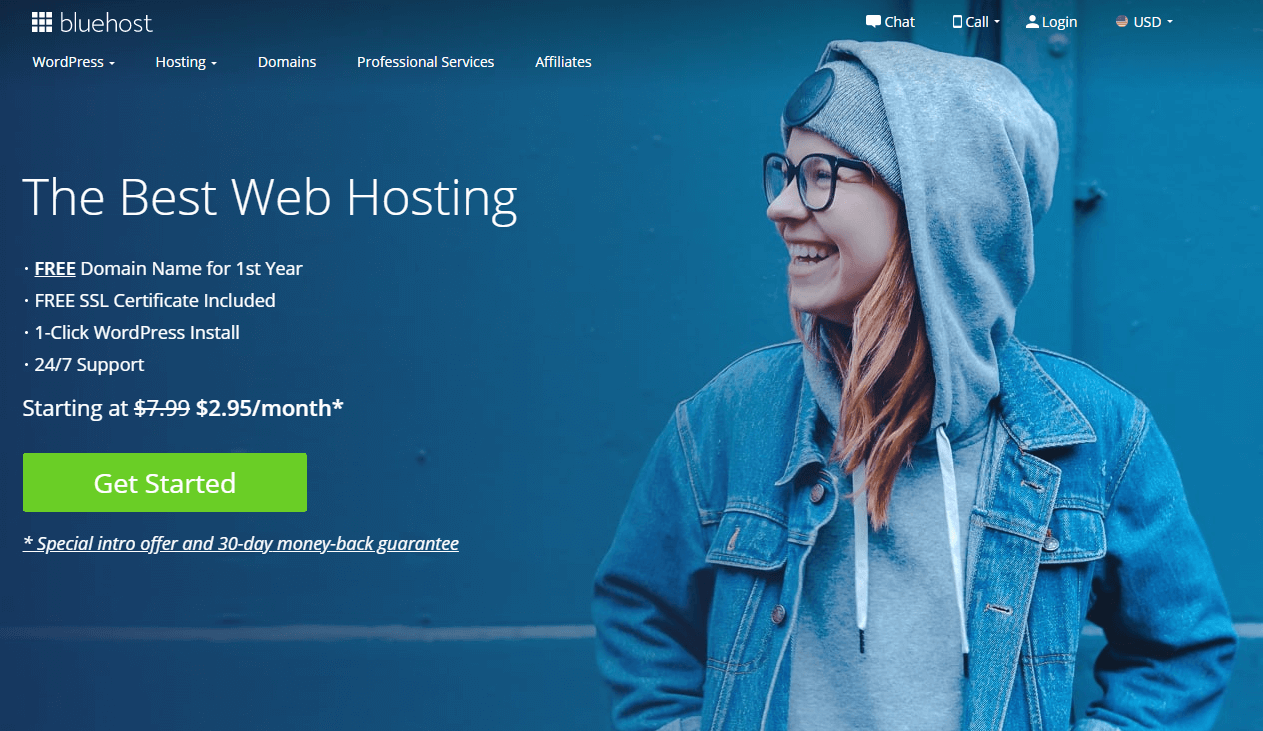 Click the Get Started green button, after that, you have options to choose which plan you gonna use.
I recommend the Basic plan because you are just starting your blog after you get serious will be better to upgrade to the Choice Plus plan because it will give you more space and many more features than the Basic one.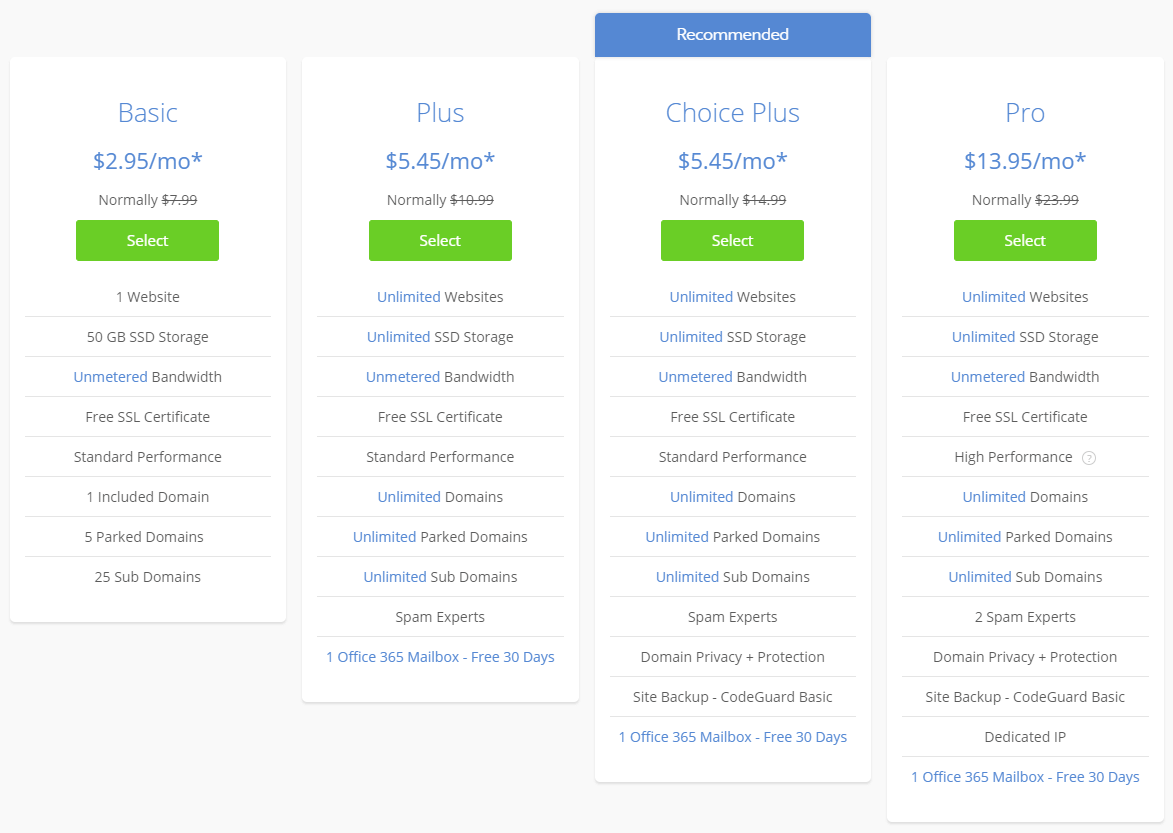 Then you will be taken to the page to name your travel blogger. If you already purchased a domain name from another provider like Namecheap, you need to select the I have domain name option.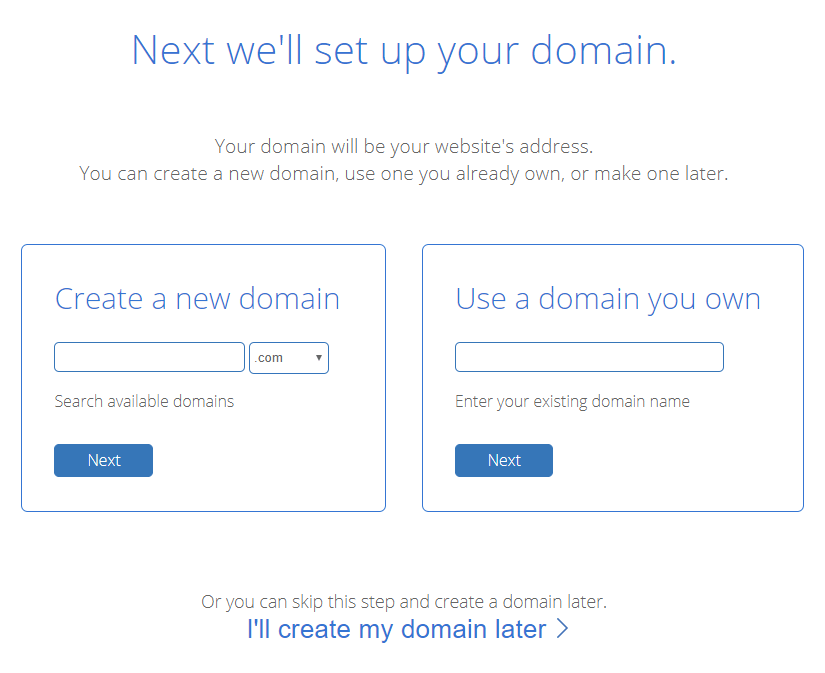 The next thing you need to do is to fill all your details. Make sure all of them are correct, and you can scroll down and make the payment.
100% recommended getting domain privacy, and then BlueHost information will be public and not yours. If you don't add domain privacy, you may get annoying calls from people to help you with your website.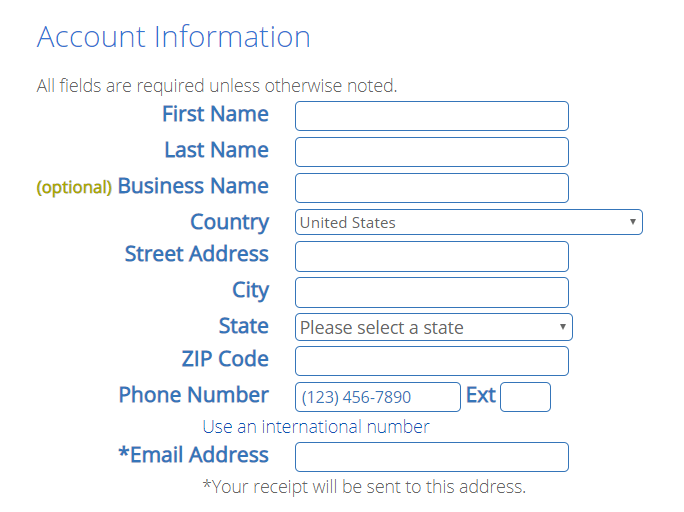 After this, you need to agree with BlueHost's terms of services and hit the green Submit button.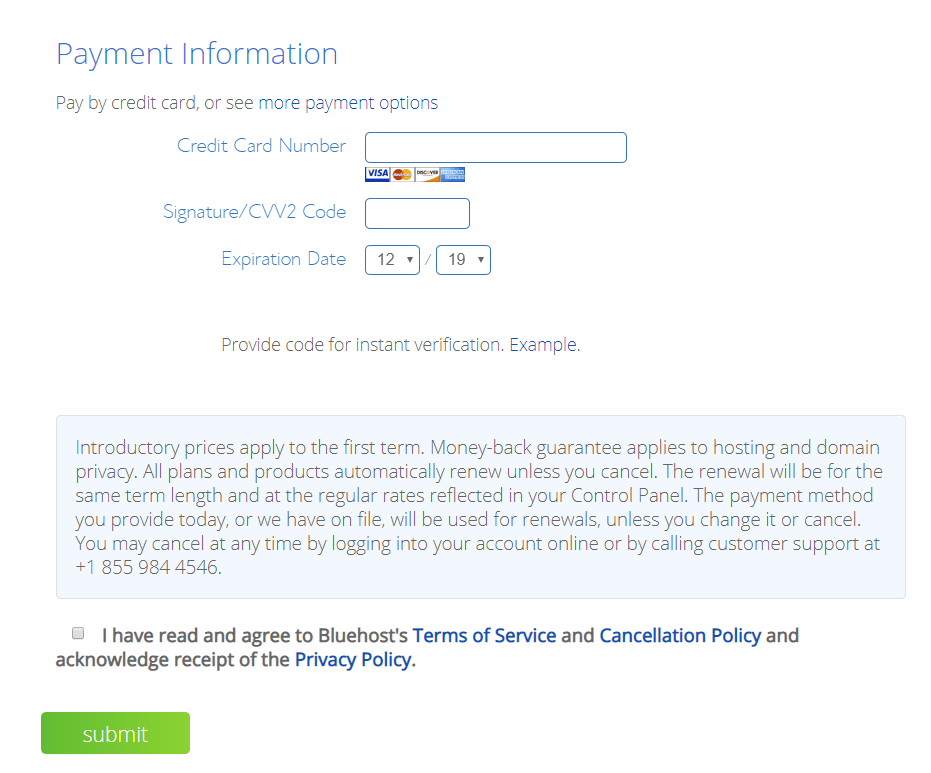 Congrats, you completed a major step on how to start travel blog now!
Click here to start with BlueHost if you haven't already.
The next step is installing WordPress on your blog, so let's keep going.
When you use BlueHost, this is very well optimized for beginners that are starting a travel blog or any kind of blog. BlueHost has everything laid out perfectly on how to start with installing WordPress in a few steps.
When you install WordPress you have all the control over your website, and it is not complicated.
BlueHost allows you this to manage in the backend really easy. You can always contact the support team to do it for you if you get stuck somehow. You don't need to worry, all of us were there.
Once you install everything, and you wonder how to log now?
It is really simple, you need to go to yourdomain.com/wp-admin and a screen like this will show up: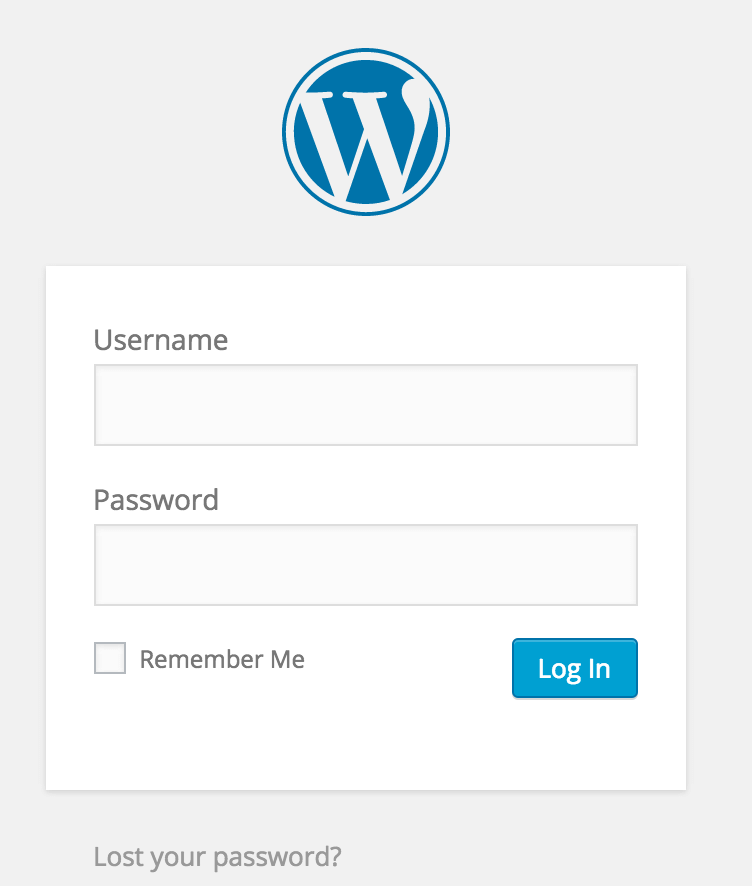 You need to type your username and password and you're in the dashboard.
Everything is laid out perfectly for you, so you can easily navigate within.
Once you install the WordPress and you are in the wp-admin, you need to go to Settings > Permalinks.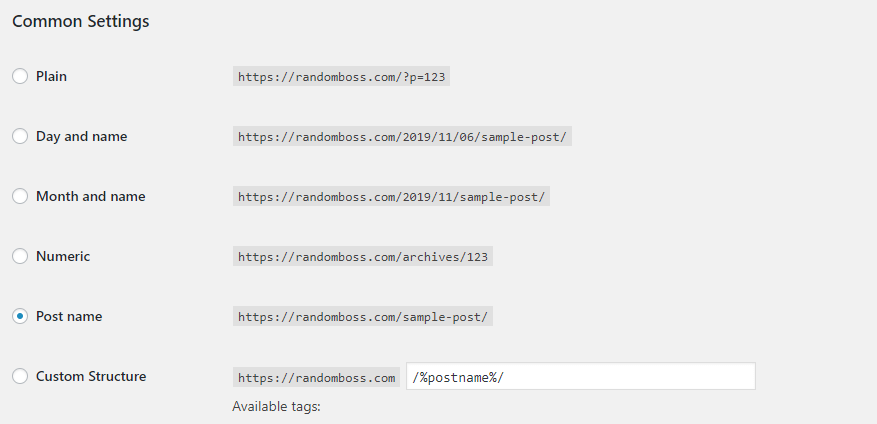 Once you see this, you need to select "Post name" and click save changes.
This will mean your blog posts will be shorter and better for search engines.
Example: domain.com/travel-worldwide is much better than domain.com/2019/11/06/travel-worldwide.
   5. Install Plugins
Now after everything you've done, you need to install couple plugins to help your website get better functions to help you get started.
There are over 40,000 plugins available, we only want to install a few, you don't want to make your website full of them because this can reduce the loading speed.
On the left side you can see Plugins, just point on it and you will see Add New. When you click on Add New you will be taken to a new page where you can download and activate your plugins.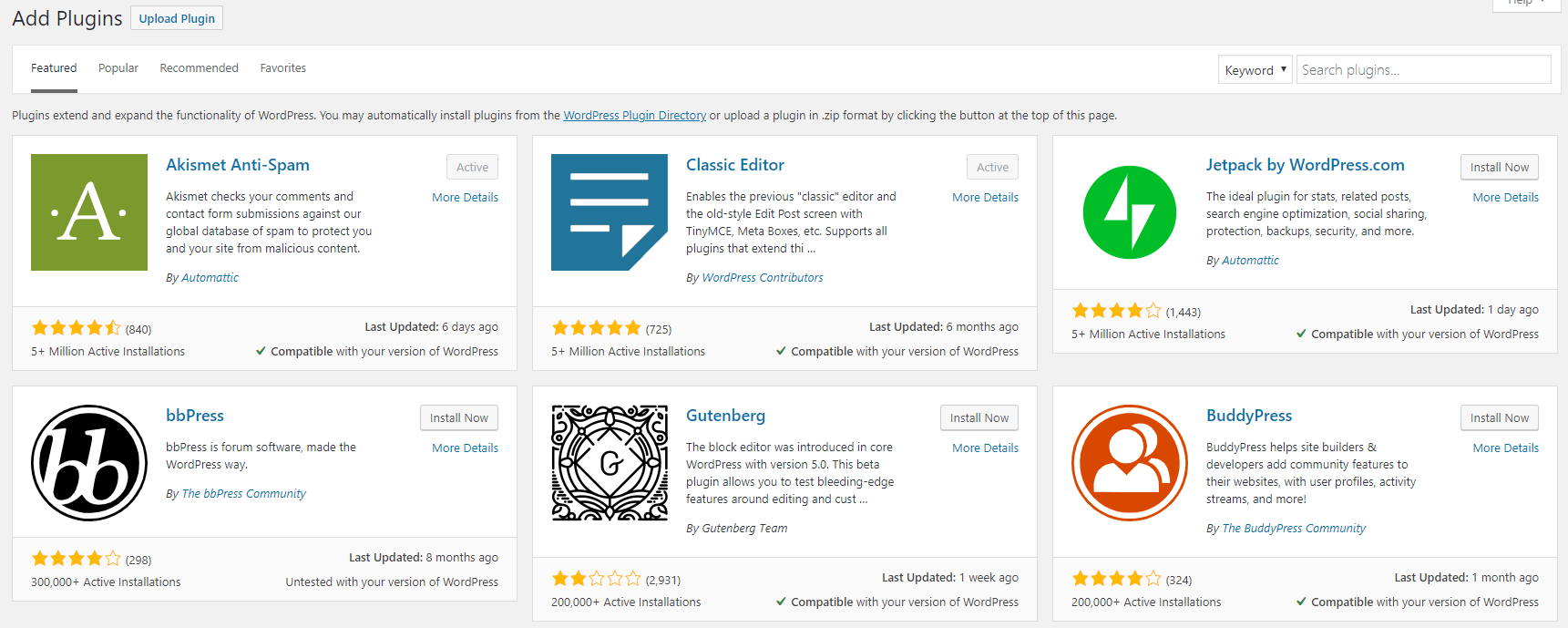 On the top-right corner you can see the Search plugins box, here are my favorite plugins for you to install:
Yoast SEO: This is the best SEO plugin available. You can easily create descriptions for your post, you can easily optimize your title, create sitemap.xml that search console from Google can easily read and index your post, it is easy to use with instructions.
WordFence: If you want to protect your website from spammers, you need to install WordFence, they offer a detailed scan for your entire website for any affected malware on everything. You can easily track everything that is going on with Security.
Social Pug: This is perfect to have it above or below your posts so it can be easily shared with Facebook, Twitter or Pinterest. This can get you more exposure on social media.
W3 Total Cache: This will help you have better loading speed on your web pages, cuts down the work that the server needs to do, which means a faster website for your visitors.
Classic Editor: WordPress decide to update the post with a new style and a lot of the professional was not happy with it because it is a bit confusing. Install Classic Editor so you can easily navigate through writing content.
Contact Form 7: You can easily add a contact page for visitors to contact you.
   6. Install Theme
You need to make your website look pretty, this is one of the most important things to do.
Good content with good design will only benefit the readers, that is why to get a proper WordPress theme for your blog.
You have two options to choose from:
Free Themes – There are thousands of free themes and they work quite well. Free themes are perfect if you are on a budget, but after your blog grows, it is good to upgrade to Premium theme I will explain why.
Premium Themes – These are paid themes and few things that they offer than the free themes is your blog being unique, always an up-to-date theme with regular updates for security, they are also more flexible and function much better than the free themes. Depending on the theme and what features it has, you can get a proper theme for your blog for $50-100. You get access to support it is easier to customize it yourself. The best premium themes you can buy are from StudioPress. They are super SEO friendly, you can easily make them look good and are fun to work on.
If you have downloaded a paid theme from StudioPress go to Appearance > Themes > Upload. The zip file is really easy to upload and then activate it.
For installing a free theme to go Appearance > Themes > Add New. Then click on popular and check what can fit your blog to make it look good for starting.
   7. Getting Logo/Header
This is how can get recognized easily from your competition, that's why you can make it unique. It is good that this feature is not costly and will not waste your time.
Having great content is the thing you need to worry about after you get a couple of visitors you can improve your website design.
This is what I think is best:
Fiverr – If you don't have enough design skills, head over to Fiverr.com to check out the logo designers there. You can see a bunch of examples and if you are happy with designer work, you can easily order.
Canva – Completly free to use, and if you are on a tight budget it is perfect for you. There are a lot of examples of what you can choose to do, and in the future, you can create other designs like YouTube thumbnail, YouTube channel art, blog post images. I use it for my blog and for my youtube channel, you can easily create everything without wasting time on downloading images and putting them into photoshop.
   8. Add Pages
Once you uploaded your theme, you need to add a few pages that can be shown on the top of the blog. This what you read is a blog post. Pages are putting it on the top of the website where visitors can contact you easily.
You don't need to add a lot of pages, here is what I recommend:
About page – Tell about yourself, what your blog is about, make sure that this page is well written because people can understand you and remember you.
Contact page – This is when people may need to contact you, that why I recommended the Contact Form 7 plugin.
Copyright page – Standard page where you explain that the work is yours and no one can steal it.
   9. Quality content and beautiful images
You need to use the Yoast SEO plugin after you write your post you can add focus keyphrase then you can check the SEO analyzes and see how to improve your post to get better rankings. You need to link between your posts so your visitors can keep reading.
Photos are perfect for travel bloggers. They keep visitors engaged with your posts and this is why I recommend your blog to be image-heavy.
   10. How to Start Travel Blog – By being Consistent
Everything is about consistency, if you decide to write a post twice per week, then do it. This can build loyalty with your visitors and readers.
There are tons of things you can write about. Maybe can be a little challenging from the start but once you get the ball rolling it is much easier.
You can write about:
Travel destinations
Travel gear
Inspiration
Travel with family
How you manage your money
Travel Planning
I need to mention that you need to make sure your content is high quality, you don't need to rush just for posting everything.
You don't need to create an image that the traveling is always perfect, you can write about negative stuff that happens while you are on the road like being lost in a new country or being scammed.
You can build relationships with your visitors by telling your experience and your stories.
   11. How to Start Travel Blog with Social Media
This is perfect to involve your social media accounts when starting. You can use bring the audience together and it is easier for your content to go viral.
What you can use:
Instagram – This is really the best when it comes to traveling, you can easily post about a travel experience. You can easily interact with your followers. You can use this scheduling tool to post photos and videos for Instagram.
YouTube – There are a lot of people getting into YouTube these days and if you are consistent with your videos you can easily get ranked on youtube and get traffic to your blog by putting the link in the description.
Pinterest –  this is a platform that can bring a lot of people to your blog. Your posts are much easier to go viral and get traffic to your blog easily.
   12. How to monetize your travel blog?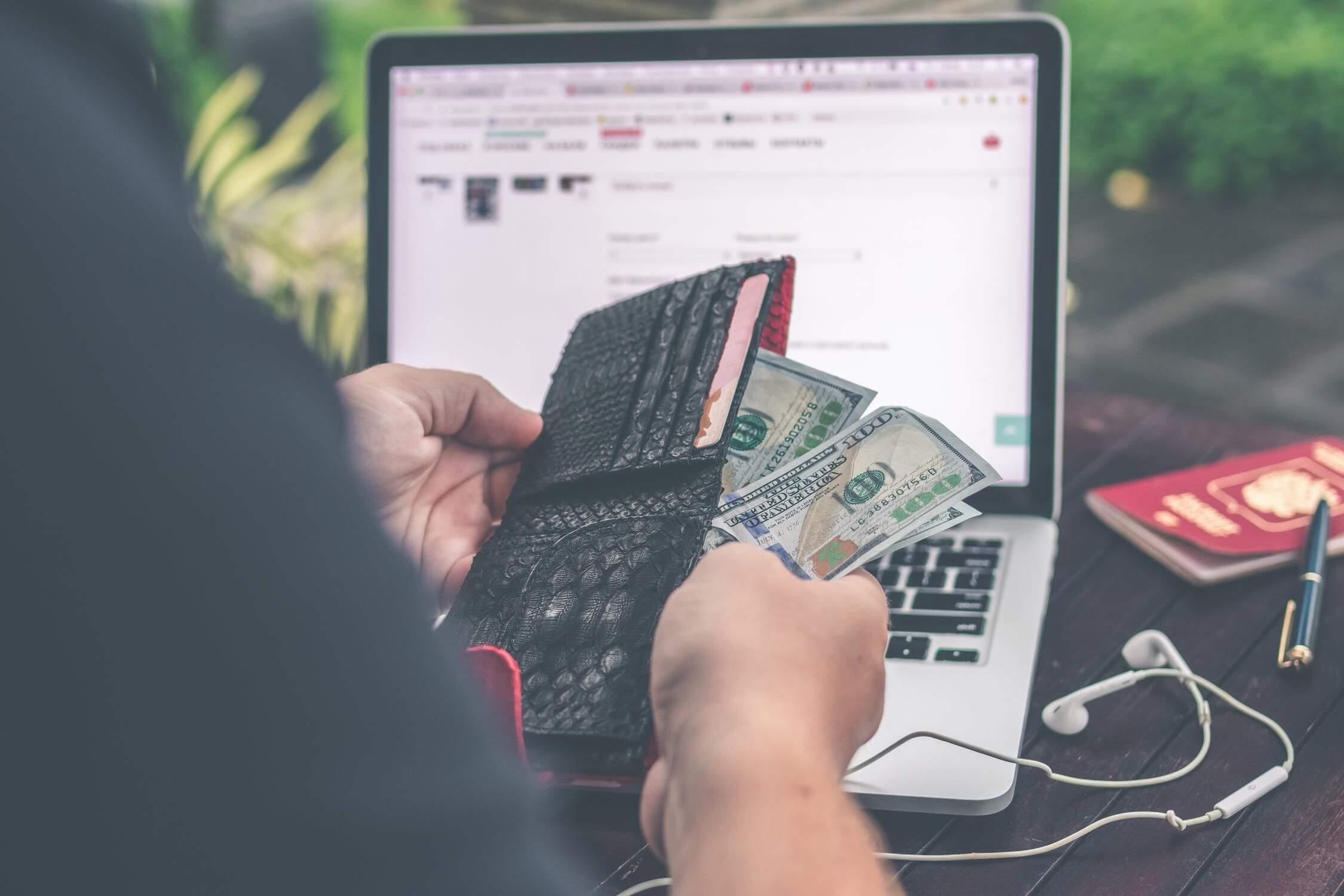 Once you have everything settled in, theme installed, logo added, and have content for your visitors, you can think about monetizing.
There are a lot of ways on how to start making money with your blog, and I will share some:
Affiliate Marketing:
The best thing about affiliate marketing is that you can start making money from the moment you start your blog and have a couple of visitors in.
There are a lot of insurance companies that offer affiliates sales like Skyscanner. You can open their website and you can see at the bottom Affiliates. There are a ton of websites that have affiliate offers.
You only need one person to find your post on google and if he buys insurance from your recommendation you can easily make $100-200 from a single sale. Now imagine having 100s of people doing that.
Amazon Associates:
This is perfect for beginners, you can make a post about your travel gear or everything you wear when you go on a trip, you can link the products with amazon associates, there are 100s of YouTubers that do this, you can easily put the link in your blog post and when your readers click and buy on Amazon you get a commission on that sale. The browser cookie lasts for 12 hours, so everything that they buy in 12 hours you get a commission. You can write detailed reviews about products from Amazon that you are using it while you travel.
The easiest way to make money is Adsense. You can sign-up for an account, and ad a couple of banners on your post on the first paragraph.
Download the Quick Adsense plugin so you can easily manage your ad banners. Once you have visitors rolling in you can leave Adsense and join Ezoic or Mediavine, you can earn 10x more than you did with Google Adsense.
How to Start Travel Blog – Conclusion
A lot of people are discoured to not start their blog because always think that they are too many blogs. When you are starting a travel blog you should always think that you can do better than your competition. This is the mentality you should have.
Hopefully, this blog post helped you on how to start a travel blogger. If you think I missed something, please comment below.
Blogging might be the best thing to start online, you can work on your own pace and whatever you want.
It doesn't take long to get ranked in low competition keywords on search engines once you have quality content.
You be a crazy lover when it comes to traveling or maybe you run a traveling business and you maybe want to connect more with your customers, so now you don't have excuses to wait longer.
Starting a travel blogger is unique, everything is yours, so you can easily stand out from the crowd.
So just do it.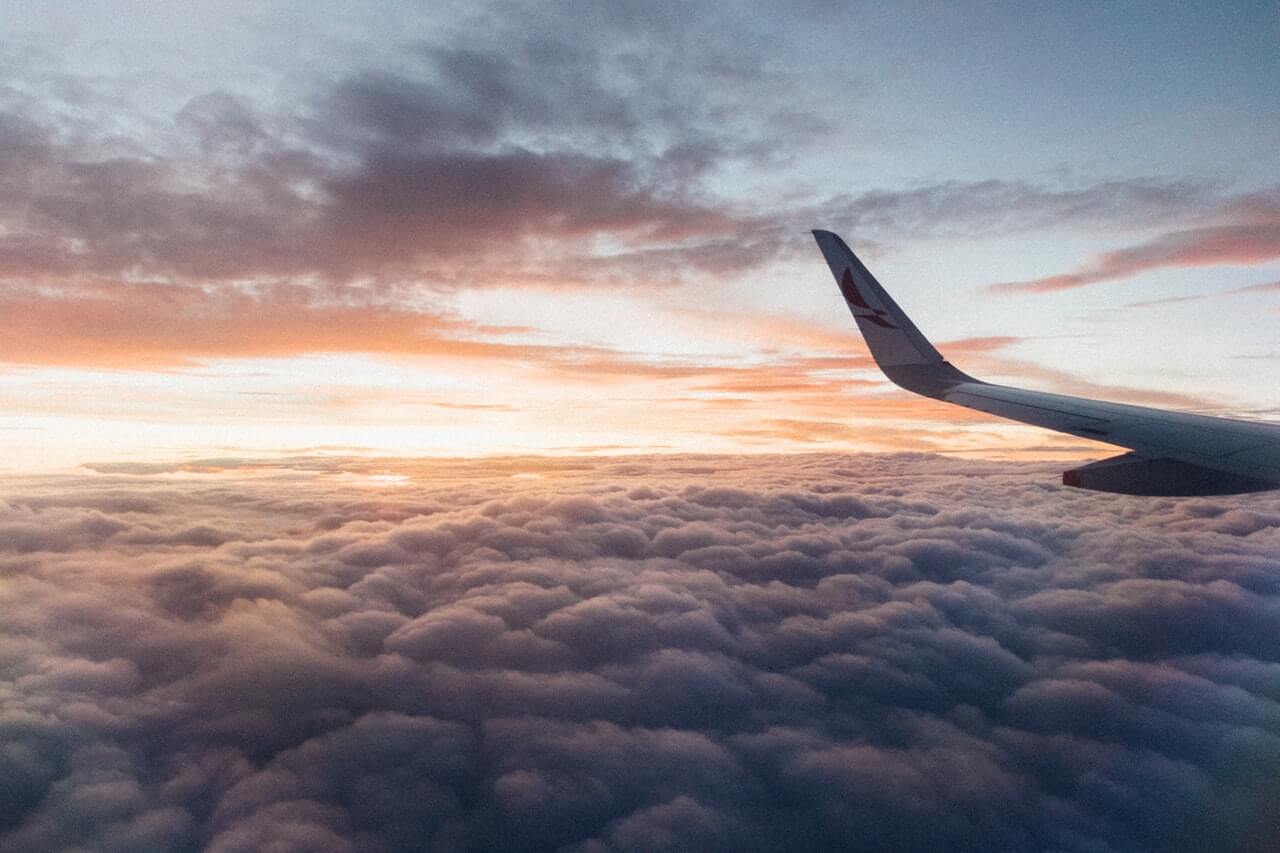 Frequently asked questions (FAQ)
Q: What is SSL?
A: This creates an encrypted channel between the client and the server, so any credit card details, logins or any important pieces of information will be encrypted.