This HostWinds Review will give you important details to know about one of the top hosting platforms today. I'm gonna show you why in my opinion Hostwinds is one of the best hosts available at the moment.
Hostwinds continuously grows since I've started working with them back in 2013. They offer shared hosting, VPS hosting, dedicated servers and they have really amazing customer support. As soon as you open the site instantly there is a chat agent there ready to help you.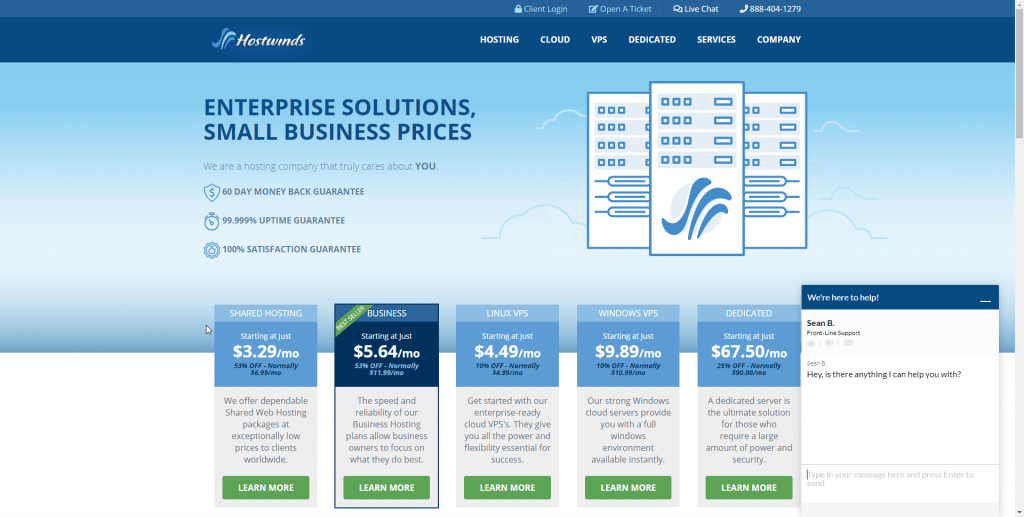 Since our blogging journey, we are using HostWinds on all of our domains and I and my team are extremely happy to guide you to choose your best website hosting for your business, so make sure you read this detailed Hostwinds Review. For ordering the cheapest domain names we recommend using NameCheap, phenomenal prices for all domains!
You will learn today how much they are reliable, their performances, customer support, pricing, and all other features.
We know that Hostwinds to be one of the most reliable and customer-friendly hosting services. 24/7 customer support is the best. Their agents are really well trained and they have amazing skills to solve any issues that you might experience with your websites, I use WordPress on all of my websites, and they always fixed any issues that I've had in the past.
About HostWinds – They were found in 2010 and really quickly they become one of the leading host providers today. Their growth is their amazing customer and friendly support, reliable web hosting and amazing shared hosting plans. Continue reading this HostWinds Review to find what is best for you and your business.

They have headquartered in Tulsa and Seattle, and you can always go there and get any assistance you need.

Some of the features why I'm using HostWinds:
Reliable hosting: Hostwinds guarantees an uptime of 99.999%.
Generous money-back guarantee: Hostwinds offers 60 days money-back guarantee. It is normal, web hosting companies don't offer a money-back guarantee to exceed 30 days.
Flexible billing periods: You can choose between monthly and yearly billing payments. Longer billing payments will get you the most discount.
Free migration: Hostwinds offers free migration service with all new accounts. Their agent will transfer all data from the previous host and will do it in with no extra cost!
HostWinds Review Performance:
No one wants to switch hosting providers daily, that's why we have done some tests to check for our self's and our visitors. Fast websites result in better SEO ranking, so it is a win-win for your business and domains.
We host RandomBoss on HostWinds, and you can see for yourself what load time we get with HostWinds.
We used GTMetrix (the best) to test the website and speed testing tool to run the tests. Our results:

As you can see, it loaded under a second, they are incredible hosting provider. These are the stats for a shared hosting provider, which is fine if you are just starting. If you are running a big traffic business, you need to upgrade to a cloud or dedicated server. They are awesome too with phenomenal performances.
Click here to start with HostWinds
HostWinds Server Response Time
Obviously the content you have on your site affects the load time, for example, more images mean increased load time. For compressing your images and trying to have better load time use this website.
We used a tool called Bitcatcha, instead of content, it tests the response time of the server. Our results:

HostWinds servers performed really well, and in the US loaded for in 37ms, so will perform really good anywhere around the world.
HostWinds Plans and Features

Shared hosting: the Best way to start with a new website and low traffic, on this plan, you share resources with other websites hosted on the same server.
Cloud hosting: This plan has multiple servers, it is perfect if you have a great traffic.
VPS (Virtual Private Server): They offer Linux and Windows VPS, both are really strong and they give you all the power and flexibility essential for success.
Dedicated server: Maintain by yourself, the ultimate solution for those who require large security and power.
HostWinds Shared Hosting Plans

These hosting plans are great for a new website that can start their website easily before scaling it up for more traffic to grow their business. It is easy to upgrade to a better plan once your business grows.
HostGator's shared hosting plans come in three different levels. All plans include unlimited storage and bandwidth. The main difference is the number of websites you can host.
Basic: The Basic plan allows you to host only one website, with unlimited bandwidth and disk space.
Advanced: The Advanced plan allows you to host 4 websites, with unlimited bandwidth and disk space.
Ultimate: The Ultimate plan allows you to host unlimited websites, with unlimited bandwidth and disk space.
And all of them include – Free SSL Certificate, SOFTACULOUS, Free website transfers, latest cPanel, unlimited MySQL databases, unlimited subdomains, unlimited email accounts, free dedicated IP-address. domain included and Weebly builder.
Their Business Plan provides greater Speed and Performance, all of their plans come with SSD, performance-optimized MySQL, more PHP memory and LiteSpeed web servers. HostWinds claims that their business plan is 500% faster than standard packages, but if you are a beginner and wanna use it for one website only, you can go with the Basic plan.

Cloud Web Hosting
With Cloud Hosting, you can have your own dedicated resources, this is a version of web hosting that spreads the CPU and RAM with other resources in more servers, is not like another traditional hosting which draws power from one single server. There is a huge advantage because your site is not tied to one single server.
The Cloud Hosting package have SSDs available, also the Cloud Packages are great options for sites that have spikes in traffic.
VPS Hosting
FULLY MANAGED ENTERPRISE VPS HOSTING

FULLY MANAGED WINDOWS VPS HOSTING
VPS Hosting is perfect for people that wanna build their own sites on servers that are can offer more power than regular web hosting plans, with the VPS Hosting you still share some server space, but nowhere near like regular web hosting. This plan costs more money than shared hosting, but it is well worth if you have loads of traffic coming up. It is more secure and their resources are isolated.
Hostwinds also has plans dedicated to Minecraft hosting, all servers have SSDs.
HostWinds offers 10 tiers of VPS Hosting you can find out all the details here.
Dedicated Servers
Other than the VPS plans, HostWinds offers a great set of dedicated plans for customers that need resources for their website. The prices per month for dedicated servers start at 79.50$.
Dedicated plans come up with Intel or AMD processors with different amounts of RAM and space.
The dedicated servers have 99.999% uptime guarantee, 24/7 monitor, nigh backups, full database management, choice of the data center.
You can choose between Linux or Windows-based dedicated servers. This hosting is so powerful that can place websites on the servers all by itself, your site will have so many resources and can have high traffic volume.
Reseller Hosting
Hostwinds also offer reseller plans, they also offer unlimited bandwidth and disk space and this can vary by the number of Cpanel accounts. If you are interested in creating your own hosting company or your brand, you can check more on HostWinds for this. Hopefully, in this HostWinds review, you learned a lot for one of the top hosting providers today.
cPanel and WHM

They offer the latest cPanel for every hosting plan, in just a few clicks with Softaculous, you can install software like WordPress, Joomla and more.
Also for plans that need server management, Hostwinds offers WHM, this comes up with no extra cost for you and it is available in every plan. Both plans are easy to use.
HostWinds Support and Customer Services
HostWinds offers one of the best customer services in the hosting industry. 24/7 live support.
This will help you find answers for more than 500 articles and you will have the answers instantly.

Their chat agents are very friendly and always try to give you the best answer straight away. You don't need to wait in queue for 10 minutes or more to get support.
The customer support is a lot of good developers with lots of experience.
If you are a beginner it is crucial to have a website that is available at all times. There are a ton of things that can go wrong with WordPress website, catching malware due to un-updated plugins or themes, adding bad scripts, etc.
 Their chat support is instant. As you can see above they also have a knowledge base, support tickets, live chat, and phone support as well.
Conclusion: Is HostWinds for you?
Yes. My team and me as well strongly recommends using HostWinds for your next web hosting. They have done tremendous jobs for our websites and always took care of us as their clients. You can start your website or blog in any niche you want, it can be tech, reviews, personal brand (lifestyle), travelling, etc.
I recently started using their unmanaged VPS hosting for a website of mine, they've done all the migration process from the digital ocean without any issues.
Their migrations are free of charge, will get the backup from your previous bad host of yours, and migrate it easily on Hostwinds.
They have super fast servers and their customer support is top-notch. So, don't hesitate to use them. 
Now that you have read our detailed HostWinds review, and you are asking yourself if Hostwinds is for you?
HostWinds offers a variety of hosting plans that fit all budgets and requirements. Hopefully, you enjoyed our Hostwinds Review.
Ready to get started with HostWinds? Click here to select your plan with HostWinds.
HostWinds Coupon
Click on this link to purchase. The discount will be applied automatically.
Check our HostWinds vs BlueHost comparison.