A2Hosting is one of those website hosting providers that stayed under the radar for a long time. This A2Hosting Review will help you decide if this is the right website hosting for you.
They go by the motto, Our Speed, Your Success.
So today we will find if that is true and everything you should know about A2Hosting.
They are here since 2001, so they are one of the first website hostings that are created in the early 2000s.
In the past 2 years, they delivered some of the fastest speeds in the hosting marketplace and everyone took notice of it.
They have amazing customer support, every hosting plan is developer-friendly, they also have a unique money-back guarantee and you can get a refund on your plans. Most of the plans use SSL and backups too. In this A2Hosting Review, e will try to cover every important question that is asked on google.
Pros of A2Hosting
They are one of the under the radar companies that most often are overlooked, speed is phenomenal, there are plenty of security features.
Firstly, they got mostly famous for one thing: SPEED. Their motto is our speed, your success.
There is no big margin of errors with speed because loading times can be crucial for a visitor.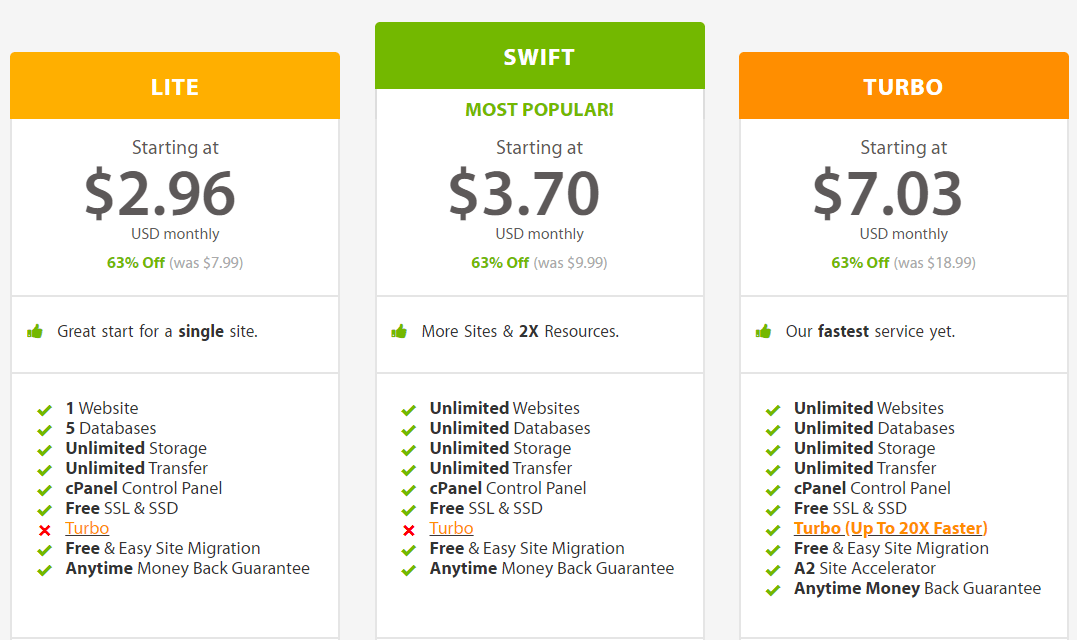 There are three types of shared hosting plans:
Lite – 1 website (5 databases), unlimited storage and transfer, no turbo, anytime Money-Back Guarantee
Swift – Unlimited websites and databases, unlimited storage and transfer with no turbo, anytime Money-Back Guarantee
Turbo – Unlimited websites and databases, unlimited storage and transfer with TURBO (20% Faster), anytime Money-Back Guarantee
All these shared hosting plans offer free migration, they all use SSD to make your sites faster.
If you are a beginner and have only one website, you should go with Lite Shared Hosting Plan.
If you run multiple websites, definitely go with the Turbo plan.

A2Hosting Review – Friendly Customer Support
This is really important if you are searching for a new hosting provider.
Their customer support is very friendly and will do anything to help you with migration or any problems that can occur running a website.
They also provide a lot of answers in their knowledge base, but if you wanna talk with a human, they offer phone, tickets and chat support.
You may need to wait a minute or two if it gets busy for them.
Asked them if they offer free migration and free monitoring on the servers. You can see how their customer agent answered me.
He answered everything pretty quickly, without needing to do research.
FREE HACK SCAN to keep your website safe
The three most important thing to run a successful website online is the speed, being online and safe. There are a lot of things that can slow a website down. Not using tinypng.com to optimize your photos. Not cleaning cache or not deleting spammy emails.
A2 Hosting may have the best speed for shared hosting, but also don't drop the ball on security too.
Their servers are 24/7 protected by HackScan, this is a service that scans for malware.
Their data centers are also safe, you will get protected if there is any DDoS attack.
That means is an attack on servers with traffic to get your site offline. So you are safe here with A2Hosting.
A2Hosting Review – Free Site Migration
They will move your existing website to their services with no extra cost for all of their plans.
You need to give them the cPanel account, and they will get the backup to move to their services.
The only thing is the number of sites, the shared hosting plans will get a website moved for free, if you usee other hostings, you can get up to 25 free migrations.
Developer-friendly tools
They are not dropping the ball on this either. They work with all major systems.
You can install WordPress, Drupal, Joomla, OpenCart or Magento site with few clicks, you can do this by yourself.
They also have a plugin called A2Optimized WordPress plugin with Turbo plans to keep your websites faster than the competition.
SiteBuilder is the official website builder that A2Hosting offers, it is user-friendly and you can customize your site easily.
The plans come with Cloudflare CDN to keep your site fast.
A lot of agencies use A2Hosting, and if you are one of them, then you should definitely consider using A2Hosting.
Anytime Money-Back Guarantee
A2Hosting offers a 30-day money-back guarantee, this is awesome because most of the hosting platforms usually offer 14-day money-back guarantee.
If you are not happy or you run in problems with A2Hosting you can ask for a complete refund and they will refund you with no questions asked.
They may modify the policy over the last few years, but the ones who benefit are the customers.
They have any time money-back guarantee too, you paid for 3yr hosting, and you are not happy after 1 yr? Also will refund you for the remaining time that is left on the deals.
Also if you use additional services like domain registration, set-up or migration fees these are not refundable.
Green Web Hosting
Another reason why I love A2Hosting, their hometown Ann Arbor, Michigan is known for tree town.
They have over 50,000 tried and 150 parks, the company feels for a moral obligation to help protect the globe from global warming.
This should not be a factor to sign up with a company, but it is a good reason that you can trust a company in the future.
A2Hosting Review – Cons
Their uptime dropped a bit in the past 9 months, but it is up again nowadays. Back in March in 2019, their up-time was 99,92%.
It is disappointing when visitors try to get in on your website and give you money but the site is offline.
They sort this issue and I'm sure that they improved a lot of the past months.
However, another con is the restriction on their cheapest plan Lite, this may offer you a 1 Website, 5 databases, Free SSL, site migration and money-back guarantee, you are not getting the turbo for up to 20% more speed on the server.
Yes, I do.

Really easy to sign up, they offer tons of payment methods available, their hidden fees may be higher, free migration on their shared hosting plans.
Very few upsell, instant account activation.
You can always ask for a refund if you are not happy with their hosting.
If you use our discounted link, you can get everything cheaper.
Hopefully, you love this A2Hosting Review, we tried to cover most of the important topics.
Lastly, if you decide to go with A2Hosting (you should), please share your experience below, so we can update the post and help other visitors too.