In this AltusHost Review you will find out why they are one of the top leading hosting platforms. Finding the best hosting platform today can be challenging, especially if you are a beginner. One of the best hostings among the providers is AltusHost. They've been proven worldwide why are one of the best providers, especially in Europe when they've been founded in 2008.
Having over 10,000 customers, they've proved themselves for being a top hosting provider.
One of the reasons why they are so popular is because having versatile offers for hostings and a lot of customized features.
I have decided to give you a full and honest AltusHost Review from a customer who used them since 2013. Here is proof:

Detailed AltusHost Review:
Having the best speed is something all of expect from one hosting provider, which in this case AltusHost offers that.
Here is proof of the speed, so you should not be worried about it:

One of the best things about AltusHost is that all of their plans are SSD driven. That is huge. That is 10x better than any other provider that offers HDD plans. They also have LiteSpeed Web server, This web server is 9 times faster than Apache web server.
They are also supported with Cloudflare CDN which offers better and higher performance also with high availability.
This will make you sure that AltusHost gives good up value, and all of the core services are monitored to provide high levels of uptime. This will guarantees a 99.9% uptime.
Security:
Another aspect of why AltusHost is popular. They provide free Let's Encrypt SSL.
All of their plans include free backup, which is phenomenal, HostWinds offers backup but for 5$, AltusHost gives you that for free.

Their services are DDoS protected and they always monitor to prevent any security breach.
Their self-owned platforms make it more reliable.
Features:
They offer a variety of hosting plans, this is one of the main reason why people love AltusHost. Every plan that you see on AltusHost supports SSDs, and the basic plan support 10gb of storage, the standard plan offers 20gb, and pro plan offer 30gb of storage. This is for the WordPress Hosting.
In all of this, you will also get, free backups, other companies charge for this feature, SSL, web builder, will set-up website and they also offer migrations. They have Softaculous auto-installer, you have access to over 300 scripts. Also, it is Magento and WordPress optimized.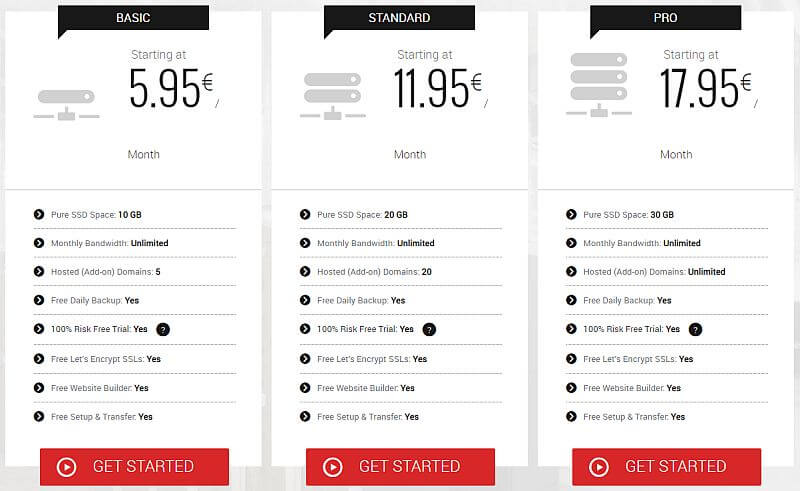 They have a spam filter, also other aspects include the support for different PHP versions, Litespeed web server, cloud Linux, CronJob, ionCube, MySQL Database, cURL, GD Graphics Libary, Image Magick, Cloudflare CDN.
A perfect platform to host your websites, also all of this feature that I mentioned above are included in their basic plan which costs €5.95.
Hosting Options:
Altushost has a lot of different offers for hosting, they offer 3 different plans for dedicated hosting, those are completely configurable and you can adjust them as you want or your business requires.
AltusHost provides dedicated servers and high-level servers, you have options of using a custom server too.
The dedicated hosting can be fully managed (managed by them, 100% with everything) and unmanaged when you are on your own (will still help you if you need something to be changed or updated).
They support VPS Hosting too, offered at both Linux and Windows-based. You can manually configure it for your own business.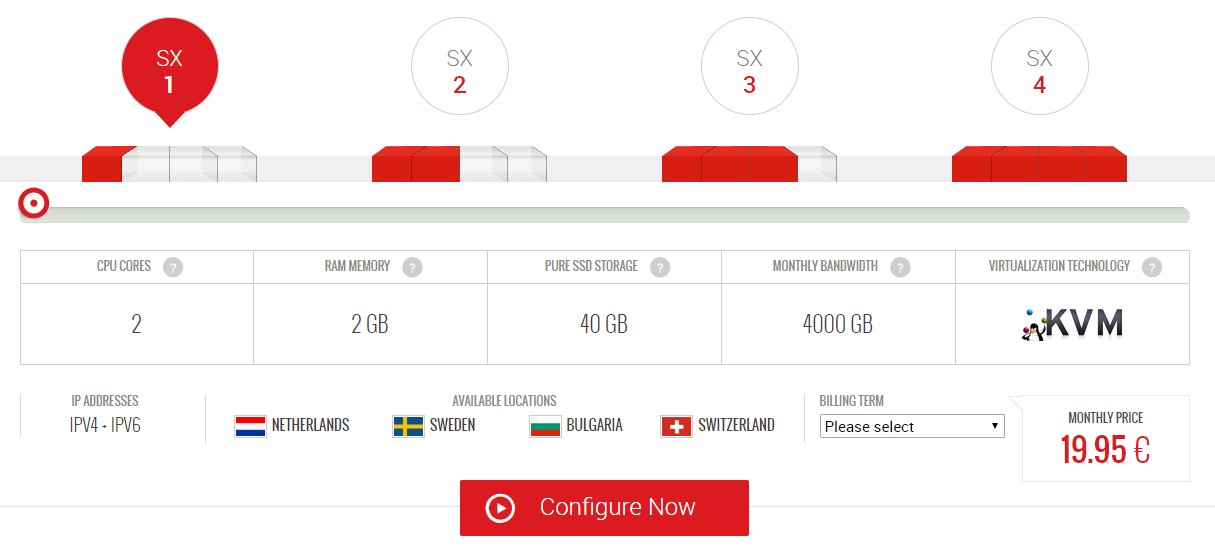 Pricing:
The prices for Shared (WordPress) Hostings you can check them below on the photo.

Their pricing overall is not cheapest, but there are features that you don't need to pay additionally.
The prices of VPS vary depending on your configuration, but the cheapest is €19.95 and most expensive VPS is €79.95.
Their available locations for the VPS Hosting are Netherlands, Sweden, Bulgaria, Switzerland.
You can pay them Monthly, Quarterly (5% discount), Semi-Annually (10% discount) Annually (20% discount).
You can check their hosting options and grab a discount on this link.
Customer Support:
One more reason to trust AltusHost, their customer support is 100% focused to help you and your business, I've had over 200 tickets that have been handled professionally.

They also offer a blog section with a lot of information that can help you learn things and do it yourself.
They also offer live chat, most of the companies in the hosting department this option is excluded, only the top hosting companies do it. Their live chat agents are very helpful and they can help you with a lot of stuff if you have issues, for example, having problems installing new plugins or themes. They will find the problem and fix it for you in less than 10 minutes.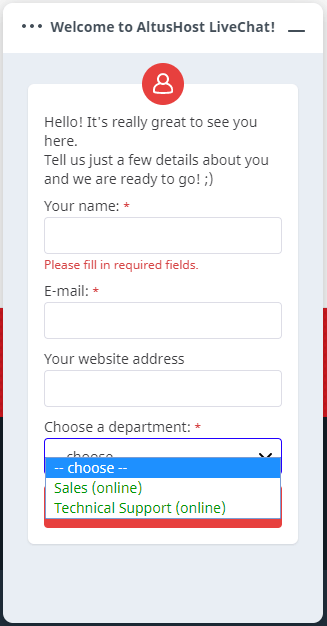 Even if you mistakenly choose sales, they will quickly transfer you to the technical support departments.
They are extremely customer-friendly, and I've been using them since 2013.
Guarantee:
AltusHost offers 45-day money-back guarantee, 100% on their shared hostings.
On VPS, they offer 14-day money-back guarantee if you are not satisfied with their services.
Also, dedicated hosting doesn't apply the money-back guarantee.
What you get for FREE:
A lot of other hosting providers charge for some of the features I will mention shortly. AltusHost offers them for free with your hosting plan.
They offer these features for free: Daily Backup, Let's Encrypt SSL, Website transfer, Migration for dedicated hosting, cPanel, Softaculous auto-installer, Email hosting, DDoS protection, Cloudflare CDN and CloudLinux.
Cons of AltusHost:
I couldn't find many of cons of Altushost, but there are two that needs to be mention.
First one is limited data-centers, all of them are aligned in Europe. Maybe in the future, they will expend their data-centers. You will have no issues if you live outside of Europe and start using AltusHost.
The second one is no money-back guarantee on dedicated hosting, you saw above when I mention that they offer 45-day money-back guarantee for their shared hosting, and 14 days money-back guarantees for their VPS Hosting, but that is not the case for dedicated hosting.
Conclusion:
Overall, they are amazing hosting platform that is here to stay, they have amazing up-time and amazing features that will help you with business, and also have a phenomenal speed which is one of the reasons why they are so popular. Hopefully, you learned something today with this AltusHost Review and decide for yourself if it is for you.
I've used it for number of years now and I'm fully satisfied. We hope we covered everything in this AltusHost Review. Let's us know if you gonna start using AltusHost.
In their plans, they have a lot of add-ons that you may need to pay extra with other hosting providers. Altushost is budget-friendly because they offer a lot of addons in their hosting plans. Extra security and amazing friendly customer support. What more do you need? Sign-up and start your website now!