BlueHost vs DreamHost, let's compare which is the right one for you.
If you wanna start a website or business online you need a website hosting, so that's why this battle of the big boys gonna help you realize which is the right hosting for you.
Both hosting services are highly rated by WordPress.org. Today we gonna analyze why.
The two companies are very well known and very reliable, both have been in the market for many years, and used them personally, you can learn my lessons from both companies.
First, both companies are founded in 1996 and have been a powerhouse ever since.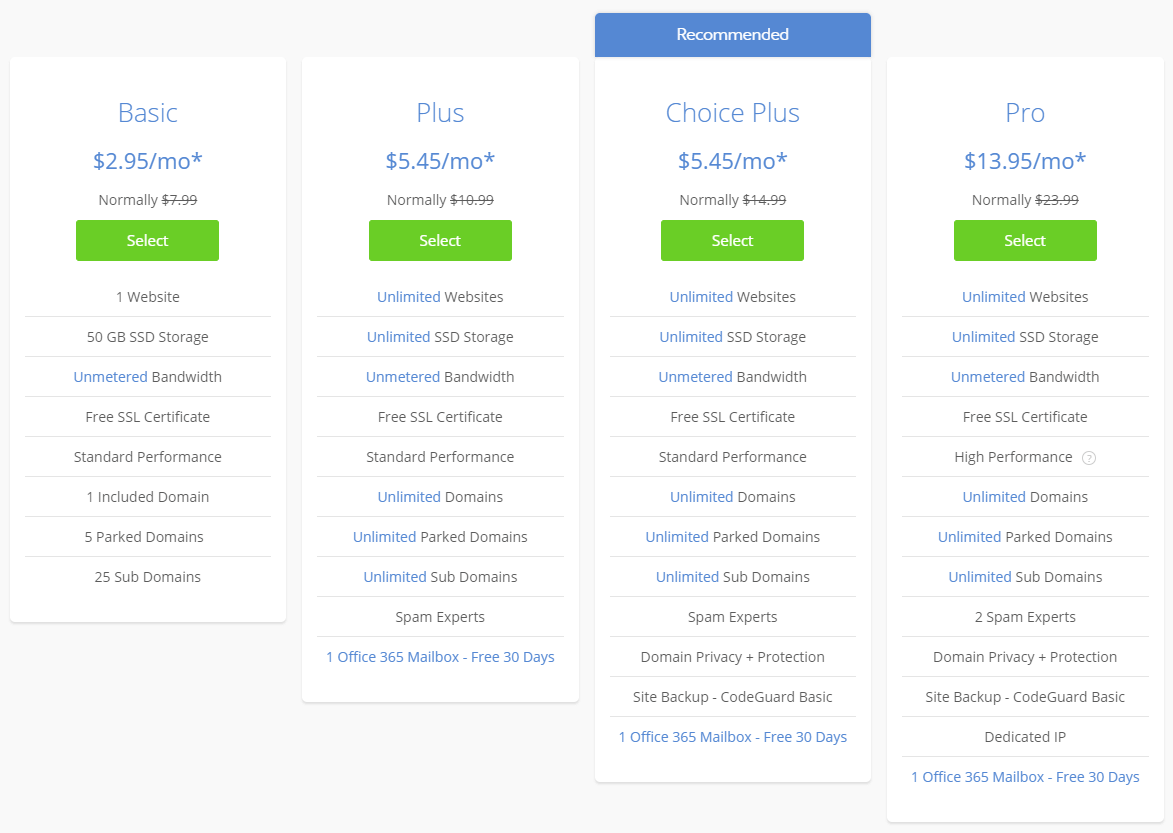 BlueHost Pricing
Basic Plan ($2.95/mo) will get you 50 GB SSD storage space, unlimited bandwidth, 1 website to host, 5 parked domains and FREE SSL Certificate.
Plus Plan ($5.45/mo) will get you Unlimited domains to host, unlimited bandwidth and SSD storage, unlimited parked domains, FREE SSL Certificate.
Choice Plus ($5.45/mo) will get you the same package as Plus plan, plus domain privacy + protection and Site backup.
Pro Plan ($13.95/mo) will get you unlimited websites to host, unlimited SSD storage and bandwidth, FREE SSL Certificate, High-Performance package, 2 Spam Experts, domain privacy 6 protection, Site Backup and dedicated IP.

You need to know that BlueHost doesn't have a month to month plans, so that's why they give you a huge discount over a 3-year deal.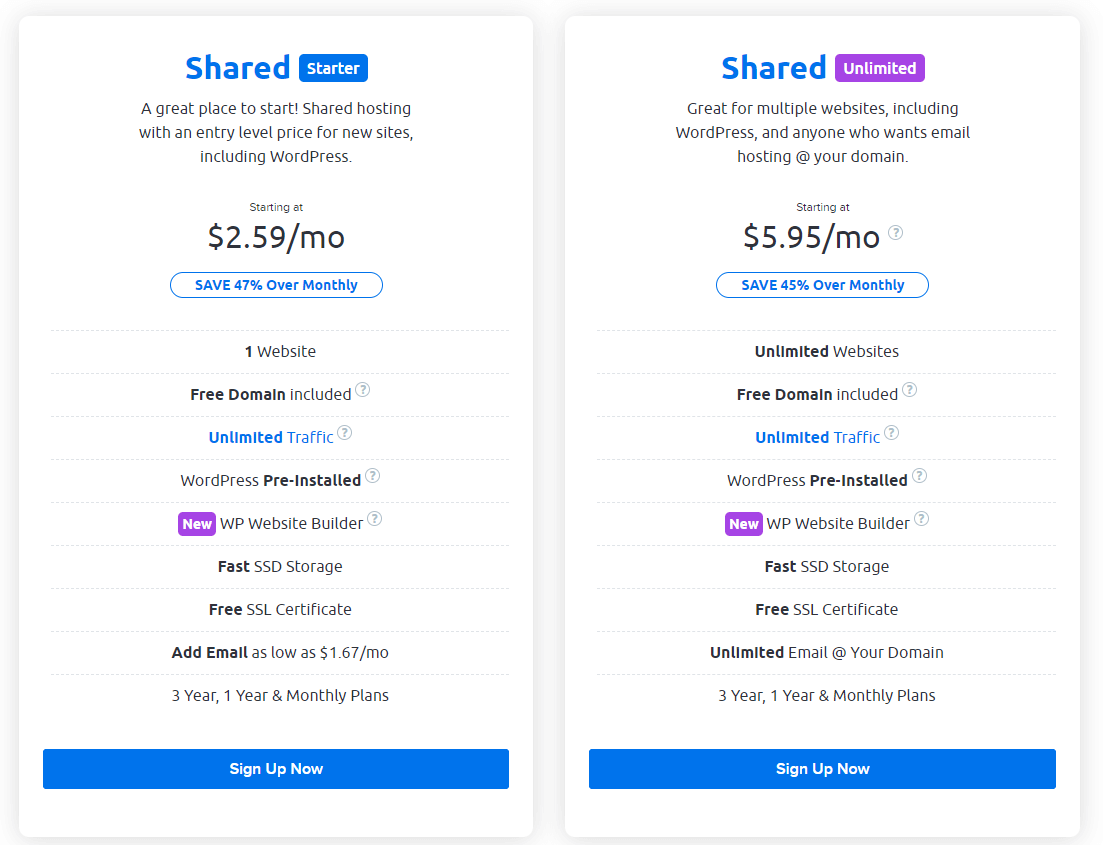 DreamHost Pricing
Starter Plan ($2.59/mo) gets you 1 website to host, a free domain is included, unlimited traffic, WordPress Pre-Installed, Fast SSD Storage, and FREE SSL Certificate.
Unlimited Plan ($5.95/mo) gets you to host unlimited websites, a free domain is included, unlimited traffic, WordPress Pre-Installed, Fast SSD Storage, FREE SSL Certificate.

DreamHost on the other hand offer month to month payment for their hosting services, if you have some kind of website or business that needs some kind of monthly payment, then they can do a phenomenal job. If you wanna pay monthly for the Shared Starter plan, prices go up to $4.95, and for the Shared Unlimited, the price goes up to $10.95.
Overall, DreamHost may have a better and flexible plan, but BlueHost also has good features if you are here to host for the long term.
BlueHost comes with standard cPanel, which is very easy to use and almost all hosting services offer this feature.
On the other hand, DreamHost uses his own custom panel, much more difficult to handle. The custom panel that they offer, takes a bit more time to get used to it, but cPanel is miles better.
Performance
Both hosting services have great performances for their clients. One of the many reasons why they have a lot of customers and a lot of businesses trust in their services.
For uptime, both of them perform similarly. BlueHost does not claim guarantee on uptime, but their percentage is 99,99%. DreamHost offers a 100% uptime guarantee, but both of them are similar.
One department why BlueHost keeps getting better is the added innovation through the use of CPU technology. This results in keeping your business safer and secure from spammers and viruses.
BlueHost vs DreamHost: Money-Back Guarantee
BlueHost offers a 30-day money-back guarantee from the day you purchase any plan. They don't have fixed account terms if you wanna cancel a plan, the refund will be calculated based on unused part of your plan.
DreamHost on the other end offers a 97-day money-back guarantee, this is really huge if you want to test their hosting plans. This shows you that they are confident in their services and wanna look after their customers.
Customer Services
If you are a beginner, this is really important to read and know.
Having a great customer service is a really important part nowadays, there are tons of things can go wrong, so it is best to just hop on live chat and have your problems fixed.
BlueHost support has many more options available, including the 24/7 phone, live chat, and ticket support.
BlueHost agents are phenomenal, instant response, very well educated and instantly give you solutions.
DreamHost has live chat support 17 hours daily, 7 days a week. If you wanna call them, you may need to pay for a subscription.
DreamHost support is slower, for tickets you may need to wait 10-15 hours to get a response. Live chat is faster but time-limited.
Security features
BlueHost performs daily backups and stores them for 30 days. Also, they don't take responsibility if the backup fails. If you get the bigger plans you get SiteLock Security, with an extra cost of $1.99 per month.
DreamHost takes this very seriously, they offer free backups on all web hosting plans. They monitor 24/7 all hosted websites for malware and virus. Purchasing DreamShield at an extra $3 month your site will have extra protection for having outdated software, plugins or any errors.
Conclusion
In this BlueHost vs DreamHost battle, both companies have big strengths. For me, DreamHost is much cheaper for month-to-month use, having extra security is a plus.
But BlueHost has better customer support and it much easier to use. The cPanel is offered by many hosting companies and you can easily navigate for yourself.
If I had to give someone a slide edge, it would be BlueHost. Getting a 3 year hosting at amazing price is phenomenal with all the features they have.
We hope this gives you a better understanding of your next web host.