Bluehost vs InMotion Hosting a very popular battle, both companies are in the top 10 hosting companies in today's world.
In this unbiased comparison between BlueHost vs InMotion Hosting, you gonna find out who fits better for yourself and your business.
BlueHost is one of the best web hosting providers today, they offer different hosting options, and are also recommended by WordPress.org.
InMotion Hosting is also one of the top web hosting providers today, they have a lot of different features and they have excellent customer support.
InMotion is also green-friendly, they've partnered with a non-profit organization that offsets the carbon footprint by planting trees.
Let's now talk about their shared pricing and what they offer.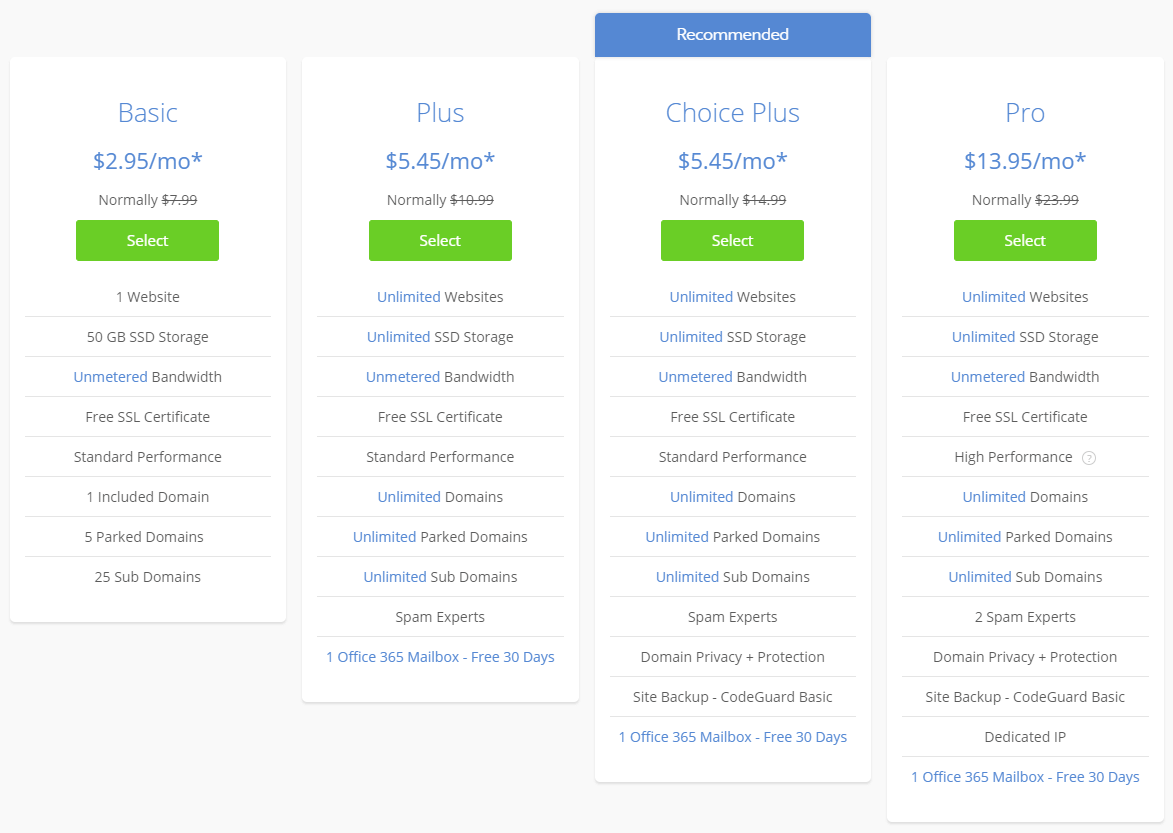 Basic plan ($2.95/mo) – Free domain, 1 website to host, 50 GB SSD storage, unlimited bandwidth, and free SSL certificate.
Plus plan ($5.45/mo) – Free domain, unlimited websites to host with unlimited SSD storage and unlimited bandwidth, free SSL certificate with spam experts.
Choice Plus plan ($5.45/mo – higher renewal for next payment) – comes up with all the benefits Plus plan offers, plus domain privacy and protection and CodeGuard basic.
Pro plan ($13.95/mo) – Free domain, unlimited websites to host, with unlimited SSD storage and bandwidth, High-Performance hosting, 2 spam experts, domain privacy + protection and Dedicated IP.
Phenomenal prices for a beginner, they offer domain name and have amazing features (FREE SSL, Unlimited Bandwidth, 50 GB SSD Storage) for their cheapest plan. If you are starting a brand new website, you should go with BlueHost.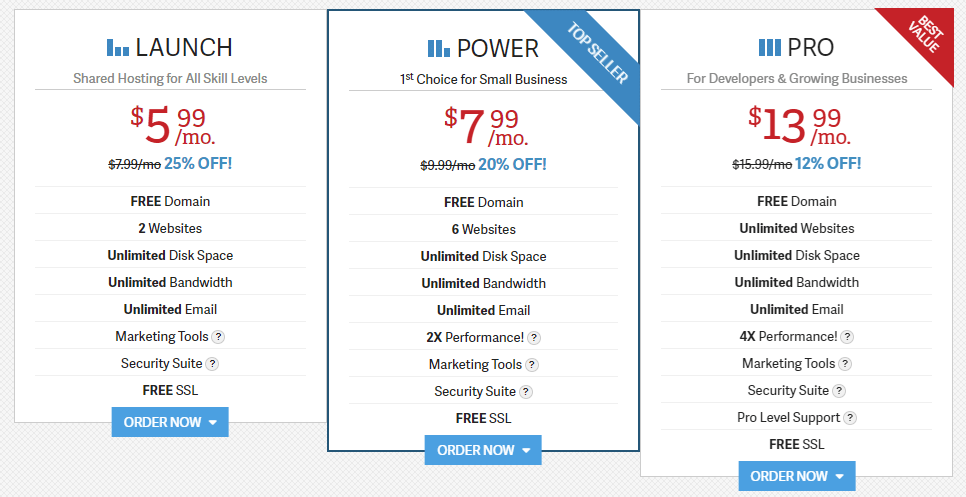 InMotionHosting offers 3 hosting plans too:
Launch ($5.99/mo) – You get FREE Domain, 2 websites to host with unlimited disk space and bandwidth and free SSL.
Power ($7.99/mo) – You get FREE Domain, up to 6 websites to host, with unlimited disk space and bandwidth, 2x performance and free SSL.
Pro ($13.99/mo) – You get FREE Domain, unlimited websites to host, with unlimited disk space and bandwidth, 4x performance, Pro Level Support with free SSL.
InMotion Hosting is better suited for owners with multiple websites, they have 4x performance for their PRO shared plan, it is perfect for developers and growing businesses.

Bluehost vs InMotion – Speed and Uptime
Both of these aspects are very important in today's online world. Having a website that is fast and working 24/7 is crucial if you want to have a professional business website and having higher rankings on google.
If your website is slow and works 20hrs day, you are losing visitors and by having bad hosting you leave money on the table.
Recently they've done a study if a website takes longer than 3 seconds to load, visitors leave the website.
For BlueHost, our site took 698 ms to load, and that means it is faster than 94% of tested websites.
For InMotion Hosting, the site took 972 ms to load, which is faster than 90% of tested websites on Pingdom.
Bluehost vs InMotion Hosting – How easy is it to use?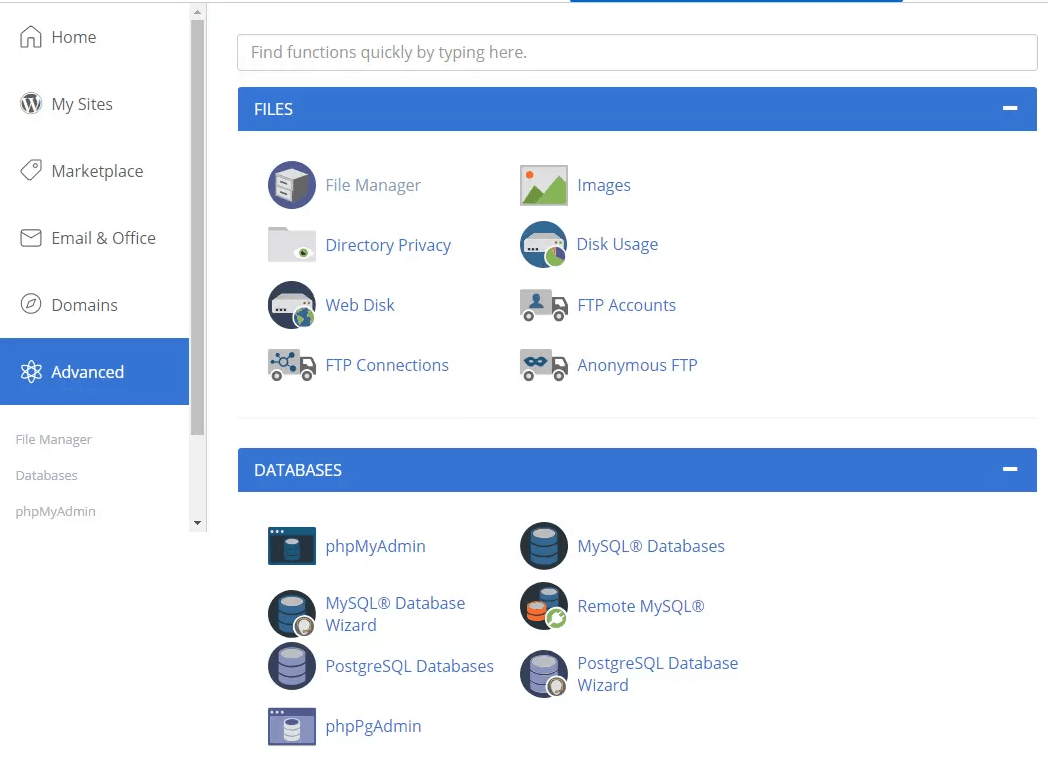 BlueHost keeps promoting that they have the best method to start a WordPress website with ease, without having experience before.
They also offer a free domain name and SSL certificate, and that means that any beginner can start with their web hosting easily without any extra startup costs.
Every BlueHost plan comes up with a cPanel to manage your web hosting account, and with this, you can manage your files, domains, or database.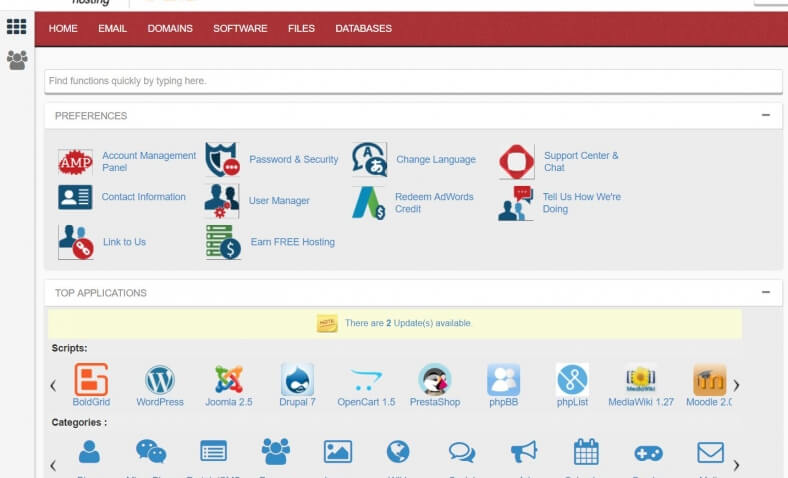 Just like BlueHost, InMotion Hosting offers cPanel that you can easily manage your files, domains and your database.
They also provide one-click installers for WordPress, Joomla or Drupal.
Both companies have amazing cPanels and it is very easy to manage them both.
Features
InMotion Hosting is miles ahead of BlueHost when it comes to features. Don't get me wrong BlueHost provides you with the standard hosting features with FREE SSL, unlimited bandwidth, etc.
Features that you get at InMotion Hosting:
Drag and Drop Builder: Every plan comes up with this, ready-made templates with easy to use drag and drop interface.
Choosing a data center: you can select any place that you can host your businesses
FREE website transfer: InMotion Hosting offers free website and account transfers when you sign-up with them, they will transfer anything and with no downtime, keeping everything online.
Customer Support
Having a hosting company that takes care of its clients at all times is key.
There are tons of things that can go wrong with the WordPress website. Some of them are by not updating your plugins, themes or bad scripts.
So, having customer support 24/7 is really important.
Luckily for you, both BlueHost and InMotion Hosting offers 24/7 customer support via live chat, phone, and email.
InMotion additionally offers Skype support aswell.
They also have tons of articles that are published in their knowledge base.
Both BlueHost and InMotion Hosting chat agents are phenomenal, they are very knowledgeable and very friendly and they can help you solve any problem.
Money-Back Guarantee
You signed up with a hosting provider and you start having issues with downtime and not the best customer support and the best thing to do is to ask for a refund.
In this aspect, InMotion Hosting wins because they offer a 90-day money-back guarantee and you have more time to test their services and check how everything works.
On the other hand, BlueHost only offers a 30-day money-back guarantee.
Conclusion
If you are looking for a cheap web hosting provider that comes up with a lot of features, you should go with BlueHost.
It is perfect for a beginner, that's why we recommend BlueHost. It is much easier to start a website with everything they offer.
BlueHost is best suited for small businesses and small websites. If you are just starting your first website, it is perfect for you. This is one of the reasons why they are so popular.
But, if you are looking for a web hosting that has a ton of add-ons features, choosing your data center, drag and drop builder, fantastic customer support, SSD storages, you should definitely go with InMotion Hosting.
They offer phenomenal features and well worth every penny.
Hopefully, you can easily decide with which hosting provider you should go.
Click here to get the best deal with BlueHost.