BlueHost vs WP Engine comparison, today can be very challenging to choose the right web hosting for your businesses and your website.
Most of the web hosting today seems to promise all the benefits and all of them seems to promote that their services are the best.
It is hard to get the best hosting for the cheapest price. Tons of people make mistakes without doing any research on them.
You make the purchase and later you see that your website is down and also is very slow.
We are here to explain to you all the good and the bad one web hosting could have because having bad hosting can impact your website tremendously.
The hosting is the core of your website and impacts everything on how your website speed loading and so much more.
We gonna analyze today one of the top two web hostings today, BlueHost and WP Engine.
BlueHost is extremely popular and it was founded in 1996. Currently are owned by EIG, who own also other hostings like HostMonster and iPage.
WP Engine was founded in 2010. Their only focus is WordPress hosting and that is the only thing that they offer.

Basic plan ($2.95/mo) – You get to host one website, 50 GB SSD storage, unlimited bandwidth, and free SSL certificate.
Plus plan ($5.45/mo) – You get unlimited websites to host with unlimited SSD storage and unlimited bandwidth, free SSL certificate with spam experts.
Choice Plus plan ($5.45/mo – higher renewal for next payment) – you get all the benefits that Plus plan offers, plus domain privacy and protection and CodeGuard basic.
Pro plan ($13.95/mo) – Unlimited websites to host, with unlimited SSD storage and bandwidth, High-Performance hosting, 2 spam experts, domain privacy + protection and Dedicated IP.

BlueHost comes up with a free domain name if you pay longer for their services, so you can register a domain name for free while having hosting that is phenomenal.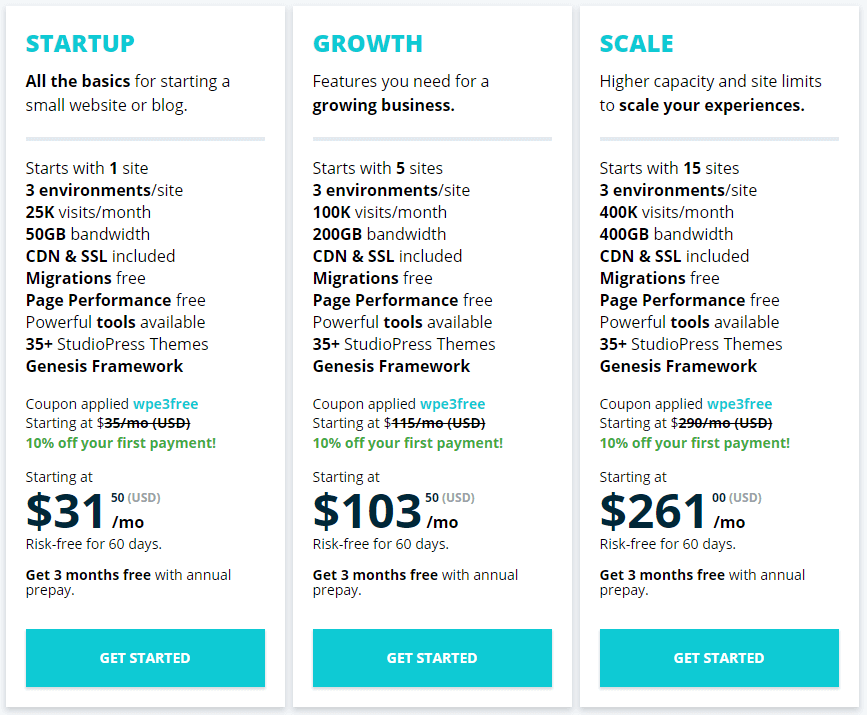 WP Engine offers 4 hosting plans:
Startup ($31.50/month): one website to host, 10 GB of storage, 50 GB of monthly bandwidth, 25,000 visits per month.
Growth ($103.50/month): 5 websites to host, 20 GB of storage, 100,000 visits per month with 200 GB monthly bandwidth.
Scale ($261/month): 15 websites to host, 30 GB of storage, 400,000 visitors per month, with 400 bandwidth per month.
Custom: You need to call an agent and talk about a deal if you have bigger website that has over 400,000 visitors per month.

WP Engine prices are based on the traffic, they have a lot of things that are free, but you pay much higher prices for their services.

Bluehost vs WP Engine – Uptime
One of the most important factors when it comes to owning a website is having a phenomenal uptime and no downsides.
This means your website to be up 100% and making you sure that you don't leave any visitors hanging and to not leave money on the table.
WP Engine and BlueHost have a staggering 100% uptime on their hosting services for the past 30 days.
This is phenomenal to see that they want the best for their customers, and no customer is left behind.
Speed
While having a good uptime is important, having a fast loading website today is key. Google algorithm always pushes higher in the rankings the websites that have quality content (compress images, rich quality content) and websites that load fast.
There's been a study done that if your website loads longer than 3 seconds, your visitors will leave. So it is really important you look at this aspect if you want Google to love your website.
Checking my website that is hosted with BlueHost, it took 689ms to load.
Checking the website that is hosted with WP Engine took 572ms to load.
These numbers are amazing, considering that some of their competitors like HostGator, took over 950ms to load a website.
Checking the results, WP Engine is better when it comes to speed, but they are optimized for WordPress and that is their bread and butter.
Performance
WP Engine has all their attention to their customers to give them high-quality service. A lot of people feel that they are overpricing their services. But when you check their features you can see why they have a large number of clients.
BlueHost is a better fit for people that want to start WordPress easily and getting a website for free while registering sounds a good deal.
If you are on a budget, you should seriously consider using BlueHost services, having a high level hosting for $2.75 a month is a steal.
Customer Support
Using WordPress there are a lot of things that can go wrong with a website. Often people forget to update plugins, themes or WordPress itself, this can lead to getting malware easier to infect your website. That's why you want to have 24/7 support on web hosting.
WP Engine offers quality customer support 24/7 via live chat, and phone for their higher plans.
BlueHost offers 24/7 support via live chat, phone, and email. They also have a knowledge base, where you can learn a lot of things on how to do yourself.
The chat agents on both BlueHost and WP Engine are very friendly and always want the best for their clients. They are very well educated and always answering your questions straight away.

Always on point, always open to chat and solve any wrongs that may occur using WordPress.
WP Engine may have a slight edge here because they chat agents only work with WordPress hosting.
Easy to use?
WP Engine offers a custom control panel, and to get used to it takes some time. BlueHost, on the other hand, offers the standard cPanel that a lot of hosting services offer.
It easy to use cPanel because you can easily add a new website to Addon Domains and so easy to install WordPress with one click.
BlueHost may have the edge here, it is really easy to use with a lot of one-click install features.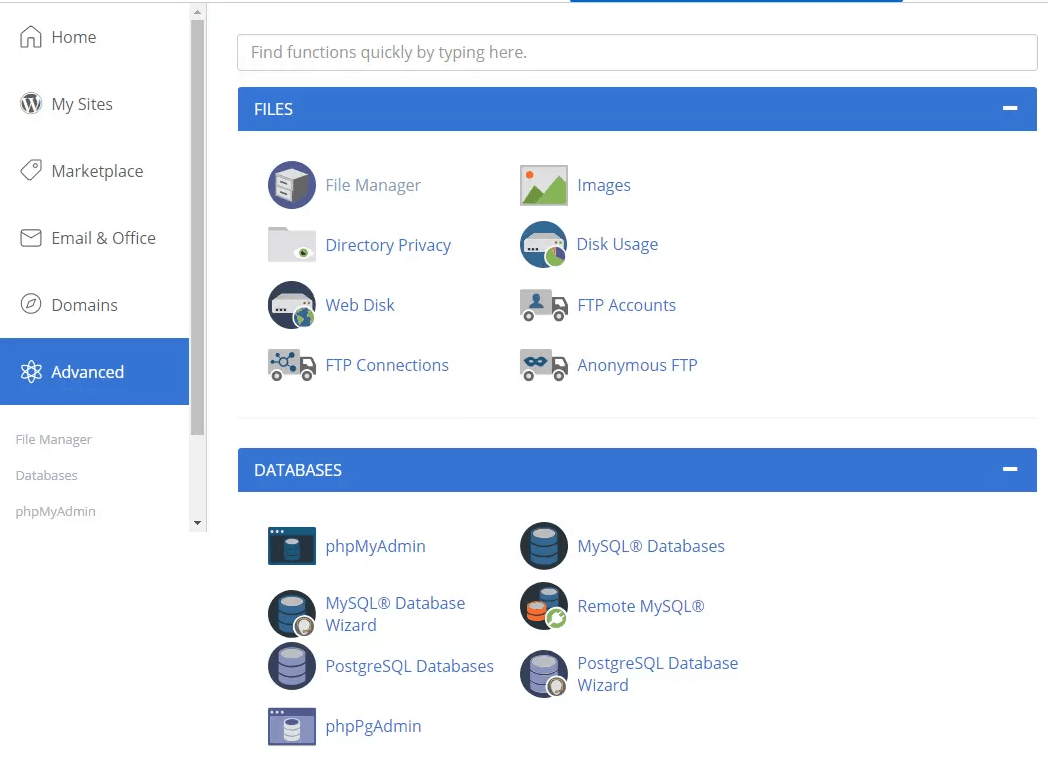 Bluehost vs WP Engine Conclusion
After a couple of weeks of doing this comparison, we checked all the positives on both hostings.
If you are a beginner or just have a website that can attract visitors from the search engines, you are perfectly fine using BlueHost.
If you are on a budget, using BlueHost will save you a ton of money. Their cheapest plan of $2.75 per month is perfect for beginners.
You get all the essentials that one website needs like SSD storage, free SSL certificate to protect your website visitors and their data.
If you are a pro and have a big website online like an online store, you need a super-fast website, then go with WP Engine.
They have the best-managed WordPress hosting. If you don't want to manage your WordPress hosting yourself, then you might have to consider using WP Engine.
Both web hosts take good care of their clients, you have nothing to worry about.
Hopefully, this comparison gives you clarity on which web host to use for your business and websites. Below I have discounts links that you can get huge discounts on both BlueHost and WP Engine.
Click here to get the best deal with BlueHost.