DreamHost is one of the hostings that is often overlooked, this DreamHost Review will reveal some secrets.
DreamHost has been hosting websites for the past two decades, and they were able to host more than 1.5 million sites making it one of the best web hostings today.
The reason which has made DreamHost to be ranked as one of the best is because of its performance and also the increasing speed. In a more precise way, someone would range its performance on either the hosting plans, pricing which mostly defines it.
Considering its hosting plan has SSD and unlimited bandwidth which ensure you get the best deal possible. Let's look deeper at this DreamHost Review, especially on web hosting performance.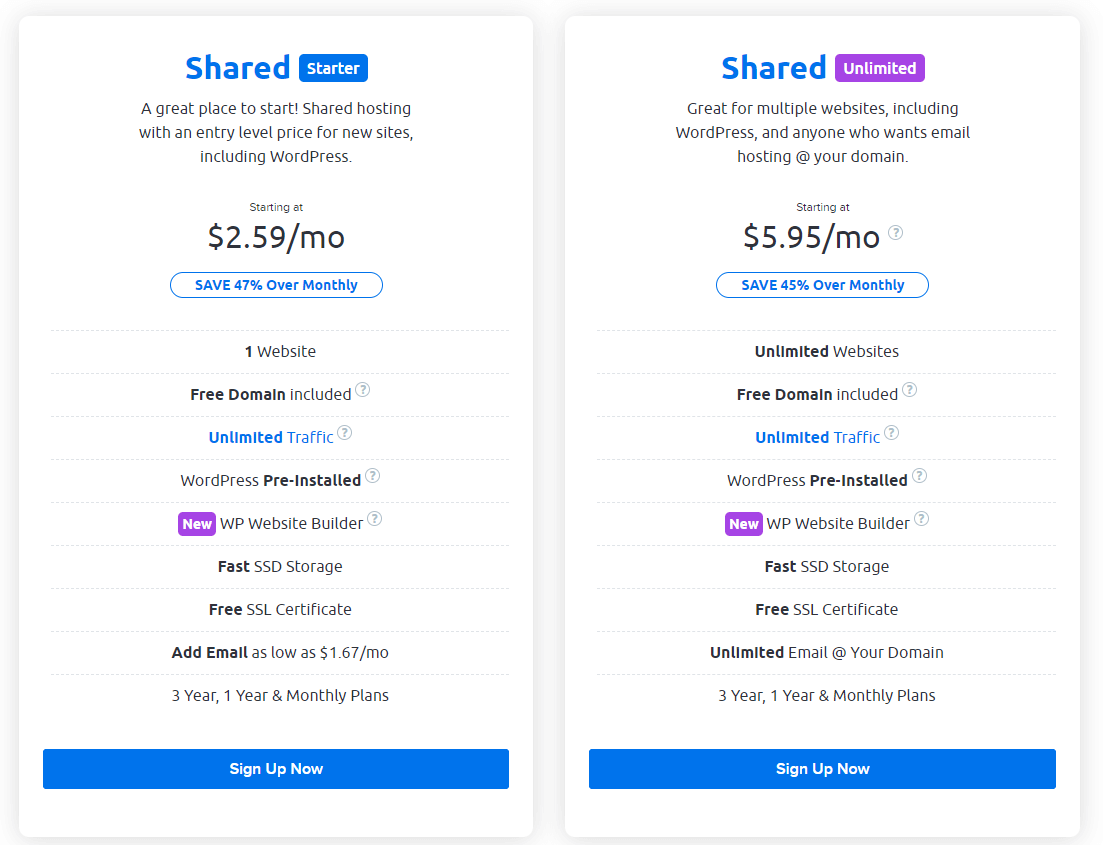 They offer two shared hosting plans called starter and unlimited.
In the Starter plan, you will get 1 website hosted, free domain included, unlimited traffic (huge compared to other hosting providers), Fast SSD Storage, Free SSL Certificate and their new WP Website Builder. Price is affordable, much better than other providers.
In the Unlimited plan, you will get unlimited websites to host, a free domain is included, unlimited traffic, the new WP Website Builder, Fast SSD Storage with free SSL Certificate. For 5.95$ is a steal per month. If you are going to host more websites this is for sure their best plan for you and your business.

DreamHost Speed
DreamHost takes this very seriously too. Their speed keeps improving. Speed is 719ms, we tested it with a test website. Speed is an important aspect when it comes to hosting a website.
Always run a test to ensure that you know the speed rate, and this would help you improve on the speed while on the site. Optimizing your speed is the most effective solution which you can take to ensure your site speed is above the average. This could help your google ranking. Also, compressing your images can increase site speed, one website that is the best is tinypng.com.
Uptime
DreamHost has maintained an above-average uptime of 99.96%, which make it perform really well. The rate is for 16 months, which shows the website only had a slight downtime.
Unlike other hosts who are competing with DreamHost, it has maintained a good uptime guarantee which has led to many clients shifting to this reliable host. It's hard for any other host to give a 100% guarantee to their clients, but for DreamHost, they have been able to maintain that within a 16-month row.
97 Days' Money-Back Guarantee
Imagine enjoying a 97 days' money guarantee from the host websites. It's something which other hosts have not been able to give to their clients.
Choosing DreamHost means you will have maximum time to review the hosting. You can review their services before you would even have the services repaid.
Some other host websites only give their client between 30 days and others 45 days. DreamHost makes this easier, other companies miss customers that want to review their services longer.
Something important about DreamHost is the refund policy is more transparent hence certify that the clients get refunded their money.
This puts them above the competition due to its friendly services which they give to their clients.
Carbon Neutral
Operating with a web host, which is not environmentally conscious, would pose a significant threat and make your website be at logger's head with the relevant authority.
However, for Dream Host, the case is different since the web has met all the set standard which are needed to ensure there is green hosting.
What the web has done is to reduce the use of the carbon footprint in all the operating servers to ensure there is no emission of carbon in the environment.
In addition to that, they have also put some processors and cooling in the data centers to ensure there is improved delivery of the services without destroying the environment.
No High Renewal Price Increase
Every client desires to pay relatively lower the renewal price to ensure they continue to enjoy their services.
They mainly offer lower monthly price if the clients repay within three years vs. just one or two.
They don't increase their renewal prices, so the customers can enjoy using their services for a long time.
You plan will renew with the same price you paid from the start.
If you paid $93.24 for three years of hosting, after the three years you can again pay the same amount for another three years of hosting. If you choose one year of hosting you pay $47.4/yr and the next year when it is time to pay again you pay the same price. For less than $50 you can unlimited traffic for a year. Great deal if you ask me.
This is really good because of a lot of other web hosting companies charge a much more.
What happens to many web host is that they increase the price of while the clients are renewing? It is unfair for web hosting to increase the renewal price to the customer after the first payment.
This would make these customers shift to other hosting platforms.
CONS OF USING DREAMHOST
Good, But Limited Live Chat Support
Despite DreamHost being termed as one of the best web hosts, not known for very good customer live chat support. For instance, their customers are supposed to use the discussion forum when they have any issues.
Discussion platform is not the most appropriate forum for the company to offer to their client because there are clients who need urgent response. It would be appropriate for the company to have a more developed communication channel for the customers.
They have a dream bot that can help you more if you need customer support and get you in the right direction.
The cPanel is a platform which is offered on almost all hosting platforms. They don't offer this, but their own panel works fine.
In the case of Dream Host, they haven't offered an option for the clients to import files from other cPanel. You don't need to have concern over this if you are just starting your website.
Only Paid Migrations Offered
They don't offer to their client free site migration which makes it difficult for the clients to migrate.
For instance, when the client wishes to move within sight, they would charge him a one-time $99, which makes many of the clients feel the company is unfair.
They have limited free migration of the clients.
This led many clients to miss working with DreamHost and their services.
DO WE RECOMMEND DREAMHOST?
Yes, I confidently recommend to anyone looking for a web hosting to use DreamHost.
This is due to its performance compared to any other web host in the market.
For instance, it has a good speed which would ensure that your site load is fast. In addition to that, the uptime for the web host is above the average, which means it has minimal downtime.
Another reason why you should choose it is that they have high standard customer services to their clients, they always want the best for their customers.
Their pricing is really affordable compared to other web hosts too.
Hopefully, this DreamHost Review makes you a difference in deciding which hosting platform you should go for.
The 97- days money guarantee is something which makes DreamHost honestly cares about their clients. Go and sign-up today.