Quick and easy online payments with ePayments? Follow this ePayments Review to find how it works and is this digital wallet for you.
ePayments is an amazing eWallet that can help all marketers to easily get paid for their online work. It is an amazing platform that I've been using it for a few years now.
They are safe, easy to use and the best digital wallet for people that make money online!
They also feature a mobile app that you can easily manage your e-wallet and your cards anywhere.
ePayments is a safe wallet that you can easily sign up, they feature two types, personal and business.
A multi-million dollar business uses them, some companies like Adverten and iMonetize use them for adult traffic, ePayments allows them to give you their funds in seconds.
ePayments will send you a card that you can use it anywhere in the world.
Read the entire ePayments review if you wanna use ePayments card worldwide.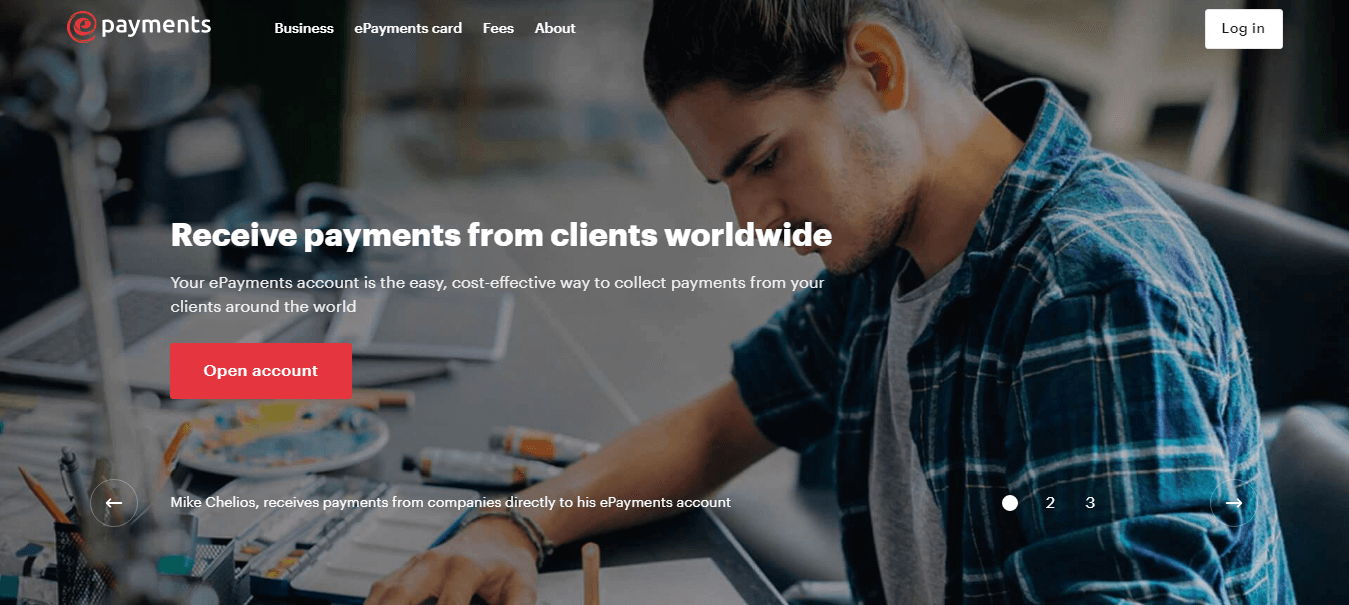 What is ePayments and who uses it?
ePayments.com is a digital wallet that is created to give users safe, secure fast and cost-effective payments. Mostly is used by bloggers, SEO, digital marketers, eCommerce, and small business owners.
They are headquartered in London and they established in 2011.
Already helping the affiliate marketing industry, their main purpose is to help all internet marketers to manage their payments safe!
They've grown so much and are one of the best eWallet platforms that have users in over 100 countries.
Highly Secure
For a lot of online marketers, the most important things are to have their funds safe. ePayments fits the job for it.
They are safe and private system when you can transfer funds all over the world. ePayments have released an app that helps users have access to their funds in their phone (iOS and Android) and this way you can easily manage your funds. Your funds are safe, they use SSL encryption that establishes like safeguard all your data.
Also uses 2-factor authentication system to prevent logins to your account from other people. ePayments is also licensed by the FCA (Financial Conduct Authority).
ePayments wallet:
After you registered on ePayments.com, you have e-wallet to receive payments free of cost.
You can save money on fees if you have business partners or customers that use ePayments too.
Also sending money from eWallet to eWallet on ePayments is free of cost!
ePayments prepaid MasterCard:
They will send you prepaid MasterCard that can help you access your funds easily, also you can withdraw money from any ATMs worldwide.
ePayments merchant service:
This is for businesses, you can accept payments from anywhere, you can manage funds for employees, suppliers, and partners, their API service is easy and secure.
Two types of accounts
Personal Account
If you are individual and starting online, you should start with ePayments, you can start making online payments easy, it is free to register, for a personal account you are allowed to send, receive or withdraw funds.
You can easily make online transfers, no fees for ePayments users, send money just typing the receiver e-mail address or phone number, access to the mobile app. Their prepaid card has fees for withdrawing and the fees are 2.6$ per transaction, the limit is 3000$ day and you will get it delivered for FREE.
Business Account
If you are running an online business such as eCommerce or wanna start a company online, you can manage your whole business with ePayments safely. The best benefits you get with the ePayments business account are free mass payments, set-up is instant, fast and secure payments, pay clients worldwide, extra support for API.
How to start
This is how you register with ePayments. The first thing you need to select if you want to have a personal or business account.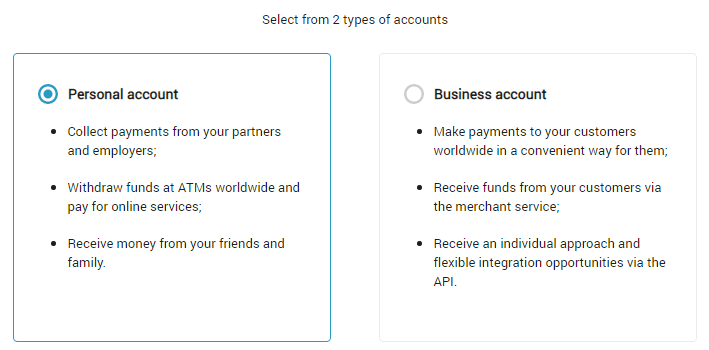 After this enter your email address or phone number to register. After you are done with this, you need to verify yourself. They can verify you in a maximum of 7 days.
I've been a customer to ePayments for a couple of years, this ePayments review can reveal everything you need to know about the platform.
Fees
The internal and mass payments are free, for bank wire transfers the fees are 0.8%. To load funds to the ePayments prepaid card is free.
To withdraw funds to your credit card is 2.9%, withdraw funds to WebMoney is 2%.
Funds to withdraw from ePayments to cryptocurrency is free.
The deposit fees for Internal payment and bank wire transfer is free.
If you deposit funds from WebMoney to ePayments the fee is 1%, unload funds to ePayments MasterCard and cryptocurrencies is free, unload funds with credit/debit card is 2.6%.
Start your ePayments account by clicking here!
ePayments is in a league of it is own, if you look at the fees from other competitors you will see that ePayments are winning. They are serving a lot of business online and they have a lot of happy users!
How to load funds to ePayments?
With multiple ways to load money to your e-wallet, from VISA or Mastercard that is linked to your ePayments account, bank transfer, WebMoney, other ePayments users, Cryptocurrencies (Bitcoin, Litecoin Ethereum and few more..) There are multiple ways to manage your funds.
Conclusion
ePayment is safe, easy and the best digital wallet for all marketers online. You can manage your funds easy.
Much cheaper fees than their competitors. So don't wait anymore, you now can easily start on ePayments digital platform by clicking here.
Hopefully, this ePayments Review helped you decide that ePayments is your digital wallet in the future.
Share your thoughts below.