Exclusive Payoneer Review plus 25$ Bonus
When I first heard about Payoneer I was so exited that I almost couldn't believe it was real. It meant the end to all payment troubles I had in the past from lost checks, limits and long period delays.
I signed up for a free account to give it a try and few weeks later I had my Payoneer master card in my mailbox along with an online US based bank account that I later connected to my Paypal account.
This service allowed me to sign up for an unlimited Paypal account even though my country doesn't have Paypal. After a fast withdraw from Paypal to my Payoneer account I was using the Payoneer master card card at any regular ATM to withdraw amounts or pay for goods in stores.
It's the perfect service for all internet marketers, programmers web developers that are in need to receive payments from US based companies. It's just like having a regular US bank account without being a US citizen.
Signing up for a Payoneer Master Card is very easy and it's free. Using the referral link below you will have higher chances of approval and you will get a free $25 credit once you'll get approved.
Below I reviewed some of the best features you will get from Payoneer:
1. Prepad Debit Cart – Payoneer Master Card
Free of charge, you will get a Payoneer master card with an online US bank account that you can link to any type of payment service like Paypal, Skrill, Amazon, eBay, Google, ClickBank, GoDaddy, Fiverr, Microsoft, oDesk, Facebook, ShareASale etc.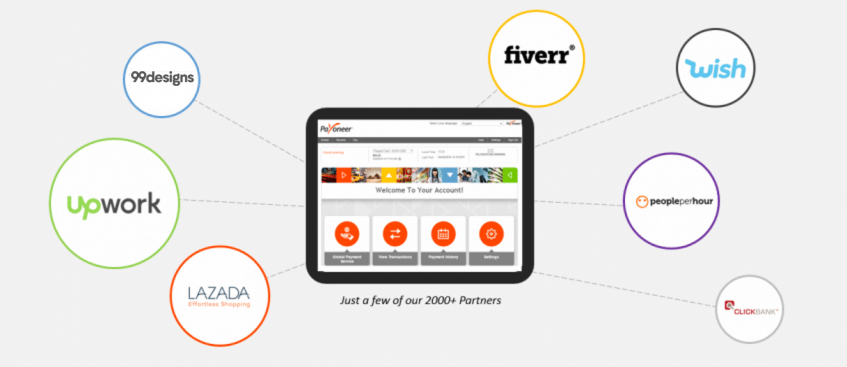 This card is directly linked to your Payoner account and it can be used to withdraw cash in your local currency from it at any ATM in the world or to make direct payments at stores.
It takes a maximum of 2 weeks for the card to arrive in your mailbox. Once you receive the card you must activate it through your Payoneer account by entering the card number.
Apply for a card using this link and you'll receive free $25 credit.
2. US Bank Account
Along with the card you will get a US checking account from First Century Bank with a US routing number and an account number. This account can be directly connected to your Paypal and it can be also used to receive fast direct deposit payments from any US company or website.
3. Low fees
Payoneer charges only 1% fee on any type of receiving amount and ATM withdraw. The fee is equal for all countries and there's not other additional charges on withdraws. The total annual fee is only $20 and the charge for it happens on your first payment receive. After this first annual fee payment you will not be charged again until the next year.
4. Live support
The Payoneer support is pretty impressive and it's always available. It can be used to cancel payments or to solve a problem at any time from any country in many languages.
Payoneer is a true revolution on the market and it's spreading really fast all over the Globe. It's made to solve many money transferring problems of international entrepreneurs and the results are pretty amazing. I encourage you to try it and to experience the benefits yourself.