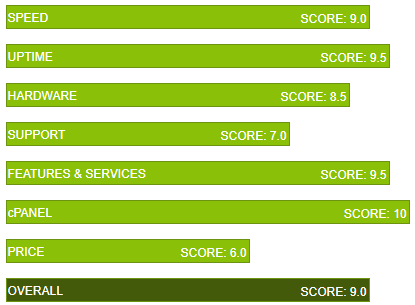 OVERALL REVIEW
Hostgator is the biggest and most powerful hosting company in the world. With over 400,000 current clients, Hostgator is a very safe and reliable place for hosting your online business or small website.
The only negative aspect about this company is the price. If the $7 a month for a shared hosting plan holds you back you should look for a less recognized hosting brand. Otherwise, this company offers all the features, quality, and services you need to take your website to the next level. Once you finish reading this Hostgator review, you'll know why we think that.
HostGator 30% OFF sign up link
HOSTGATOR'S SPEED
Hostgator's data centers are located in Houston, TX and Provo, UT. This strategic position makes Hostgator one of the fastest hosting providers for US based traffic. When it comes to processing speed for server-based applications the 32 Core AMD Opteron Processor 6376 makes a damn good job on the shared hosting plan.
The loading time changes depending on the page size you're trying to load. To examine the hostgator loading time further I compared two different sites. The site #1 is hosted with Hostgator and the site #2 is hosted with Bluehost.
SITE #1 (HOSTED WITH HOSTGATOR)

SITE #2 (HOSTED WITH BLUEHOST)

As you can see from the tests Hostgator is almost 2 seconds faster than his biggest competitor. The 2 seconds make a lot of difference, especially when it comes to SEO optimization.
HOSTGATOR'S UPTIME
I'm sure you'll find people complaining about the Hostgator uptime on forums and blogs. Unfortunately, many few customers feel the need to share about their site being up and working properly all the time. The few negative comments from angry customers here and there are only a needle in the hay. I personally use Hostgator for almost five years and I can count the short downtime moments on a single hand.
Hostgator is so confident about it's uptime to a level where they will give you a free month of credit if your site's uptime passes below the 99.9% uptime guarantee. This means that if your site is down for more than a total of 43 minutes in an entire month you will receive a free month of hosting.
HOSTGATOR'S HARDWARE & DATA CENTERS
Hostgator's hardware is the best it can get for a shared hosting plan. The 32 Core AMD Opteron is a rarely used processor due to its high price. Below are listed all the hardware features from the available Hostgator plans.
SHARED SERVERS
32 Core AMD Opteron™ Processor 6376 or Intel(R) Xeon(R) CPU E5-2630 v3

64GB / 32GB RAM

4 RAID 1s

SSD MySQL
CLOUD HOSTING SERVERS
2 Intel E5-2670v3 12 Core/24 Thread 2.3Ghz 30Mb Cache Processors
512 GB RAM
Internal drives – 256GB Samsung SSD
External storage – Distributed Ceph Storage with SSD Caching Tier using 800GB Intel SSD DC S3610 Series Drives
RESELLER SERVERS
16 Core AMD Opteron™ Processor 6376
16 GB RAM

RAID 1

SSD caching
VPS SERVERS
Intel(R) Xeon(R) CPU E5-2630 v3, 32-Core Server Processor

128GB DDR4 RAM

7.2TB (4 RAID 1 arrays – each array has 1.8TB of disk space)

100mbps uplink shared over the container

We provide a Megabit uplink with a guaranteed 20 Mbit connection and traffic shape each container to 20 Mbit
DEDICATED SERVERS
CentOS 64 bit Linux with full root access (64bit Ubuntu 12.04, 14.04, and 32 bit CentOS installs available on request.)

cPanel with WHM control panel

Apache Web Server, MySQL, PHP, Perl, Python, Ruby (on Rails), FFmpeg support
Secured server with IP tables firewall
A WORLD CLASS DATA CENTER
Their 300,000 square feet data center in Houston, TX features highly redundant systems including; UPS battery backup units, power distribution units, Detroit Diesel generators, and diesel fuel tanks holding thousands of gallons each.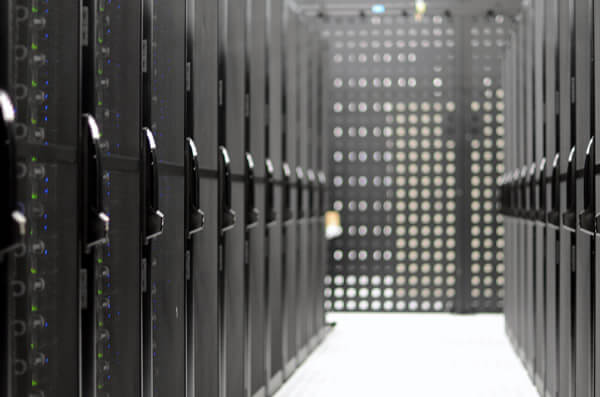 HOSTGATOR'S SUPPORT & CUSTOMER SERVICE
If you would host your site on Bluehost and your site gets hacked, Bluehost will advise you to hire experts to solve your problem. Hostgator's customer service instead will be happy to assist you by directly solving your problem. If you run a serious online business and you need constant assistance Hostgator is the only hosting company that will not get tired of helping you. I've tried a lot of different hosting companies before Hostgator and I never had so dedicated customer service.
Hostgator offers multiple channels of support including; 24/7/365 phone support, chat support and email/ticket support. I personally had some bad experience with their chat support a few years ago but I think they made a few changes in their support management structure since then. Their most reliable support for serious technical problems and "expert level" information is still the phone support.
HOSTGATOR'S SHARED PLANS & FEATURES
All "shared hosting" plans have almost the same "all unlimited" features except for "The Hatching Plan" which allows only a single domain registration. You can compare the differences in the image below.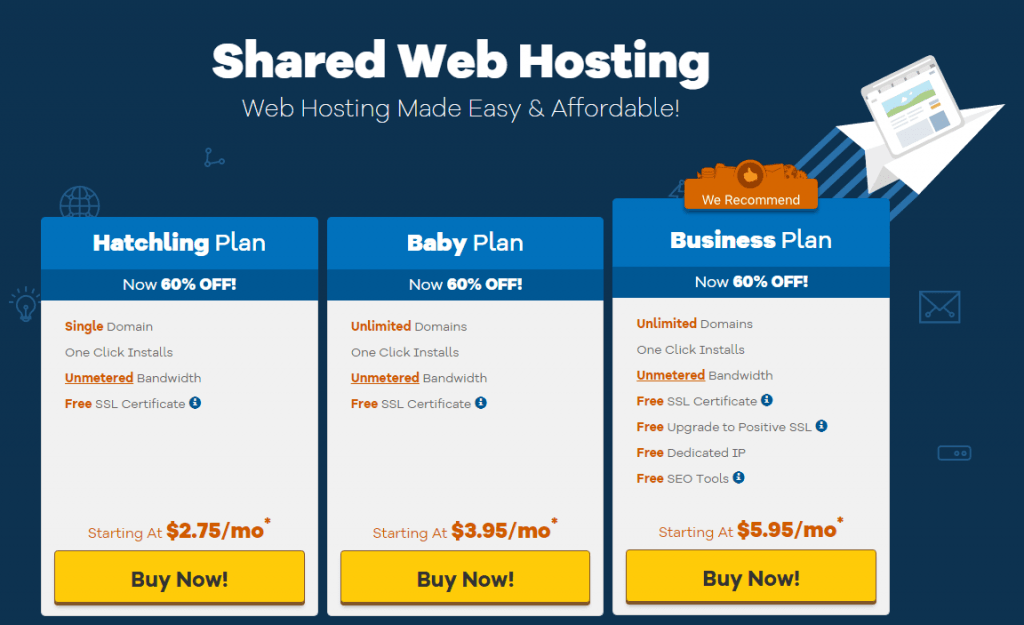 My favorite plan from the "shared hosting" plans is the "Baby Plan". In my opinion, the "Baby Plan" is the perfect choice for a medium level online business with less than 100,000 monthly unique visitors. If your number of visitors exceeds the 100,000 and or need more processing power for a server-based application a dedicated server may suit you optimally.
Below are listed only few of the features included in the Baby Plan:
Unlimited Disk Space
Unlimited Bandwidth
Unlimited Domains
Unlimited Sub Domains
Unlimited FTP Accounts
Unlimited Email Addresses
Unlimited MySQL Databases
Private SSL
Dedicated IP
Shared SSL
AWStats (Real Time Stats)
phpMyAdmin
Redirect URL
Email Auto Responders
VPS & DEDICATED SERVER PLANS
If you really need higher server capacity and total server control a "Virtual Private Server" or Dedicated Server plan may be your best option.
The cheapest VPS plan "Snappy" costs around $30 a month and it comes with 2
Cores CPU, 2GB of RAM, 120GB disk space and 1.5TB of bandwidth. The true high-performance processing power lie behind the dedicated server plans. The image below shows more than I can say about it.

The dedicated server requires only 24 hours to set up and comes with "high privilege" support. A cPanel is also included in the package along with all the possible services and functionality you can imagine.  Be aware that this kind of plans is for really large websites with high bandwidth and processing power requirements.
HOSTGATOR'S CPANEL
The Hostgator's cPanel is simple to use and doesn't require any technical skills to manage. The new cPanel interface comes with a lot of time-saving applications for installing a CMS like WordPress, creating email addresses, adding new domains, subdomains, managing databases or creating ftp folders.
On the cPanel, you can also choose and install a free Blog, Magazine or an eCommerce template. A lot of language preferences for non-English speaking citizens are also available on the cPanel.
HostGator 30% OFF sign up link
If you have any questions or want to share your personal experience with Hostgator I encourage you to leave your Hostgator reviews below. I'll be more than happy to hear different customer opinions.