We go to battle for HostGator vs BlueHost, the two big giants in the hosting industry today.
Did you know HostGator and Bluehost are one of the most trusted web hosts by many people across the globe?
They host millions of websites and grew massively in recent years.
Well, the fact is that over the years, they have maintained a reputable hosting brand that ensures their clients get the best hosting services, at affordable prices. However, as clients looking for hosting services, you will need to choose one brand for your services.
Most people who own websites have little knowledge about hosting. So it is important to know most of the features these hosting services offer.
In this case, when you need the best for your site, there is a need to have a comparison of these leading brands to identify the best option for your hosting services. Let consider the following aspects:
Uptime Guarantees
When it comes to uptime guarantee, it's the most significant consideration which the client should look at in the web host. Bluehost does not have a claim given on uptime unlike HostGator but the uptime for a Bluehost for the last period of ten months has been 99.99%.
On the other hand, HostGator was 99.97% with some downtime.
If uptime is a parameter to consider between these two web hosts, then Bluehost is the best option.
A lot of web hosting companies have a history of overcharging their customers by adding unnecessary fees. However, we will see how they charge their long- term plans to their clients.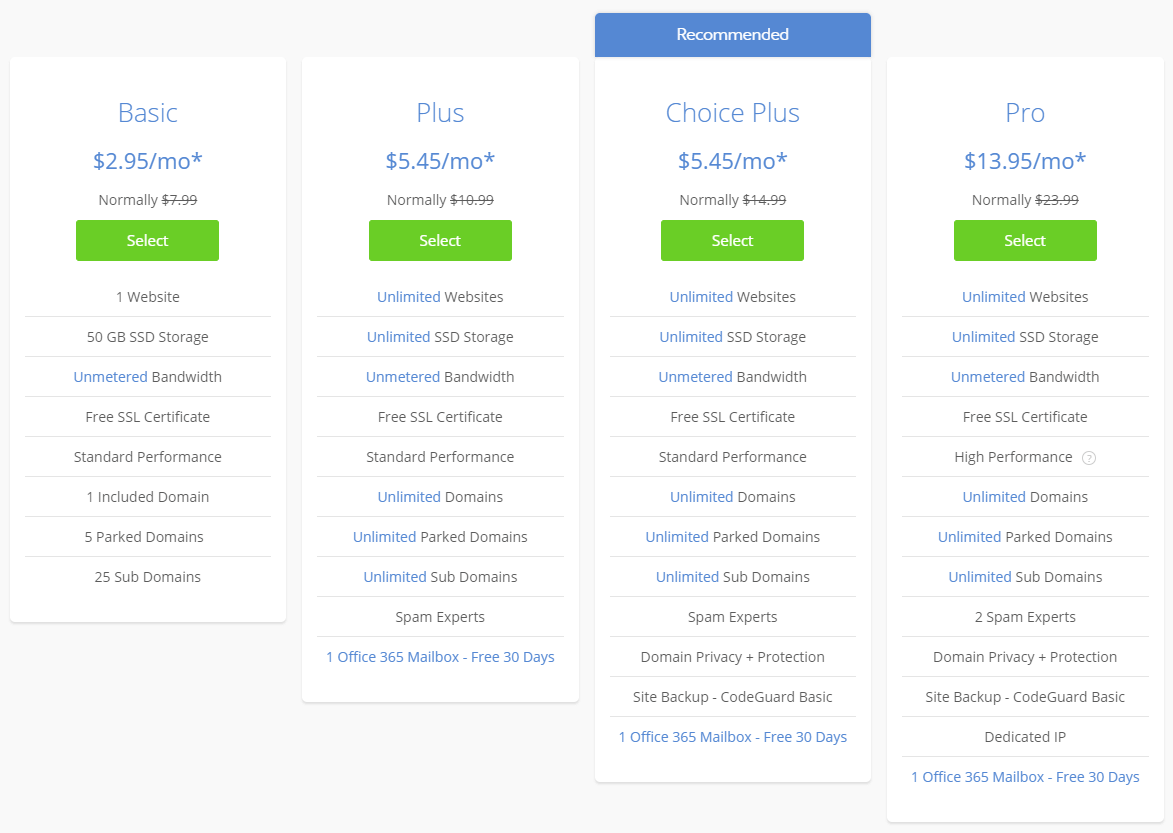 For Bluehost, it has four common plans for its customers, which include the following:
Basic plan: priced at $ 2.75 per month and is best suitable for the single website, 50 GB SSD Storage with unlimited bandwidth with FREE SSL Certificate.
Plus plan: priced at $5.45 per month and can host limitless websites, it also has unlimited bandwidth and Storage, FREE SSL Certificate.
Choice Plus Plan: priced at $5.45 per month and offer similar services with the plus plan but with extra services like SiteBackup, plus domain privacy + protection.
Pro Plan: priced at $13.95 per month can host unlimited websites with unlimited SSD Storage and bandwidth with offering high-performance hosting, with dedicated IP.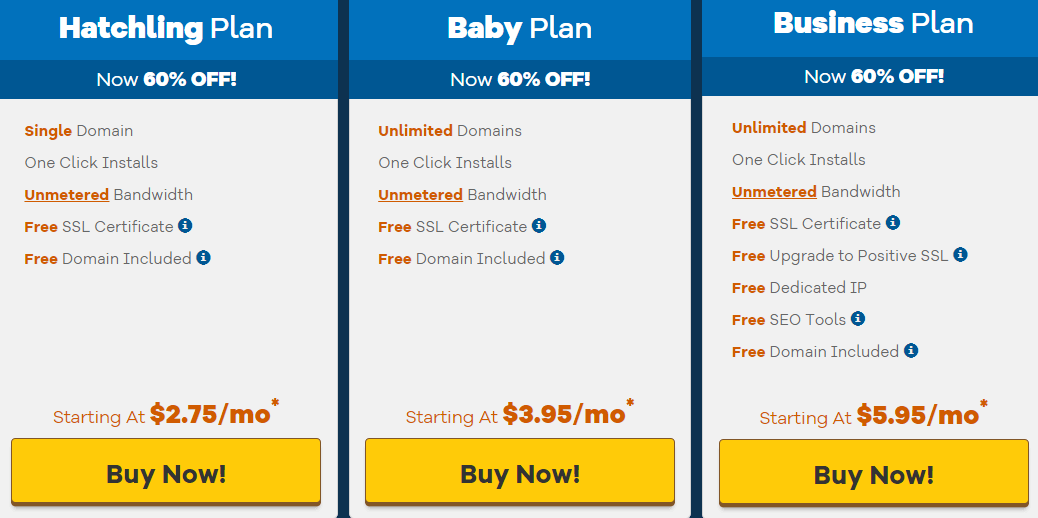 On the other hand, let consider HostGator prices for their plan:
Hatchling plan: priced at $2.75 per month and support one website and also unmetered bandwidth, FREE SSL Certificate.
Baby Plan: priced at $3.95 per month, which comes with unlimited bandwidth and can support unlimited websites, FREE SSL Certificate too.
Business plan: priced at $5.95 per month and comes with unlimited domains to host, FREE SSL Certificate, FREE upgrade to Positive SSL, Free SEO Tools, Dedicated IP which ensures the clients get the best.

Bluehost and HostGator have some similar pricing strategies for their customers where they allow their clients to pay for three years and thus enjoy low rates. If you are to consider the price, then you can either choose Bluehost or HostGator.
HostGator vs BlueHost Speed
Loading time in your site should be considered because you will need a web host that guarantees a good average load time. Thus, will help your Google SEO, so you can easily rank for your keywords because Google algorithm loves fast websites.
For Bluehost, it ensures an average load of 424ms which the company has maintained for a period. On the other hand, for the last sixteen months, HostGator average load time has been 984ms.
In the speed aspect of this comparison, this is barely a competition.
HostGator vs BlueHost Money-back Guarantee
When you buy a product or services, you need to get some guarantee from the seller that you can get your money back if the services or the product does not work.
Bluehost only give their client only 30 days for money-back guarantee while HostGator gives their clients' money-back guarantee of 45 days which is two weeks longer compared to BlueHost.
However, something important to note about the HostGator refund policy is that it comes with some exceptions which regulate the customers. Only Shared and VPS plans can apply for refunds.
HostGator has a better money-back guarantee compared to Bluehost, making it suitable for the customers.
Migrations
Unfortunately, BlueHost doesn't offer free site migrations. You need to pay extra if you wanna transfer your business from another hosting provider.
HostGator, on the other hand, offers FREE migration for new accounts.
Customer Support
Another key consideration is knowing what customer support they offer to their customers. Some customers develop some technical problems with their sites, and they would need to have the issues addressed by the customer support.
Both Bluehost and HostGator offer some 24/7 within 365 days' support services to their clients which ensures they get some good support all year long. The customer support is done in all the web plans, which each customer needs are well-taken care of.
Once you experience issues, you will only need to make a call or use the live chat, and the customer support would respond to your call/chat.
All chat agents and instant with answering and takes less than a minute to answer your question. Both teams are very well educated too!
The customer support in the two web hosts has similar services, making them a better option.
Features
Both companies having deep pockets, want to take care of all their customers by throwing nice features all the time.
BlueHost offers SpamAssassin, Spam Experts, and Spam Hammer, to stop malware infecting your website.
BlueHost allows password-protect directories with two-factor authentication to your login.
HostGator throws great extras too, similarly to BlueHost, everything for your websites to keep it safe from any malware.
You can even get $200 free advertising credits for new users, $100 Google Adwords, $100 in Bing.
Security and privacy is an important aspect which should be considered while choosing the best web host for your website. Both Bluehost and HostGator didn't take this for granted.
WordPress Hosting
It is an important aspect, especially if you are a blogger.
Bluehost is the best when it comes to WordPress with approval from WordPress.org.
For instance, if you want to install WordPress, can be done with a one-click installation button, and you are set-up.
Additionally, you will be able to get free SSL which would ensure that your website is secure to operate.
Also, it is eCommerce friendly. Go to Mojo Marketplace to set up an online store.
On the other hand, HostGator gives new customers the option to free migrate on their hosting. This is huge if you are a beginner and searching for your perfect hosting.
For clients, if you look for WordPress hosting, Bluehost already has WordPress.org approval.
Conclusion: who is the winner?
From the detailed comparison between Bluehost vs HostGator, you can see they share a lot of similar features.
The two web hosts offer similar services to their clients, both are perfect for beginners or experienced users.
Having a slight edge, I would choose Bluehost because of its uptime, speed, security features, and affordable prices.
You can choose HostGator too, having free site migrations and backups.
But I really like BlueHost because of the top three phenomenal uptime, speed, and security, which makes them rise above the competition.