HostGator vs InMotion Hosting, both powerful hosting services for almost two decades.
This is an unbiased comparison between both hosts, so you can decide which is the right one based on your needs.
HostGator was founded in 2002, while InMotion Hosting was founded in 2001.
InMotion Hosting is focused on helping offset the carbon footprint, they've partnered with Trees for the Future, plating over 5000 tries in the world.
They opened a first-ever green data center in LA. They cut their cooling costs by nearly 70% and reduce the carbon output by 2,000 tons per year!
Let's talk about pricing, shall we?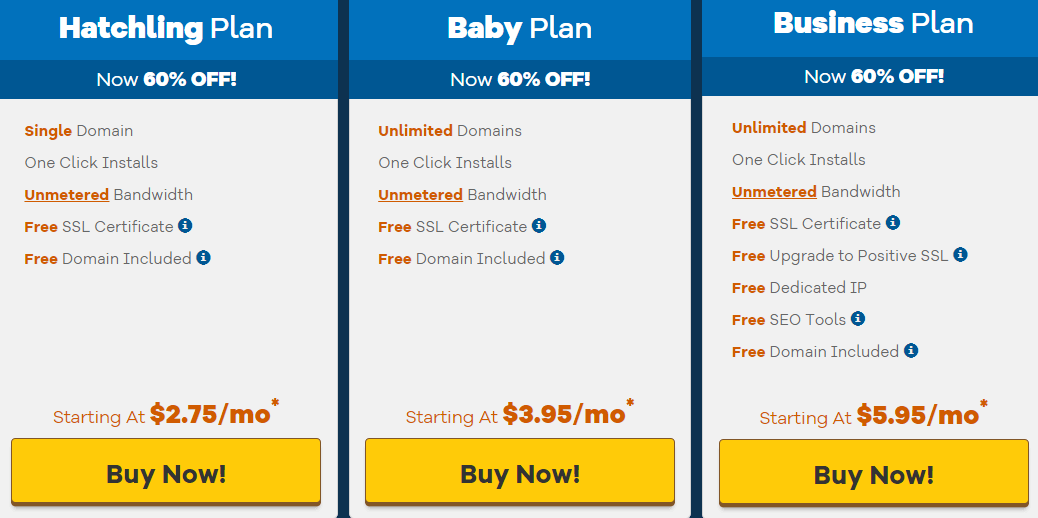 Hatchling plan: priced at $2.75 per month and support one website and also unmetered bandwidth, FREE SSL Certificate.
Baby Plan: priced at $3.95 per month, which comes with unlimited bandwidth and can support unlimited websites, FREE SSL Certificate too.
Business plan: priced at $5.95 per month and comes with unlimited domains to host, FREE SSL Certificate, FREE upgrade to Positive SSL, Free SEO Tools, Dedicated IP which ensures the clients get the best.
HostGator is better suited for a beginner that just start their website and are on a budget. They offer a free domain for their cheapest plan so you can easily start with them.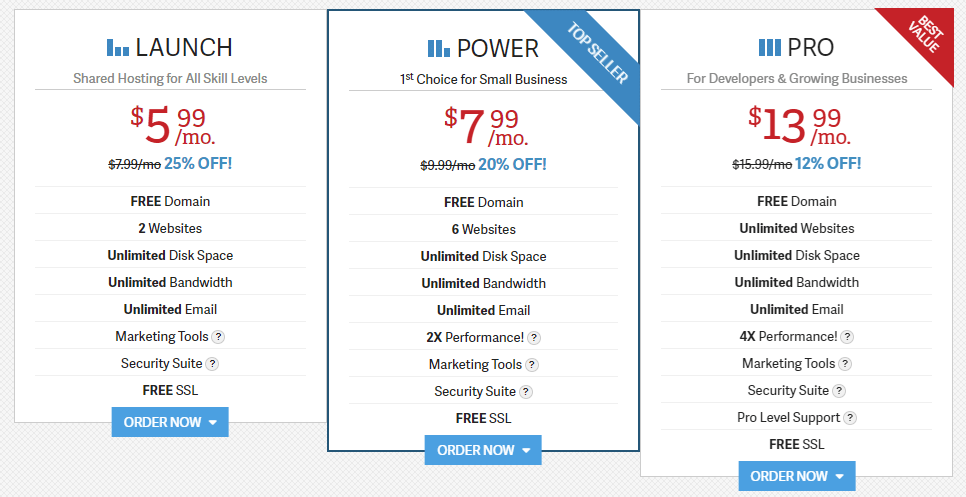 InMotionHosting offers 3 hosting plans too:
Launch ($5.99/mo) – You get FREE Domain, 2 websites to host with unlimited disk space and bandwidth and free SSL.
Power ($7.99/mo) – You get FREE Domain, up to 6 websites to host, with unlimited disk space and bandwidth, 2x performance and free SSL.
Pro ($13.99/mo) – You get FREE Domain, unlimited websites to host, with unlimited disk space and bandwidth, 4x performance, Pro Level Support with free SSL.
InMotion Hosting fits much better with people who own more websites, they offer 4x better performances for their Pro Shared plan which is perfect for developers and growing business.

HostGator vs InMotion Hosting – Speed and Uptime
Having a fast loading website is a must if you wanna rank higher in the search engines. This is mostly overlooked by a lot of bloggers and online marketers.
Google algorithms are optimized to look for fast websites for ranking them higher in search engines, so you must have a fast loading website.
I host multiple websites on multiple hosting companies, and I always try to find the best hosting that has the best deal with the best performances.
Testing HostGator on Pingdom, took 691ms to load.
On the other hand, InMotion Hosting took 972ms to load.
We didn't experience any downtime in our domains.
HostGator vs InMotion Hosting – How easy is it to use?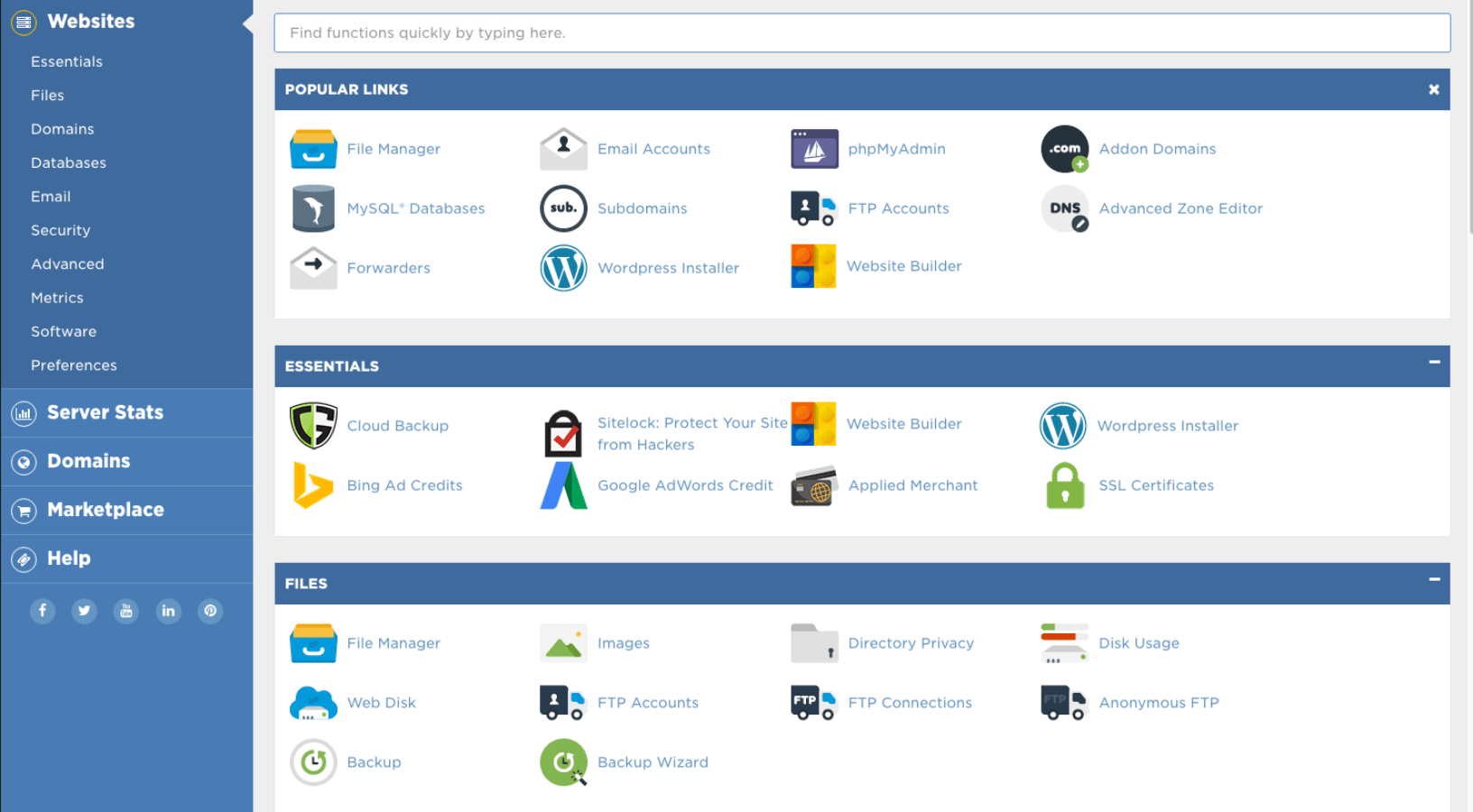 Luckily for you, both HostGator and InMotion Hosting offer cPanel for you to manage your website files, databases and emails.
You also get one-click installs for any scripts (WordPress, Joomla, etc).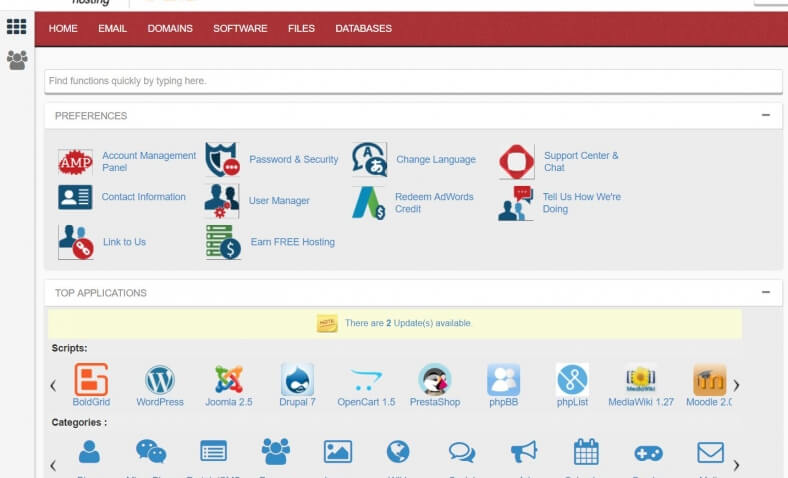 Features
When comes to this, InMotion Hosting is miles and miles ahead of HostGator.
HostGator amazing features, don't get me wrong, it is really easy to build a website fast and easy with them as well.
Better money-back guarantee: InMotion Hosting offers a 90-day money-back guarantee to test their services, HostGator only a 45-day money-back guarantee.
Choosing a data center: You can choose a data center when you sign-up for them.
SSD: InMotion Hosting plans come with SSD storage, which is 10x faster than HDD, and HostGator uses HDD.
Drag and Drop Builder: Ready-made templates with easy to use drag and drop interface.
Money-back guarantee with 90-days is amazing because you check their services for a long time, this is a big confidence move from InMotion Hosting and shows that they believe you gonna stick with them in the long run.
Customer Support
HostGator offers 24/7 support via live chat, phone or email. They have a lot of video tutorials and also a lot of articles that can help you with everything regarding web hosting.
InMotion Hosting also offers 24/7 support via live chat, phone or email.
InMotion Hosting also has skype support as well. They have a knowledge blog and you can learn a lot for hosting.
Their chat agents are very friendly and always answering fast on your questions.
If you need migrations you can easily chat with a chat agent and they will let you know what steps you need to take.
Conclusion
If you are a beginner and on a tight budget, you should go with HostGator.
They will set you up from the start with free domain registration. They have free SSL and unlimited bandwidth on their cheapest plan aswell. HostGator also offers free migrations for new accounts as well.
If you used previously bad hosting, you can ask HostGator to move your files from the previous host and they will do it free of cost.
For pro's and growing business, I recommend using InMotion Hosting with their Turbo plan. They have 4x better performance than their cheapest. You will get pro-level support aswell.
InMotion Hosting also offers a free domain name with all of its shared plans. You can also host 2 websites on their cheapest plan that costs $5.99/mo, while on HostGator you can host 1 website at cost of $2.75/mo.
Both are phenomenal hosting services, both have amazing customer support with fast servers with phenomenal uptime.
Hopefully, we helped you decide your next web hosting. HostGator perfect for beginners on a budget, InMotion Hosting perfect for developers.
Click Here to get the best deal with HostGator.