Founding the best hosting today's can be challenging. So we will give you a comparison for HostGator vs SiteGround.
HostGator is one of the top 10 biggest web hosting companies that are currently on the market. Currently hosting over 9 million domains and have over 400,000 clients.
That's gonna tell you that they are proper hosting since a lot of customers decided to host their business with them.
SiteGround, on the other hand, was founded in 2004. They offer a lot of custom hosting plans for WordPress, Drupal, Joomla, also they currently host over 2 million websites.
Worth to mention is that SiteGround is officially recommended web hosting by WordPress.org.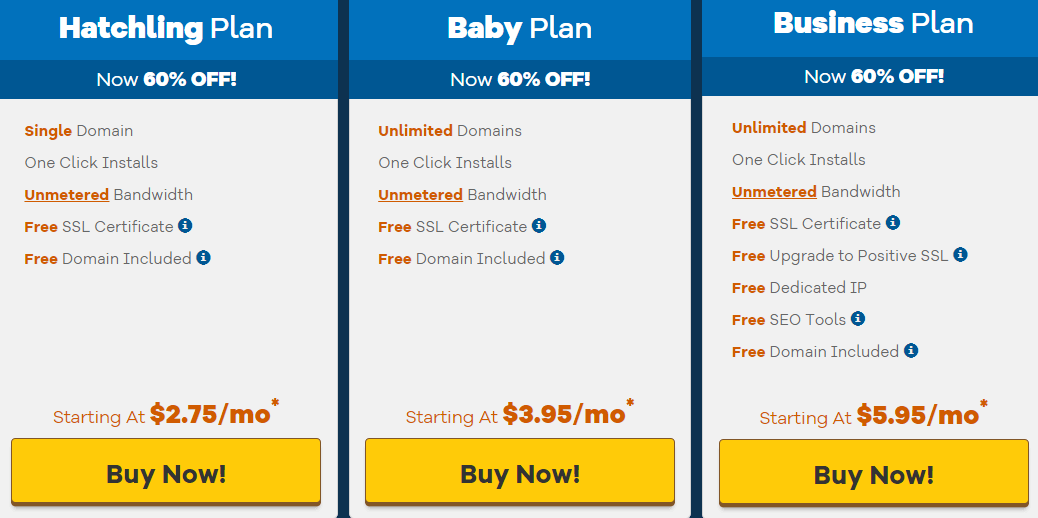 Let's consider HostGator prices for their plans:
Hatchling plan: priced at $2.75 per month and support one website and also unmetered bandwidth, FREE SSL Certificate.
Baby Plan: priced at $3.95 per month, which comes with unlimited bandwidth and can support unlimited websites, FREE SSL Certificate too.
Business plan: priced at $5.95 per month and comes with unlimited domains to host, FREE SSL Certificate, FREE upgrade to Positive SSL, Free SEO Tools, Dedicated IP which ensures the clients get the best.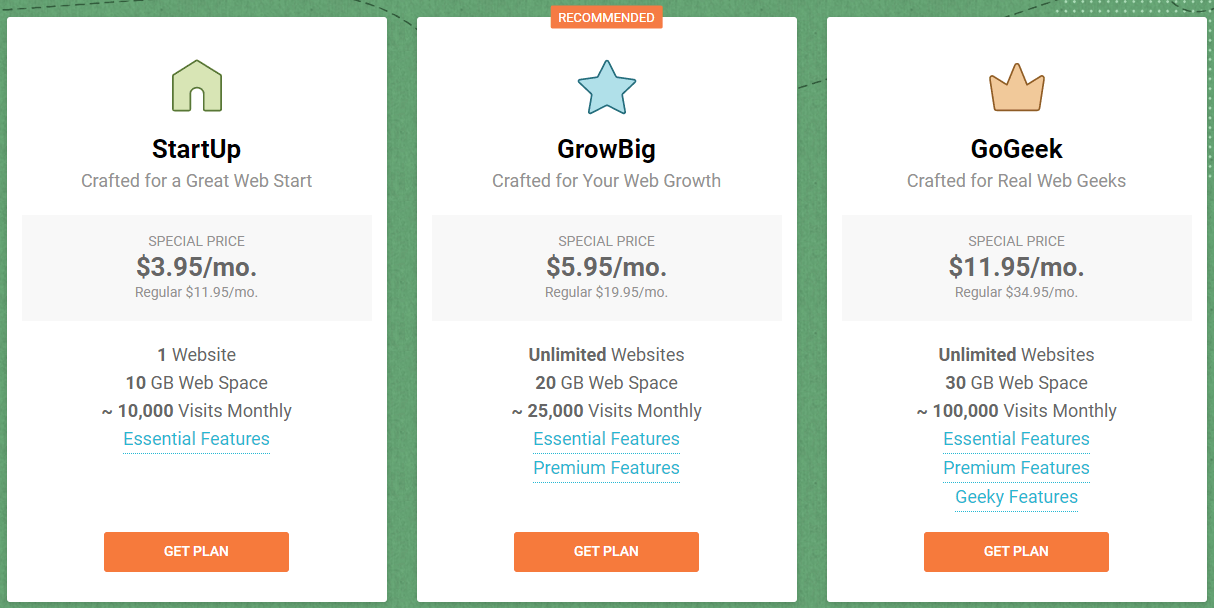 SiteGround offers 3 hosting plans:
StartUp: Perfect for beginners, one website to host, 10 GB of web space up to 10,000 monthly visits. Priced at $3.95/month.
GrowBig: You will get to host unlimited websites, 20 GB of web space with up to 25,000 monthly visits. Priced at $5.95/month.
GoGeek: You can host unlimited websites, 30 GB of web space with up to 100,000 monthly visits. Priced at $11.94/month.

As you can see the SiteGround shared hosting plans are slightly more expensive compared to HostGator. If looking for cheap hosting, HostGator is for you.
Click here for the best deal with HostGator.
Click here for the best deal with SiteGround.
But that's not all, there are tons of other things that SiteGround is better than HostGator, so keep reading.
HostGator vs SiteGround Speed and Uptime
Ofter overlooked by bloggers, having a fast website is crucial these days. Google wants phenomenal page speed for its algorithm, so speed has big impact on SEO rankings for your websites.
Having a faster website than the rest of your competition is crucial, that's why you need to choose carefully your hosting provider.
Also, your website to be available 24/7 for the visitors is important, that's why you want to use a web host that offers at least uptime of 99.9%.
Both hosting companies took different approaches for maximizing speed, SiteGround uses cache process called SuperCacher, while HostGator takes a hardware-based approach by having different VPS servers to give them advantage.
We tested both web hosts with dummy websites, uploaded WordPress theme,  uploaded a couple of videos and photos with content, and since then we monitored them.
Results surprised me a little bit.
We checked the load time with Pingdom, so SiteGround took only 645ms to load, which is faster than 96% of the tested sites.
When we have done the same with HostGator, the website took 691ms to load.
No downtime on both servers, so the winner goes to SiteGround.
Who is easier to use? HostGator or SiteGround?
Both hosting services offer cPanel for the customers. There are tons of 1-click installers such as WordPress, Joomla, and Drupal.
The cPanel is where you manage your backend part, this is where you make major changes. Having this as an option is a must.
And it is pretty easy to lunch a website from both companies, starting a blog, eCommerce store, or other types of website is easy.
So in this aspect, it is a draw.
Features
Things get interesting here. SiteGround is a step ahead of HostGator when it comes to features.
SG offers SSD storage, while HostGator all of their shared hosting plans are on HDD (Hard Disk Drive), and SSD storage is 10x faster than HDD.
SiteGround offers free Cloudflare CDN, PHP 7 with OpCache, which makes your websites faster and safer.
SiteGround has free daily backups, with a more expensive plan, you can get free backup restores.
If you want to go with more advanced features, you need to go with GoGeek plan on SiteGround, there are PCI compliant servers and 1-click GIt repo creation.
So, the cleary winner here is SiteGround.
Backup Feature
This is when you have a copy of your website if in case something goes wrong with it. This can happen if you have outdated files, error codes, hacking attempts or any malware infections.
If this ever happens, you need to restore your website to the previous condition.
SiteGround provides 30 backups for a month, this means they have copied your website for each day for the last 30 days.

HostGator, on the other hand, offers 1 automatic backup weekly, and it is on a random day.
In their TOC, they have explained that backups are not guaranteed, so you must create a backup by yourself.
So clearly in this aspect, SiteGround is the winner.

Support team
If you are a beginner, you need to have a support team that can help you with any issues that may occur. Huge percentages of today's hosting providers don't offer chat support.
Luckily for you, both HostGator and SiteGround provide 24/7 customer support for their clients. They offer support via live chat, phone or email.
There are also tons of knowledge tutorials that cover a lot of things to build a website.
But, I've always used the live chat to get quick help from their agents.
Agents are friendly and very well educated.
Money-Back Guarantee
SiteGround has a 30-day money-back guarantee to test their services, while on the other hand, HostGator has a 45-day money-back guarantee.
You can test both hosting plans, risk-free.
Free Migrations
You had a website and used in on cheap $0.5/month hosting service, kept being down and slow with no support chat so it is time to move.
You may not have the knowledge to transfer from the previous host to the new one, but having a hosting service that can do this for you is huge.
SiteGround makes this very easy for you, in less than 24 hours, your website will be moved to their service for FREE.
The same thing applies for HostGator too, they will transfer the data from the previous hosting at no extra cost to their service.
Conclusion
Before making this comparison, I honestly believed that HostGator is a better hosting provider than SiteGround.
After putting everything to the test, I was surprised by SiteGround and its phenomenal improvements.
The amount of clients they have allows them to invest a complex server technology, so results speak for themselves because the servers are faster, best uptime and make fewer errors.
And now, I know that SiteGround is better web hosting than HostGator.
Budget-wise, HostGator is cheaper. So the choice is yours.
Hopefully, you enjoyed this unbiased comparison between HostGator vs SiteGround.
Click here for the best deal with HostGator.