This is a complete guide on how to start a food blog and be successful with it. If you have a passion for writing and blogging about food you should definitely start a food blog and make money at the same time.
Blogging about food usually starts as a hobby and passion for food, recipes or cooking, but after a while, you can have a lot of opportunities that you never imagined. There are a lot of blogs in a lot of niches, and I believe that food blogging and recipe blogging is not much out there. And you shouldn't be worried too much from the competition when you start, your blog is unique and will tell a unique story. That's why this guide will help you start a food blog from scratch.
One of the best benefits, when you are blogging, is that you can work on your own schedule and have control over your life. And there are plenty of topics for you to write about. People need to read tutorials or how to's to help them make their perfect brownies or cook something delicious. You gonna have a lot of fun when you are first starting, you gonna meet some interesting people and will improve your cooking skills along the way.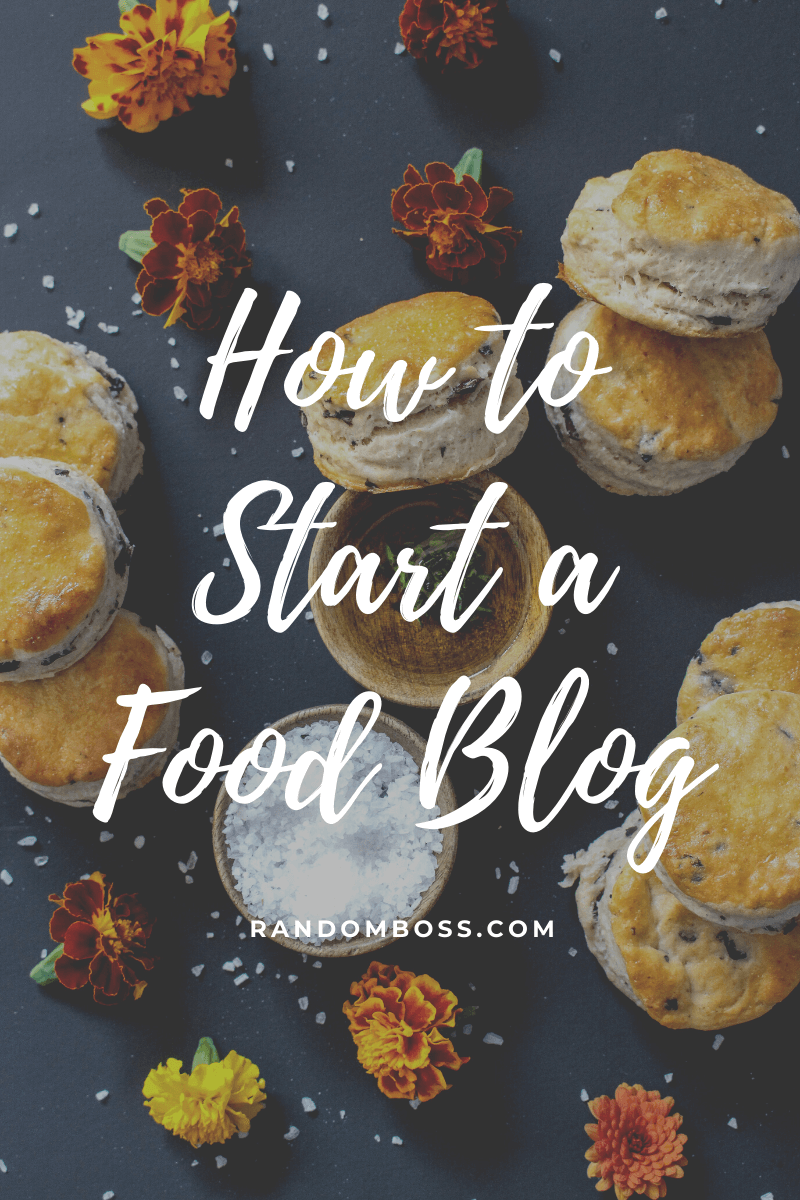 Firstly, starting a food blog is much easier than most people think. You don't need to have any coding or technical skills, it is just a small investment to start something that can be very rewarding for you. Even if you are someone that doesn't have much experience building a website, you gonna learn new things today. You can start something that at the start you may be started it as a hobby, but later you can be an expert within the food niche, and you will see a lot of doors starting to open. But, before we start, there are few things to know before we start a food blog.
Start a Food Blog with Purpose
Having a purpose and passion for blogging about food and recipes can keep you going long term and will help you get results.
Love writing about food. Blogging is not a quick-rich scheme but can be very lucrative for yourself if you do the right steps. It costs a few bucks to start a blog and that's why you see a lot of blogs that have no content on them.
Not everything on the start will be great, after a couple of months, your blog may look different than you first start it. That's why it is important to be flexible and make changes for the better.
Being patient. Nothing happens overnight, you can't build a blog with 1-2 articles and leave it just like that. You need to have a different mentality than these people because they are the ones that fall. At times your blog will have no traffic, but this is when your passion kick-in to help you in tough times.
After your health food blogger gets a bit authority, ranking for low competition keywords is much easier, and posts you wrote couple months ago will be ranked and you can go months before you update new articles on your blog. Your blog will become an asset to you. You can make money with your blog without doing many things on it.
Now that we have this sorted, and if you 100% sure you want to start a food blog, let's continue.
1. How to Start a Food Blog with Good Food Name
You need to identify your target readers, this is the people that gonna love your content. The word "Food" can mean a lot of things. That's why it is important for which audience you gonna write posts about. You may wanna learn how to start a recipe blog that will reveal all kinds of recipes around the world, or you maybe wanna start a food photography blog, or maybe a food blog that will reveal all cultural meals from other countries like Japan, India or other parts of the world.
Depending on what you want your blog name to be (food, recipe or cooking) I recommend it to be easy to remember or catchy. You can put your name or a combination of your name, for example, the female name Ana. Putting something like anarecipes.com or analovesfood.com or if you want to start a cooking blog, your name could be whatanaiscooking.com. You will always have to return visitors because they will want to see if you have any new recipes going on or how to cook new things.
The most important thing is to pick a niche that you are passionate about and have an interest in when you start a blog.
I recommend going on with .com domain, this way you build trust with your visitors, and in my next paragraph will show you how to get the best deal.
2. Hosting & Domain
Building trust and a good relationship with your readers is key, that's why I don't advise any of my readers to go with free platforms or free hostings. Some of those free platforms are blogspot.com or weebly.com. When you start a cooking blog with them, your blog will look like cookingblog.weebly.com. Your blog will be limited with limited features, and you will have ads on your website that are not yours. Your cooking blogger can be easily shut down because you don't have full control over it.
So what is the next step?
Registering a domain name could cost you around $15 per year, and hosting can cost you $7-10 per month. This can be a lot for some people around the world, that's why I have a very special deal for you.
For as low as $2.95 a month, you can get a FREE domain name, FREE SSL certificate to protect your visitors' data, security features for your blog and 24/7 customer support that is top-notch with of course 60% OFF on hosting. This is a deal that you don't want to miss.

I've been using BlueHost for many years, and the customer support is very friendly and very well educated, that's why your journey on starting a food blog can make it much easier. Your food blog will load under 1 second, they have super-fast loading speed. A perfect deal to start a food blog.
After you open the homepage of BlueHost, click on Get Started button and you will see the following plans: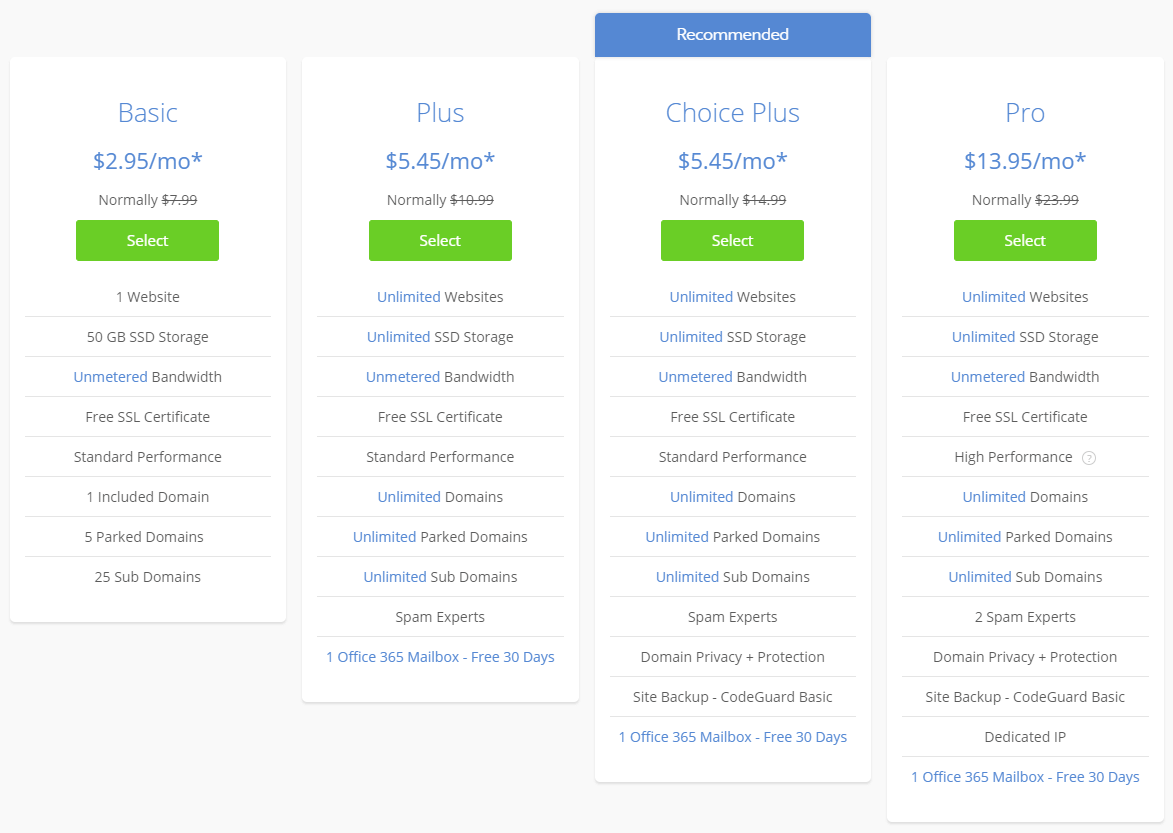 I recommend selecting the Basic Plan because you are just starting a food blog and you get a perfect deal with 50 GB SSD Storage and unlimited bandwidth. Once your blog gets more popular, you can always upgrade so you no worries. Getting the 36 Month price is good to lock down the lowest possible price for hosting, that's what I'm using. You don't need to worry about hosting bills for 3 years. But, depending on your budget, you can go with 1-year as well. Plus, you get a 30-day money-back guarantee if you are not satisfied with BlueHost.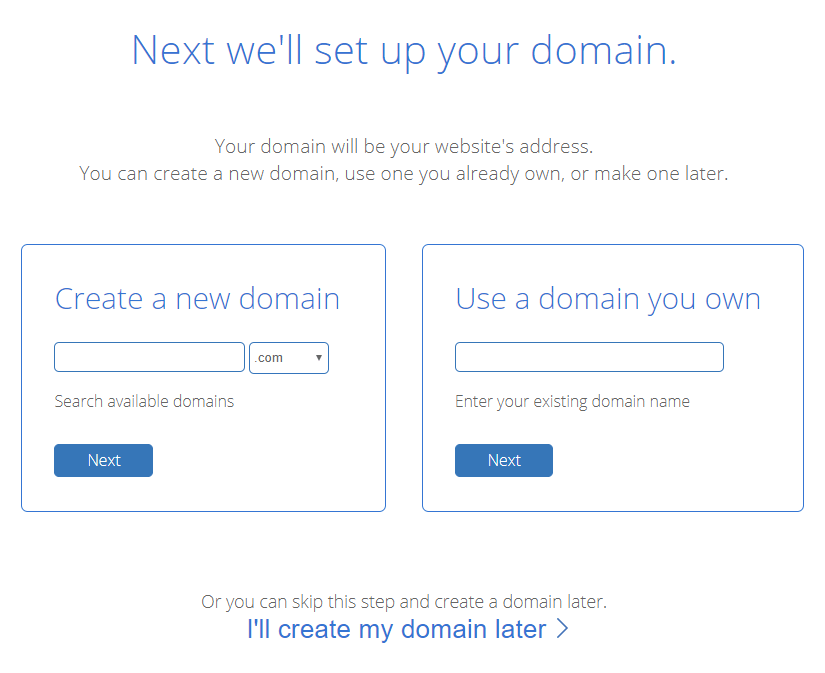 The next step is creating a new domain, type the name for your food blog and click next if it is available.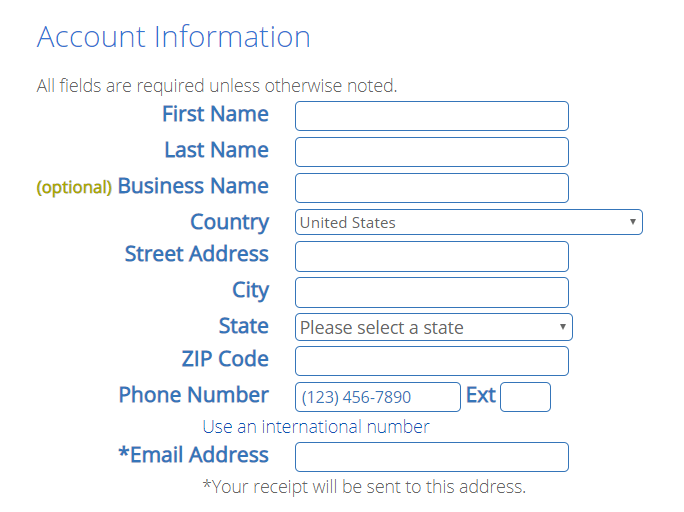 You need to fill all personal data, and if you have enough budget I recommend getting Domain Privacy + Protection. This way your blog will info's will be BlueHost and not yours, so you will not get any annoying calls from people that wanna help you with your blog. If you don't have enough budget, you can always upgrade later.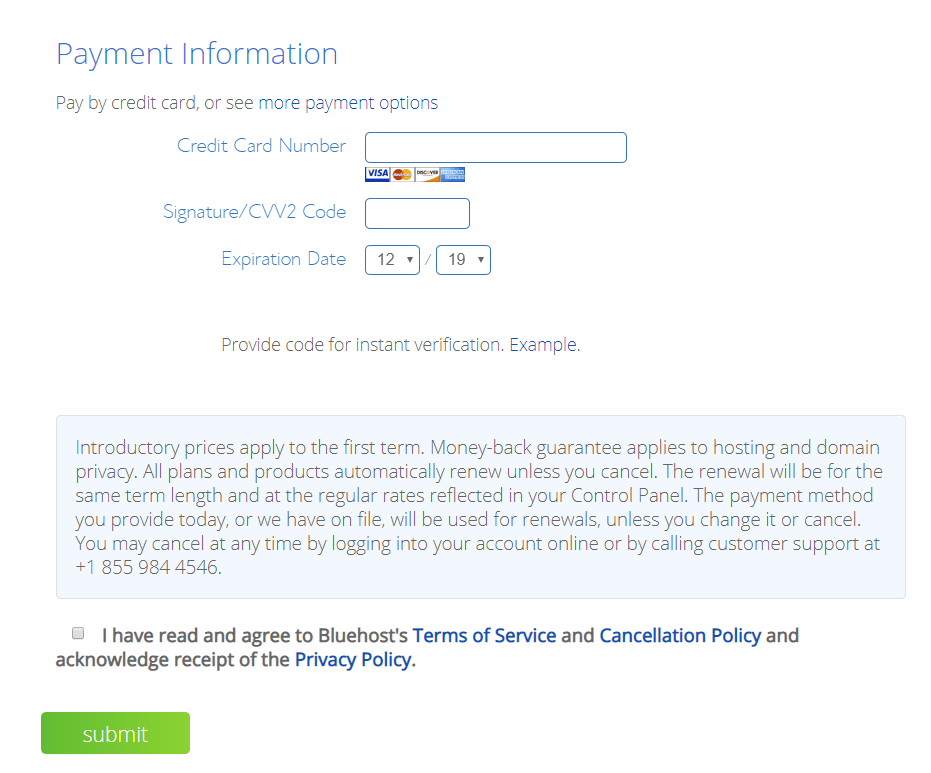 Click the box that you agree with BlueHost's terms of services and then hit the green Submit button.
Congrats, you completed a major step on how to start a food blog!
Click here to start with BlueHost if you haven't already.
The next step is installing WordPress on your blog, so let's keep going.
3. Install WordPress
Once you purchased your domain and hosting, now you have full control over your blog. BlueHost is very well optimized for WordPress, which is really easy to manage it. WordPress.org also recommends BlueHost for one of the best hosting providers. Usually, WordPress is automatically installed with your website at the beginning when you fill out the information. If you have any issues just reach out to the customer support to provide you assist.
After everything is installed, you most likely wonder how to log in.
Head over to yourblog.com/wp-admin then this screen will show up: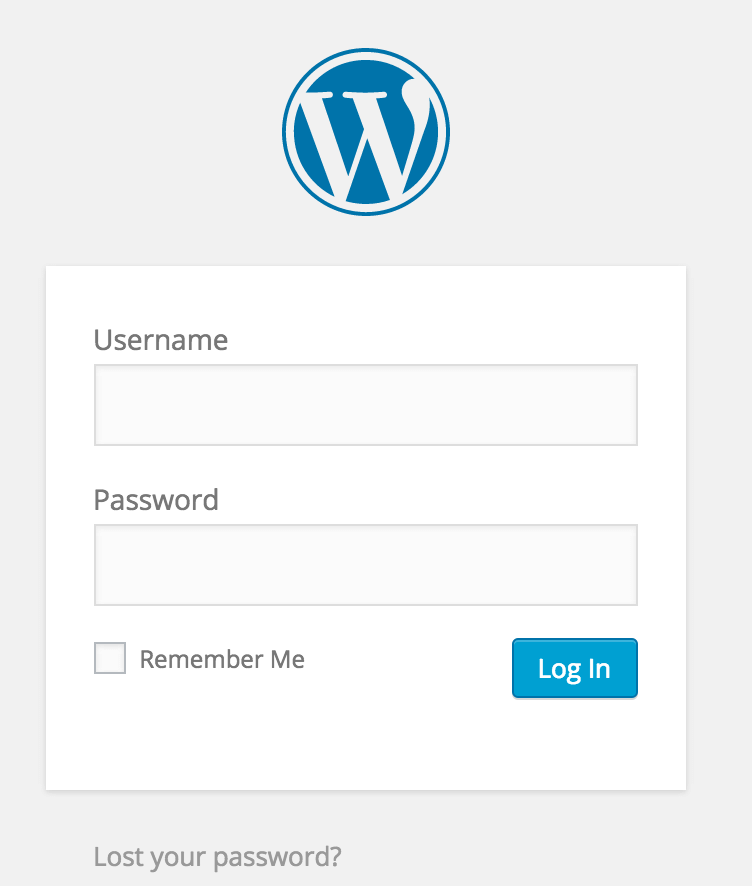 You need to type the username and password that you created for your blog, once you Log In, you can see the dashboard of your blog.
The first thing I recommend doing is changing the Permalinks, you can do that by going to Settings -> Permalinks.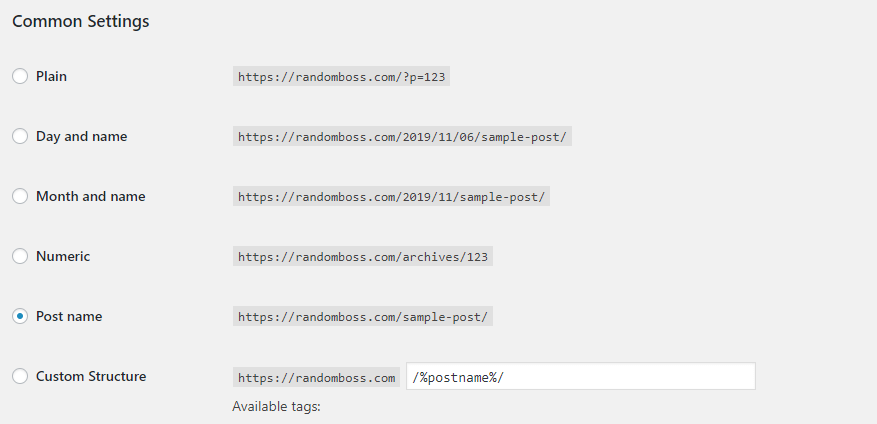 Select the Post Name and save the changes. This is really important because your blog posts will look something like yourblog.com/food-recipes and not like yourblog.com/2025/01/01/food-recipes.
4. Best Plugins to Install for food bloggers
Installing a few plugins will help your website perform better for the search engines and for your visitors as well.
Once you are in the dashboard, you will see Plugins, point at them and click Add New. You can find new plugins here and you can install them.
Recommended plugins:
Yoast SEO: The best plugin when it comes to On-Page SEO, you can change titles and descriptions for your posts, you can create a sitemap.xml for Google Search Console so your posts can be easily crawled. This plugin will help you optimize your articles for better ranking in Google.
WordFence: This is a plugin to protect your blog from malware.
Social Pug: Phenomenal plugin to allow your visitors to share the posts on their favorite social media.
Contact Form 7: Plugin to help you create a page for people to be able to contact you.
W3 Total Cache: Amazing plugin to offload some of the work hosting servers do, your website will load faster as well.
Classic Editor: If you don't like the new writing style on your posts, install Classic Editor to bring back the classic way of writing posts.
All of the above plugins are free to install, some of them also have PRO versions, so once you start your blog and it gets profitable, you can always upgrade to the PRO version to unlock all features that they offer.
5. Install Theme
Making your blog looking good and unique is key for your visitors to easily navigate within.
Free Themes: Head over to Appearance -> Themes -> Add New. You can select the most popular themes. You can scroll down and search for themes that gonna make your blog looking good. If you love the theme, you can always upgrade to the PRO version if it is offered.
Premium Themes: These kinds of themes will make your blog looking unique and always up to date. Depending on the theme features, you can spend around $30-250 on a premium theme. When you start a cooking blog, you can go with Cook'd Pro Theme, Brunch Pro Theme or maybe Foodie Pro Theme.
Optimizing your theme for SEO will be much easier with PRO Themes, you also get support for all popular plugins that your theme needs.
6. Getting a Logo
Depending on your designing skills, you have two options to create a logo for your food blog.
Canva: I use it every day for creating images for my Pinterest account or my websites. They have incredible free designs and you can only change a few things to get a good decent logo for your website. You can use it for things like YouTube channel art or thumbnail photo, you can create a Facebook cover and a lot of other things too.
Fiverr: If you don't have good designing skills, head over to Fiverr.com. You can create a good looking logo for around $5-25. Make sure the designer you gonna order a gig in has revisions available. This way you can ask him to go back and change something that you don't like. You need to sign-up and search for logo designers.
7. Pages
Helping your readers to know more about you is really important. That's why I recommend having a few pages for them to know a little more about you.
My Story or About me page: You can write a page to explain your visitors on how you start a cooking blog and your experience in cooking. Writing about 500 words of yourself can help you tremendously for your visitors to gain trust in you.
Contact page: This will be where your readers can reach out to you and ask for help or any kind of collaboration. If you decide on starting a recipe blog, your readers may want to contact you about new recipes.
Copyright page: This is optional, depending on if you want your content to be fully yours and protected so no one can steal it.
8. How to Start a Cooking Blog with Quality
Posting high-quality content that will be extremely valuable to your readers is key if you want to be successful blogging. Your blog will keep increasing its authority and soon enough Google will start ranking you in low-competition keywords. There are a ton of topics for you to write about when you are starting a cooking blog, you can write about food, recipes, how to's or tutorials.
Think of what goals you have with your blog and what you want to achieve. Focus on engaging content that will provide a lot of value to your readers. You need to use a keyword research tool to come up with content ideas, you can also use answerthepublic.com, just type in cooking or food, and the program will spit out a lot of questions that people usually search for. You can come up with some great ideas with this tool to write posts about. Mention the keywords in the first 100 words on your content so Google can notice what your post is about. You need to create a long content that will be high quality, this way you can rank easier. Start taking action in writing posts and analyze them using the Yoast SEO plugin.
You can make your posts more engaging by using free stock images from platforms like unsplash or pexels. The images here are royalty-free and can be used for your blog with no attribution required.
Building relationships
It is also very important to start by writing guest posts. The guest posts can be published by crediting the author, this way you will get a high-quality backlink for your blog. You need to reach our to other food bloggers and content them for guest posting, just do it in a nice way. After you have a guest post on another blog, their followers will read the article and visit your website as well.
Start a relationship with other bloggers by leaving nice comments on their posts, you can share their photos on your Instagram Stories (popular IG accounts), you can join Facebook groups or Pinterest board as well. You can also become a member of a paid membership program like Food Blogger Pro.
You can start building an email list, this is one of the best ways to promote your content when you start a cooking blog. Email lists have a great ROI long-term. GetResponse is one of the best when it comes to building an email list. You can provide a subscription form on your blog in each post. You can also create a high-quality lead magnet when visitors give you his email for a free e-book about food recipes.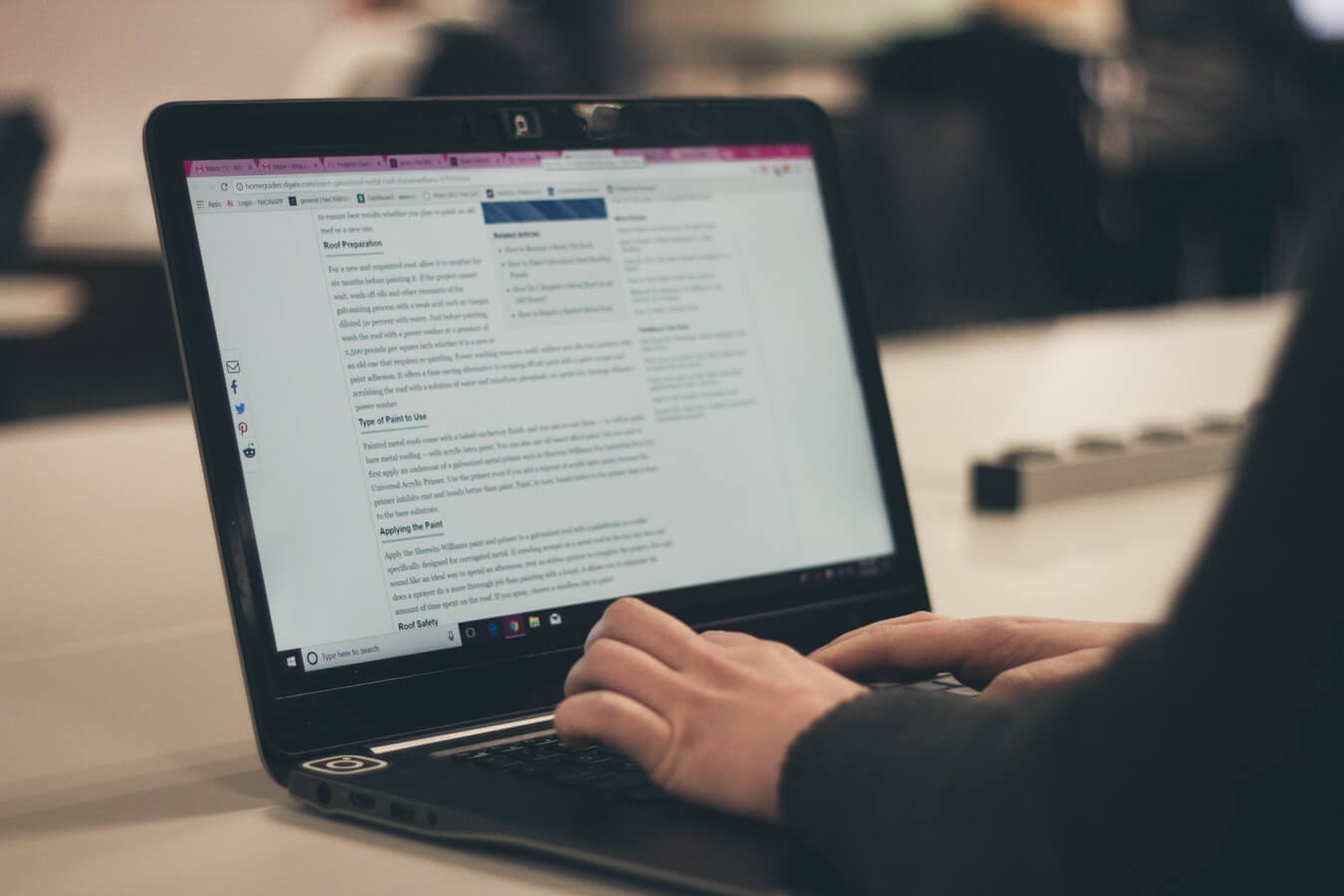 9. How to Start a Food Blog with Social Media
Involving social media can be very rewarding for your blog, plus you can bring a lot of visitors from social media.
Pinterest: This platform audience is 70-80% of women. You can share a pin and put your website post on the discussion link. You can teach a lot of people on Pinterest about food recipes and cooking tips. Pinterest is huge and I've seen a lot of blogs bringing over millions of visits per month.
Instagram: Perfect platform to share images and videos is Instagram. You can easily interact with your followers with your visitors, you can bring traffic over with swipe up features (10k followers requirement) and putting the link in bio. Use this Instagram scheduling app to help you with posting and reposting.
YouTube: You don't even need to be on camera for some videos, you can show videos on how you cook or a video from a recipe you found online. Putting 2-3 minute videos can provide value to people, and at the same time bring you people to your blog. Putting your link in YouTube description can bring you traffic forever because they stay forever on YouTube platform. You can monetize your youtube account once you reach 1,000 subscribers and 4000 watched hours.
10. How to Start a Food Blog and Make Money Online
Once you learn how to start a cooking blog, you may wonder how to make money off it. Blogging about food and cooking can be very lucrative for yourself. There are a lot of ways to make money with a food blog, and here are my favorites:
Affiliate Marketing:
This is one of the easiest ways to make money from your food blog. You can monetize it by recommending digital products to your visitors. You don't need to worry about customer support on these products, because you didn't create them. The product creator takes care of it all, that's why it is very beneficial. You can sign-up in ClickBank to see all the available offers for your food blog. You can see the best performing offers by Sorting the results by Gravity. Make 1000words posts on these products to review them, and if someone purchases the product using your link, you get a commission. The commission can be up to 75% on ClickBank.
The most successful promoted offers in Food and Cooking on ClickBank: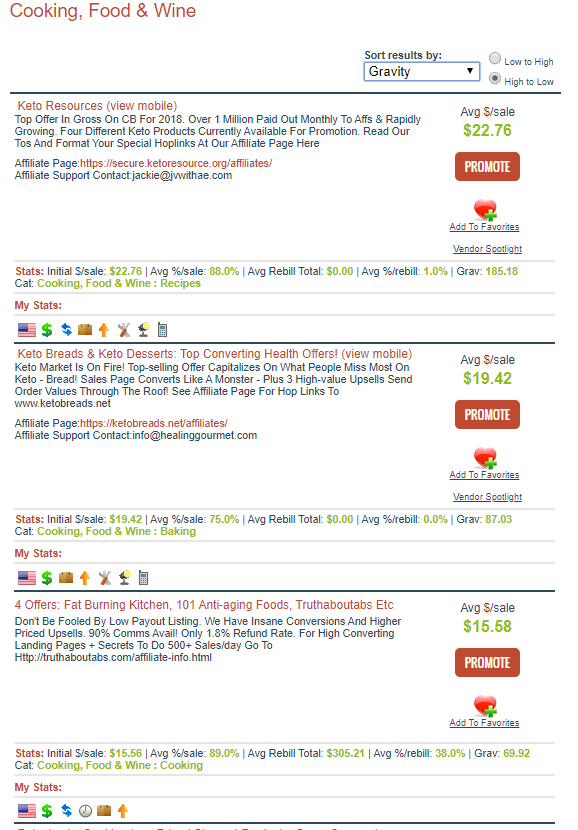 Google Adsense:
This is a great way to monetize without doing much. You need to sign-up for Google Adsense account and after you are approved, grab a banner and put it in the first paragraph on your post. Installing the Quick Adsense plugin will help you manage the banners much easier. After you get a lot of visitors in, I recommend switching over to Ezoic or Mediavine to earn 10x on what you did with Google Adsense. The requirement to sign-up for these platforms are 10k visitors per month, that's why I recommend first joining with Google Adsense.
Patreon:
This is something that you shouldn't take lightly. Once you build some following on your blog, it is a good idea to start a Patreon account and share better content for your patrons. You can share better recipes or better videos and tutorials on how to make a special food and post on Patreon.
Amazon Associates:
You can recommend products from Amazon and then get a commission on them. Recommending your visitors best kitchen knives or other kitchen products in your posts. You can even make a post about the top 10 kitchen gadgets or top kitchen knives you use every day. You can make specific reviews about these products. Once your blog gets more authority google will start ranking you for low competition keywords.
Tips for successful blogging
After we covered basically everything on how to start a food blog and make money with it, I would wanna add some tips to be even more successful.
Creating a habit of writing can help you tremendously. Decide whatever you gonna post once a week or once a day. Make a schedule for that day you need to write 500-2000 words of quality content.
If you decide you gonna start a recipe blog, make sure your title and description have the word recipe in it so google can know for which keywords to push your website up.
Having an own style. This is really important, you need to have your own style of writing and being natural.
Opening a google sheet to put keywords that are low competition. Us as people we have short attention plans and we are easily distracted and we have a short memory as well. If you find decent keywords for you to write, put them in a sheet or on paper. This way, the next day or week you need to write, you have keyword ready for you to write a topic about.
Putting alternative text (alt) on your images. You need to describe the photo and what the photo is about. This way Google can rank you in Google images.
Putting the ranking keyword in the first paragraph in your 150 words is a must. This way Google will know for what keywords to push your website.
Do not copy content from other bloggers. If you see something that they write about, don't copy and paste it on your website. If you want that recipe on your site, just write an article and use your own photos or royalty-free photos.
How to Become a Food Blogger – Conclusion
Hopefully, this guide on how to start a blog about food helped you learn how to get it up and running and be successful at it. You have amazing steps on how to monetize it and how to bring traffic from social media as well.
Don't be afraid of the competition. If you don't start a cooking blog because of high competition you have a weak mentality. This is not the mentality you wanna have when you first starting a blog.
When you start a blog you will have a unique and your own story. This is the first thing that will make you stand out from the competition. Once you get authority, your blog will start ranking for low competition keywords and bringing you traffic. You will see results pretty quickly.
You may are a crazy lover when it comes to food, or maybe you own food business and you want to connect more with your customers, now you don't have any excuses to wait longer.
Go ahead and make the jump in food blogging.