Everyone knows that when you create a website you need hosting to host all your data files. InMotion Hosting can be the right option for you, in this InMotion Hosting Review, you gonna find all important details about the pros and cons of the hosting, speed, uptime and much more.
There are various web hosting service providers available online. It can be difficult whether you are a beginner or expert to choose the best provider for your website or web page needs.
Lots of website rate InMotion Hosting as one of the best hosting service provider. With positive new about them and hosting more than 300,000 domains, InMotion has developed into a powerhouse since it opened in 2001. InMotion also has two centers located in Los Angeles and Virginia Beach.
InMotion Hosting is one of the most recognized names in the business, but is it one of the best hosting providers out there? This InMotion Hosting Review is an explanation of the pros and cons associated with InMotion Hosting so you can decide for yourself.
InMotion has won many awards for its success in various fields. This hosting company is listed top by CNET for the best hosting list, the Better Business Bureau recommends companies with 5-star ratings and is displayed on PCMag's best 2017 list.
InMotion Hosting Review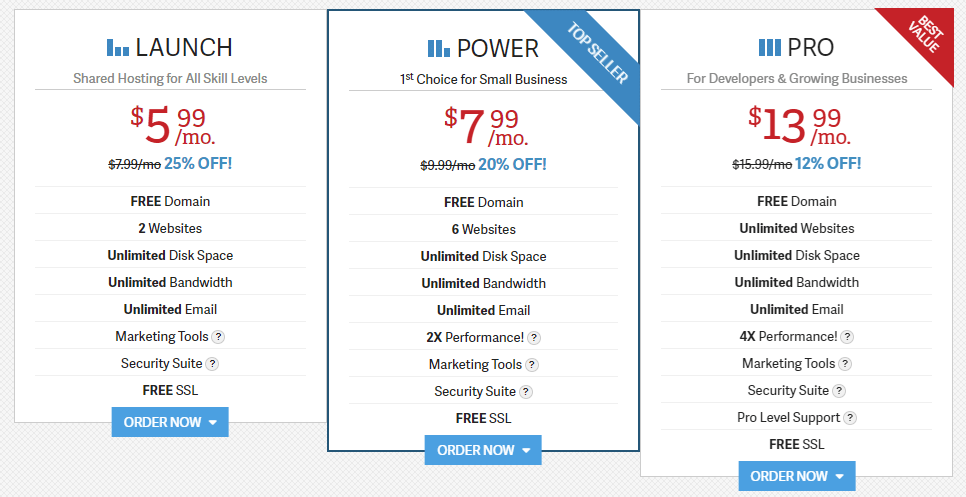 With the lowest cost plan and incredible innovation, InMotion has maintained in the top ranking of one of the best web hosting services for many years.
If you want to get the most out of your investment, your hosting provider should be one of the top web hosting platforms. Each plan is affordable to meet all business aspects.
They offer three Shared Hosting Plans:
Launch – You get FREE Domain, 2 websites with unlimited disk space and bandwidth, FREE SSL
Power – You get FREE Domain, 6 websites with unlimited disk space and bandwidth, 2x performance and FREE SSL
Pro – You get FREE Domain, unlimited websites with unlimited disk space and bandwidth, 4x performance, PRO-Level Support, with FREE SSL for all websites you own

Pros
When it comes to the question of choosing a Web Hosting service, you must consider 3 things – Uptime, Support and of course Speed.
InMotion manages these 3 factors very well. Let's look at the pros of the company and why you would prefer them to the hundreds of companies out there.
Depending on your preferences and goals, the following benefits can be very important for your project.
99.99% Uptime Guaranteed
Uptime is undoubtedly an important aspect of the web hosting experience. If your website has a problem due to a technical problem, customers will not be able to find your website and access to products or services. This will be the worst nightmare for the site owner.
Fortunately, InMotion shows reliable uptime. Compared to other hosting services (which are only 99.94%), InMotion provides 99.99% uptime which is clearly the best and they will give you a guarantee for that.
After getting their Web Hosting Service, your website's performance will be monitored 24/7 by staff and system management tools. Although this usually doesn't happen, if your website is inactive for a while, they will be notified instantly and resolve the problem.
Super-Fast Speed
Fast page load times not only ensure the visitor a great experience, but it is also important for better ranking in the Search Engines.
If a visitor finds your website is slow and takes too much time to load your posts, he will definitely be upset and leave the website before loading properly. That's one of the reasons why you should go with InMotionHosting.
Following their high standard uptime performance, InMotion makes website load times 15.4% faster than other servers.
Excellent Customer Support
From my personal experience, I'm very happy with their customer service. They will explain to you everything related to Domain and Hosting. If you ask for help, they will immediately respond and give you a solution.
The support team consists of professionals who will handle all the problems you encounter along the way. It doesn't matter how difficult your problem is – you are guaranteed to get the best service 24 hours a day, 7 days a week.
You can stay connected to support teams via Skype and live chat. If you feel comfortable with phone calls, you can do that too.
Apart from that, there are regular forums where you will get most of your answers. In some cases, you may have to open a ticket and wait for their response.
Money-back guarantee
When you go to other web hosting industries, most of them offer a 30-day money-back guarantee in case you're not satisfied or get the expected support.
But at InMotion, they are so confident in their business that they offer a 90-day money-back guarantee.
This allows you to use your domain and hosting services without risk.
During this time, you will not face major issues, but if you decide to move your hosting provider because of business issues, you will be refunded in full without asking a single question.
Excellent e-commerce features

InMotion hosting is ideal for online business and e-commerce stores. If your hosting provider is with you, you can run your online business effortlessly. This hosting service offers a number of interesting plans based on online businesses.
Get everything you need for a PCI-compliant data center, dedicated IP address, up to 200 GB of disk space, VPS server configuration, SSL certificate, free backup, restore, and high-quality e-commerce web hosting providers. There are two different pricing plans for shared and VPS e-commerce hosting.
If you are not familiar with the business, try shared e-commerce hosting. You can always strengthen your membership plan based on business growth. InMotion also provides standard installer scripts for all popular platforms. In addition, they provide tutorials and guidelines with a useful FAQ section.
Get Data Backup For Free
Data backup is a major factor for shared hosting providers. You should always keep a backup in case of an emergency issue. InMotion provides free data backup that most companies don't. For example, if you are using HostGator, automatic backups are free, but you may be charged $19 for backup recovery.
But with great InMotion Hosting, you can keep regular backups of up to 10GB. Keeping your own backup is a best practice, but for urgent backups, you can always talk with InMotion hosting support.
Safe Service
Enabling SSL certificates on a website is a must for all businesses, but for all business owners, it is more important to properly understand the safety protocol used by the hosting provider.
InMotion makes no mistakes and ensures the security of your personal information and your visitors.
InMotion is committed to protecting your website from the most aggressive attacks.
While using this hosting, you can comfortably use all the features and extensions of the website.
In addition, you can create an account with McAfee to keep your email safe.
Cons
Now, after knowing all the benefits, isn't it good to know about the cons?
Every online business has imperfections and InMotion Hosting is no different. If you research a hosting company, you will find the same complaints as other hosting companies.
Even though the small problems of InMotion Hosting can be ignored, I want to be neutral when writing reviews and also for this InMotion Hosting Review. Web hosting providers limit the number of databases and websites that you can run.
After registering, all accounts require verification by telephone for security purposes. Sometimes the verification process delays accounts that are outside the US. Some users may require ID card verification, which is very silly, but rarely happens.
Many customers find some limitations with backup services too. For example, if any website exceeds 10 GB, it will not be supported. And you can restore files every four months. By purchasing a membership, you commit to using hosting for 1 year. So you do not have the option to migrate even if you are not satisfied with the service.
Aside from minor problems, InMotion Web Hosting is worth buying because of its reliability.

Conclusion
These are the pros and cons discovered by extensive research and using the services for our websites. Overall, this company seems to be a trusted web hosting service provider.
Whether it's the best or not, it really depends on your preferences and needs. Some of the cons listed here might handle breakers when it comes to your personal situation. However, the pros may outweigh the cons of inconveniences. Hopefully, you enjoy reading this InMotion Hosting Review.
InMotion hosting is worth to try. Start your online business right now.