SiteGround vs WP Engine, both phenomenal hosting providers, if you ever wondered who is better you will get the answer quickly.
SiteGround is founded on March 22, 2004, while WP Engine is founded in 2010.
Officially recommended by WordPress.org, SiteGround is one of the most popular hosting companies today. I'll cover all their benefits and everything about them.
WP Engine is the first of companies that offer WordPress-centric managed hosting, they are one of the leaders for WordPress hosting, they also have really impressive customer lists like Yelp, Asana, and MyFitnessPal.
Both web hosts have phenomenal resumes and a lot of things that are impressive. Let's talk about their pricing first: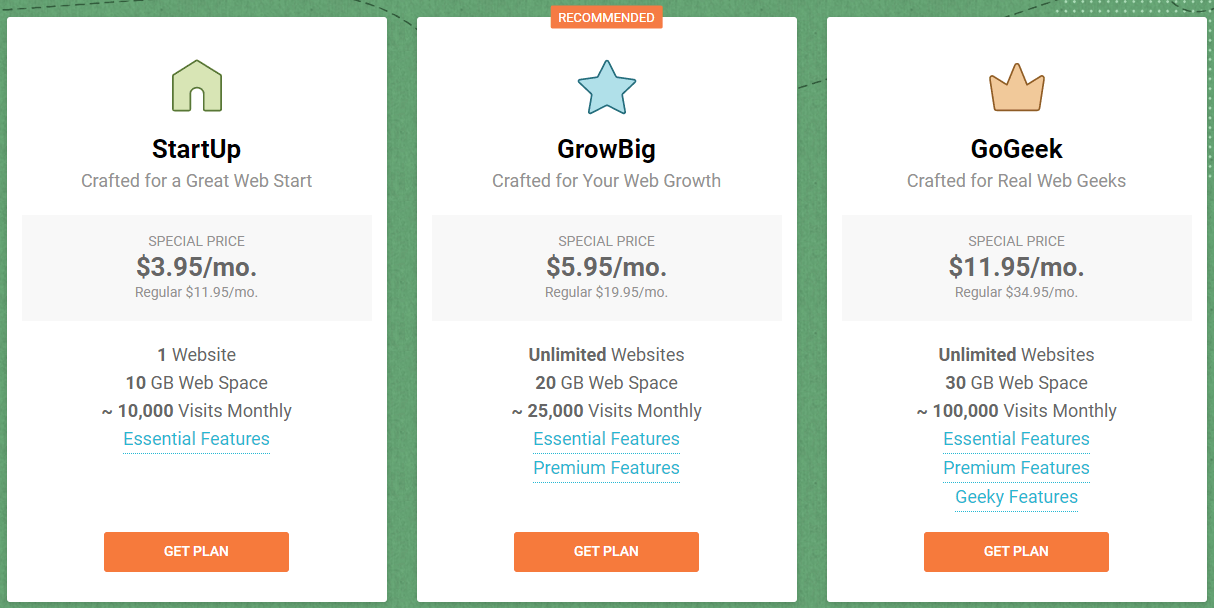 StartUp ($3.95/month): One website to host, 10 GB SSD Web Space, up to 10,000 visitors monthly, perfect for beginners.
GrowBig ($5.95/month): Unlimited websites to host, 20 GB SSD Web Space, up to 25,000 visitors monthly, perfect for beginners with multiple websites.
GoGeek ($11.95/month): Unlimited websites to host, 30 GB SSD Web Space, up to 100,000 monthly visitors, perfect for developers and professionals.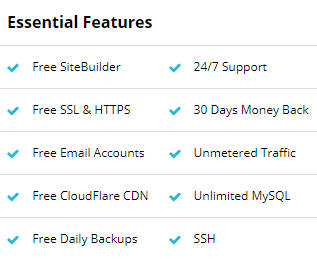 Some of the features you get with each plan on shared hosting plans.
If you are a beginner and just starting, 10 GB SSD Storage is a lot if you don't use some HD or 4k videos for your website. SiteGround is a good deal for $3.95 per month if you are a beginner. You will see all the benefits they have.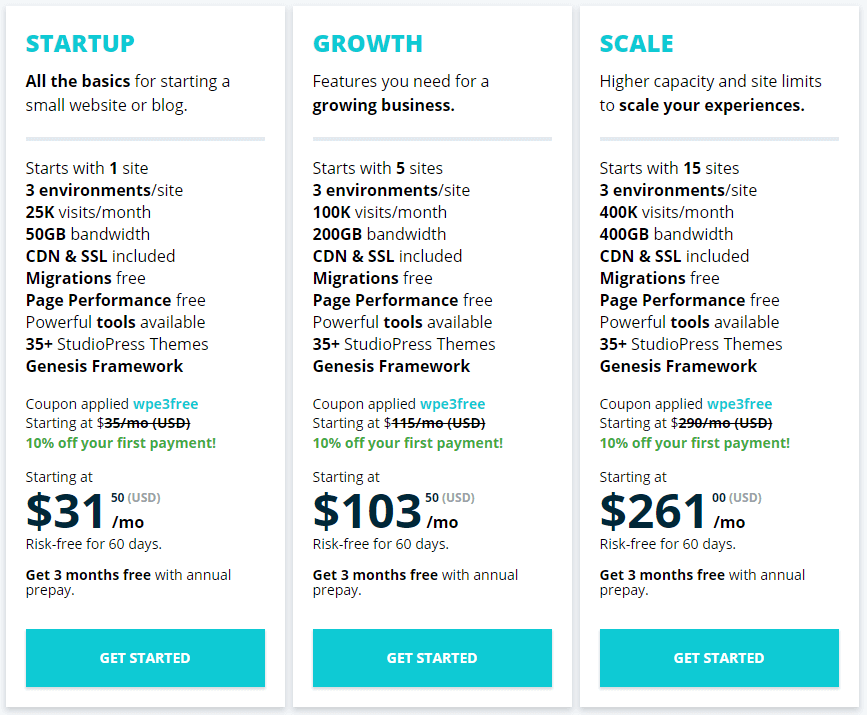 WP Engine offers 4 hosting plans:
Startup ($31.50/month): one website to host, 10 GB of storage, 50 GB of monthly bandwidth, 25,000 visits per month.
Growth ($103.50/month): 5 websites to host, 20 GB of storage, 100,000 visits per month with 200 GB monthly bandwidth.
Scale ($261/month): 15 websites to host, 30 GB of storage, 400,000 visitors per month, with 400 bandwidth per month.
Custom: You need to call an agent and talk about a deal if you have bigger website that has over 400,000 visitors per month.

WP Engine is a managed to host service, the price is based on traffic. Everything that is included for free on their hosting plans.

SiteGround offering a service that is cheap and reliable. SiteGround make the top 3 top of web hosting that is today on the market.
You can use our SiteGround discount link to get big discounts.
Speed
Having a fast website these days is crucial if you want to have higher rankings in search engines. There are a lot of websites that are slow and takes them more than 3-4 seconds to load. Visitors don't want this, they leave the site instantly. There's been a study done on this.
Having your website load under 1000ms is crucial and we will analyze both SiteGround and WP Engine.
We tested SiteGround and we find out that it took 679ms to load. That is better than 95% of the websites that are tested.
On the other hand, WP Engine took 572ms to load, which is faster than 96% of the websites that are tested.
So obviously the winner will be WP Engine because of their features and obviously the prices they charge.
Uptime
We tested the uptime for both SiteGround and WP Engine and we saw that in the last 30 days their uptime was 100%.
This is a phenomenal uptime score so you know you will not leave any money on the table by having bad hosting.
SiteGround vs WP Engine – How easy is to use them?
Every one of the SiteGround plans comes up with 1 click install for any scripts like WordPress, Joomla or Drupal.
They offer the standard cPanel for managing your websites and your hosting.
You can see how your hosting is performing. You also get a page builder. This is perfect for beginners if you want to launch a website.
WP Engine, on the other hand, has a different kind of customer than SiteGround.
You can be calmer when it comes to using them, they have extra features and extra security on their WordPress Hosting.
They run differently than other hosting providers, you are not allowed to install any security or performance plugins because they are already built-in.
WP Engine is more geared for professional developers, so if you are a beginner, you have a bit of learning to do.
Backups
There are a lot of great plugins for backups on your site (VaultPress), this will make you calm knowing your website always has a backup.
But both SiteGround and WP Engine include automatic daily backups of your sites.
And of course you can always do it manually, it is really easy to save a backup from cPanel.
Features
I love SiteGround because they are very affordable and have top performances overall.
Some of the most noticeable are 1-click installers, website builder, SSD Storages on their plans.
You get SSD storage, you also get free Cloudflare CDN, PHP 7 with OP Cache.
With their GoGeek plan, you get daily free backups.

WP Engine have access to free 35+ Studio Press themes, they are also partnered with Amazon and Google Cloud platform for high performances.
Customer Support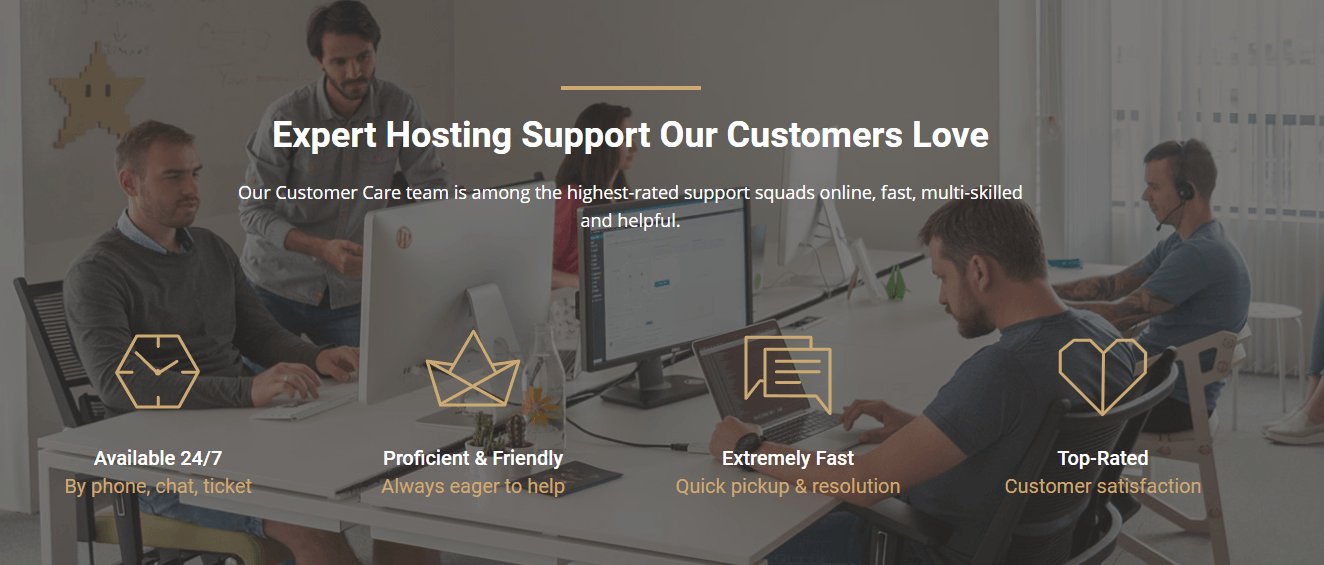 This is crucial if you are a beginner and don't know a lot of stuff when it comes to hosting.
SiteGround offers 24/7 support via live chat, phone, and email.
They also have a knowledge base that has a lot of tutorials and helpful videos.
WP Engine also offers 24/7 via live chat, only offer phone support with the higher plans.
SiteGround vs WP Engine Conclusion
If you are a beginner in building websites or want to start a website you should only go with SiteGround. They've grown so much in recent years and with their cheap hosting you will get all the important needs for a website.
Their support team is excellent and always wanna take care of their clients. They have super fast services for the price they charge as well. If you are on a budget and wanna save some money SiteGround is what you should pick.
WP Engine aims for different customers. Their services are for developers and online marketers. If you don't want to worry too much about hosting and security, you can just pay them and enjoy their services.
The cons of using WP Engine is that you need to pay a higher amount for hosting one website, that's why my pick is SiteGround. But if you have one website and you need a super-fast hosting WP Engine is the best choice for you.
Hopefully, we helped you decide your next web hosting, let us know in the comments below if we missed something.
Click here to get the best deal with SiteGround.