In this review i will explain if the Starting From Zero Book is worth purchasing for 1.99$ and what you can find in there.
Who Is Fred Lam?
He started working over 12 years ago as a dishwasher, he wanted more from his life, and started a venture in the online business world, he has great knowledge from what I've seen of him, also become one of the top youngest marketing managers for BMW Group Canada.
Today, Fred is CEO of several multi-million dollar businesses, including iPro Academy, he has thousands of students around the world and still shares his knowledge in his book Starting from Zero.
The new update of the book Starting From Zero 2.0 is a 5 step by step that Fred used to help his students worldwide to sell over $30 million in products, he has a lot of students that quit their jobs and quickly generated over $30k in sales.
Get Fred Lam Starting From Zero Book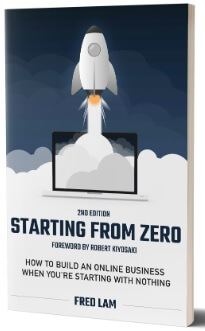 Starting From Zero Offer
The book will only show you the basics, after that he will want some up-sells, and buying all the upsells may cost you over 440$ plus a monthly add-on.
Sales funnel looks like this:
Front End: $1.99 Audiobook
Order Bump: $47 – 6 Step Guide
Upsell 1: $147 – 90 days then $49/month (Needed addon so you can start your e-commerce business)
Downsell 1: $1 trial 7 days then $49/month
Upsell 2: $197 (Influencer Masterclass – when Connor teaches you to use influencers)
Downsell 2: $79 x 3 months.
What you will get?
#1: Instant Online Presence
In this world full of technology and it is the best time today to easily create some online presence, you can have an entire store in just 30 minutes. Generations before that, this was impossible.
#2: Inventory Arbitrage
You can sell millions of products without having to touch any of the items. That is how you can make millions of dollars using this.
#3: Fast & Targeted Traffic
This is the hardest thing to get online, so many business starts and fail in this because they are un-experienced in this. Fred Lam's course is not complicated and really well explain what you need to do, what the heck the book is only worth 1,99$
#4: Profit Multiplier
You need customers to sky-rocket the profits you make from them. The secret that Fred use is that he makes the most money with this, when the customers spends more then you make the most profits.
#5: Rinse & Repeat

After you scale the business, you have more opportunities, and the one is to rinse and repeat.
Would I recommend this?
If you are a beginner yes, for 1.99$ that is cheaper than a coffee today, you can find some great values in this. Also, if you are more experienced online marketer, and wanna pay for his upsells and upgrade your knowledge than yes, you can do that, only if you have the money to spend it. If your budget is limited I will not recommend purchasing and investing your money in the course if you don't have money later to invest in your business. But the 1.99$ and you will definitely find some value in there.
Leave your thoughts in comments below for his book and let me know if you liked it!