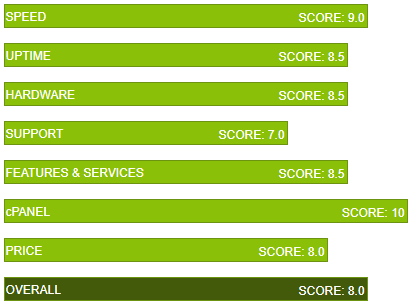 | | |
| --- | --- |
| Regular Price: | $7,95/month |
| RB Discounted price: | $3,95/month |
GENERAL OVERVIEW
JustHost is a reliable and affordable web host providing all necessary features needed to host a professional website. In the past 15 years of existence JustHost has built its reputation on speed and uptime, serving over million customers all around the world.
Just host is also highly recommended for WordPress websites offering a lot of WordPress related functionalists and features.
The company that owns JustHost also owns BlueHost, they both operate under different management structure but the hardware quality is the same in both of their datacenters.
The real advantage of JustHost over other web hosts is the free domain on sign up and the higher discounts. Speaking of discount, if you use the discounted link below you'll save 67% off on signup.
Below you'll find the extended version of this JustHost review in case you need to learn more about them.
SHARED HOSTING PLAN FEATURES
If you need professional online business features for an affordable price, JustHost is especially designed to target customers like you.
DISK SPACE
They do have some measures on overpassing the normal disk space usage in case you use the disk space for hosting large amounts of data but the size must be very extreme for allowing that to happen.
BANDWIDTH
The unlimited bandwidth is reliable for not more than 100,000 monthly visitors. If you're sending thousands of visitors at the same time the shared hosting plan may not be the most appropriate for your needs. This aspect applies also on any competitive hosting company.
BONUSES $ CREDITS
The free domain name and the advertising bonuses are also worthy takeaways once you're ready to promote your website.
Below are some of the main features on the shared hosting plan:
Unlimited Disk Space
Unlimited domains
Unlimited Bandwidth
Unlimited email accounts
Unlimited MySQL databases
SSL Secure Server
Free site drag and drop site builder
Free domain registration
SPEED & LOADING TIME REPUTATION
The server response average of JustHost is 336 ms. This makes JustHost a very reliable choice for users who are driving search traffic since response time is an important ranking factor. When confronted with other major hosting brands, the JustHost speed takes its position very high on the list.
UPTIME
There are many stories of people claiming that the JustHost uptime is a problem but you must consider that the people telling such stories about JustHost are only the few angry customers who had their site down for couple of seconds. The millions of JustHost customers who never had any uptime concerns would never share about how happy they are with the JustHost uptime.
Downtime moments are a perfectly normal on any web host. Even Facebook is still dealing with such problems. Considering this you can't expect the cloud hosting capability on a shared hosting plan, instead you must just roll with it.
CUSTOMER SUPPORT & ASSISTANCE
JustHost provides three ways to contact them; phone, mail and live chat. All services are available 24/7 and the waiting time is approximately 5 minutes. JustHost is also famous for its direct assistance on small settings changes and operations like adding new domain names, creating email accounts and so on. If you're beginner webmaster this aspect has huge value considering that very few web hosts offer direct assistance. Pick any JustHost customer review and you'll find people complimenting JustHost on their support quality.

LEAVE YOUR JUSTHOST REVIEWS BELOW
Contribute your opinion on JustHost by sharing your experience in the comments below. We want to be as transparent as possible and only you can help as achieve that goal.