I hope you are ready to learn how to start a WordPress blog on BlueHost because today we gonna cover the most important topics that can help you kick-start your online blogging journey.
One of the greatest things about blogging is that you can work at home full time, spend more time with your family and write valuable posts for your audience. Blogging usually starts as a hobby and passion for some people, but after a while, you will be surprised at the opportunities you gonna get, and blogging is fun because you gonna interact with interesting people and you will improve your skills as well.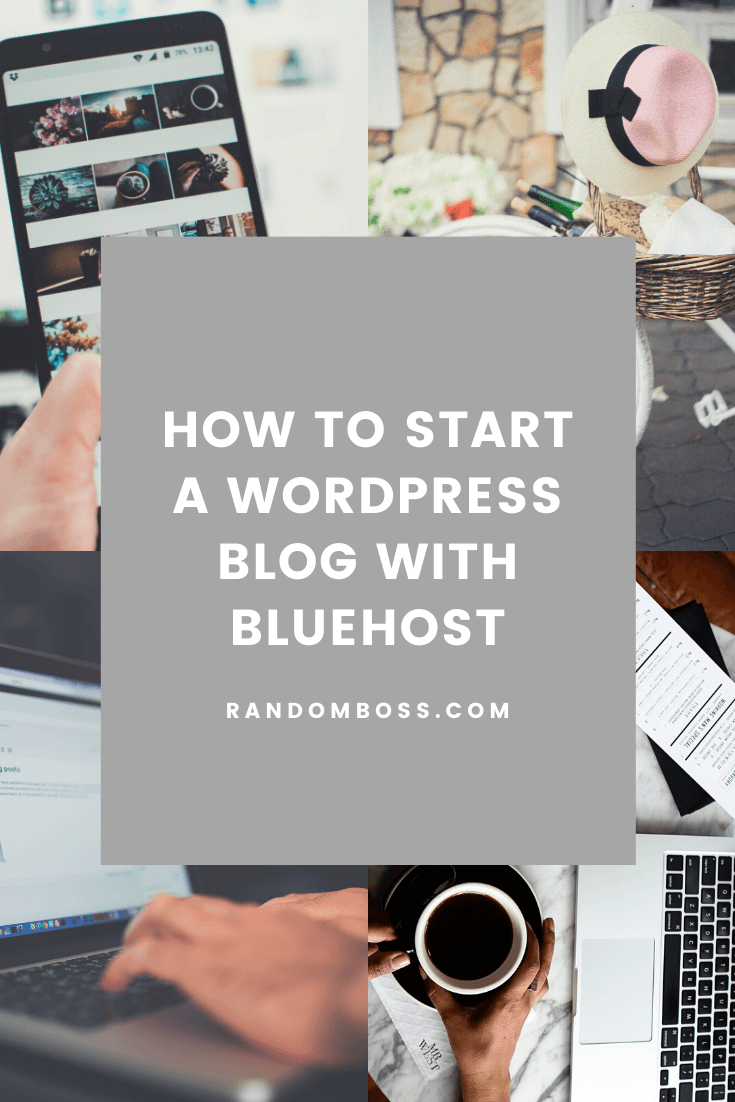 Starting a WordPress blog on BlueHost is much easier than most people think. You don't need to have any coding skills, you only need to have a small investment to start something that can be very rewarding for yourself. Before we learn how to build a website on BlueHost, you need to be aware of some things.
Starting a Blog with Purpose
This is very important if you want to build something that will last a long time. You need to have a purpose right from the start, this will keep you going to give you results in the future and you will not easily be burnt out.
Being patient. Often overlooked and I've seen a lot of bloggers trying to convince that you will start making money instantly when you open a blog. It takes time for your blog to build authority and to build high-quality content. Once you put the work in, you can reap the rewards later.
Not everything from the start will look good, but this is normal. I will try to help you understand as much as possible so your blog looks great and to attract readers. After a while you get some experience with blogging, you can start to tweak things and make it better.
1. Blog Name
Depending on what niche you are in, you need to think of a domain name in the industry. One of the most famous ways to start a blog is to go maybe with your full name then .com, or your name + blog.com.
I recommend having something easy and catchy so it can be easily remembered. You will have more visitors remembering your domain name and they will always return to your blog to check if you have new content posted. Going with the .com domain, it is much easier for you to build trust with your visitors.
2. Hosting and Getting the Domain Name
Firstly, I know you what may be thinking, that you can start a blogger for free on Blogger/Blogspot/Weebly and will learn about blogging that way. This will be a huge mistake. You will not have full control over your blog and it can be easily shut down at any time. That's why it is important to learn how to start a blog with BlueHost the right way.
I've mentioned that building trust and relationship with your visitors is key, that's why you need to have a premium web hosting like BlueHost. Registering a domain name somewhere else can cost you up to $15 per year and a monthly hosting fee for around $10. This is pretty expensive for some beginners that's why I have a very sweet deal for you.
For as low as $2.95 per month, you will get a FREE domain name, FREE SSL certificate to protect your visitors' data, phenomenal security features with 24/7 customer support that is high-level with of course 60% OFF on hosting. This is a deal that you don't want to miss. Don't put off starting a blog because this deal is limited.

I've been using BlueHost for many years, the customer support is very well educated and very friendly. Starting your own blogging journey will be much easier with top-notch chat agents on BlueHost. Your website will load for 1-2 seconds (will let you know how to improve it below 1 second shortly), and it is a perfect deal overall.
After you open the homepage of BlueHost, click on Get Started and you will see the following plans.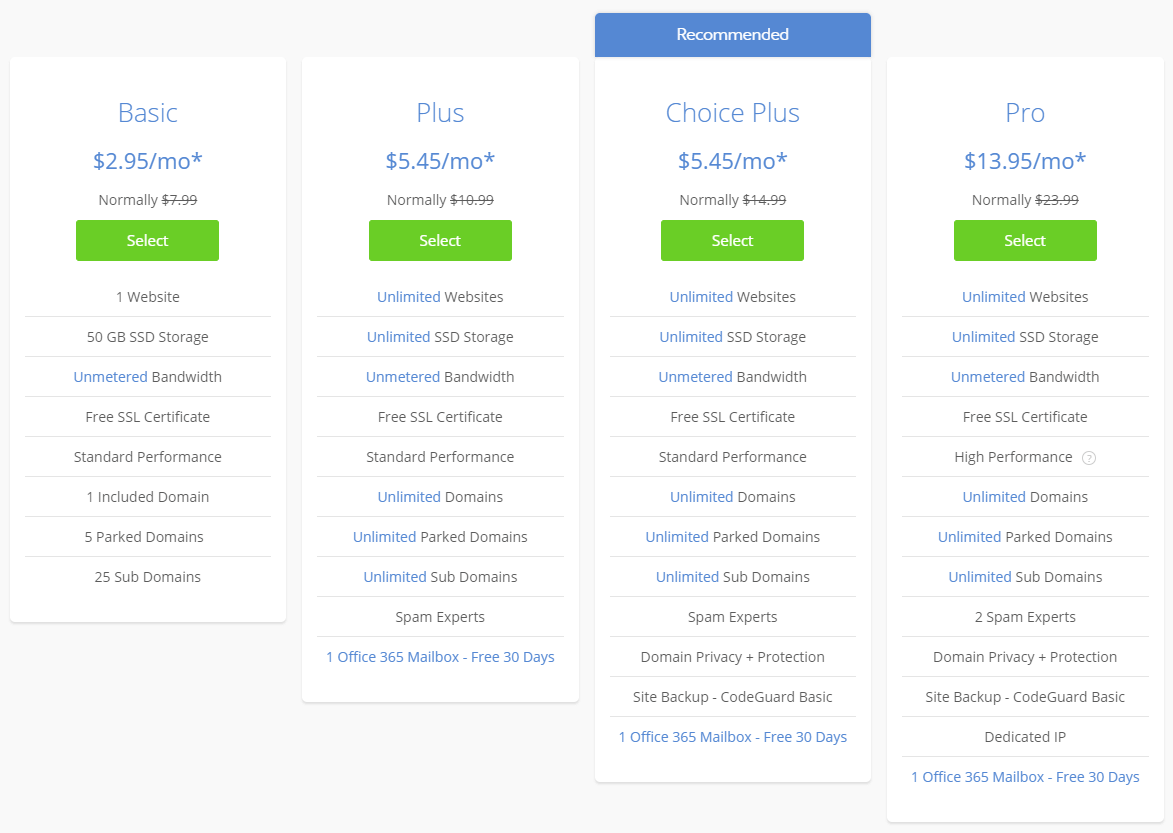 Basic Plan is perfect for new bloggers
I recommend selecting the Basic Plan because you are just starting your blog and you get a perfect deal with 50 GB SSD Storage with unlimited bandwidth. Once your blog gets more popular you can always upgrade your plan.
Avoid month-to-month hosting, because it can be dangerous. If you forget to pay for each month, your hosting can expire and lose the entire data, plus you will lose on visitors and business. Plus, you will pay much more month-to-month.
Getting the 36-month price is a good way to lock down the best possible price on hosting, that's what I'm doing. You will not worry about any hosting bills for 3 years. Depending on your budget, you can still go with 1 year ($4.95/m) or 2 years ($3.95/m) as well, but you need to pay more. And I'm pretty sure that you can make the money back quickly as well because anyone can make money with a blog. Plus you get a 30-day money-back guarantee if you are not satisfied with BlueHost.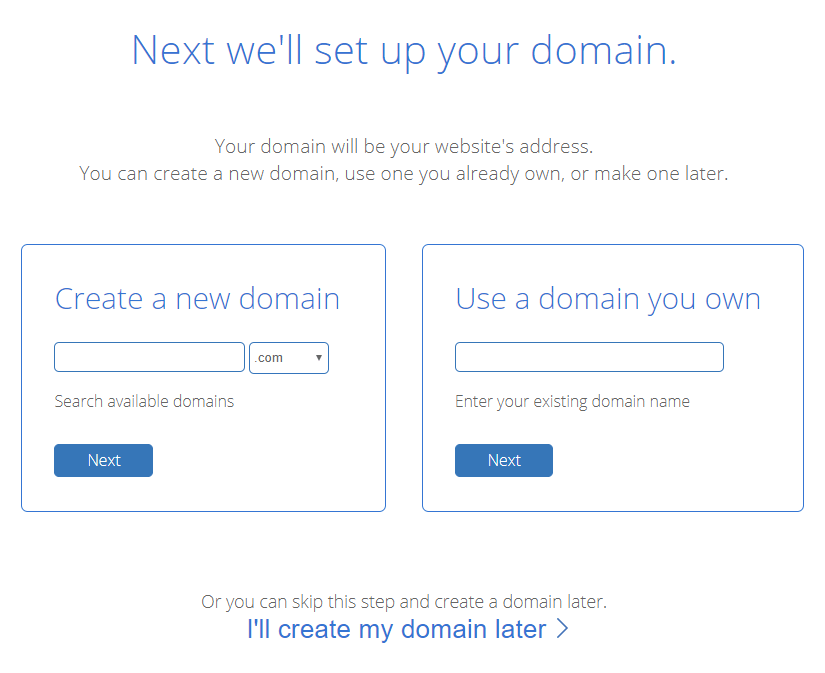 This is where you create your new domain name, you type the name of your blog and click next if it is available so you can continue. Don't worry if you didn't have a name yet, you can skip this step and create it later.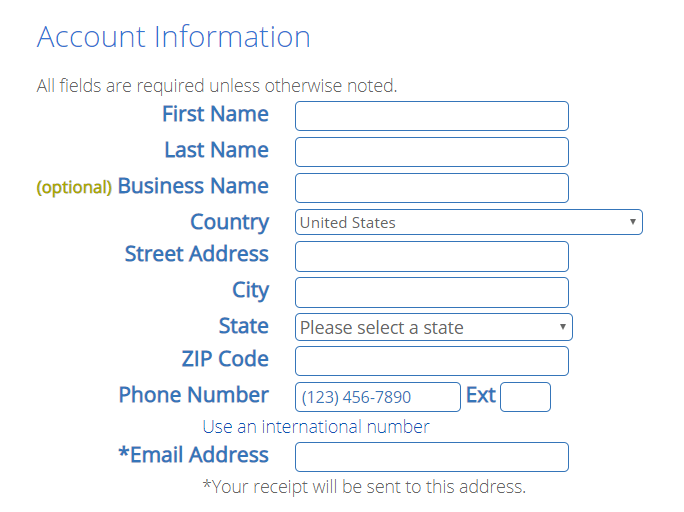 You need to fill your personal data here, and if you have enough budget I recommend getting a Domain Privacy + Protection. This will ensure your blog is protected and your personal information is not public, you will not get any annoying calls from anyone because BlueHost information will be public. If you are on a low budget, you can always upgrade it later.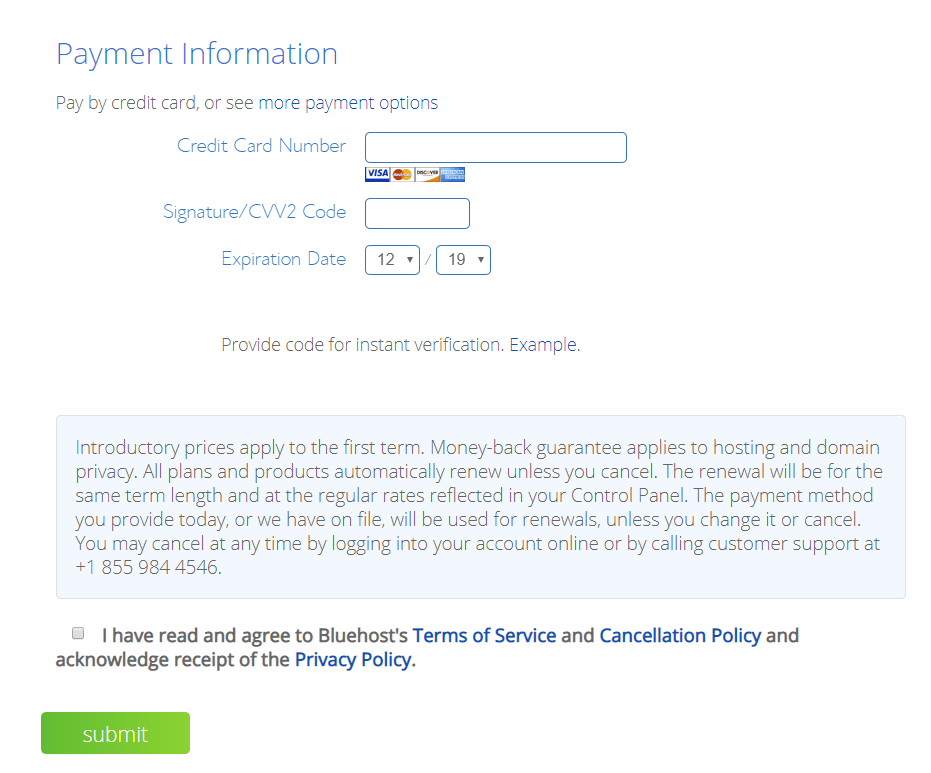 Click the box to agree with BlueHost's terms of services and then hit the green Submit button.
Congrats, you just completed a major step on how to start a WordPress blog on BlueHost!
Click here to start with BlueHost if you haven't already!
The next step is to install WordPress on your blog, so let's keep going!
3. Installing WordPress
Now you have the full control over your blog, the hosting and the domain name are owned by you, and the first thing we need to do is to install WordPress.
BlueHost is very well optimized for WordPress and it is really simple to manage it. It is really easy to install WordPress, you can do under 1 minute, or you can reach out to the customer support for them to assist you with this.
After everything is installed, you may be asking how to log in to your blog.
Head over to yourblog.com/wp-admin and the following screen will show up: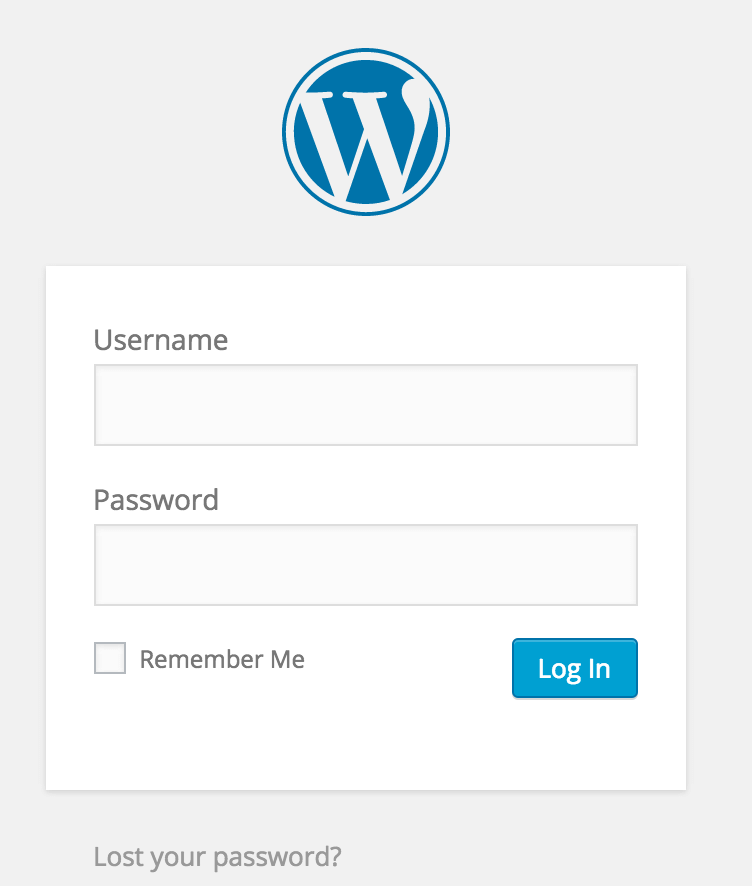 You need to put the username and password you created, then you will see the dashboard of your blog.
The first thing I highly recommend is changing the Permalinks, head over to Settings -> Permalinks.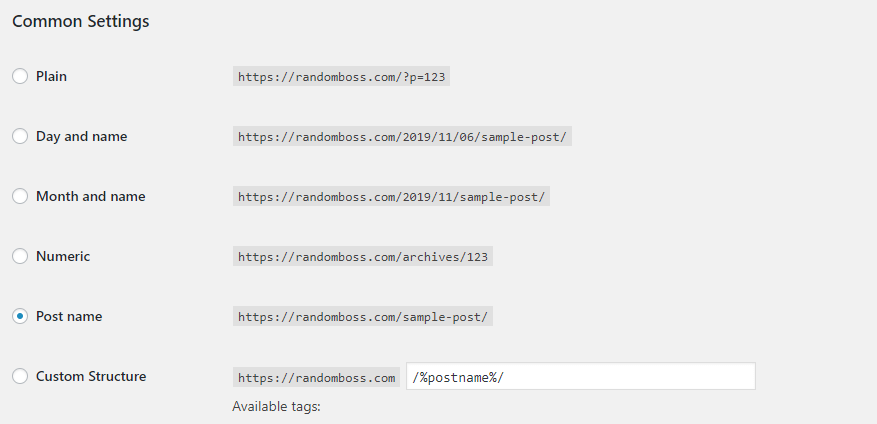 You need to select the Post name and save the changes. This is really important so your URL looks friendly and legit. Your URL will look something like yourblog.com/post-here, and not like yourblog.com/2025/01/01/post-here.
4. Install WordPress Theme
You want your blog to be easily navigated within and that's why you need to choose a good theme for it. This will allow your visitors to have engaging time with your blog, and this builds trust as well.
You have two options for a blog theme:
Free Themes: They do the job just fine, after a while your blog will get profitable, you can always upgrade or pay for a better theme. Most of the free themes have a PRO version to unlock their full features.
Paid Themes: Most of these themes will make your blog looking unique, and they are always up-to-date from their developers. You can pay for a premium theme for a price of around $20-250. StudioPress themes are one of my favorites and they are really fun to work on.
What themes should you look for?
Simple themes: You want to share content that can be easily consumed, and to have a theme that all of your readers can easily navigate and to not be confused. Simple themes have fewer codes in them, so your blog will be faster.
Working on every browser? Make sure to check if your blog works on Safari and Firefox like it worked on Chrome. I've seen plenty of websites that work on Chrome but not on other browsers.
Responsive: Make sure your theme is optimized for mobile as well, Google loves mobile-friendly websites and will rank them higher in the search engines. You can test your blog on the Google mobile-friendly test page, and you should get results like this:

Head over to Appearance -> Themes and then Add New.
You can search for the most popular themes in the marketplace and choose a theme that will suit you.
Now we need to install a few plugins to make your website loading fast for the search engines and for your visitors.
5. Install Plugins
You need to install a couple of plugins to help your website perform better for the search engines. Installing lightweight plugins is a must, you don't want to use too much CPU from your hosting. This way we will try to get your website to load fast.
On the left side of the dashboard you need to point at Plugins, then click Add New.
Recommended plugins:
Yoast SEO: One of my favorite plugins for On-Page SEO. You can create a sitemap.xml for the search console, this will speed up indexing your website.
Social Pug: Plugin to allow your visitors to share your posts on their favorite social media. You can add it to the top/bottom or on the sides.
Block Bad Queries (BBQ): This plugin needs only to be installed and activated, you don't need to do anything, it protects your website from malware.
WP Fastest Cache: Will cut down the work that hosting servers need to do. It will make your website loading faster and can also connect Cloudflare or any CDN provider.
Autoptimize: This will help with speed as well, will optimize your site for CSS, JS, Lazy Load on images and so much more.
Async JavaScript: Full control on which scripts to async or defer to exclude to increase website performance.
Heartbeat Control by WP Rocket: Complete control over your WordPress heartbeat, you can disable the heartbeat for the dashboard, frontend and post editor.
Self-Hosted Google Fonts: This plugin works with any theme, you just need to enable it.
WP Forms: This is a contact plugin where your visitors can contact you for any help or collaboration.
WP-Optimize: Plugin to help you clean the database, it will compress images and clear cache pages.
Every plugin above is free to install. Most of the plugins have paid versions for you to upgrade. I recommend doing that after your blog gets profitable. They do the job just fine for a beginner website.
Following the steps above, I've managed to get phenomenal performance on GTmetrix for my website, here are some results:

6. Adding pages
Adding a few pages on your blog can help you tremendously. Your readers will connect more with you and will trust you more.
About page
This is where you can write about yourself and what your blog is about. This is one of the best ways to connect with your visitors and connect them with your social media accounts as well. Don't talk about yourself too much, just be clear what kind of value you will bring to them.
Contact page
This is where they can contact you for any work or service you offer or for any kind of collaboration. Installing the WP Forms plugin for this is perfect.
Copyright page
This is where you can explain that your content is fully yours and no one can steal it without permission.
You can create more pages depending on the niche you are in, these are one of the most common and general pages.
7. Writing your first blog post
Once you created everything, on the left side of the dashboard you can point to Posts and then click Add New.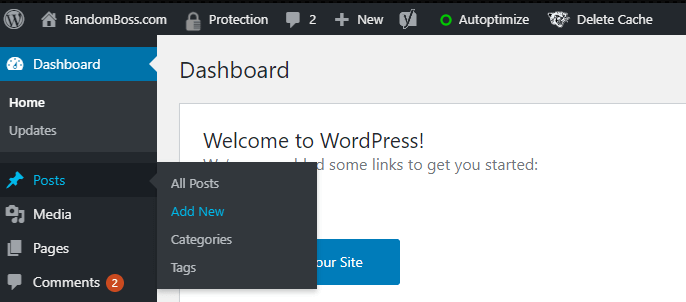 The following screen is where you write the headline and the content for your post.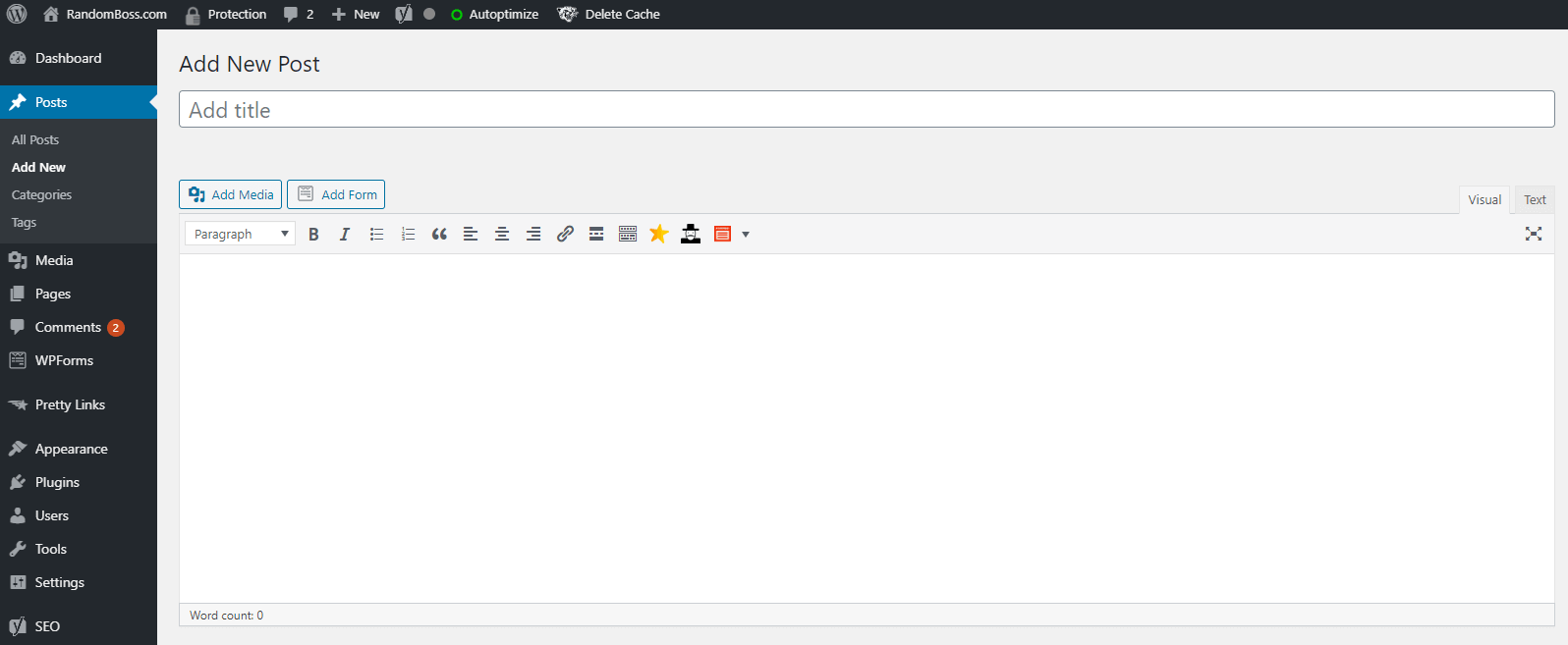 I've made a more complete guide on these steps, you can check it here.
If you have written a bigger headline, make sure to edit the URL and make it more trustworthy. This is an example:

Keeping the URL short as possible, make sure that each word is separated. Please avoid using any numbers and make sure your target keyword is in it. After you have written the post, make sure your On-Page SEO is checked by Yoast SEO. If there are any improvements to make, just make them and hit Publish.
8. Getting Logo
Depending on your budget, you have two options to get a good logo for your blog. This also depends on your theme and what style it has. When you have a good logo it will be easily recognized and will be unique from the competition.
Canva: If you have some designing skills, head over to Canva, they already have done logos and you only need to change names and some images, for few minutes you can have a good decent logo for your blog.
9. How to start a WordPress blog on Bluehost and promote it correctly
Once you learned the basic steps on how to start a WordPress blog on BlueHost, it is time to start thinking of promotion. One of the most important things is to start driving traffic to your posts after you have a decent amount of posts. I've read a quote that changed my perspective on blogging, It's not the best content that wins, it is the best-promoted content. I've seen rumors that once you publish content it will just rise to the top automatically. If you believe in that, go create the best content and wait… forever. If you want to be successful, you need to create a great content and promote it as well. This is how you and your blog win.
You need to build some authority on your blog, and then ranking for low competition keywords will be much easier. You need to put the work first.
The best platforms to promote:
Instagram: The swipe up feature is really amazing because if you run some kind of beauty or fashion blog you can always notify your followers about your new content. You can use an automation tool for Instagram, check it here.
YouTube: If you are not afraid to show your face, you can be very successful with YouTube. If you don't want to show your face you can use royalty-free videos to promote your posts.
Pinterest: On this platform, you can go viral much easier, it is social media designed for discovering information using images gifs or videos. I've seen bloggers bring millions of monthly visitors from Pinterest.
Twitter: This can be perfect for sharing new and if you are in political blogging.
Facebook: You can start a group and create a nice community with all the visitors from your blog.
Reddit: This is a network that is based on people's interests. You can interact easily and it is a great way to drive traffic. Just don't drop links and expect to work instantly. Provide value and make sure you engage.
LinkedIn: You can use this platform for more professional networking and career development.
Podcast: I've seen a lot of bloggers in a lot of niches do it, and you can also start one or try to search for podcasts in your niche and get in touch with them with something that you can provide value to their listeners.
Bonus: You can use Quora and Yahoo Answers to provide value to people that ask questions about topics in your niche. This is really a great way to bring traffic to your blog, by providing a long format of information to these platforms. The answer can stay forever and can bring you traffic for a long time.
Note: Please do not try to promote your content on every platform above, because it will be a nightmare. Choose the one that suits you the most and go for it.
10. How to make your Blog Profitable
There are a lot of varieties to make money blogging, and in this step by step guide on how to start a WordPress blog on BlueHost, I will try to cover them.
Selling Services:
If you have any skills like writing, design, social media management, VA, SEO, etc, then make sure to create a page on your blog Hire Me so you can showcase the work you've done in the past.
Affiliate Marketing:
This is one of the most beginner-friendly ways to make money from the start. You can see a lot of affiliate websites that offer digital products, like ClickBank, Amazon Associates, CJ. Everyone that buys something using your link, you get a commission at no extra cost for the buyer. If you have a travel blog, you can recommend insurance to your readers. If you have a tech blog, you can offer the best VPN provider to your readers. When someone orders using your link, you get a commission.
Online Course:
If you have a lot of experience and knowledge in something, make a course that your readers can order it and learn a specific skill or business. I've seen this working really well for YouTubers, people wanna learn how to start their YouTube channel so if you have expertise in this, you can create a course and sell it on your blog.
Ecommerce:
This works really well for the dog bloggers. You can create a Shopify story and upload a few products from Aliexpress. Once you add yourself a markup you can start creating posts about the top 10 brushes for dogs. You can link the products in the post and make money dropshipping. I have a post specifically on this topic, click here to read it.
Sponsored Content:
Once you get more popular, you will have companies or individuals contact you to be promoted on your post. I've seen bloggers make $1500 per post, the ones that have a serious amount of traffic per month. Depending on your readers, you can charge a decent rate for sponsored content.
Blog Ads:
There are a lot of AD networks that will promote small advertisements on the sidebars, you can earn extra income by doing this.
Some of the most popular AD networks are Google Adsense, Propeller Ads or Carbon Ads. They are partnered with some of the high-quality websites like Slack, Asana or UpWork.
It is a great way to make extra income but the other above are much better and will not slow your website down. You need to have a lot of monthly visitors (usually 300k) to even make $1000/month. This can vary from niche to niche.
How to Start a Blog on Bluehost and be successful with it (Tips)
We covered a lot of important things on starting a blog with Bluehost, but there are some things that can get you over the line and be successful quickly.
Create a writing habit. This helped me tremendously if you decide to write 4 posts each month, make sure that those provide the maximum value you can give to your readers. You will know that when the time comes to write, you will do it.
Optimizing your title and description on Yoast SEO for better On-Page optimization. Make sure you include the target keyword in both.
Have your own writing style, don't try to be someone else. Being unique will results in trusting visitors.
Open a Google sheet, you can use it for managing your website about new low-competition keywords and overall tracking what you doing.
Putting alternative text (alt) to your images is very important. Google can start rank you for Google images if you put the right keywords in your images.
Make sure to include your main keyword in the first 100 words. This will give a signal to Google what your blog post is about so it can push it higher in the rankings.
Check the competition and what they are doing. You don't need to reinvent the wheel, you can learn a lot of stuff from the competition and apply it on your blog with your own style.
DO NOT COPY content from others. If you find a post you like, do not copy and paste it to your blog. Make sure to write an article for your self and use free royalty stock images.
Add FAQ to your blog. This can save you a lot of time and a lot of emails from your readers. You can make a page or put an FAQ at the end of each post. This way you will save a lot of time.
It is all about you. Don't make excuses and keep working hard and smart. Be excited to write a post that will provide as much value to your readers, your readers will love it and very much appreciate it.
How to Start a WordPress Blog on BlueHost – Conclusion
The most messages I get on my email is that people are afraid to start. They fear so much about competition. This is a really weak mentality. Google receives over 5.6 billion searches per day. 5.6 Billion! This is a good example that you can create something that can be very valuable to someone and that your blog will be a success and a unique story. This is the mentality you need to have.
You are sharing your own story, that's why you can stand out from the crowd.
Hopefully that this guide on how to start a blog with Bluehost helped you start something that will be well worth it! Let me know in the comments if you have any questions.
Don't be afraid to make the jump.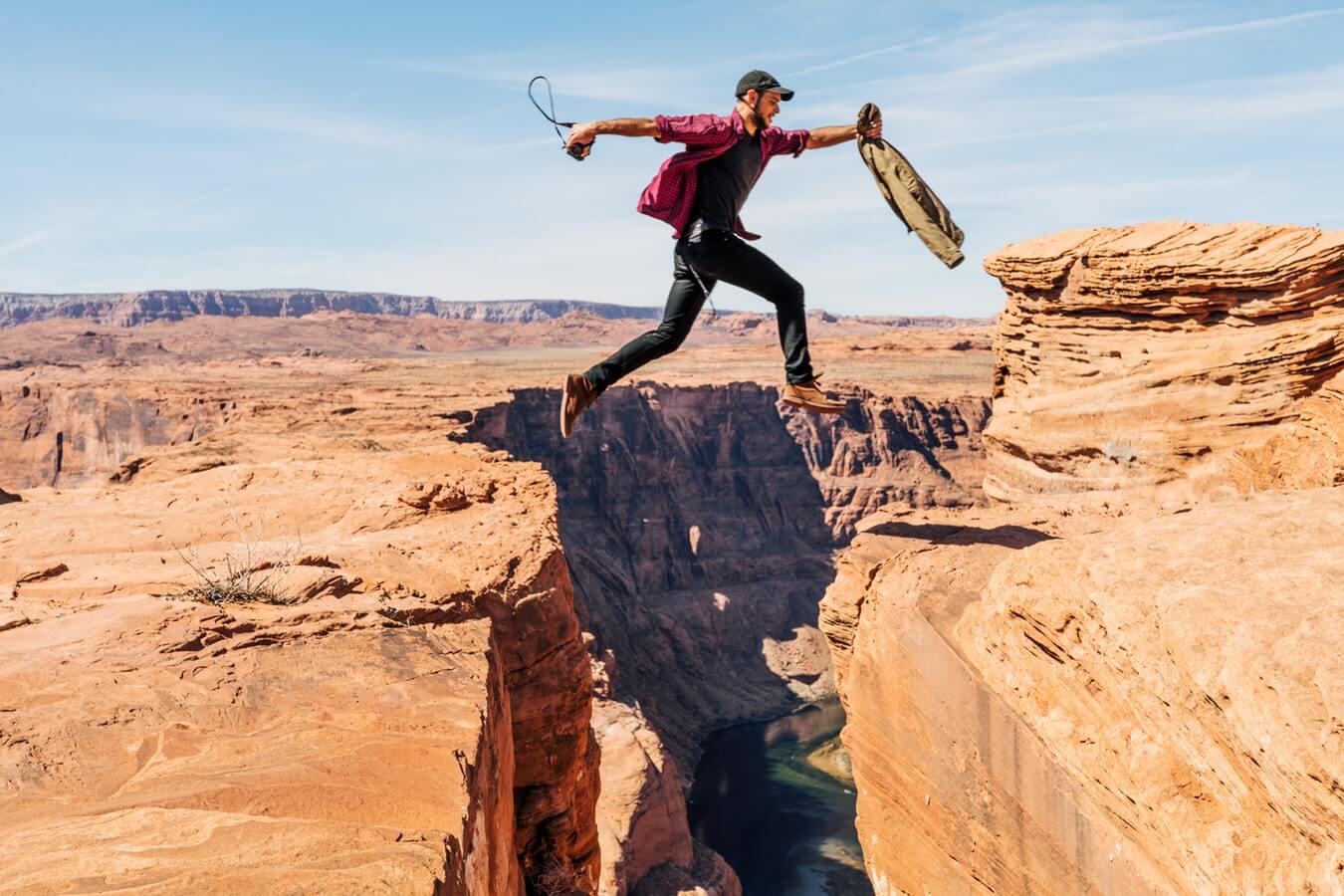 Why BlueHost?
It is perfect for beginners, you get a free domain name, they have 24/7 customer support and they fix problems fast. They are one of the most popular web hostings online.
Is BlueHost secure?
They are very serious about security, and that is proven by the number of their security-related features, even for the cheapest plans that they offer.
Is BlueHost good for blogging?
BlueHost is one of the best places to start a blog because of its simplicity, the easy interface, and the excellent support you get for the money you pay.