This blog will be on how to make money from a travel blog and how travel bloggers make the most money. I've had the opportunity to chat with a couple of great travel bloggers, and they shared some secrets on how they make their income.
Travel blogging is a dream job for many people, you get paid to travel the world. You get to visit wonderful places around the world on someone else's money.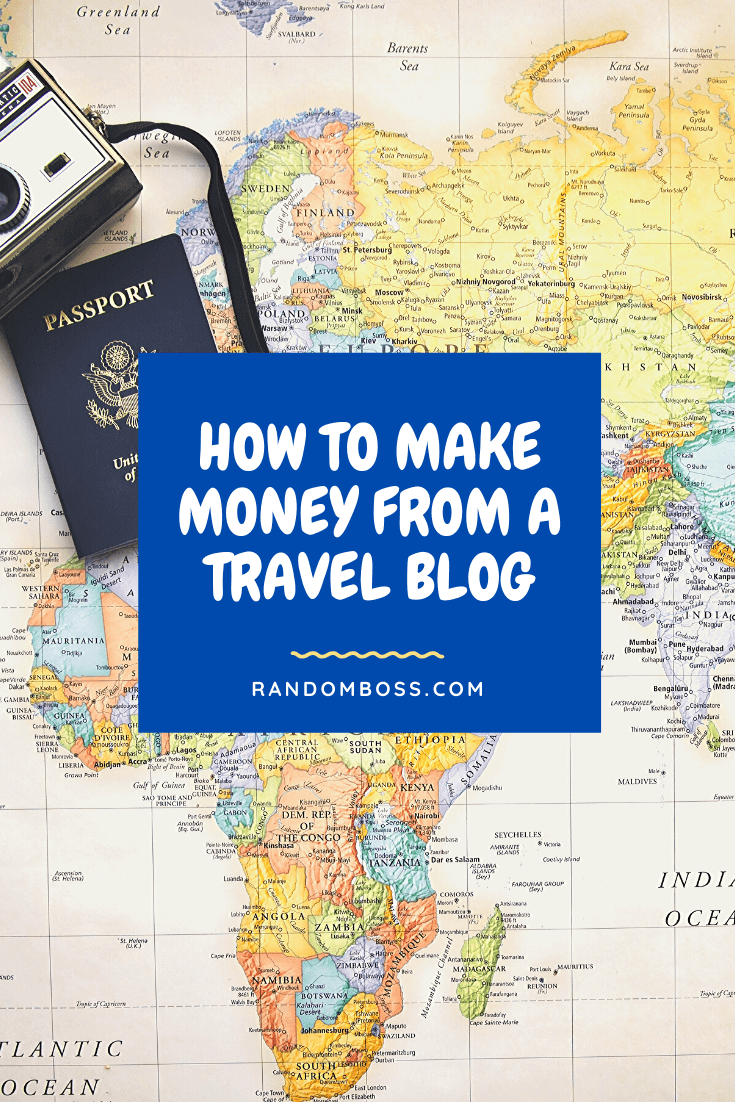 Do travel blogs make money?
Firstly, running a successful travel blog can be hard work and time-consuming. It takes persistence.
Unless you are super lucky and go viral somehow, you would need to work some time to start seeing income coming in.
[bctt tweet="Wanna learn how much money a travel blog makes? Read this.." via="no"]
If you know what you are doing, you can be very successful with travel blogging, you need to understand how the internet and algorithm works.
How to Make Money from a Travel Blog – 3 Important Tips First
1. Stop talking about yourself
If you are looking to run a blog that can become a business for you, it is important to understand that it's not all about you.
It will always be about the readers reading your blog.
You need to interact with them in the comments, telling them good stories that they can learn, and making them laugh as well.
Make sure you connect with them more on an emotional level and try being in their shoes and what they would want to see from a blog.
You need to see the bigger picture, you don't need to always talk about the mundane details, try speaking from your heart and all the journeys you had to go through with emotions.
2. Invest money
If you don't have much experience blogging, it is okay to search for a good designer to make your blog looking good and unique.
Maybe your travel blog is slow, find someone on Fiverr to improve your loading speed. If you use a super cheap ($10/yr hosting) go and switch to a better web hosting like Hostwinds. Hostwinds will migrate your blog from the previous web hosting for free.
It is important to give your readers the best experience that they can get.
All successful businesses invest in themselves, and you should do that for yourself as well.
3. Don't follow the crowd
It is important to be different so you can stand out from other travel bloggers. You need to do something that will be unique and provide better content from everyone else.
If on a competitor website is complex, try making your blog simpler, people love going straight to the content and consume it right away without popups every second.
Now, the fun part, how do travel blogs make money?
Related: This is a complete guide on how to start a travel blog yourself.
How to Make Money from Travel Blogs
Ads
One of the best income streams that travel bloggers use. Having a couple of ads that are related to your content is great because your readers will see similar ads to traveling.
All you need to do is to sign-up for a Google Adsense account, it is free and you can start putting ads in your blog.
Once you get up to 10,000 monthly visitors, switch over to Ezoic. Ezoic is a great ad platform for all bloggers in every niche.
If your blog keeps getting bigger, and you consistently get 25,000 monthly visitors, switch to Mediavine. They are awesome and your income will increase dramatically.
These are great numbers and are not unrealistic, it is possible to make great money if you focus on your travel blog and start promoting better. This method is great for any starter and it is how travel blogs make money online.
Affiliate Marketing
This is where it gets interesting and you can make big money with even 1,000 monthly visitors. I've seen many travel bloggers recommend insurance when you go on the road, and if someone sign-up for insurance using your link, you can make up to $200 per sale.
The big brands always pay affiliates to get customers for their business that later they can monetize it much more.
Check for affiliate offers on google by writing "travel + affiliate" or check affiliate networks like ClickBank, CJ or ShareASale. You can also partner with booking.com Airbnb and rentalcars.com. You can promote the best companies and the ones you trust and use.  Always provide trustworthy places.
Amazon Associates
Another great way to make money with a travel blog. You readers may wanna know what are the best gadgets to use while on the road, what camera you recommend and other travel-related things.
You can start promoting Amazon products and get a nice commission of up to 7-10%.
Sponsored Campaigns
People will pay you to promote their banners or websites in your blog posts.
Most startup blogs or businesses will reach out to you if you can do a guest post or put banners in your blog. I've seen travel bloggers charge $50-1500 for this, depend on how big your blog is.
Social Media Promotion
This is big when you first start a travel blog, I would recommend you always to put your social media accounts in the about page or in your footer.
Readers will always wanna know what you're up to and where do you travel now, so they gonna follow you.
The more followers you have the better, you will have big business DM you and asking you to promote their stuff so you can charge a fee for shoutouts.
Bloggers also consistently get hired to run big brands social media accounts, and I've seen them charge up to $1500 a month for posting content twice a day.
Press trips
If you have a well-established blog, you will start getting messages from hotels, tour companies or the tourism board to pay you money to experience something and share it with your audience.
Bloggers can get paid up to $2,000 to go to a place and talk about it on their blog and social media. Travel bloggers that earn money with this are great videographers or photographers as well.
They are press trips that are unpaid, they're free hotels and free lights. You will not get paid to go there, but you will not pay anything as well. Personal travel costs will be down.
Build an Email List
This can be huge for you, your readers will wanna sign-up for your newsletter and see your latest emails. You can make money by promoting your newest content on your email audience. This it is a great way for your loyal readers to get back and read your newest adventure.
You can promote affiliate offers and build a better personal experience with your readers. Use GetResponse to build an email list.
How to Make Money from a Travel Blog – Conclusion
I've enjoyed writing this blog post on how to make money with a travel blog. Hopefully, you enjoyed and learn some new ways to monetize a blog.
If you wanna learn how to start a travel blog, check this blog post.
Let me know in the comments below if I missed anything!