This is a complete SiteGround Review where we will review their hosting plans and how they perform. People wanna know how good is SiteGround and what makes it's so popular among bloggers.
I agree that finding the right hosting can be a difficult and confusing place to navigate. Hosting companies pay a lot of money advertising so you can be their next customer. Before paying any money to a web hosting provider, let's analyze SiteGround.
SiteGround is one of the very few hosting companies to be recommended by WordPress.org officially, and it is one of the most popular web hostings today.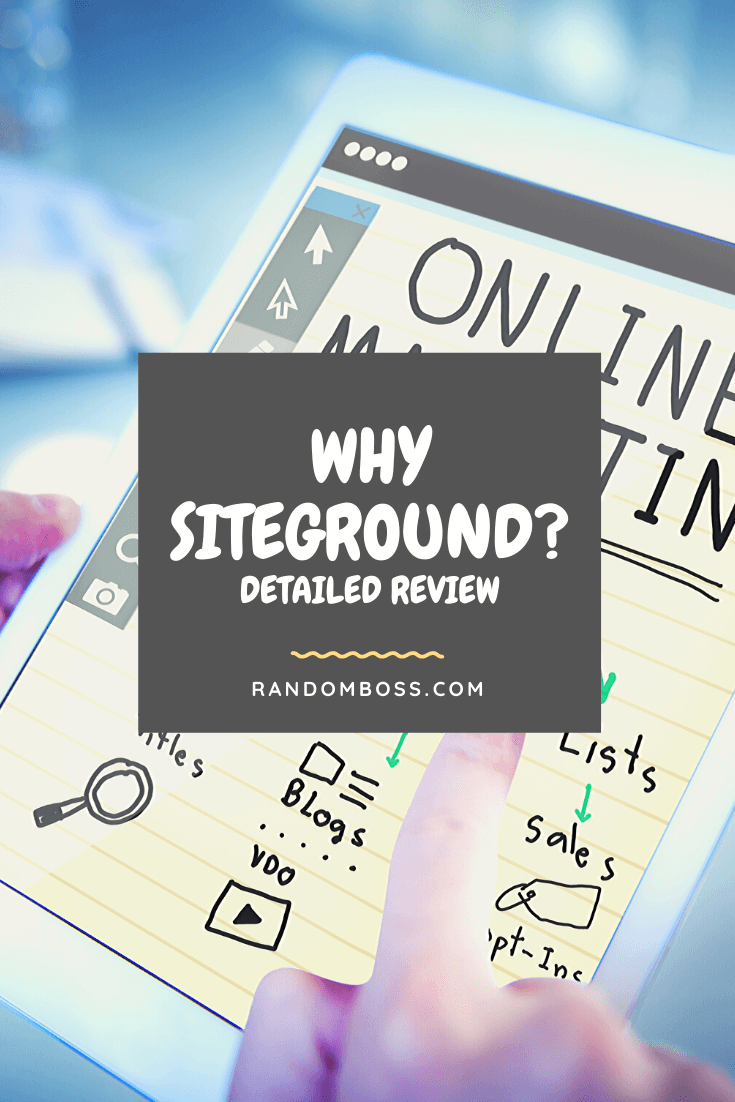 About SiteGround
SiteGround was founded in 2004 in Sofia Bulgaria. In their recent servicing report they announced that they host currently more than 2,000,000 domains worldwide. They offer shared, cloud, dedicated, email hosting and domain registration as well. They have over 500 employers.
In this blog post, we will analyze SiteGround features, customer support, pricing and you can decide if it is the right option for you.
[bctt tweet="How good is @siteground? Detailed SiteGround WordPress review for websites and blogs." via="no"]
SiteGround Review – Best Features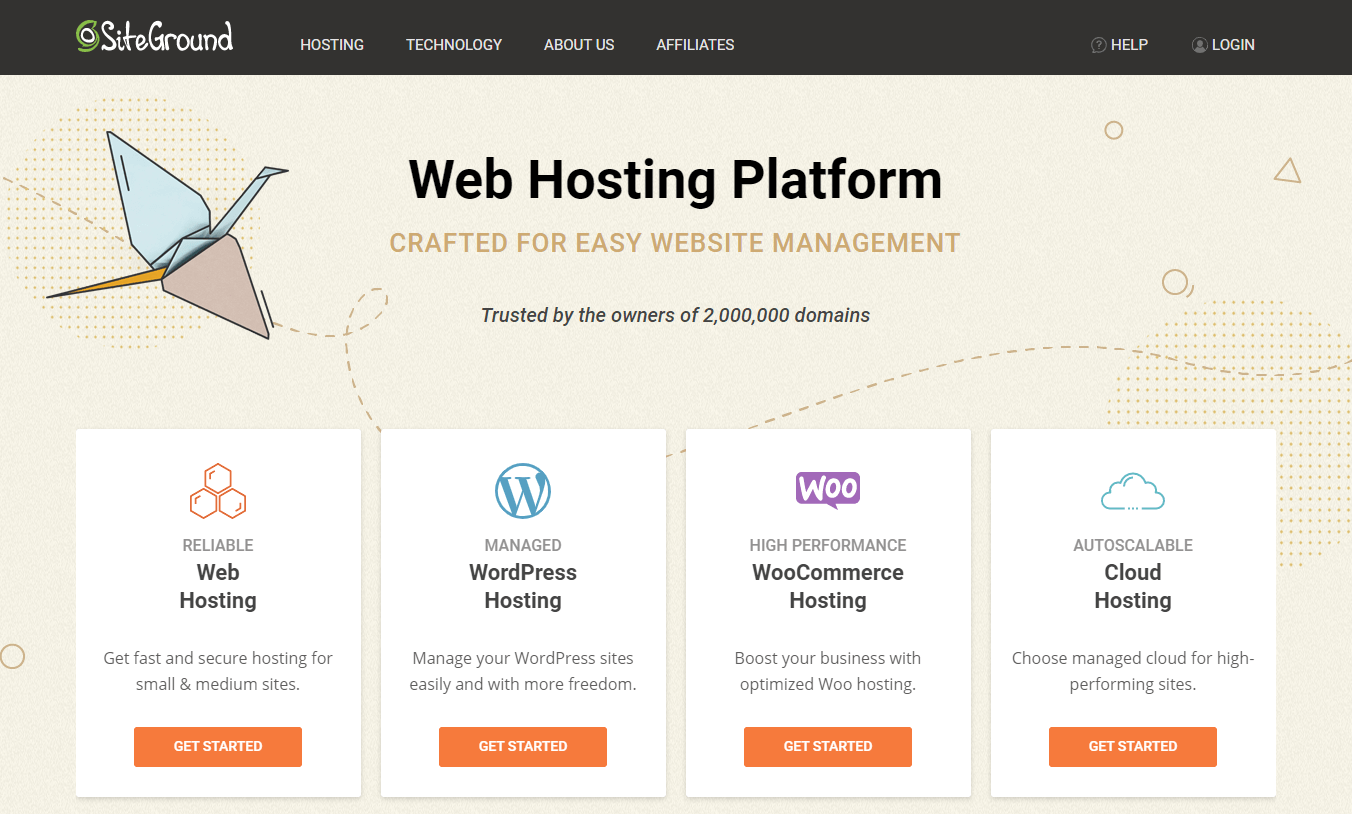 WordPress user-friendly installation: Allows you to install WordPress under a minute.
Free Migrations: The SiteGround team will migrate your previous hosting data to SiteGround free of charge.
Updates: It can update the WordPress and the plugins and themes automatically for you.
Git for WordPress: If you want to code, SiteGround will enable Git for you.
WordPress SuperCacher: This features will cache your WordPress website, you will get much better loading times.
Customer Support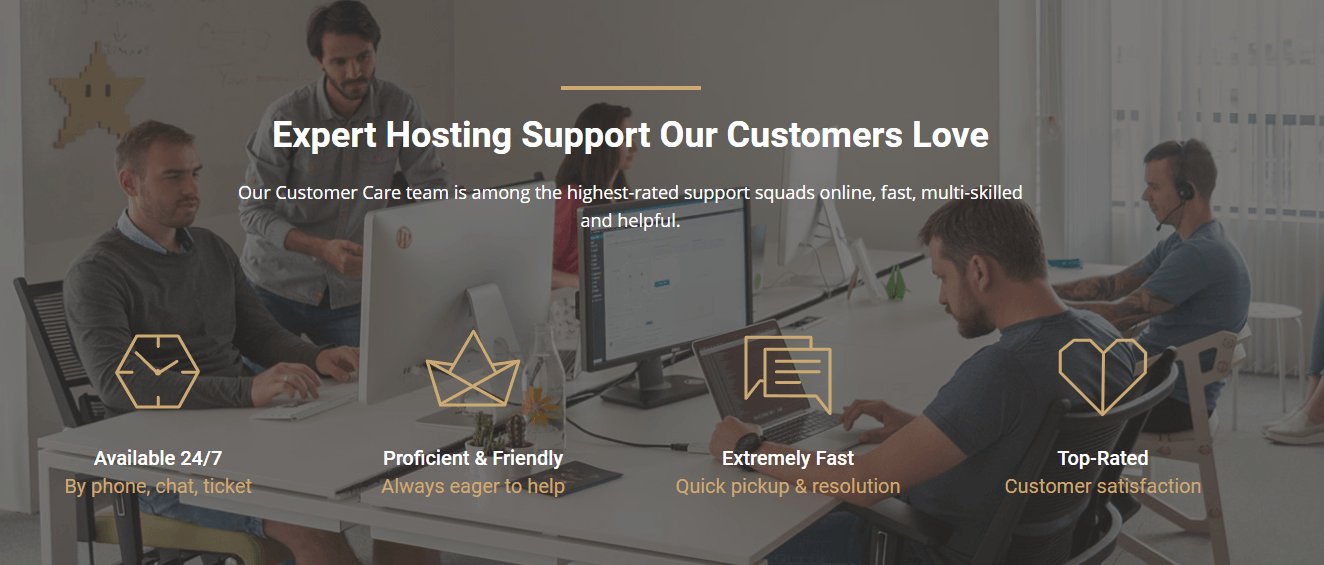 When you look for a website hosting, having available customer support 24/7 is crucial. Sometimes WordPress websites can crush from not updating plugins and themes, so messaging the customer support to look after your website is crucial at any time during the day.
SiteGround customer service offers:
24/7 customer support via phone, chat, ticket
They are very professional and always eager to help
Instant customer support, quick pickup, and resolution
Detailed knowledge base
The live chat services have 3 departments of Pre-Sales Inquiries, Techincal assistance, and Billing assistance.
They are extremely polite and very educated when it comes to web hosting and it will give you the confidence to know your website data will be in good hands.
SiteGround Performance
Siteground makes a big effort to have various server locations all over the world, which means that your hosting can be closer to your home, which will result in better loading speed. Let's how the performance part in this SiteGround review and check what they offer in the hosting packages:
SSD: It is 10x times faster than an HDD (Hard Disk Drive). SiteGround offers this on every hosting plan in their servers.
SuperCacher: This is what makes SiteGround level above everyone else, they have their own features that can speed up WordPress with caching.
CDN: SiteGround uses Cloudflare as CDN to help you increase website loading speed.
PHP7+: SiteGround also offers the newest version of PHP, which will result in much better loading speed. You may need to update it manually in the Control Panel.

SiteGround offers modern, green-friendly infrastructure worldwide. They are currently located in Amsterdam, Chicago, Singapore, and London.
They are a green-friendly hosting that is operated by Google to match 100% energy consumed with renewable energy. Google is really committed to achieving carbon neutrality and it is one of the leaders in energy efficiency today.
The data-centers are highly protected with layers of security to prevent unauthorized access to servers and data. Access is limited to certified employees and with 24/7 security teams that can respond at anything.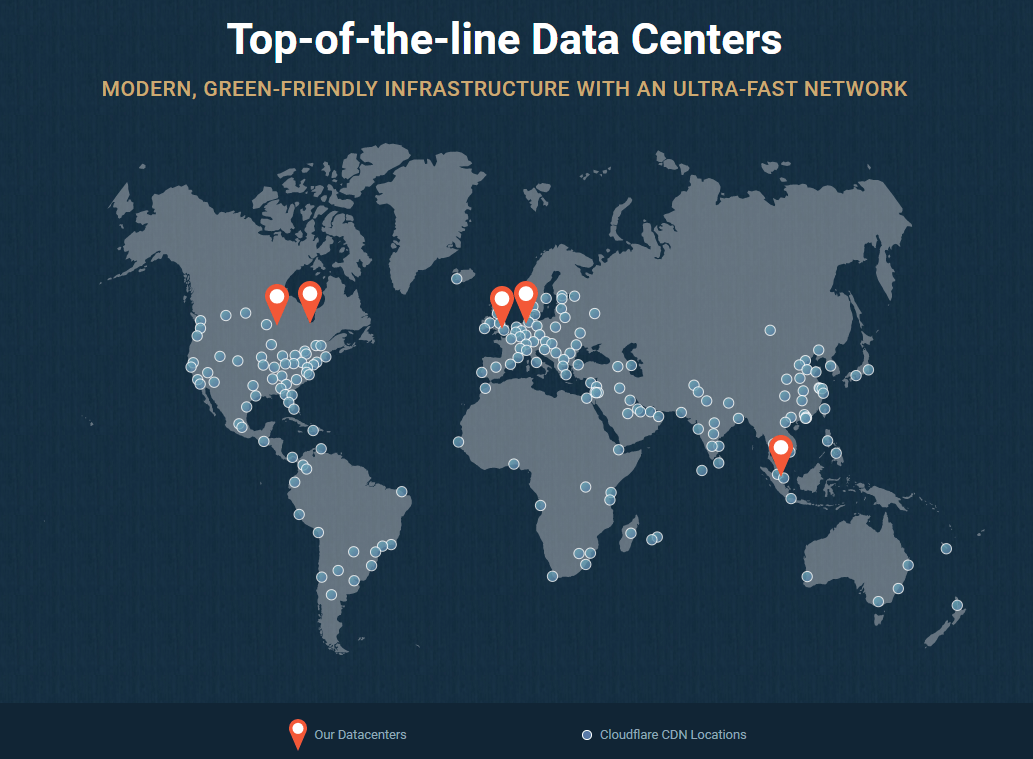 This is the SiteGround's data centers and the Cloudflare CDN locations.
SiteGround WordPress Review – Pricing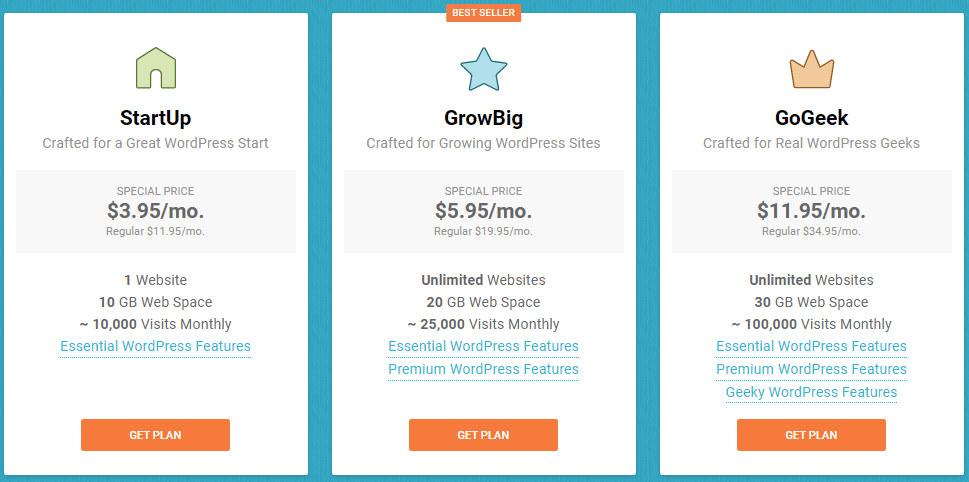 SiteGround pricing plans:
StartUp ($3.95/mo): You can host 1 website, have 10 GB SSD storage and up to 10,000 monthly visits. Perfect if you are a beginner.
GrowBig ($5.95/mo): You can host unlimited websites, 20 GB SSD storage and up to 25,000 monthly visits. Suits businesses with more domains. You will get all the features of the StartUp plan with extra premium features like Super Cacher.
GoGeek ($11.95/mo): You can host unlimited websites, 30 GB SSD storage with up to 100,000 monthly visits. Best for big companies that need more resources from a hosting company.
Higher Plans = Better Server Resources = Faster Website:
If you choose to pay for GrowBig or GoGeek plan you will get more resources, if speed is a high priority and you have a huge following, go with GrowBig or GoGeek plan. Check below for more details: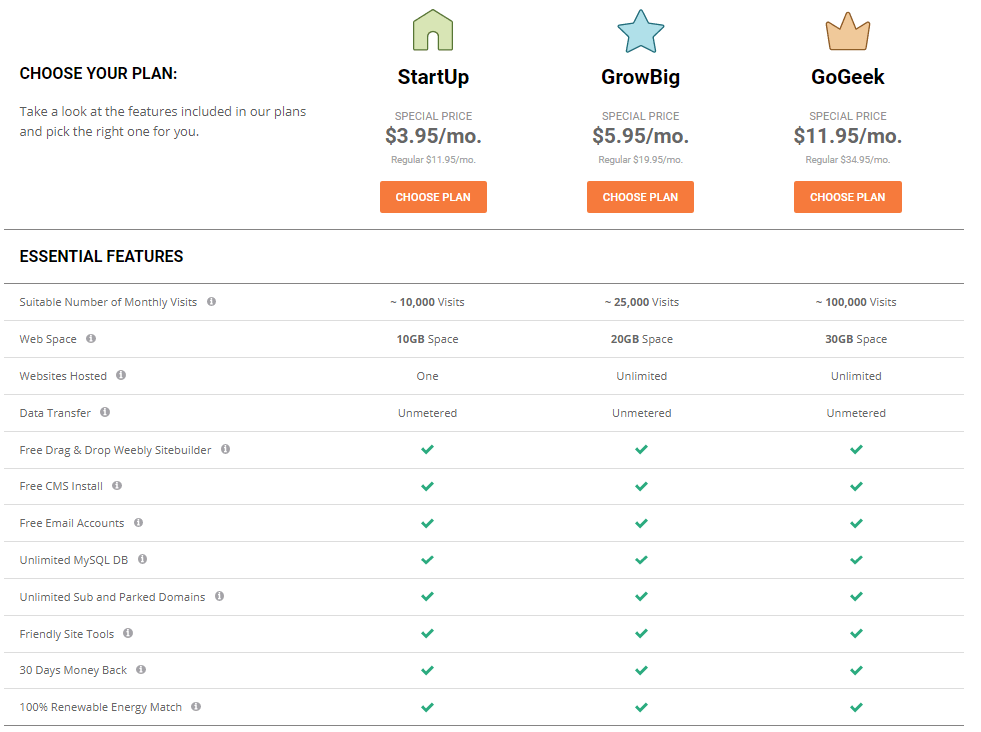 Check SiteGround Hosting Plans.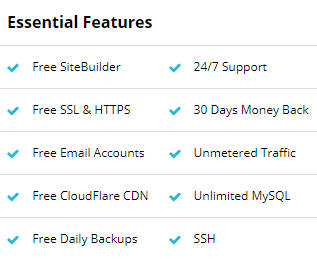 These are some of the features you will get when you start with SiteGround. You will get free SiteBuilder, free SSL & HTTPS, free Email Accounts, free daily backups with 30 days money-back guaranteed and many more.
How to start a website with SiteGround?
Depending on what niche you want to start, the first thing you gonna need is a domain name in mind. You can use your own name as a personal and buy the .com if it is available.
I recommend going with something easy to remember and catchy, so the visitors can type it and access your website from the address bar.
After you have a name, you need to buy the domain. SiteGround is pretty expensive when it comes to ordering a domain name, that's why I advise buying a domain name from Namecheap.
After you buy a domain name you need to go see the SiteGround plans and start with a StartUp plan.
You will get 10 GB of SSD storage, 10k monthly visits and 1 website to host for $3.95 per month. It is an awesome deal to start a website.
Time to host your website with SiteGround.
1. Install WordPress
After you bought the domain name you need to install WordPress. It is one of the easiest ways to have a website that can be optimized and design really easily.
Go to the SiteGround dashboard and the WordPress installer will be the in the first options.
It takes a minute to install WordPress, and these are some important tips for you to know:
DO NOT use admin for your username. Hackers try to break passwords all the time so avoid using admin!
Do not use your full name or name only
Mix things up, use numbers and hyphens. Make sure to write it somewhere on a piece of paper.
After you made the order, SiteGround will send you an email with nameservers, you need to put them in Namecheap if you used it as a domain registrar.
Click on manage the domain and in the nameservers section choose custom DNS. Copy and paste here what you receive from SiteGround and click save on the blue checkmark.

Namecheap claims that it takes 48hours DNS settings to be completed, but it usually takes a few minutes.
You may wonder how to log in to your WordPress website, head over to yourwebsite.com/wp-admin.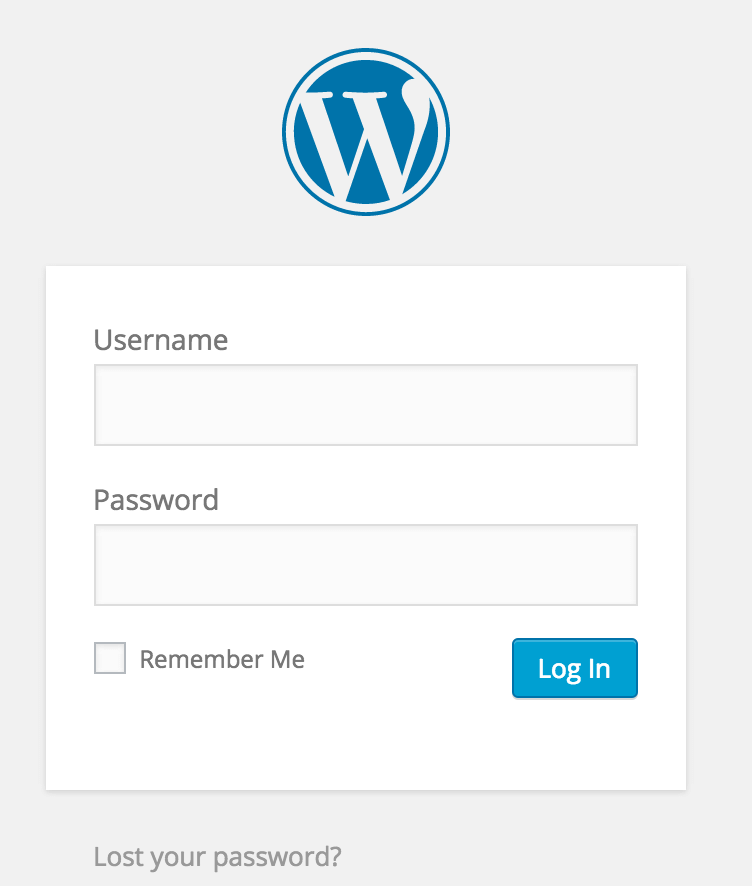 Type your username and password and you are inside the dashboard.
The first thing I would recommend is changing the permalinks to Post name.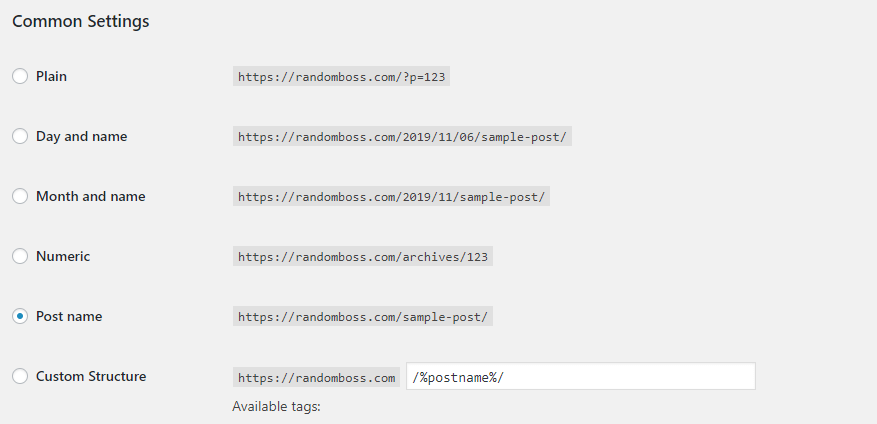 It will make your website looking more friendly. The URL will look something like yourwebsite.com/post rather then yourwebsite.com/2025/01/01/post.
2. Install Theme
Start looking for something that can be easy to navigate and it less coded, it will make your website faster.
Two options to look for:
Free Themes: They do the job just fine, but once your website gets more popular you can always the theme to unlock the PRO features. You can search for FREE themes in Appearance -> Themes and then click Add New.
Paid Themes: This is for the ones that want to make their website look more unique. The paid themes are really good because the developers always update them regularly. You can use the StudioPress themes and they are one of my favorites. You are looking for $25-250 for a paid WordPress theme. They have amazing features and are highly recommended.
The next step is to install a few plugins that will help you perform better for the search engines.
3. Install Plugins
Installing the right plugins is crucial if you want your website to perform at its best. Installing lightweight plugins is a must, so let's get started.
On the left side you will see Plugins, then click Add New.
Recommended plugins:
Yoast SEO: Awesome plugin to optimize your website for On-Page SEO and to create a sitemap.xml for search console.
Social Pug: It will allow your visitors to share your content on social media.
Block Bad Queries (BBQ): Protects your website, it is automatically activated once you installed it.
WP Fastest Cache: Great cache plugin to cut work that hosting will do, and it can connect with and CDN provider.
Autoptimize: Optimizes your CSS, JS and it will lazy load your images.
Self-Hosted Google Fonts: You only need to enable it.
WP Forms: It will create a contact form.
WP-Optimize: Cleans your database and compress images.
WP-Rocket: If you buy WP-Rocket you can avoid installing WP Fastest Cache, WP-Optimize, Autoptimize, Async JavaScript, CDN Provider, HeartBeat Control and many more. The perfect plugin to improve your blog loading speed, you can get the plugin here.
The WP-Rocket plugin is paid, all of the above are free. The free plugins do the job just fine, they have PRO features as well. I would recommend getting the WP-Rocket if you have a budget, awesome plugin.
Following the steps above, I was impressed with the results on GTmetrix.

You can follow the complete guide on how to start a blog or website on SiteGround by clicking here.
Time to wrap up this SiteGround WordPress review now.
SiteGround WordPress Review – Conclusion
---
Pros
SiteGround is beginner-friendly.
Available SSD, CDN, PHP7, and SuperCacher.
Customer support is very professional.
Loading speed is incredible.
Bloggers love it. If you are a blogger you should consider starting with SiteGround.
Cons
They have an outdated control panel and the design looks old as well.
---
SiteGround is a phenomenal place to start your website or blog online. They are so popular today and are one of the best hosting providers at the market at the moment, and a lot of reviews of SiteGround have proven that.
They have their own SuperCaching features that are really impressive, they offer SSD storage with 24/7 customer support.
I highly recommend SiteGround for your next web hosting, they are one of the leading hosting providers today.
Hopefully, you enjoyed reading this SiteGround WordPress review and helped you start with one of the leading hostings today.
Below you can 70% OFF and free SSL with this coupon code.
Click here to start with SiteGround.
The coupon code will be applied automatically.
Let me know if you have any experience with SiteGround, so the readers of this site ground review can learn more in the comments as well.
Disclosure: Please note that some of the links are affiliate links and at no additional cost to you, I'll earn a commission. When you purchase hosting using my affiliate links, they compensate me, which helps make this guide free of charge to you and ensuring you to get the best possible deal. I only recommend services that I've personally used and stand behind.