This is a complete guide on how to start a nutrition blog the right and successful way. Starting a nutrition blog can be a very fun journey and sharing your passion with the world.
I've seen a study that almost 50% of the women are on diets at any time. There are a lot of people that can find your information and knowledge very useful.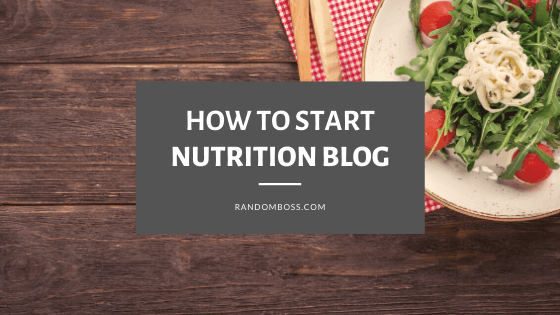 Blogging about nutrition and food can be very beneficial, you can work from home full time, spend time with your close ones and still write valuable articles for your readers. Mostly the blogging journey starts as a hobby, but you will be surprised at the opportunities you gonna get.
I may add that starting a nutrition blog is much easier than most people think. Technology today is so advanced that you can start a blog without any coding skills required. The only thing that is needed is a small investment that will be worth much later.
1. Love everything nutrition
If you spend a lot of time learning or already have education for nutrition, it is a great way to share with the world. Many people around the world need help to learn how to be fitter and lose weight or gain weight.
In the nutrition niche, there are a lot of ideas that you can write blog posts about. Being patient is really important when you first start, most bloggers don't make money in the first month, but having the right plan to go out and execute is crucial.
When there are not many visitors on your blog, you need to still have the passion to write a blog post that future readers can find it valuable. Once you get a bit of authority in your blog, ranking for search engines will be much easier.
If you already have some kind of following like YT channel, Social Media following or an email list, this is a great way to share your blog with them.
One thing that I love the most about blogging, is that you will increase your knowledge much more by doing research and having fun as well. Consistently writing valuable articles is really important when you first start. It will be a step closer to rank on easier keywords on Google. The blogging benefits are timeless.
Let's move forward with starting the nutrition blog.
2. How to start a Nutrition blog successfully
There are 2 ways to start a nutrition blog. The first is free which I do not recommend. Free platforms like weebly.com or blogspot.com allow you to start a blog with them, but negative outcomes are bigger.
Your blog will look something like nutritionblog123.weebly.com which pretty long and it is a subdomain. It will be harder for visitors to trust you and it will be full of ads. The Weebly or Blogspot can easily shut down as well.
What is the right option you may ask?
Getting your own domain and hosting. You can have full control and everything when it comes to monetization.
The first thing is you need to go with .com domain name. 75% of the websites online use it as their extension.
Now you need to have a domain name in mind, I know that this can be tricky, but you should go with something easy and catchy. The visitors can just type it on the address bar easier and they will remember it as well. Heck, you can even go with your full name then add .com next to it. I've seen bloggers that do that and are very successful. Follow the steps to get a free domain name below.
Getting the Domain and Hosting
Getting a hosting that has great loading time and uptime is crucial to be successful. Studies have shown that website load 3 seconds or more, visitors tend to leave. You don't want to leave any money on the table that's why it is important to choose the right hosting.
Usually, getting a domain name could cost up to $18 per year, while hosting could cost you $10 monthly. This can be a lot of money for beginners, that's why I have a very special deal for you. I'm not sure how long it will gonna last, but better act quickly.
For as little as $2.95 per month, you get a FREE domain name for one year, FREE SSL certificate that will protect visitor data, phenomenal security features with 24/7 customer support and with 60% OFF on hosting. A perfect deal that you do not want to miss.

Open the BlueHost's homepage, click on Get Started.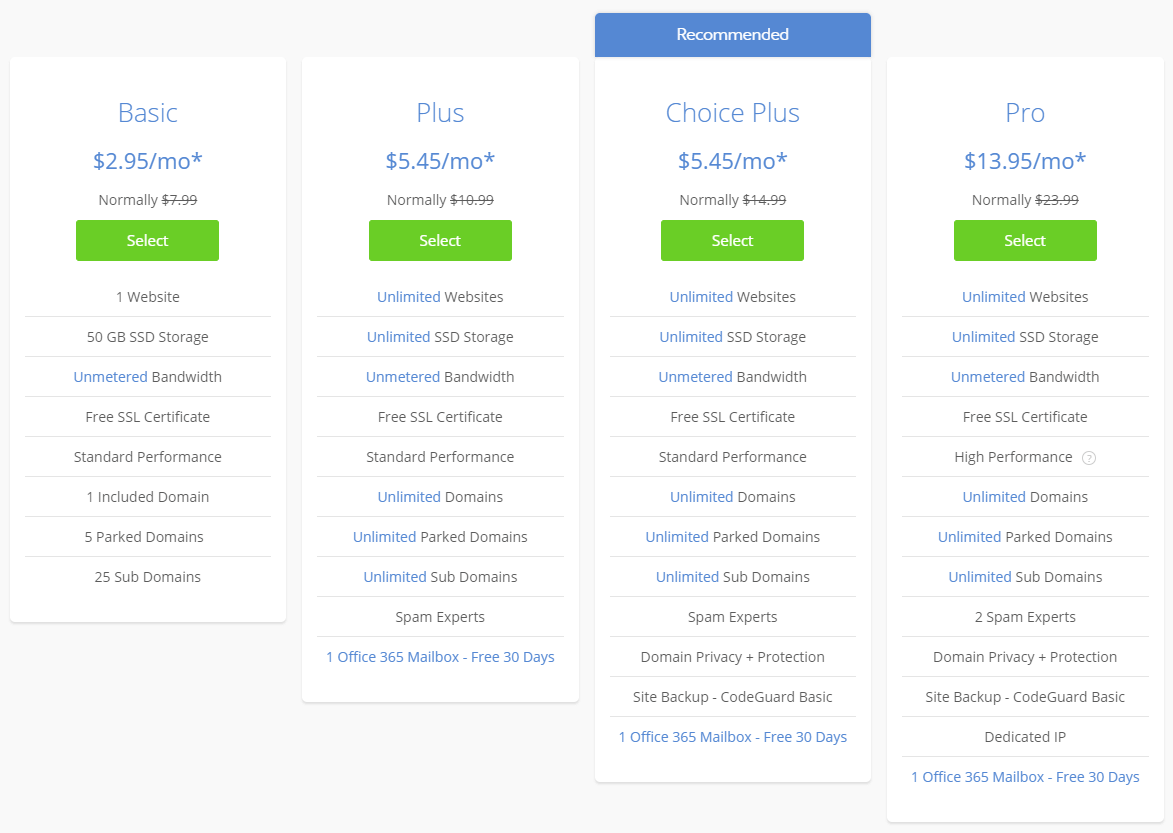 I recommend choosing the Basic plan. This is a great plan that you can start your blogging journey with 50 GB SSD storage and unmetered bandwidth. You can always upgrade your current plan if your blog needs more resources in the future, and you can do it without any downtime.
Choose the 36-month deal to get the lowest possible price, and you will not worry about hosting bills in 3 years. You can select one or two years, but the price will be slightly higher.
BlueHost offers a 30-day money-back guarantee, if you are not happy, you can always get a refund no questions asked. Really awesome deal to start your nutrition blogging journey.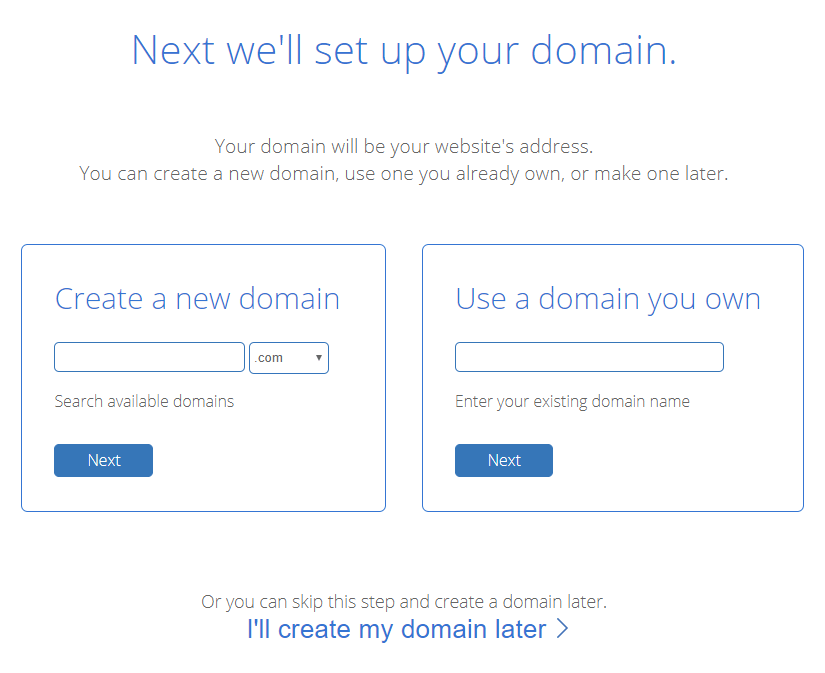 Type the domain name that you will name your nutrition blog, or skip it and add it later.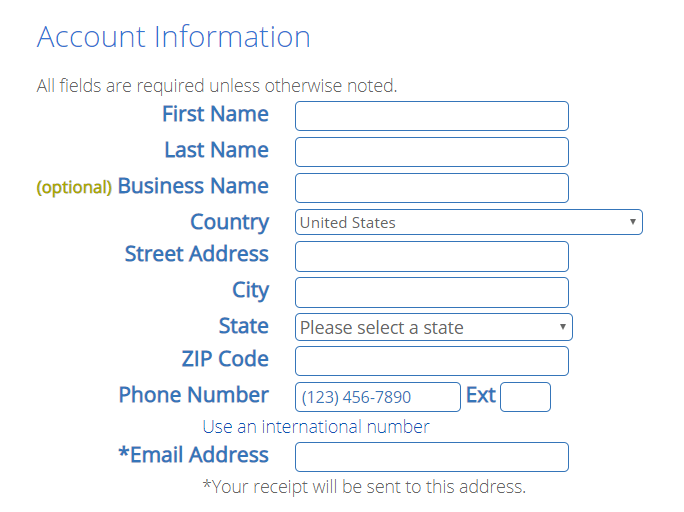 You need to fill your personal information. I recommend getting the domain privacy, it will protect your data.
You will avoid many annoying calls that people might wanna help you with your blog. BlueHost information will be public and not yours. If you are on a budget now, you can always upgrade it later.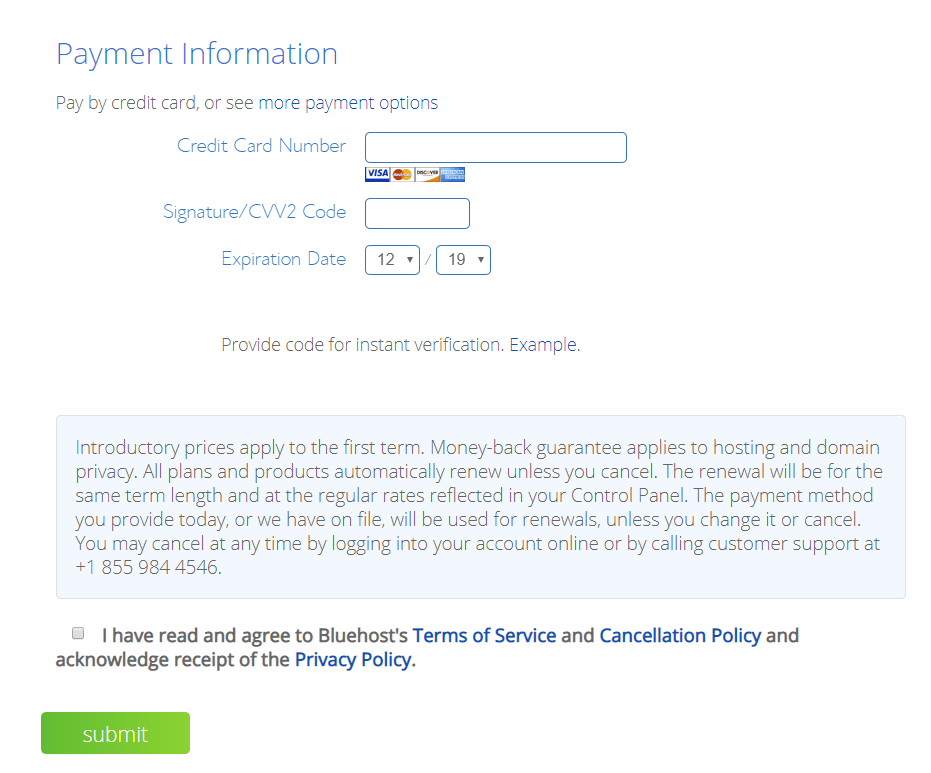 Tick the box that you agree with BlueHost's terms of services and hit the green Submit button.
Congrats on learning how to start a nutrition blog! 🥳
The next step is installing WordPress (CMS), and tech knowledge is not required.
Disclosure: Please note that some of the links are affiliate links and at no additional cost to you, I'll earn a commission. When you purchase hosting using my affiliate links, they compensate me, which helps make this guide free of charge to you and ensuring you to get the best possible deal. I only recommend services that I've personally used and stand behind.
3. Installing WordPress
After you make the payment, you need to pick a basic theme to click Start Building. BlueHost makes it much easier to install WordPress, they are the best and extremely user and beginner-friendly. Going with WordPress is much better because optimizing your blog for On-Page SEO is really easy. Google can crawl your blog much easier to index any posts.
It takes a minute to install WordPress, so now you may wonder how to log in. Type in domain.com/wp-admin. For my blog, it will look something like randomboss.com/wp-admin.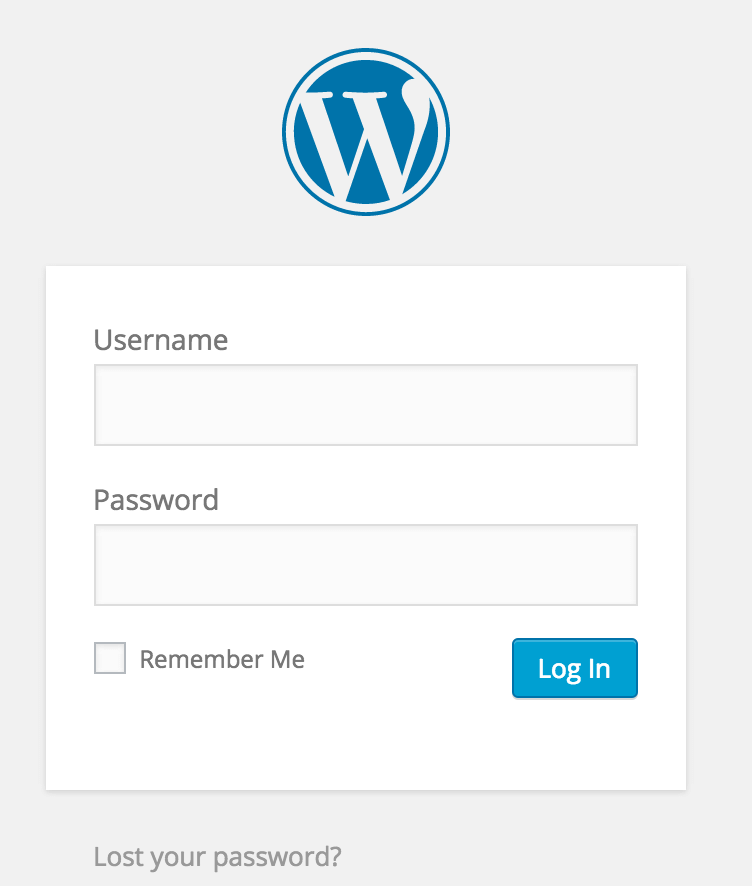 I highly recommend changing the permalinks. You can do that by heading to Settings -> Permalinks. Change them to Post name. Your blog will be user-friendly and the URLs will be shorter and better for readers and search engines.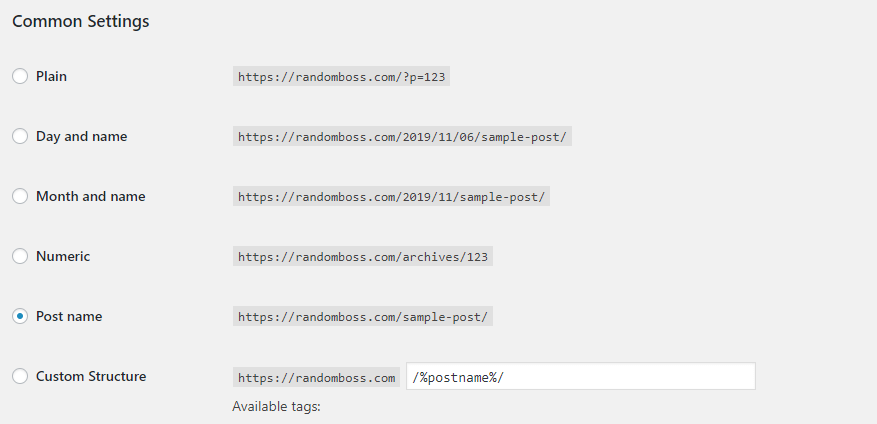 One example could be yourblog.com/nutrition-post is better than yourblog.com/2050/01/01/nutrition-post.
4. Install Theme and Plugins
When you have a good WordPress theme installed will make your blog more attractive. I highly recommend going with a simple theme that is not heavily coded. You can find themes on the left side in Appearance -> Themes -> Add New. You can search here the most popular themes and choose one for your blog.
These themes are free to install, and some of them have PRO versions, if you like a specific theme when it is free, you can unlock it to unlock the full features.
Another way to get a unique theme is to buy one. I recommend StudioPress themes. They are lightweight and always up-to-date from their developers. People like Jay Z, Jim Norton, Bill Burrr, Maria Sharapova, Leonardo DiCaprio, Katy Perry, Snoop Dogg, Justin Bieber and many more use StudioPress WordPress themes. Extremely easy to work on, and very user-friendly as well.
The next step is installing plugins.
You can find the Plugins on the left side of the dashboard, then point at it and click Add New. Getting these plugins is crucial to make your nutrition blog perform better for your readers and for the search engines. They are super-lightweight plugins that will improve your website speed.
Yoast SEO: The best plugin for On-Page SEO optimization, it can create a sitemap.xml as well.
WP Fastest Cache: One of the best free cache plugins, it can clear all cache and minify CSS/JS too. Extremely easy to connect with a CDN provider too.
Social Pug: This is a free plugin that allows your visitors to share your content.
Block Bad Queries (BBQ): Plugin to protect your nutrition blog.
WP Forms: A contact form plugin.
Autoptimize: It will optimize the CSS, JS, and images easily, will improve loading speed.
Self Hosted Google Fonts: Needs only enabling, it will host google fonts locally.
WP-Optimize: Great plugin to clean your database.
WP-Rocket: A paid plugin that you can avoid installing plugins like WP Fastest Cache, WP-Optimize, Autoptimize, Async JavaScript, CDN Provider, HeartBeat Control and many more. Perfect plugin if you want to lower even more your loading speed, you can get the plugin here.
Only the WP-Rocket plugin is paid, everything else is free to install. Most of the plugins above have a PRO version, and they do the job just fine for free, but I highly recommend getting the WP-Rocket if you have a budget.
If you follow the steps above, you can get results similar to this on GTMetrix:

5. Adding Pages
Getting a couple of pages on the top of your blog can help you get more trust from your visitors, and I recommend having a couple of pages like:
About page
A perfect way to present yourself and your story on why you wanted to start a nutrition blog. You can include your social media accounts in here as well. It is really a great way to build trust for your visitors.
Contact page
A perfect way for your readers to contact you if they want any kind of help or collaboration with your blog. If you installed the WPForms plugin, you can see on the left side of the dashboard.
Open the interface, then point at Simple Contact Form, you will see a button Create a Simple Contact Form.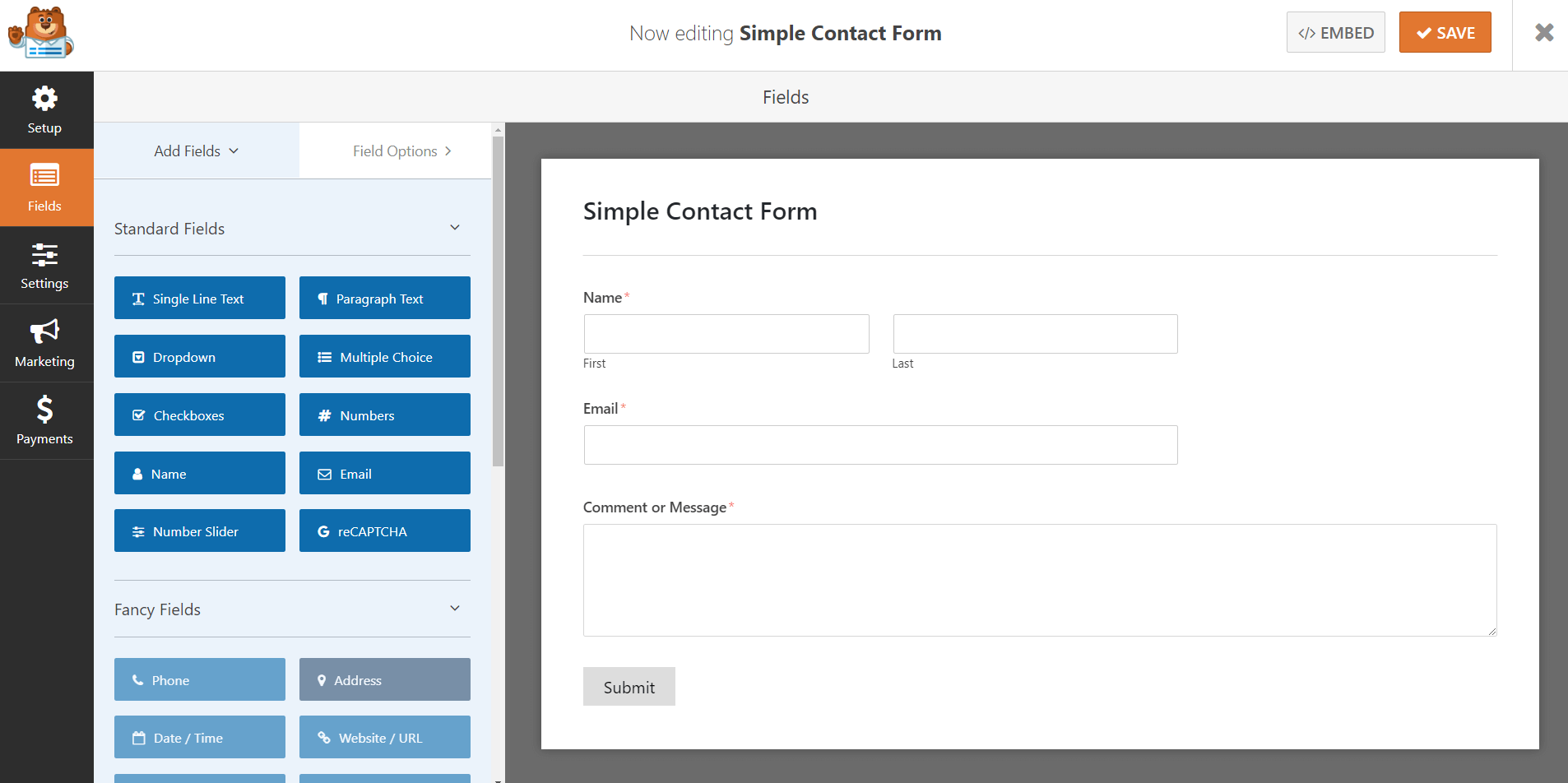 Now SAVE the contact form. Now head over to Pages -> Add New.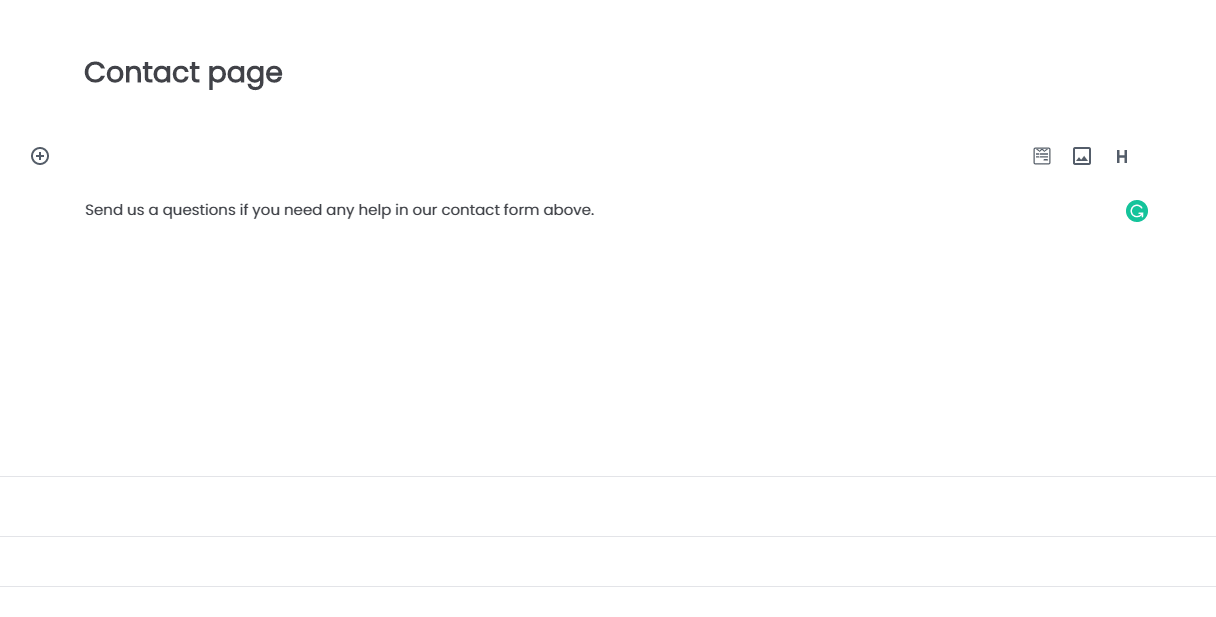 This is how you add a contact form when you are first starting a WordPress blog.
Copyright page
This is only if you value your content and don't want to be stolen without permission. You can install the WP Content Copy Protection plugin to help you with this as well.
6. Writing your first post
Now it is time for you to write your first blog post, on the left side of the dashboard point at Posts, then click Add New.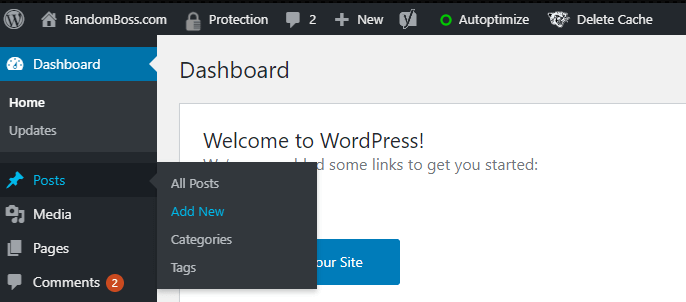 This is where you can write your blog headline and content.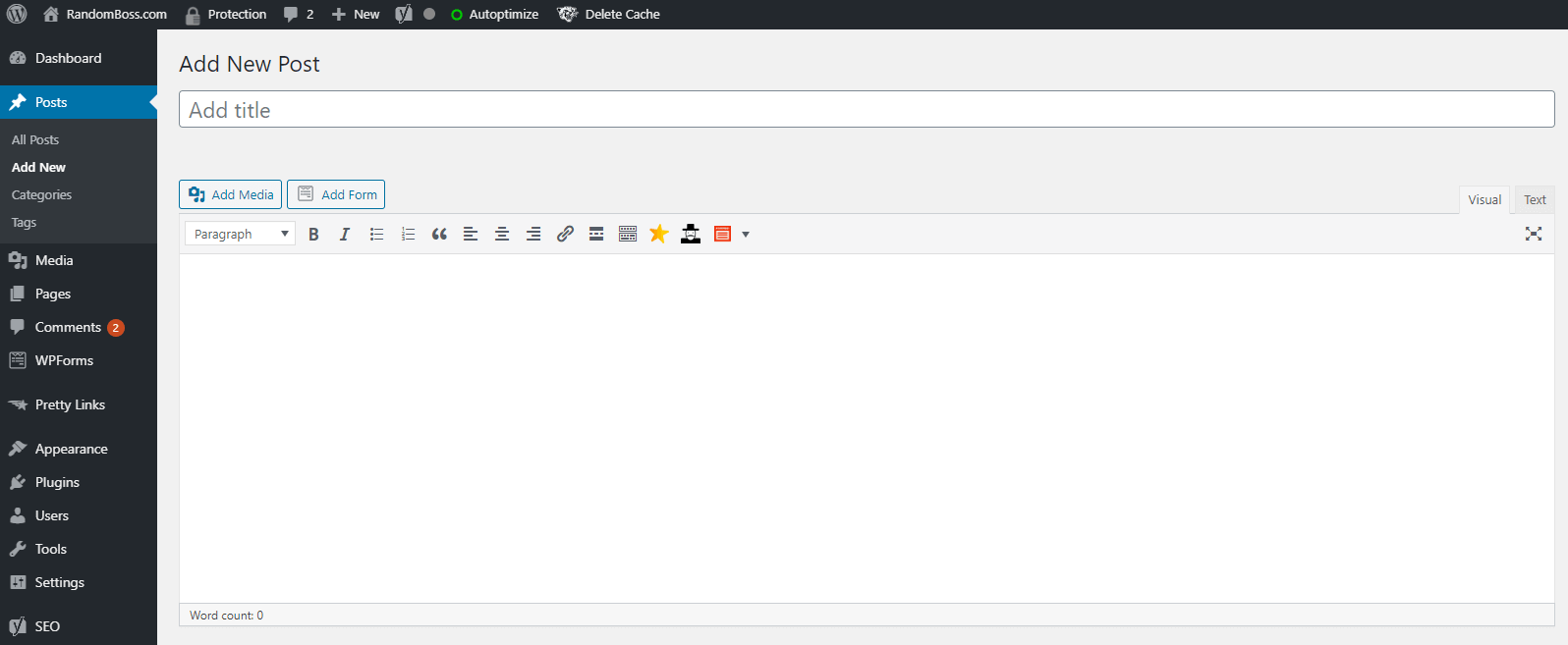 Make your URLs shorter, avoid using numbers always use the target keyword. Here is an example of a good permalink:

The URL is user-friendly, and the shorter the better.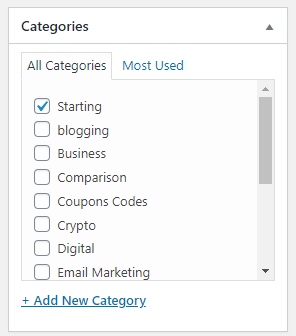 Create a category on the right side, click on +Add New Category, depending on what you write, you can make it like Nutrition or Recipes, tick the box and the blog post will be under that category so now you can hit Publish.
Note: No need to do it for every new blog post, only for the ones that don't have a target category.
Install the Classic Editor plugin. It is much simpler and it is the classic way of writing blog posts, the new way is a bit complicated and messy.
Congrats on learning How to Start a Nutrition Blog successfully!
How to make money from a Nutrition blog
This is depending on your blog traffic. The more traffic, the more money you can make.
You can sign up for affiliate accounts with Amazon Associates, ClickBank, Thrive, Vital proteins, Prep dish meal plans, and many more. You can search for food + affiliates in google to see more ways to make money.
When the readers buy something through your affiliate links, you can get a decent commission with no extra cost at them.
You can choose to add Google Adsense to your blog, as well as write sponsored content to promote other people's brands in your blog. People will pay you money to include their links in your blog.
You can sign-up in ClickBank and see the best digital products in nutrition. Digital products can be e-books, recipes, step-by-step guides, online courses, etc.
Extra Tips for Blogging Beginners
Schedule for writing
You will thank me a lot, having a scheduled time in the week will force you to sit down and write content. When the time comes, you gonna sit and you gonna write 1000 words of high-quality content.
Having longer posts can give the readers more information about a certain topic, and the search engines love longer content.
It will take time to get good at it. When I first started a website, I was terrible. Checked couple posts on an archive and saw the posts have 300 words and full of mistakes. Make sure to add Grammarly extension so it can fix words if you have mistakes.
Starting writing content, and when you reach 50 posts, compare the first and the last one, you most likely can see a huge difference. Don't give up on blogging no matter how poor writer you are when you first start.
What content to write as a nutrition blogger?
This can vary, but here are some examples:
Vegan diets
Weight Loss tips
Solving health issues
Healthy food
Unhealthy food
Recipes
Answering questions
Best time to eat food
Daily planning food
Anything nutrition related
This depends on your own experience and education. The most important thing is to write content that can solve people's problems. It is one of the best ways to get traffic instantly if you write content like this. Google loves educational blogs and will push your nutrition blog higher in the rankings.
Here are some of the topics you can write content, click here to see more.
People search for content like how to lower high blood pressure, the search for food intolerance, high cholesterol, healthy eating, skin health, vegan diet, weight management, etc. As you can see there are a ton of topics, you can even niche them down like writing a blog post on how to make low carb smoothies, low carb brownies, etc.
You can research bloggers in your niche as well, check what content they write, what are one of the most popular blog posts and how they promote their blogs. You can get new ideas about new articles, just make sure to not copy and paste their content, you can write yourself your own with own images and content.
Emotions
People love stories, even if you don't have your own story, you can share other people's personal success stories. Even if you write blog posts on workouts or recipes, make them emotional. How so? Try sharing scenarios on what could happen if you follow a certain routine for 30 days, and what kind of transformation the readers can have.
This will expire other people to take action.
How to start a Nutrition Blog – Conclusion
Pick the domain name
Get Hosting (BlueHost)
Install WordPress
Install Theme and Plugins
Add a few pages
Add your first blog post
Congrats!
Hopefully, this blog post on how to start a nutrition blog was very helpful to you. Getting into blogging about nutrition can be a very successful journey for you. People always wanna read stories on how to get better with their lives, like fitness, nutrition, income.
It is a unique way to share your thoughts, and don't be scared of the competition, because your blog is unique and you can stand out. Like the quote, the best time to plant a tree was 20 years ago. The second best time is now.  So starting a nutrition blog now can only be beneficial to you, you can make friends with similar-minded people, and do different things for a living. Working on your own time and schedule is added bonus, and everything depends on you now.
Don't be afraid to make the jump in nutrition blogging!