Do you wanna learn how to start a WordPress blog in the right and successful way? I know that starting a blog can be very confusing if you don't have any experience building websites. You are not alone, there are a million searches on Google daily on how to start a blog from people that don't have any tech knowledge.
In this guide, you will learn how to create a WordPress blog successfully and optimize it fully for your readers and the search engines.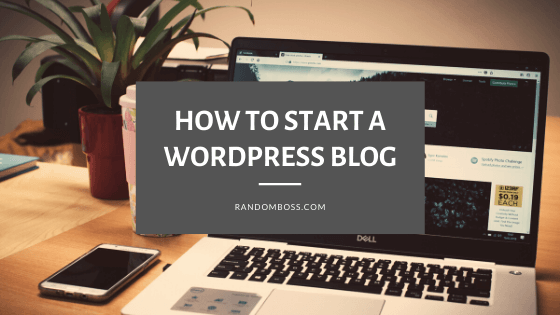 How to Create a WordPress blog – requirements
A domain name (this is how you gonna name your blog)
A web hosting account (this is where you store your website data and making sure it live online)
Fully focused you
Starting a WordPress blog is much easier than most people think. Today the technology allows us to start a blog in WordPress without any coding skills. You gonna need a small investment that will be very worth it later.
Usually, a lot of bloggers use WordPress.org. It is really easy to navigate within, install plugins, themes, add new blog posts, customize your design, and have the freedom to monetize it however you want.
WordPress is still the number one website platform that is used by the most successful blogs. To start using WordPress, you gonna need a domain name and hosting.
1. Getting Domain and Hosting
My domain name is randomboss.com, and the web hosting is where I store all my data so the website can be online.
A domain name could cost you around $18.99 per year, while a web hosting costs around $9.99 per month. This can be a lot of money for beginners that just want to start a WordPress blog.
For as little as $2.95 per month, you get a FREE domain name for one year, FREE SSL certificate that protects visitor data, amazing security features with 24/7 educated customer support with 60% OFF on hosting. This is a deal that you don't want to miss.

BlueHost is also recommended officially by WordPress.org, they offer 60% OFF and a free domain name to anyone starting now. They've been founded in 2003 and are one of the oldest and most successful web hosting companies today. They are currently hosting over 2 million websites, while 800,000 of them being blogs.
Open the BlueHost's homepage in a new tab, then click Get Started.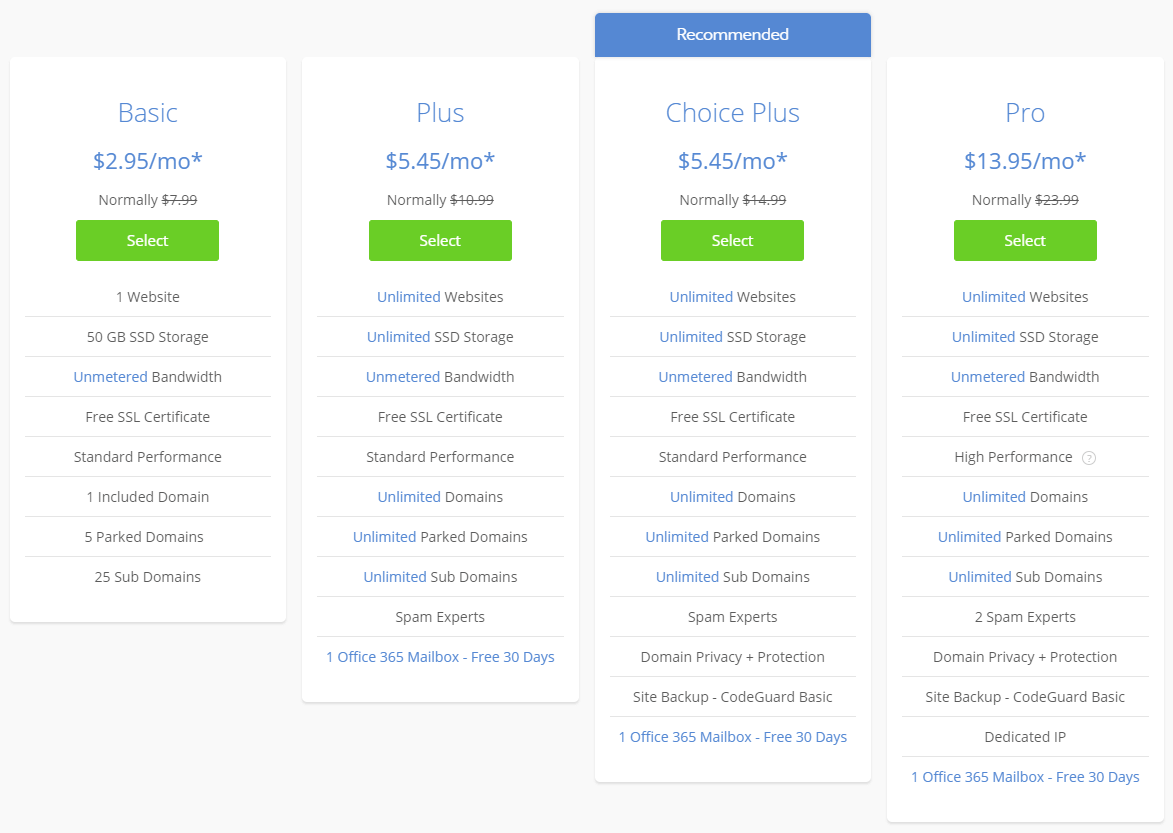 Starting with the Basic plan is a great way to start your WordPress blog, you will get 50 GB SSD storage with unmetered bandwidth. You can always upgrade to a bigger plan if more resources are needed without any downtime.
Getting the 36-month plan is the best because you will get the lowest possible price and no worries for any hosting bills in 3 years. You can choose to pay for a shorter time as well, buy the price will increase slightly.
BlueHost offers a 30-day money-back guarantee, they will refund you with no questions asked if you are not happy.
Very special deal to start a WordPress blog and your journey in blogging.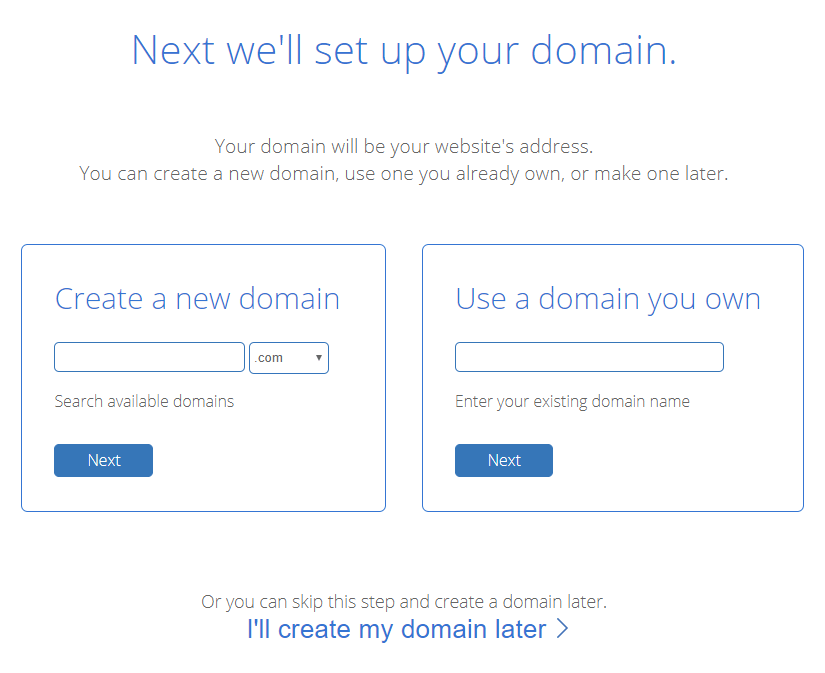 Type the domain name that you will name your WordPress blog, or skip it and add it later.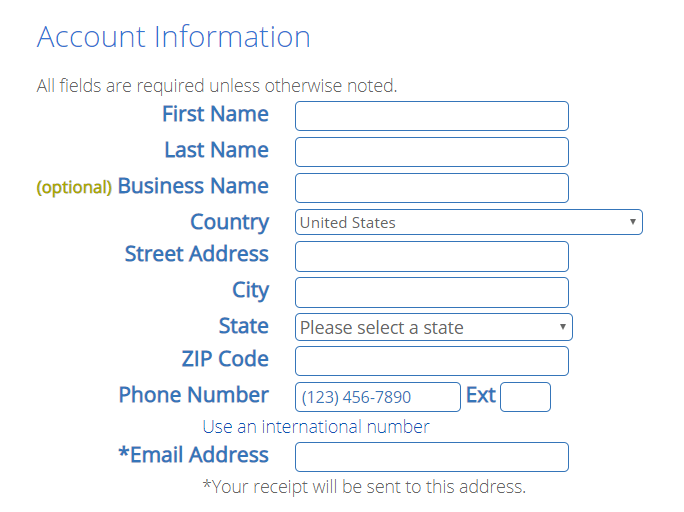 You need to fill your personal information first, then you have the option to choose to get domain privacy. I would recommend getting domain privacy because BlueHost information will be public and not yours. You can always upgrade it later if you are on a budget atm.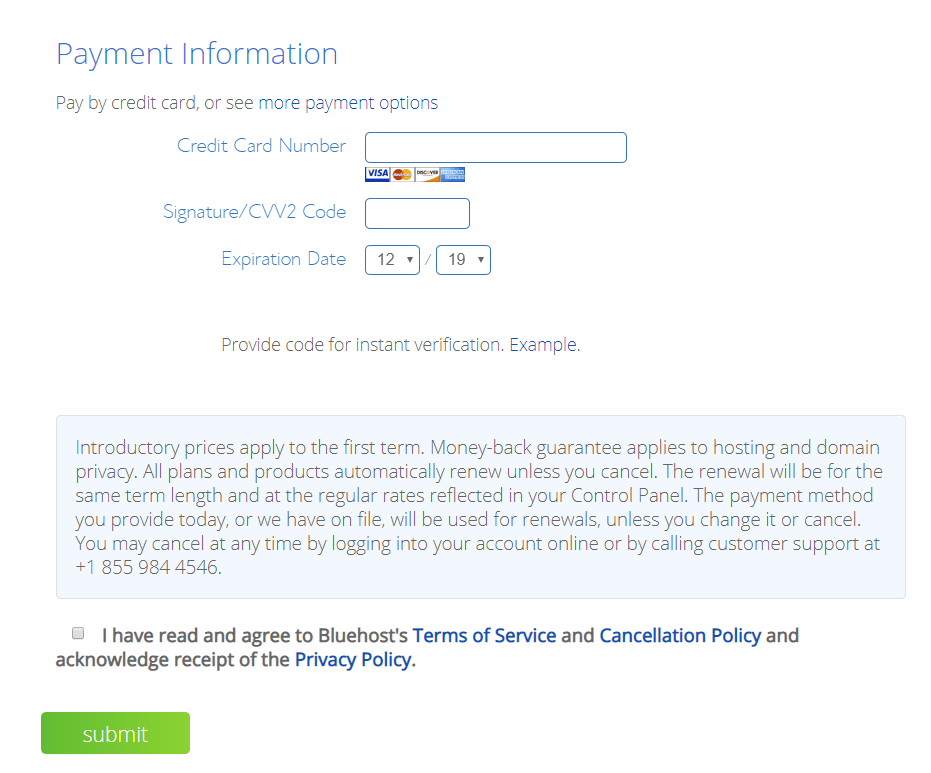 Tick the box that you agree with BlueHost's terms of services and hit the green Submit button.
Congrats on learning how to start a WordPress blog!
The next step is installing WordPress (CMS), and tech knowledge is not required.
Disclosure: Please note that some of the links are affiliate links and at no additional cost to you, I'll earn a commission. When you purchase hosting using my affiliate links, they compensate me, which helps make this guide free of charge to you and ensuring you to get the best possible deal. I only recommend services that I've personally used and stand behind.
2. Installing WordPress
When you sign-up with BlueHost using our link, they will do the installation instantly. The newest version of BlueHost is available for people without any coding skills. BlueHost makes it easier to install WordPress with the one-click installers.
After you make the payment, pick a basic theme and click on Start Building.
Usually, it takes a minute to install WordPress, so now you may wonder how to log in. You can log in with your BlueHost account, click on Login into WordPress to get started. You can log in as well by typing domain.com/wp-admin. For my blog, would look like randomboss.com/wp-admin.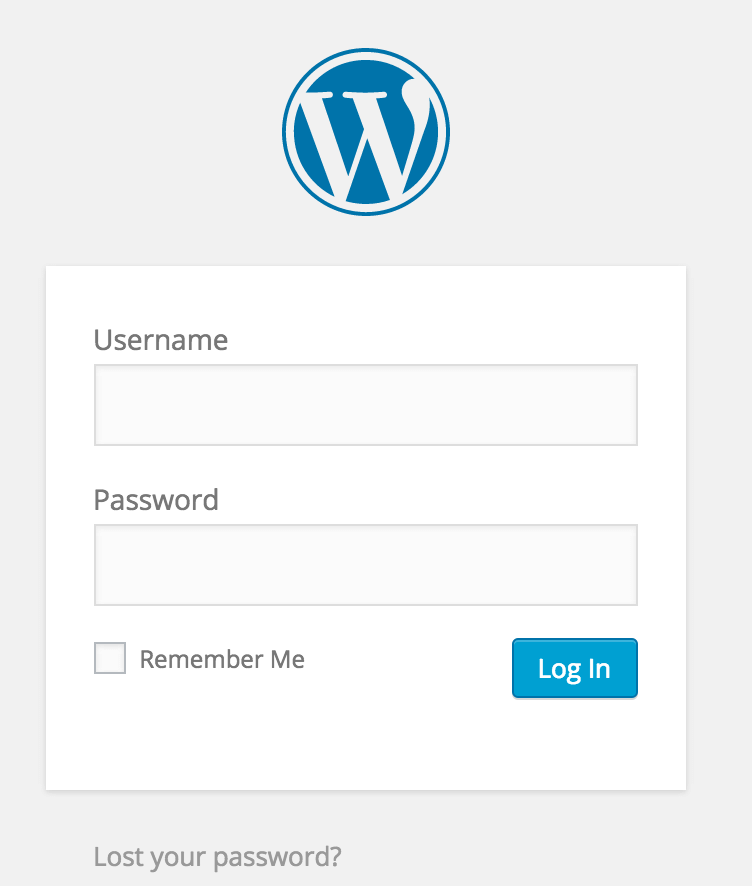 Changing the permalinks is important to make your blog look more legit. You can do that by heading to Settings -> Permalinks.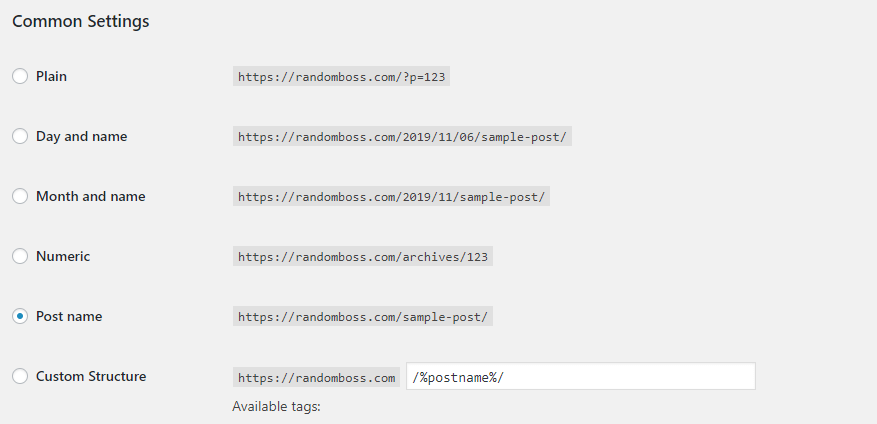 Change the permalinks to the Post name. It will make your blog more user-friendly. The URLs will be shorter and better.
One example could be yourblog.com/blog-post is better than yourblog.com/2025/01/01/blog-post.
If you are wanna use different web hosting services like SiteGround or Hostwinds, check this guide for SiteGround, and this one for Hostwinds.
3. Installing a WordPress Theme
The first theme when you log in on your blog is not good for optimizing. You want to make your blog looking more attractive.
On the left side of the dashboard click on Appearance -> Themes -> Add New. This is where you can search the most popular themes in the marketplace.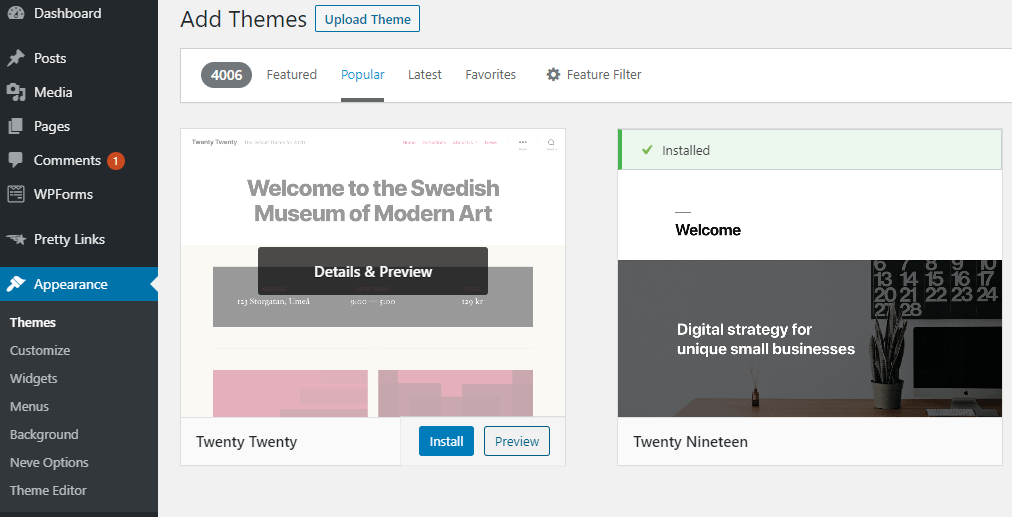 You can preview each theme, and check if you like it. At the first preview, it might not look exactly as it is shown, but you need to customize the design to make it better.
Those themes on the marketplace are free to install, some of them have PRO versions, once your blog gets more popular you can always upgrade to unlock its features.
The second way you can go about it is to start with the PRO theme instantly. The best PRO themes are StudioPress WordPress themes.
They are always up-to-date from their developers, extremely user-friendly and optimization for SEO is extremely easy. This kind of theme could cost around $25-250.
Now let's install a few plugins.
4. Installing Plugins
You can search for Plugins on the left side of the dashboard, then point at it and click Add New.
Installing the right plugins will ensure better performance for your readers, and for the search engines. The plugins I recommend are super lightweight and will improve web speed.
Yoast SEO: Really great SEO plugin, you can optimize the posts much better and you can create a sitemap.xml for your blog.
WP Fastest Cache: Great free cache plugin, it can clear all cache and minify CSS/JS aswell. You can connect it with a CDN as well like CloudFlare, BunnyCDN.
Social Pug: It will allow your readers to share your content on social media.
Block Bad Queries (BBQ): This plugin is to protect your blog, only needs installing.
WP Forms: Great contact form plugin.
Autoptimize: It will optimize the CSS, JS, and images, will improve loading speed on your blog as well.
Self Hosted Google Fonts: Only needs enabling, it will host google fonts locally.
WP-Optimize: Database cleaner plugin.
WP-Rocket: This is a paid plugin. You will avoid installing plugins like WP Fastest Cache, WP-Optimize, Autoptimize, Async JavaScript, CDN Provider, HeartBeat Control and many more. This plugin is amazing and if you want to lower even more your loading speed, you can get the plugin here.
Only the WP-Rocket plugin is paid, everyone above is free to install. You can upgrade them to unlock their features, but you can do it once you get popular, but I highly recommend getting the WP-rocket from the start.
If you follow the steps above, you can get results like this on GTMetrix:

6. Adding Pages
This is a great way to help your visitors know more about you and your blog. I recommend having a couple of pages like:
About page
It will show your story and why you create a WordPress blog. Your story can connect with your visitors, and by doing this they will trust you more.
Contact page
It is a great way for readers to collaborate with you if they can, they can send you an email about guest posts or any help they might need.
If you installed the WPForms builder plugin, you can see it on the left side of the dashboard.
Now when you open the interface, when you point at Simple Contact Form, you will see a button Create a Simple Contact Form.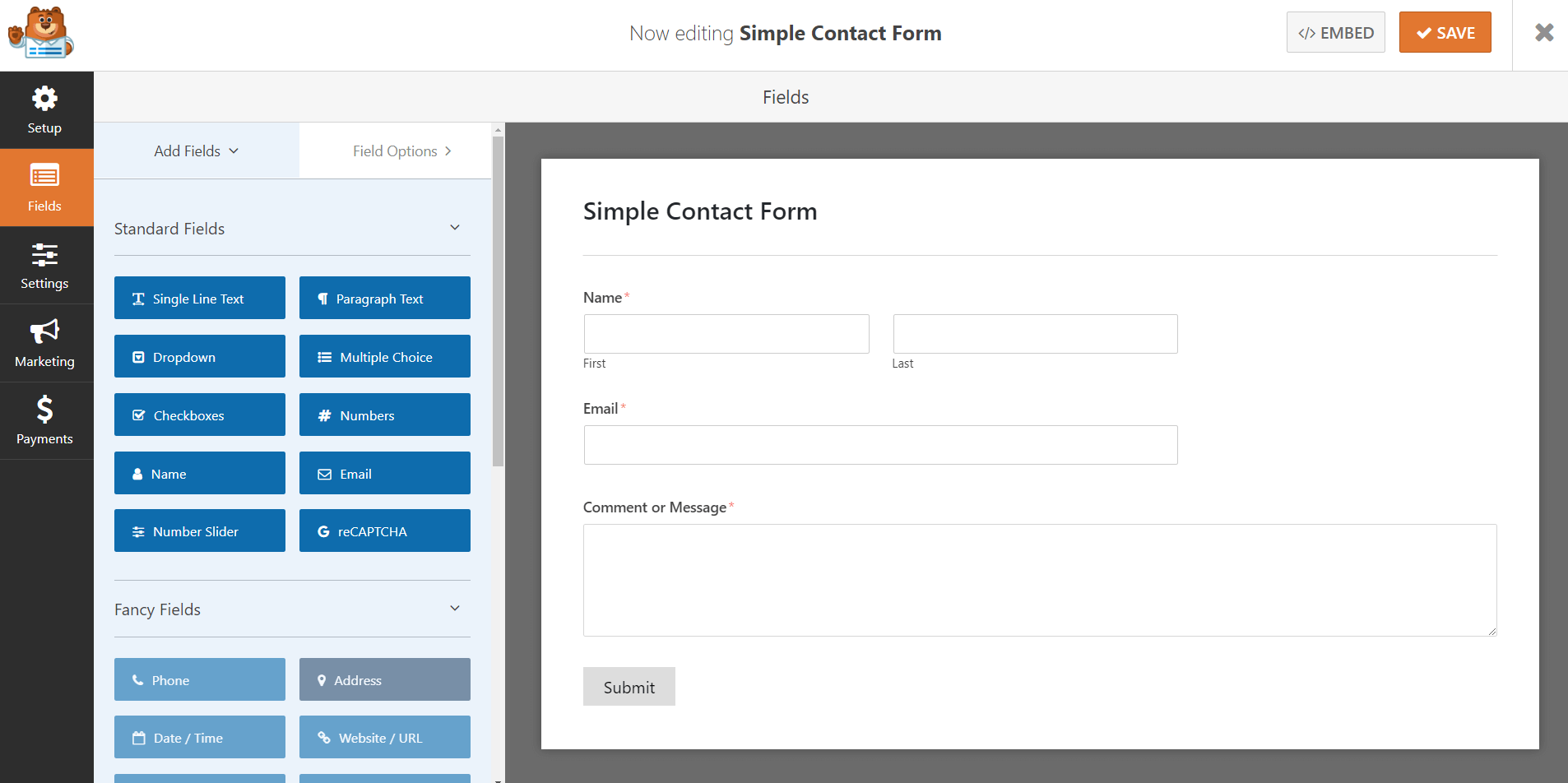 Now SAVE the contact form. After that head over to Pages -> Add New.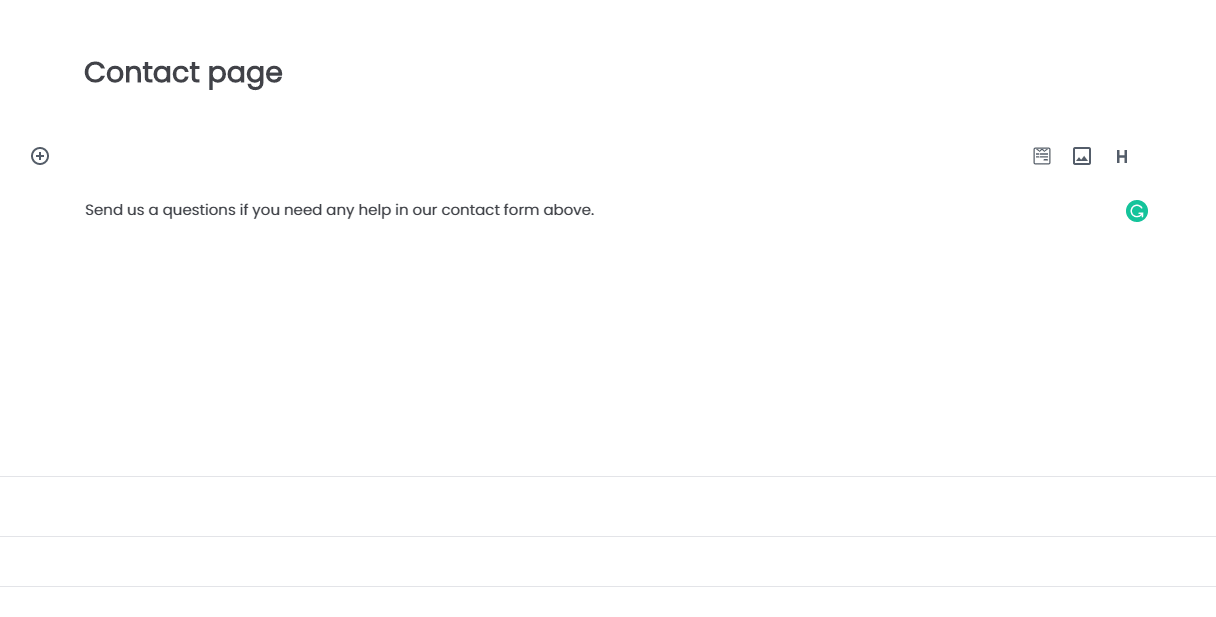 Copyright page
This is a great way to show people that you value your content and that you don't want it to be stolen without permission. You can install the WP Content Copy Protection plugin as well.
7. Writing your first post
For writing your first blog post, check the left side of the dashboard and then point at Posts, then click Add New.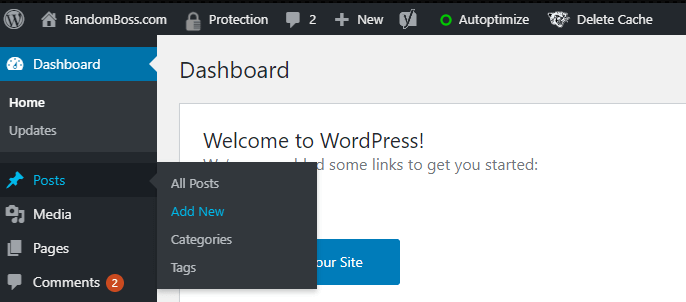 This is how it looks and where you need to write your blog headline and article.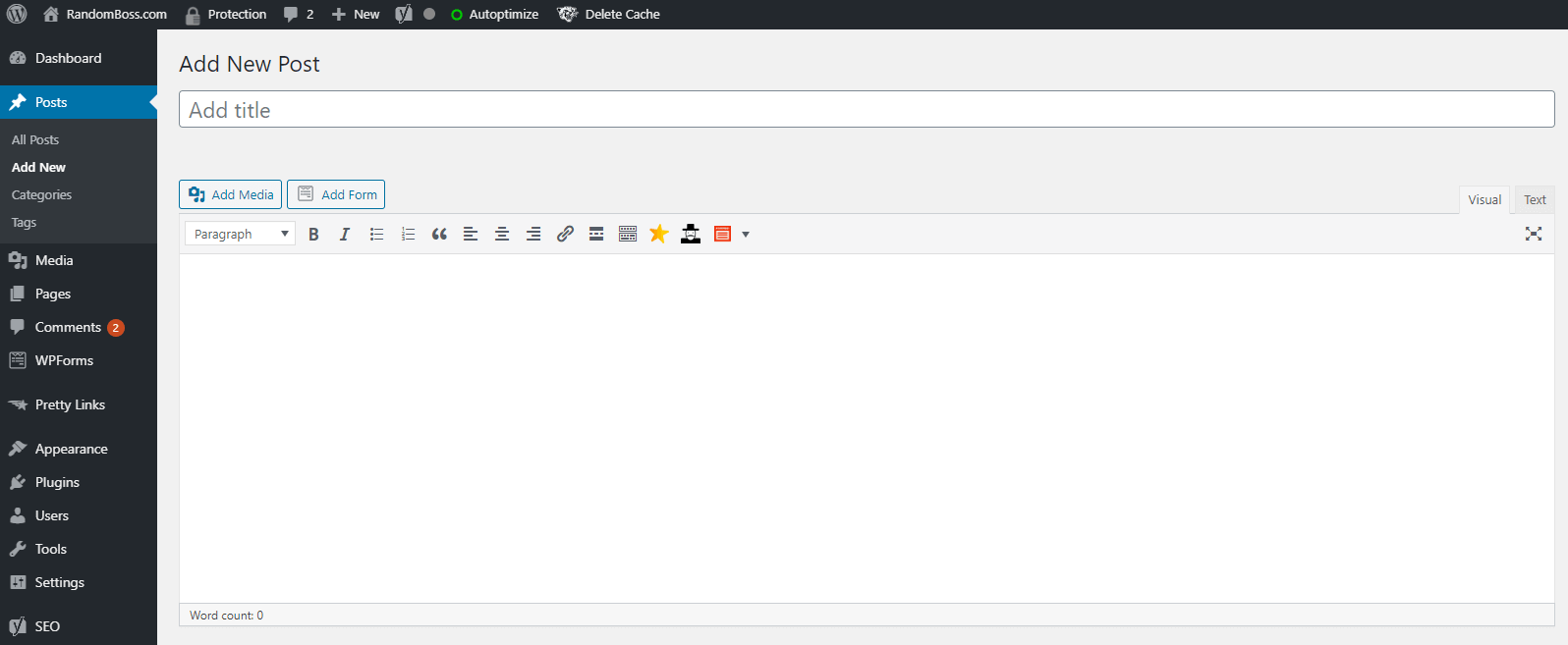 When you first write in the blog headline, you will see the URL will just be the full name of it. Click Edit, you can try to make it shorter. Avoid numbers and always use a target keyword.

This is a great example, the URL needs to be user-friendly, and then try to make it shorter, it will look better.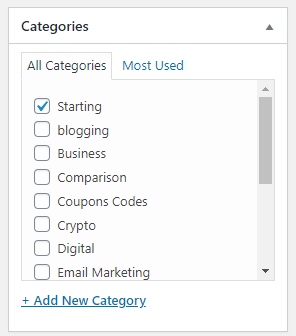 You need to create a category on the right side, click on +Add New Category, you can make it broader like Tutorials or General, tick the box and the blog post will be under that category so now you can hit Publish.
Note: No need to do it for every new blog post, only for the ones that don't have a target category.
I highly recommend installing the Classic Editor plugin, Your blog post will be the old way of writing blog posts, the new way is a little bit complicated and it can take more time to adjust to it.
Congrats on learning how to create a blog in WordPress successfully!
The next step is really fun, proven ways to make money from your blog.
8. How to Make Money from a WordPress Blog
This is the fun part of blogging, you write high-valuable content by helping others solve their problems and on the way there you get paid. Learning how to make money from a WordPress blog is a fun process and really full of opportunities.
When you first start a WordPress blog, the ways to make money are limitless. But I need to point out that there is no quick rich scheme. You may see a few entrepreneurs on Instagram drive expensive cars and live in big houses, most of those people rent their vehicles and houses, so don't be fooled.
You need to put the hard work first, then you can reap the rewards later.
1. Affiliate Marketing
One of the best ways to make money today is through affiliate marketing. You can recommend your favorite products or services online depending on which niche you are in.
If you are in travel blogging, you can recommend insurance to your readers. If you are in tech blogging, you can recommend to your readers the best tech gadgets on Amazon.
Search for more affiliate programs in your niche, just Google your niche + Affiliates. This is a great way to find products or services that you can recommend to your readers.
2. Ad Networks
There are a lot of ad networks that want to advertise their ads on your blog. Platforms like Google Adsense, Ezoic or Mediavine are one of the best ones.
Google Adsense doesn't require a minimum number of visitors, the other two platforms want a certain number of monthly visitors.
These platforms act as a middleman between you and the advertiser, and you can make good money with ad networks.
3. Sell your own products
Being in the blogging industry for a while, I've seen bloggers sell digital and physical products from their blogs.
Install the WooCommerce plugin for your blog to set up your store. You can promote cooking recipes, fashion products, depends on what your blog is about.
4. Sponsored content
When your blog gets more popular, there are other bloggers that will want to be featured on your blog. You can charge $100-1500 depending on how much traffic and authority you have on your blog.
It is another way to make money from your blog.
How to start a WordPress blog – Final Thoughts
Pick the domain name
Get Hosting (BlueHost)
Install WordPress
Install Theme and Plugins
Add a few pages
Add your first blog post
Congrats!
Hopefully, this blog post on how to create a WordPress blog helped you start with your own platform. It is one of the best ways to promote yourself and make money to be your own boss. That's is the reason why I named my blog RandomBoss, so you can quit your job with no alarms or commutes. Become the best version of yourself.
Why let other companies like Facebook, Twitter, LinkedIn get rich off of you. Starting a WordPress blog is one of the best ways to meet similar minded people worldwide. You can work on your own time and schedule.
Don't fear competition, your blog is unique and will represent a unique story. Learning how to create a WordPress blog is maybe one of the best decisions you can make.
Don't be afraid to make the jump in WordPress blogging.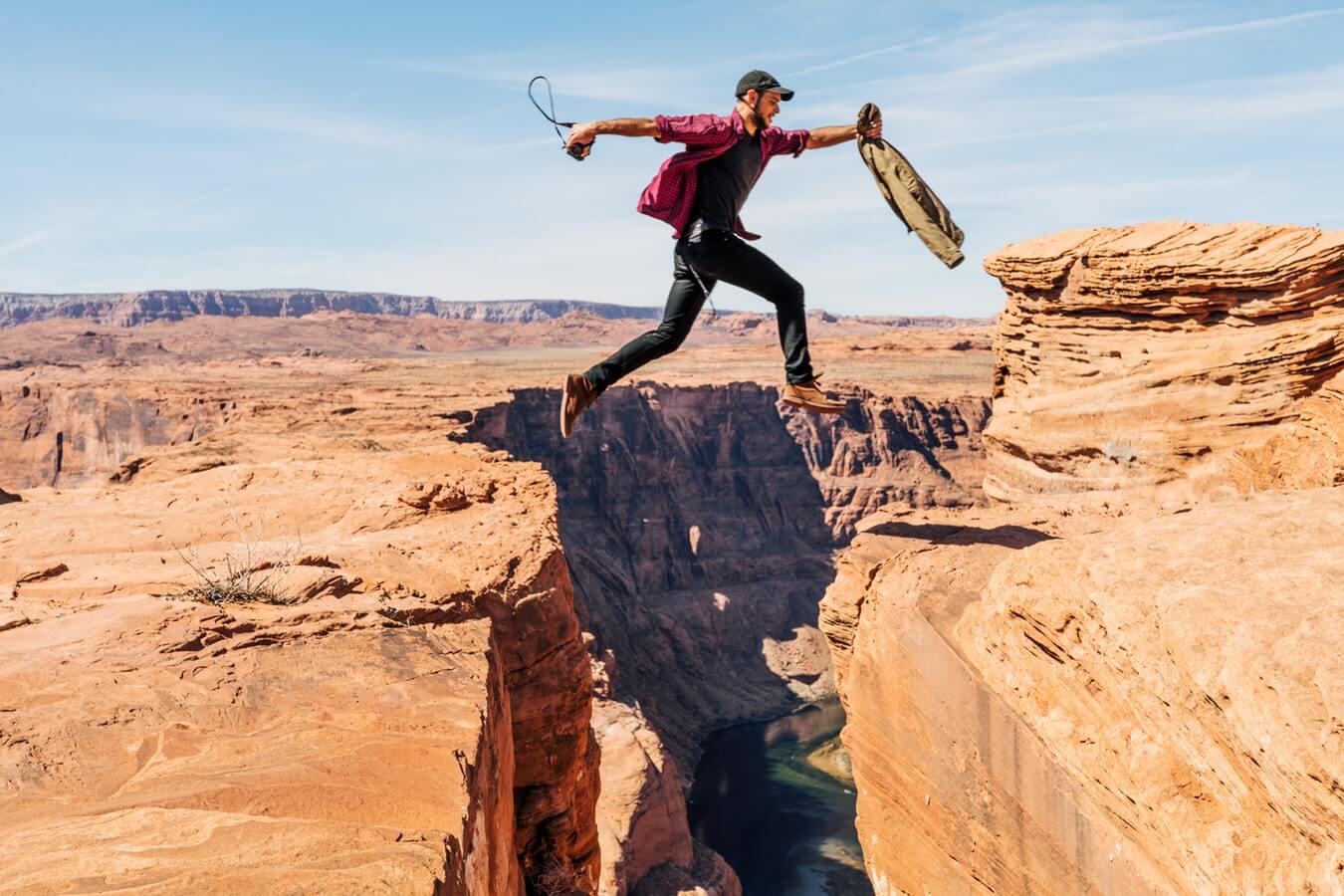 Frequently Asked Questions (FAQs)
Can I create a WordPress Blog on another hosting?
Yes, you can. I recommend going with SiteGround or HostWinds. With SiteGround you will not receive a free domain, while with Hostwinds you will.
Both platforms are incredible and I use them regularly.
Why do I need hosting?
You need hosting because the website must be live and store all your website data.
You can't have a website online if you don't have a web hosting.
Can I blog anonymously?
Yes, you need to activate your WHOIS privacy on your BlueHost account. If you choose to use other domain privacy like Namecheap, this can be free.
Create a unique email for your blog only, don't use your name anywhere in your blog.
Can I blog in my personal language?
Yes, WordPress allows you this, you can choose the language during the installation in the Settings page.
There are a lot of plugins and themes that are available in many languages.
Can I start a Blog for free?
Yes, you can. You can start a blog for free on a platform like weebly.com or blogspot.com, the downsides are much bigger on platforms like this. Your domain name will look like blogname.weebly.com, your feature will be limited and it can be easily shut down. Attracting new visitors will be harder and trusting even harder.
How long till I start to make money from my blog?
Completely up to you. It depends on how much work you put in and how you promote it. I've seen bloggers make money in the first week, those who have email lists or YouTube channels, and other in 3-6 months.