If you wanna start mining now Ethereum or any other coin, is easier than ever. In this guide, I will cover all basics and have your mining rigs set-up to mine more efficiently than ever.
One thing about mining Ethereum, unlike Bitcoin that you have in 10 minutes on an avarage new block, with Ethereum in 15 seconds on average you have a new block to mine. Ethereum is best suited for mining with GPU's.
So where to start, okay, the first thing I assume you have bought the case, the motherboard, GPU's, PSU and risers. Note that I didn't say SSD or HDD, you will not need them anymore, and spending extra 50-100$ will not be needed for this. The only thing you will need to have is USB Stick of 16 GB that may cost 5$.
I don't want bore you to death with how to set-up your mining rig in text, so this is pretty much impresive video how to build a mining rig.
Profitability Warning
Ethereum is scheduled to switch to Proof of Stake, we don't know the date yet, but we know that POS means no more mining with GPUs, only ASICs.
That's why my recommendation is to always go with GPUs, you can just set-up and start mining other coins like monero, zcoin or others. You need to know that GPU's that are mined depreciate rapidly because the cards are used of intensive work to mine 24/7.
Back in February 2019, Ethereum's Constantinople reduced the mining reward from 3 ETH to 2. So you need to be aware of this that may happen again in the future.
What Graphics card are required for mining?
Also, all of your cards need to be over 3 GB or more if you want to mine Ethereum, this is because of increasing of the DAG File of ETH. Currently, AMD cards perform better than Nvidia. So do your research on what cards you wanna get.
Make sure you have low-end CPU and at least 4 GB of RAM on your motherboard. Motherboards sockets that are good for mining are LGA 1151 or 1150.
Since we are not using Windows for mining, you will go and make an account on SimpleMining.net. I've been using them over 3 years and they are becoming on the top websites that you can safely put your rigs to mine. SimpleMining charges 2$ per month on monthly bases, so it is not much, right?
You need to go and download flashing utility etcher, after that you need to download their OS, which you can find in their website.
This is full info on what you need to know, as you can what GPU cards they support at the moment.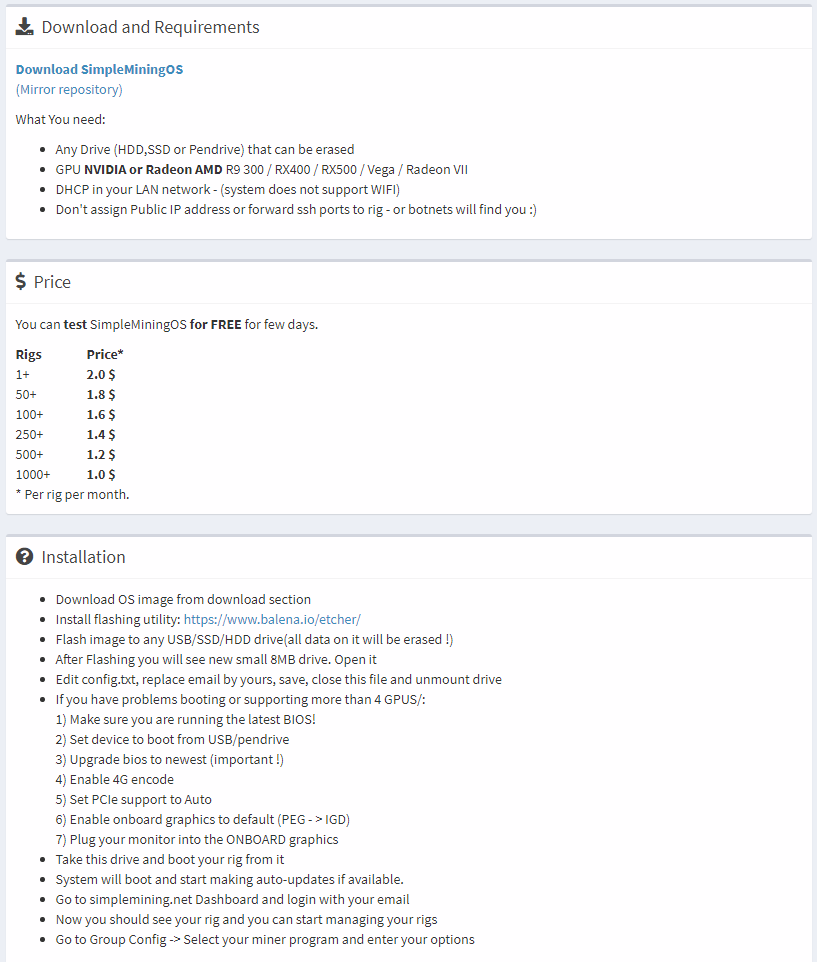 Now you've sign-up with them and flashed their OS with Etcher on your USB, the next thing you need is a pool, and I recommend Ethermine.
Here will show you on what mining server you need to connect your rig.
After that, you need to go to group settings in SimpleMining, Add Group, select the latest Claymore for Ethereum, and in miner options, you can put this:
-epool eu1.ethermine.org:4444 -ewal YourETHAdress.$rigName -epsw x -tstart 30 -tstop 75
I'm from EU, so if you are from USA, should look like this:
-epool us1.ethermine.org:4444 -ewal YourETHAdress.$rigName -epsw x -tstart 30 -tstop 75
The Tstart and Tstop are if your rig start's overheating this way automatically will be powered off.
After this you go to rig list, remember to have your rig connected to the internet via the network cable, so the simple mining can pick it up, the rig will show up and you select the rig to go to Rig Actions, group config and select the new group you just created. It is that easy.
Now, you've set-up your rig with Ethermine pool, next thing you will need to do have is a wallet. I recommend using Exodus, they are safe and can serve you very well. You can control multiple coins with them and they have perfect security protocols and update the program regularly.
Now you have your rig set-up and start mining, you wanna get your coins turned in cash, so what you do? You can sign up for ePayments or CoinBase. ePayments serve as a prepaid card that you can within 10 minutes have your ethereum loaded there, you can use their prepaid card or you can have them send over to your bank account, and coinbase is perfect if you wanna trade your Ethereums to other altcoins or bitcoin.
Luckily for you, I've got you covered for this, I've made an awesome review for both of them on how to use and what purpose both of them have. You can the review for ePayments by clicking here, and you can read the review for CoinBase by clicking here.
FAQ:
Can I use cloud mining sites?
– Most of them are a Ponzi scheme, there are some of them that exist for a long time but stay away from them cause the profits are really low and the margins that they have is always to benefit them. So build mining rigs if you can.
CPU Mining?
– Not worth it, GPU's are a lot faster and you can earn much more with them. As far I'm familiar CPU mining is not profitable anymore. GPU's can be 200x faster than the CPU.
Conclusion
Note that I didn't cover the bios changing of the graphics cards, there are many graphics card and I don't want to confuse with some stuff, if there is huge interest in that I will gladly make a new post or update this one, I didn't mention also the overclocking the GPU's on simple mining, because on each card is different. Let me know in the comments below if you need any more info's that you are not familiar with, I'm glad to help since I have a lot of experience with this! Happy Mining guys!