This will be a complete guide on how to make money woodworking and to be successful. I love woodworking. I've said it many times in my blog posts because you creating something that is useful and lasting. You can decorate your house however you want.
The best thing about woodworking is that there is always something new to learn as a woodworker.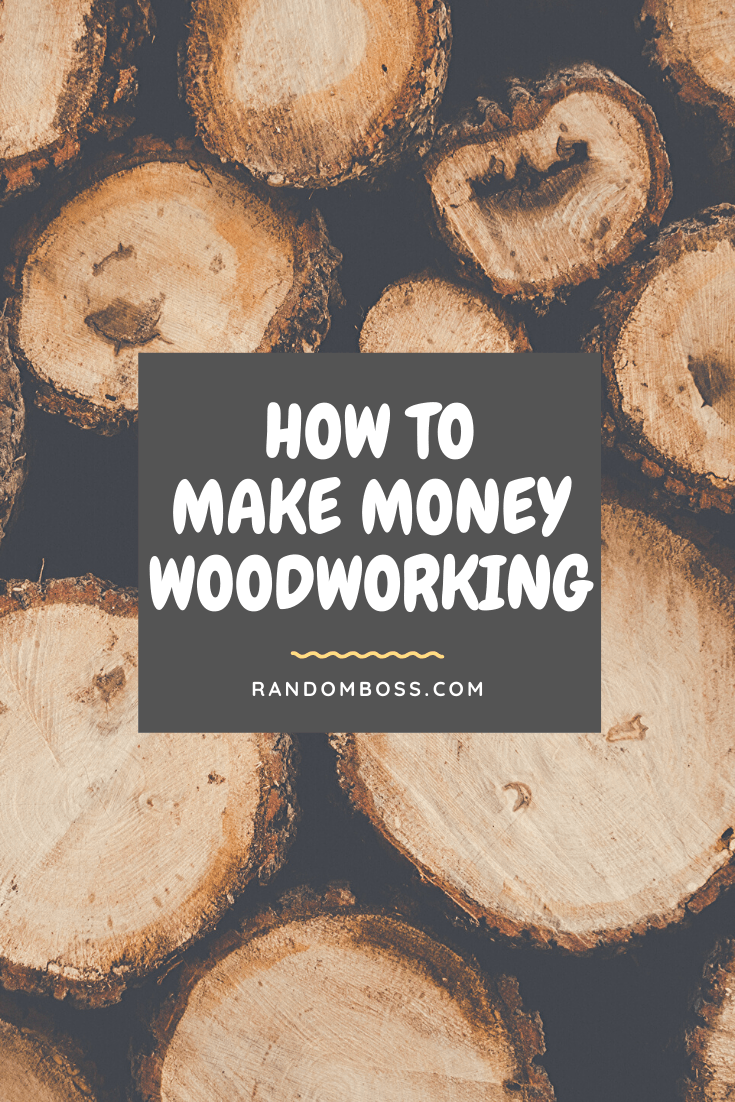 Woodworkers know that woodworking relaxes, helps with focus and it helps you bond with your family much more. But you may be asking, how to make money as a woodworker today?
In this guide, I will help you in different ways on how to be successful in the online world as a woodworker. You can choose to do it part-time, and after a while, the income is big enough, you can choose to quit the regular job and do it full time.
1. Start a Blog
Why you should consider seriously learning how to start a woodwork blog? The benefits are huge, but it will require hard work at the start. Starting a woodworking blog is one of the best ways to express yourself and your skills.
It will help you greatly to gain confidence and improve your writing skills as well. You will meet similar minded people that are in the woodworking and it can create big opportunities.
You can learn new ways of creating woodwork projects and you will be the one doing the work and reaping the rewards.
As the great Warren Buffett said, the best investment you can make is an investment in yourself.
So how to start a blog?
Firstly, I highly advise my readers to avoid using free platforms like weebly.com or blogspot.com, your blog will be a subdomain and its readers don't trust it. If you use a blog from these platforms it will be free with ads that they will profit on and it can be easily shut down.
The best way to start a blog is with your own domain and hosting. I highly recommend getting a .com domain name, you can use your full name.com or namewoodwork.com, or maybe woodworkbyname.com.
You can build a personal brand in the woodwork community.
Choosing the right hosting is crucial, you want a web hosting that the loading time and uptime are awesome. Studies have shown that websites that took 3 seconds to load or more, visitors leave. It is important to start with the right web hosting. Which one is the right hosting?
Usually, a domain name could cost up to $15 per year, and monthly hosting can cost up to $10 per month. This can be a lot for some people, that's why I have a special deal for you.
For as little as $2.95 per month, you get a FREE domain name for one year, FREE SSL certificate that protects visitor data, amazing security features with 24/7 educated customer support with 60% OFF on hosting. This is a deal that you don't want to miss.

When you open the BlueHost homepage, click on Get Started.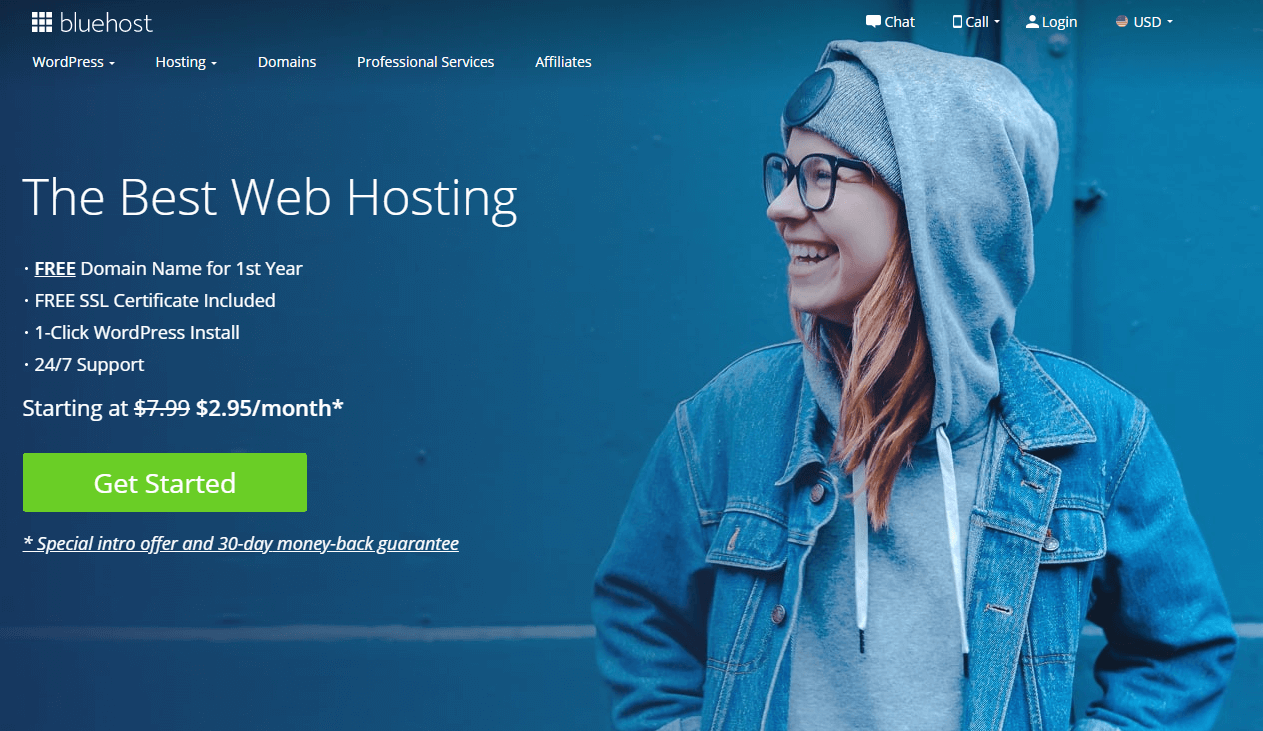 You will see the available plans, you can choose the Basic plan, it is a great way to start you get 50 GB of SSD storage and unmetered bandwidth. Upgrading to a bigger plan is easy if you need more resources later without any downtime of your blog.
You can choose to pay for 1, 2 or 3 years of hosting. If you choose 36 months you will get the lowest possible price, but if you are a budget and opt in to pay for 1 or 2 years, the price will slightly rise. Paying for 36-months will ensure not worrying about hosting bills in a long time.
BlueHost offers a 30-day money-back guarantee, so you can consider this like a trial if you are not happy with them you can cancel at any time with no questions asked. Great deal to start a woodwork blog.
2. Learning from an online course to make $90-150k yearly
This is a step-by-step course that will teach you how to make money woodworking business from home, with very minimal capital.
This is a great way to add extra income by turning your passion into profits from working in your garage.
You don't need to be a professional woodworker with a huge workshop with very expensive machinery to be successful. You don't need to be a risk-taker to start as well.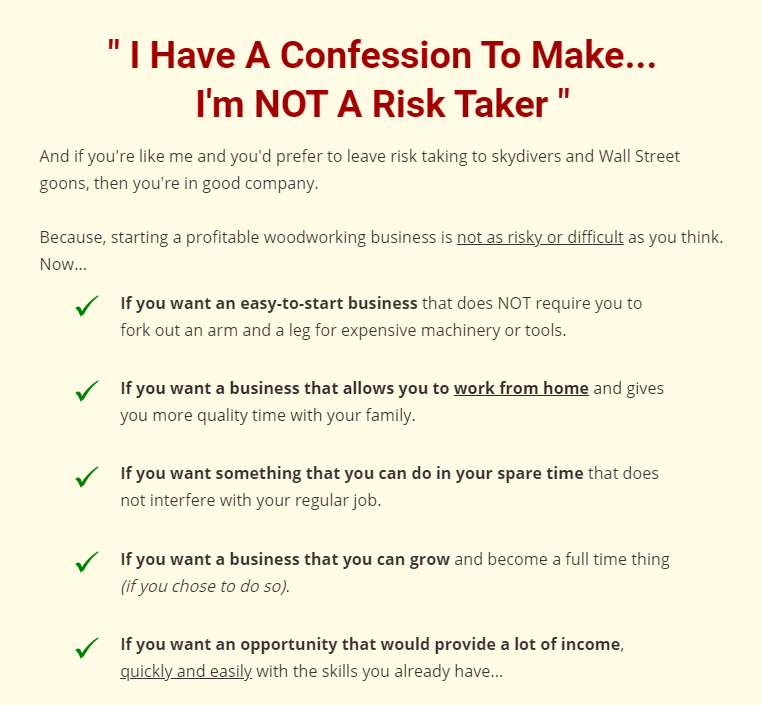 Learn more about Jim Morgan and how he managed to start a woodworking business at home.
3. What wood projects sell the best? How to get more plans?
Most Profitable Woodworking Projects to Build and Sell:
Wooden Utensils
Dog Beds
Shelves
Wooden Kitchen Utensils
Picture Frames
Wooden Toys
Wooden Furniture
Birdhouses
Corner Wall Shelves
Wooden Pallet Christmas Trees
Wine Racks. They are not only sturdy, but they also look phenomenal in your home.
Skateboards
Guitar stance
Wooden accessories
Wooden knives
Bookshelves
These are some examples of what are the most profitable and the best woodworking projects you can build and sell. Starting a Woodworking side business can be very profitable in this big niche.
Where you can get more woodworking plans?
Ted is very famous when it comes to the woodworking community. He has built over 16,000 woodworking projects for you detailed on how to make.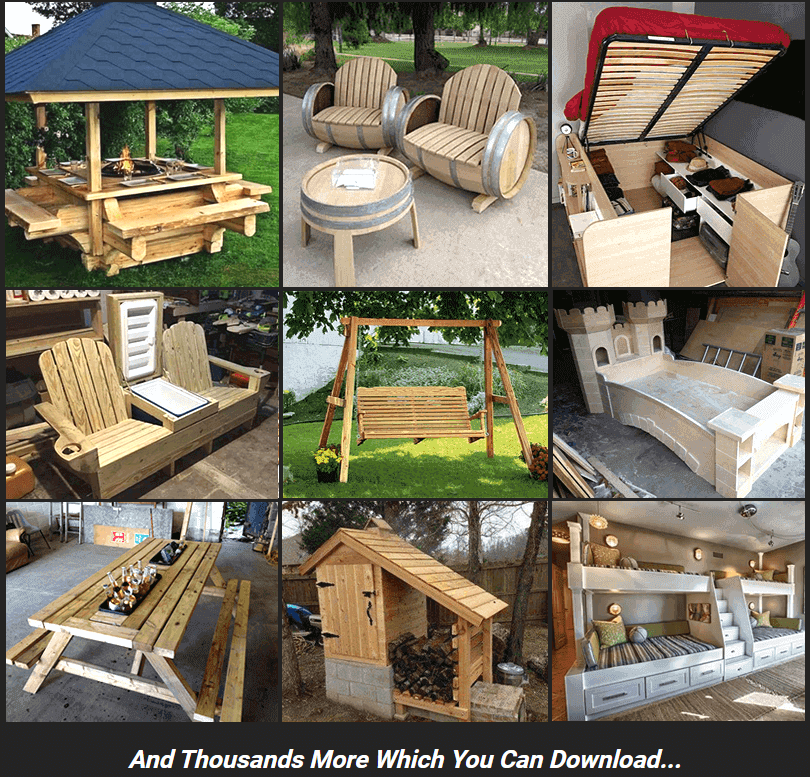 Shed Plans
If you want to build something on the weekends then it is a great idea to build something in your yard.
You can build a shed in the easiest, most inexpensive and the fastest way possible. Your neighbors and other woodworkers will envy you if you build something like this: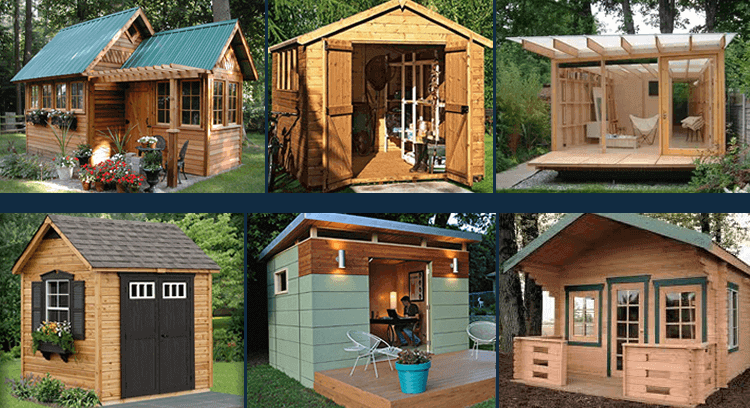 You will get the views of all angles with every detail (woodwork projects for beginners):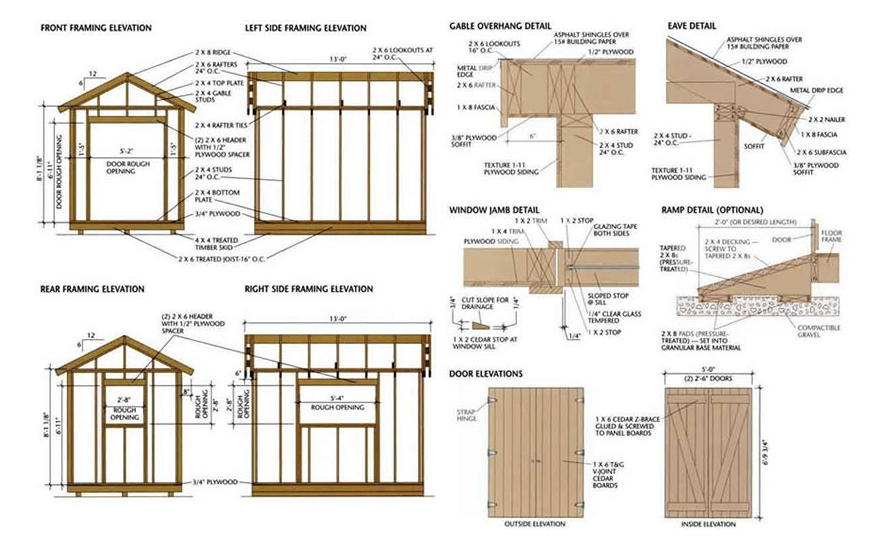 Click here to find out more about 1000 shed plans.
Boat Plans
If you are a big woodworking lover then why not making a wooden boat?
The master boat builder, Martin Reid will teach you how to build amazing boats with over 518 step-by-step plans, you can see over 40 boat video tutorials and clear photos to guide you every step of the way.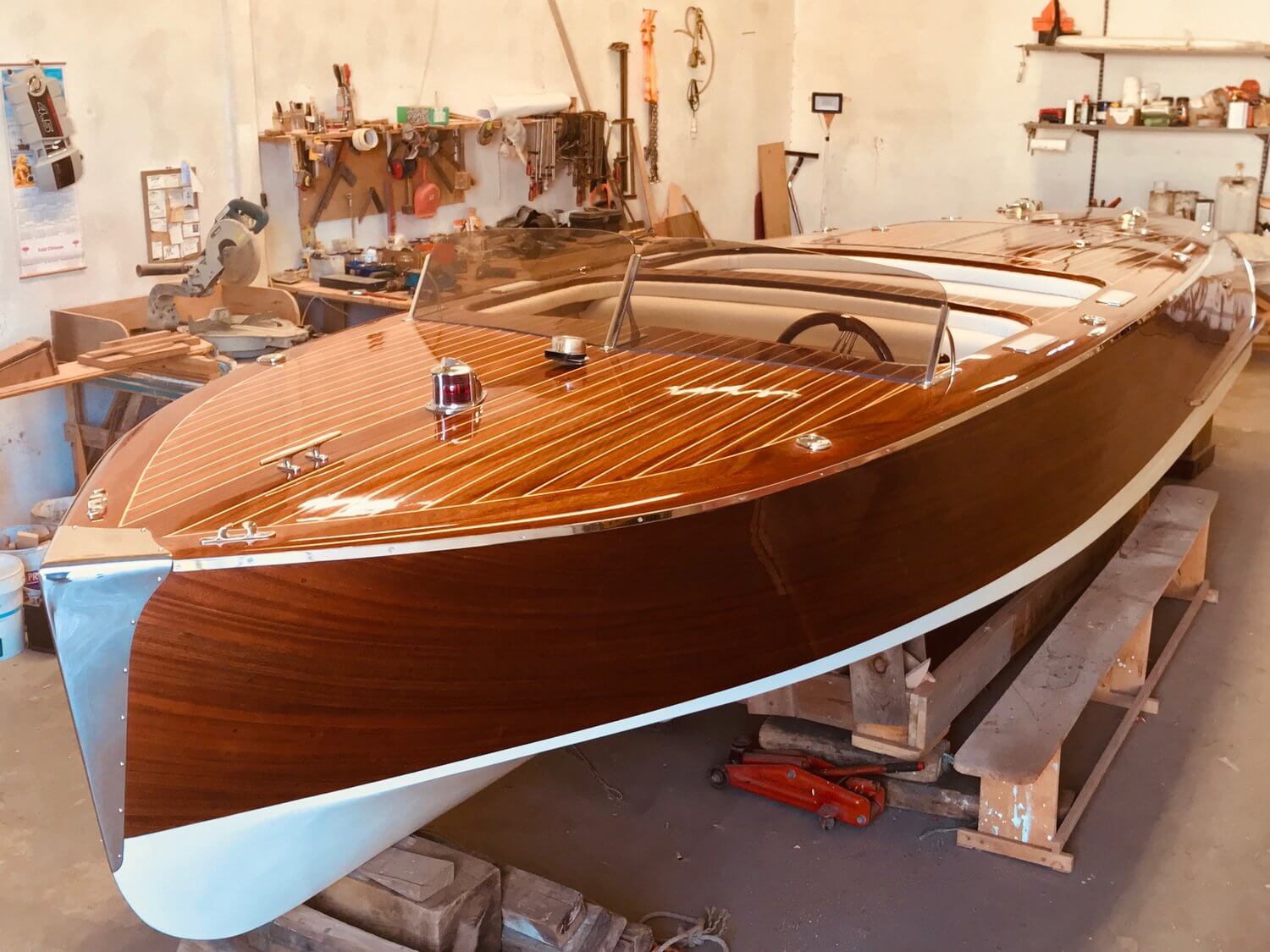 Click here to find more about Wooden boat plans.
3. How to Start a Woodworking Business and how to Promote it?
Instagram
The best platform to promote images and videos from your woodworking builds. There are a lot of woodworking accounts that will promote your woodworking projects and help you build your Instagram account for a small fee. Check my guide on how to make money with Instagram.
Pinterest
People love Pinterest. It should by my number 1, there are a lot of people trying to learn more about Home decor and DIY in general. You can help people in the Pinterest community and grow your Pinterest account to millions of monthly views. People bring traffic from Pinterest to their blogs and that number can be in millions.
Learn more about Pinterest and how it works.
YouTube
This is a great platform because you teach people and earn money with ads on your videos. You need to have 1,000 subscribers and 4,000 watched hours to be able to monetize your YouTube channel.
You don't need to show your face if you don't like, you can show how you create your projects from start to finish.
4. How to Make Money Woodworking and sell your Builds?
You can start a Shopify store and build a store of the woodworking items you make.
There are a ton of examples of good stores online that sell woodworking equipment and woodworking stuff to help you improve your workflow.
I have a detailed guide on how to make money as a woodworker on Shopify, click here.
Check this Woodworking store if you need more woodworking products.
What products should I build?
Try making products that are well made and useful to solve problems for the end-users.
Make sure that the woodwork products are priced fairly for the creator (you) and for the customer. Don't cut everyone else and devaluate products worth.
5. What to do if you still don't have a functional workshop?
Ralph Chapman has built a great workshop under $1000.
He has a complete guide to building a complete woodshop that will include everything at the lowest price.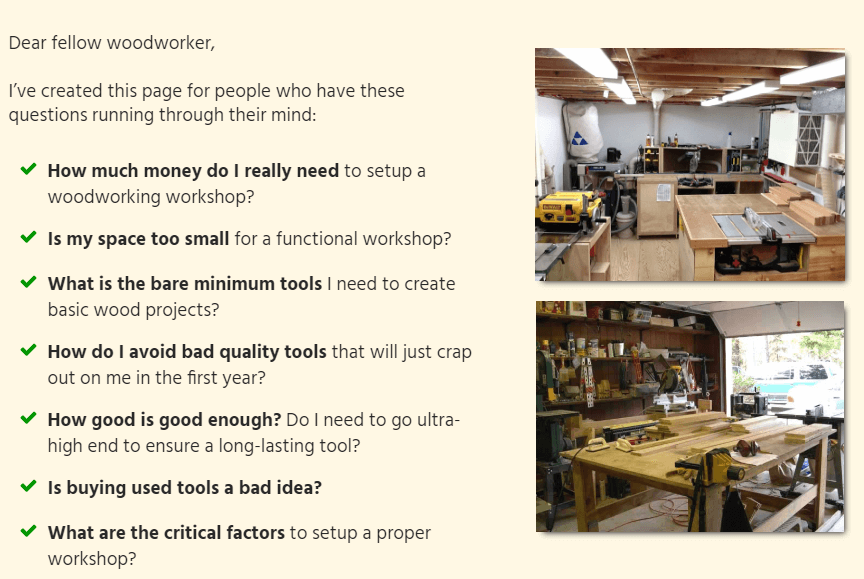 Learn how to start a small workshop at home.
How to Make Money Woodworking – Conclusion
Hopefully, you enjoyed this guide on how to make money as a woodworker. I love woodworking and I follow the most amazing Instagram accounts for new ideas on build plans.
You are covered in a lot of topics on how to make money woodworking, woodworking plans, shed plans, how to build your own home woodwork shop under $1000.
Woodworking is really popular blogging niche, and it has really big potential. People wanna learn more DIY and this is where you can come in to help.
You can start building your audience by building a blog and publicly share everything regarding woodworking, projects, opinions, best products to work with. There are a lot of money making woodworking ideas in this niche, and we covered most of them.
It will help readers learn more about woodworking and they can learn from your mistakes and by doing this you can build a big audience with people that wanna learn.
Let me know if I missed anything in this guide on how to make money woodworking, I'm happy to include more things to help woodworkers.
Disclosure: Please note that some of the links are affiliate links and at no additional cost to you, I'll earn a commission. When you purchase something using my affiliate links, they compensate me, which helps make this guide free of charge to you and ensuring you to get the best possible deal. I only recommend services that I've personally used and stand behind.