This blog post will help you learn how to speed up a WordPress site and get the best performance so your readers can have a great experience on your website.
Your website is slow? You are losing traffic and losing rankings? The bounce rates are sky-high? Reading this blog post to the end will help you solve all these issues.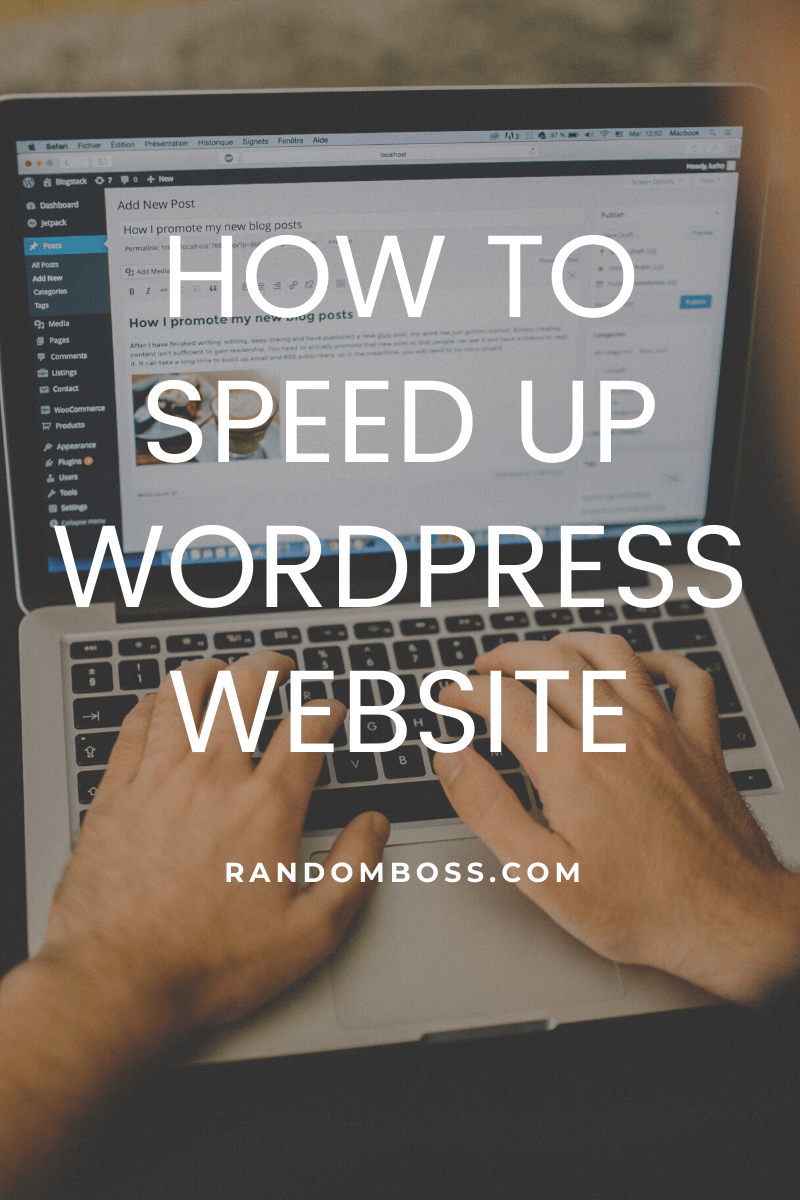 [bctt tweet="How to speed up a WordPress site and performing it at 100%? This guide is helpful." via="no"]
Users now won't wait to see your blog if it takes a lot of time to load, and every second count. People have low-attention spans so it is up to you to capture it the fastest. Not only that you will lose traffic but it can also hurt your conversion rates if you don't optimize your WordPress site for speed.
Having a faster WordPress site will put in the top 5% of all websites online, and that's how you can have better success. Google will always favor the fast and secure websites. It is all about quality today.
It is important to focus on speed and responsive design, it will be much easier to get higher rankings this way. You will learn how to improve website loading speed and how to see an increase in SEO rankings. Now, let's focus on how to speed up a website.
1. Web Hosting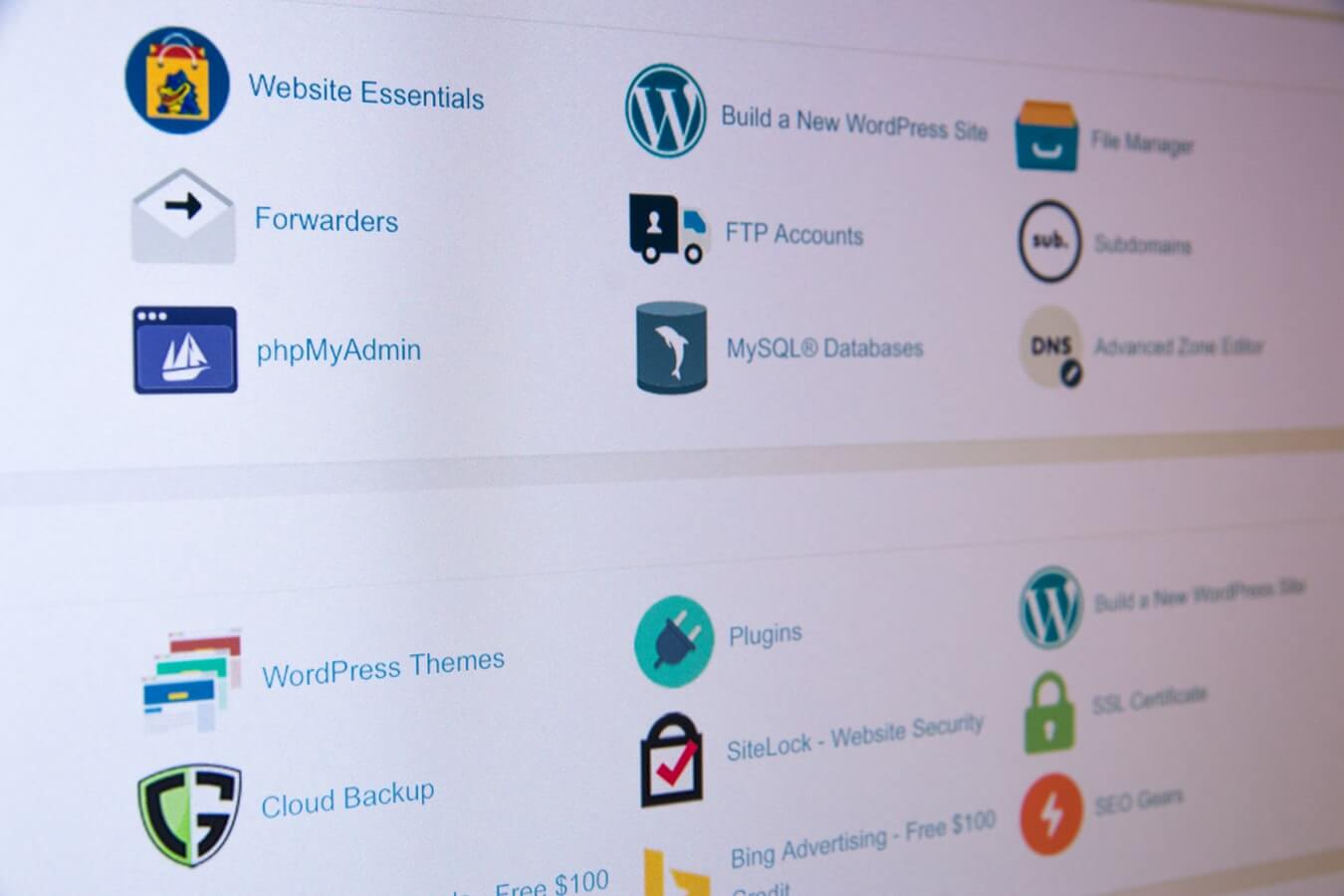 I've seen so much quality blog posts that miss out on ranking higher on Google because of using a poor web hosting. Studies have shown that if a website takes 3 seconds to load or more, visitors will leave. This means you are leaving a lot of money on the table and subscribers, leads, and targeted readers as well.
Maybe when you first started you decided to use the cheapest web hosting ($10/yr), and now all you need to do is publish content. WRONG!
Just increasing your speed of a WordPress website can lead up to a 200% increase in sales, subscribers, and readers.

I managed to get RandomBoss.com to load in 0.6 seconds when I started using Hostwinds. If you are an established blogger, and your blog is slow to switch to Hostwinds or SiteGround.
SiteGround is really good if you own multiple domains, and it is pretty expensive but worth it if you decide to pay 3-year deal upfront.
Hostwinds is better for people for under 5 domains, and the Ultimate shared web hosting is just $5.17/month.
Both web hosts do free migrations from your previous web hosting, SiteGround only does free migration for GrowBig plans and up-tier plans. For the cheaper plan, you will not get a free migration. Hostwinds does it for all web hosting plans.
Hostwinds offer a free domain name while signing up for web hosting with them, so you can benefit from that. Click here to start with Hostwind and get a free domain name.
SiteGround is better for more established bloggers that already have funds, and if you signup for GoGeek plan, you will get the best performance on your websites. Click here to start with SiteGround.
Note: If you buy more years of hosting, the discount rates are better. When the second bill comes, the renewal prices will be higher.
2. Caching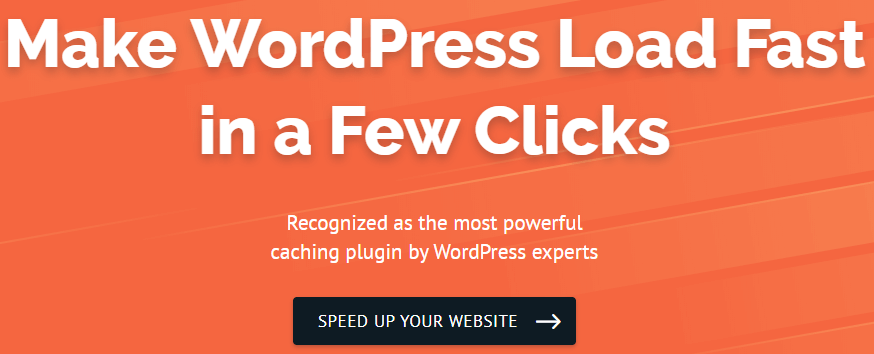 This is the second step in learning how to make your website faster. It will give you excellent performance and will help your web hosting a lot, it will offload some of the work that web hostings do.
It will allow your visitors once they open the site for the first time, to cache the content locally, and in the next visit, they will open the website very quickly.
You should look to improve your loading speed with the great cache plugin WP-Rocket. I've also made a review about it and how you can use it, check it here.
3. Plugins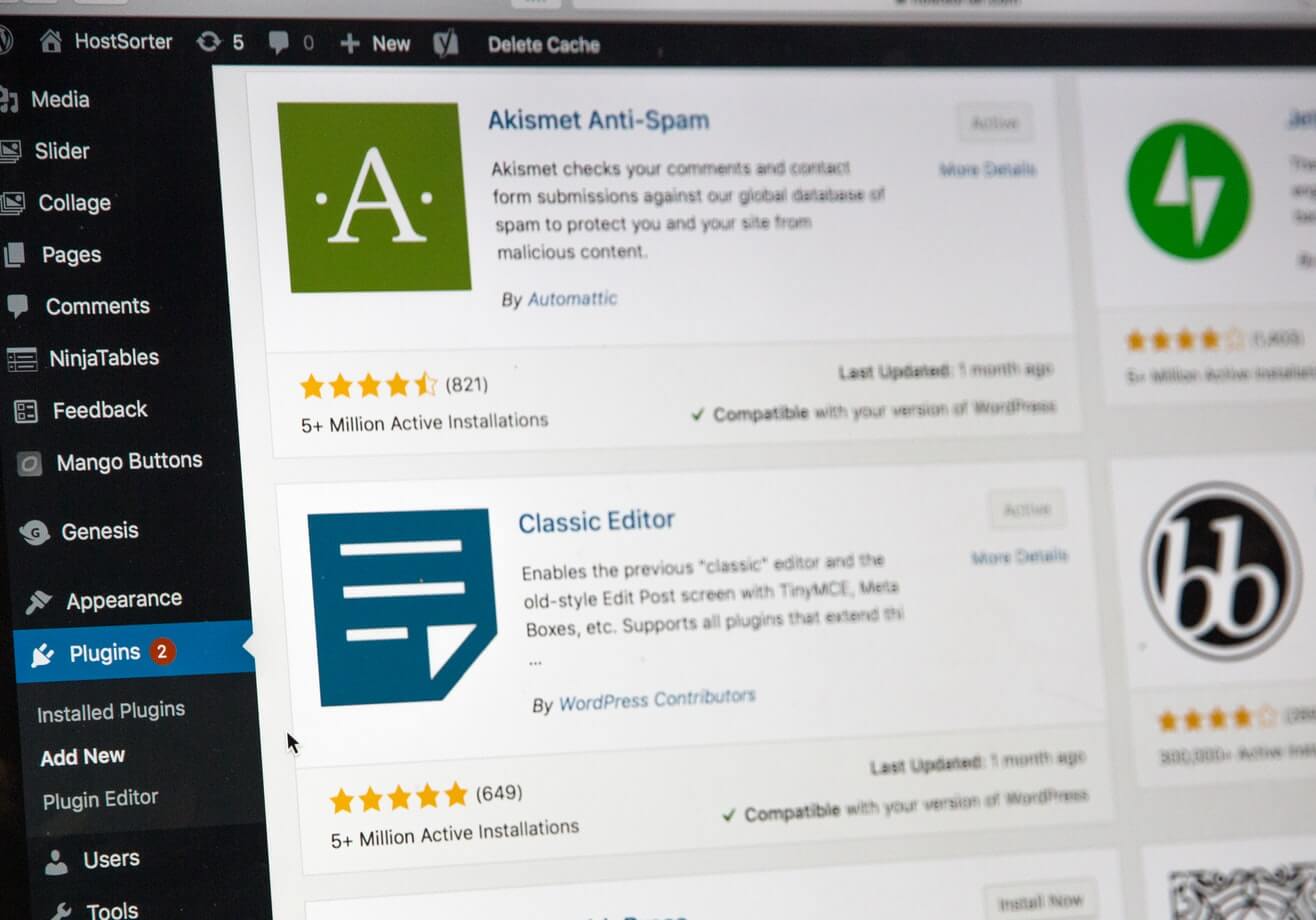 This is another mistake a ton of bloggers do on a regular bases. They install too many plugins, This will hurt your website a lot everything will be sluggish.
If you installed a plugin and you don't like it and deactivated it, delete it instantly. If you don't delete it will still be slowing down your website.
Plugins can:
Slow your website
Hackers will hack it easier
Your site will not be responsive
Installing multiple cache plugins will be a bad idea as well, focus on getting the WP-Rocket plugin so you can avoid installing a ton of new plugins.
Install one security plugin that will make your website safe from spammers. You can also use the Query Monitor to see which plugins slow your website down.
4. Using CDN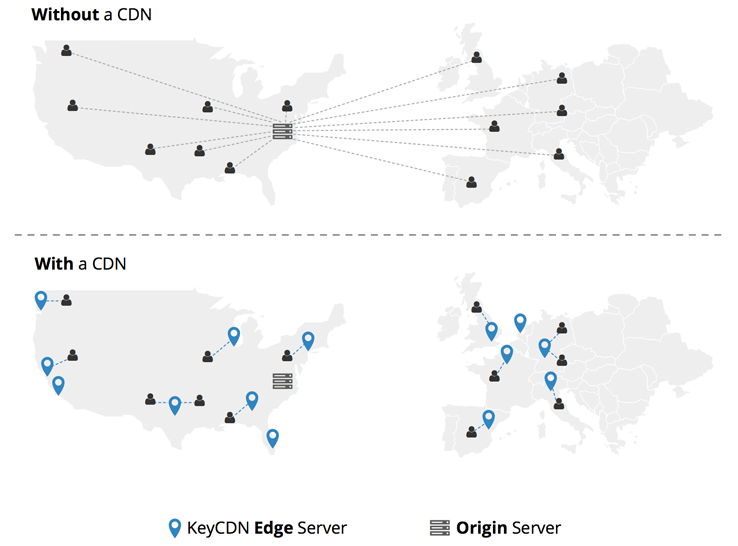 This will reduce the load on the server. It will divide the traffic in different server locations and will reduce the loading time.
It can improve your loading speed up the top 2-3 seconds or sometimes more.
The good thing is that you can register on Cloudflare CDN for free and check it out for yourself. If you really like it you can always upgrade once your website gets more popular.
WP-Rocket will allow you to integrate a CDN provider really easily.
5. Optimize your images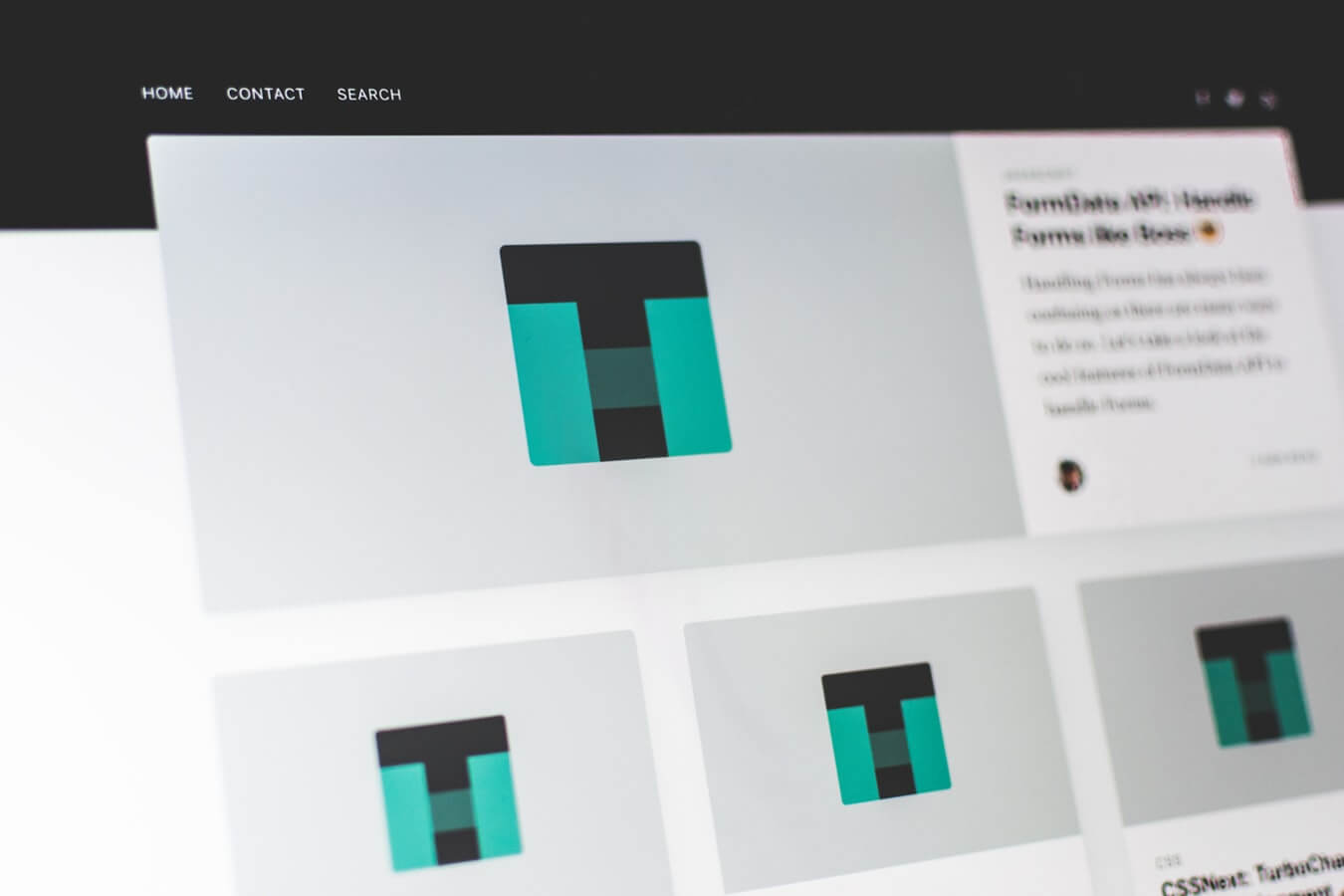 Everyone uses images for their blogs, but they can take a lot of time to load sometimes. How you can compress them?
You can use a website like tinypng.com to compress each image before you upload on your website or if you don't have money to invest in WP-Rocket, then you can install WP-Optimize it can compress all the images you have on your blog for you.
This will increase your loading time. Make sure to use ALT attributes for all of them, it is better for On-Page SEO.
6. Fast WordPress Theme
This is very important as well. You should always aim to use a theme that is simple and it is not heavily coded. The heavy code themes will affect your rankings, they have a lot of featured sliders and are not loading fast.
Make sure to make your blog looking simple, make it SEO-friendly, easily customizable, and clean coded as well.
For established bloggers, I would recommend you using the StudioPress WordPress Themes, they are awesome and a lot of celebrities use them.
It will give the users the easiest way to navigate within your website and it will speed up the WordPress site as well.
7. Regular updates
It is important to always update the WordPress, the theme and the plugins. Make sure you are using the latest PHP from your host. You can contact the support team of your web hosting to update to the latest PHP.
It will help you reduce the plugin vulnerability as well. Keep minify CSS and HTML with your cache plugin.
[bctt tweet="Here is how to speed up a website with these 7 simple techniques… " via="no"]
Bonus
Make sure your website is optimized for mobile. If it is not you will have problems ranking. 50% of Google searches come from mobile users. You can test your website if it works great for mobile on Google mobile test.
You can also see how it looks on every phone and different screen sizes as well, click here.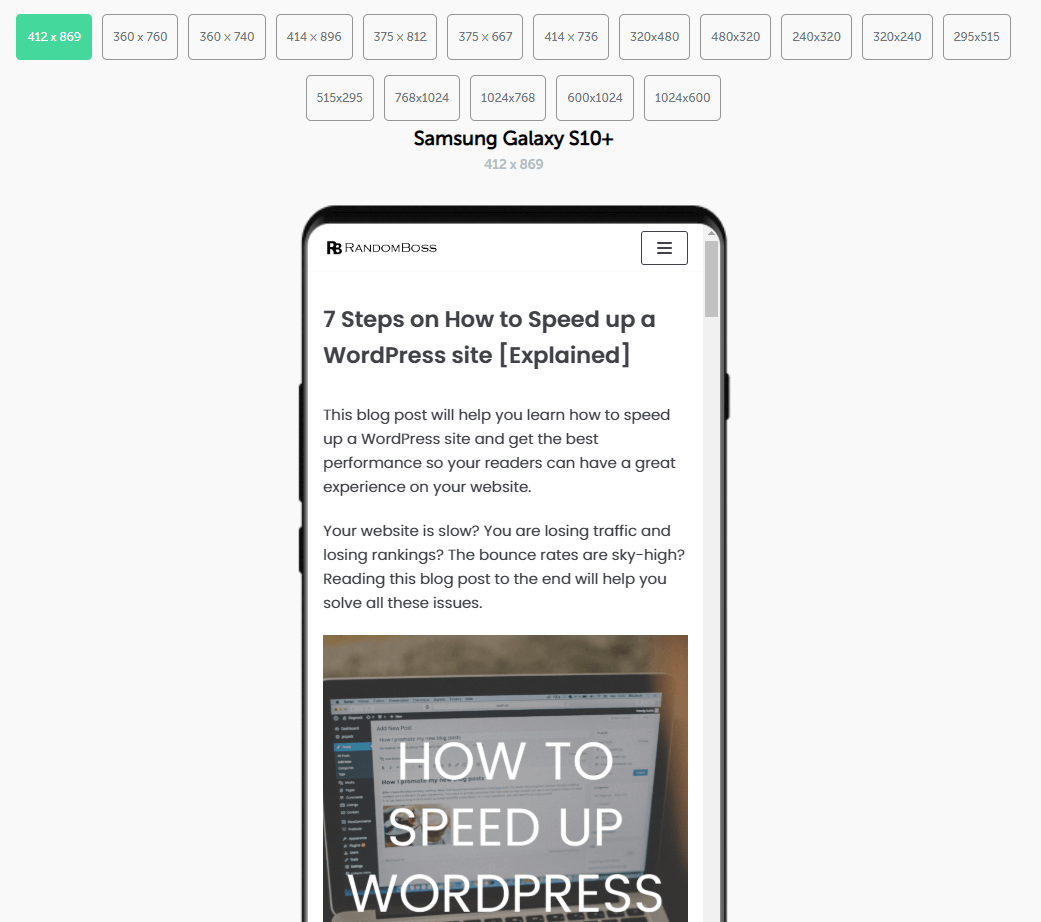 It looks pretty good on the phone and my blog is very well optimized for mobile phones. You should focus on implementing the steps above to allow you getting the best performance for your website.
Conclusion: 7 Steps on How to Speed up a WordPress site
Before applying any of the steps above, make sure to test your website loading speed on a website like GTMetrix.com.
Take a screenshot and after you complete the steps you can see how far did you go and how much you improve your loading speed.
You can see where you need to focus and what you need to work on. This worked for me and I learn a lot on how to speed up a website over the years. If these simple techniques don't work for you, contact me so I can take a look.
Hopefully, this blog post on how to make your website faster helped you get the best performance for your website and everything worked fine. Let me know if I missed anything or how can I help in the comments below.
Related blog posts:
Best Cache Plugins for WordPress
Best 6 SEO Tips for ranking
How to make Passive Income
Frequently Asked Questions [FAQ]
How to reduce page load time in WordPress in the easiest way possible?
Install cache plugin, database optimizer plugin and use CDN. This is the fastest way to see results.
How to fix add expires headers in GTMetrix?
Install a plugin called Self Hosted Google Fonts, and you need to enable it only.
Do the ads slow down a website?
Yes, if you can fix the site before placing any ads to it. This will help you see how much progress you can make, if you have an already established website, then don't remove ads.
Does WooCommerce affect the loading speed?
Yes, this plugin will slow your website down, and many plugins also required with it. You need to invest in plugins like WP-Rocket so you can have a faster cache plugin with a lot of features.