This is by far one of the most extensive guides on how to start a music blog the right and successful way. When you are starting a music blog you can look at a lot of fun times ahead because you will do things that you love to do.
The best thing about blogging is that you can work from home and schedule your time. People usually start blogging as a hobby, but after a while, they are amazed by the opportunities they get.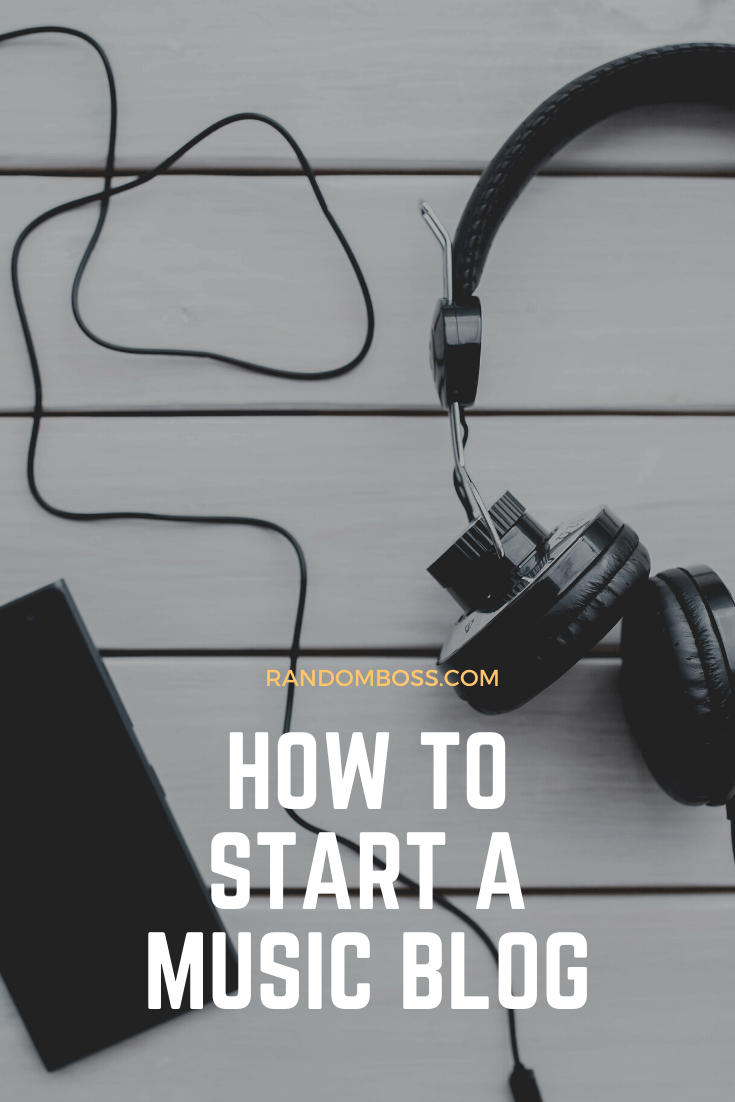 Starting a music blog is much easier than most people think, technology today is so much better than it was years ago and you can start without any coding skills required. All I need is your focus for 30 minutes to make something that can last for a long time.
There are 2 ways to start a music blog, free, and paid method. I do not recommend the free method, why? You will not have control over your blog and someone like weebly.com or blogspot.com can be able to run ads on your blog, plus it will look like musicblogging.weebly.com, it is long and not attractive. They can also shut down your site at any moment if you make any mistake.
The best way to start is to create something that you will have full control over, and that's it your own domain and hosting, so keep reading to get to know how to start a music blog successfully.
1. Getting a domain name and hosting
I know finding a good name for your blog can be tricky, but you can go with something that is easy and catchy to remember. I also highly recommend getting a .com domain, it is more trustworthy for your visitors.
You can name your blog fullname.com or namemusic.com. Please avoid using numbers, hyphens, and other special characters.
What about hosting?
Getting a hosting that will have a great loading time and uptime is crucial to run a successful music blog online. The best way to go about is to have them in one place, you can always be updated on the same place about billing.
Usually, a domain name could cost up to $18 per year, while web hosting to store your website data could cost up to $10 per month. I know this can be a lot fo some of you, that's why I have a very special deal for you.
For as little as $2.95 per month, you get a FREE domain name for one year, FREE SSL certificate that protects visitor data, amazing security features with 24/7 educated customer support with 60% OFF on hosting. This is a deal that you don't want to miss.

When you open the BlueHost's homepage, click on Get Started.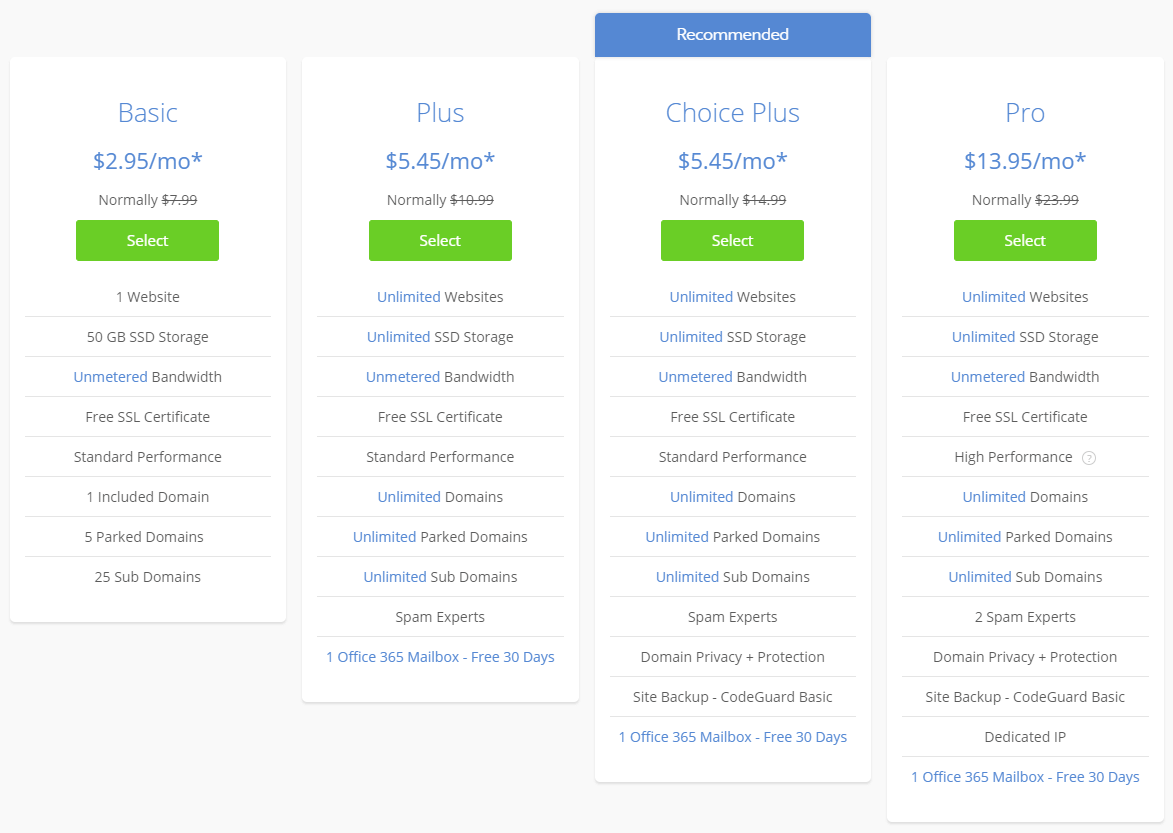 Starting with the Basic Plan
The best way for a beginner to start a music blog is with the Basic plan on BlueHost. You will get a pretty good deal of 50 GB of SSD storage and unlimited bandwidth, and you can also always upgrade once you reach 25,000 visitors a month without downtime.
The 36-month deal will give you the lowest price for hosting, so you don't need to worry about hosting bills. If you are on a budget, you can opt-in for 1 or 2 years of hosting, but the price will be slightly higher.
The best thing is that Bluehost will give you a 30-day money-back guarantee, and if you don't like something, you can always get a refund. This is an amazing deal for starting a music blog with BlueHost.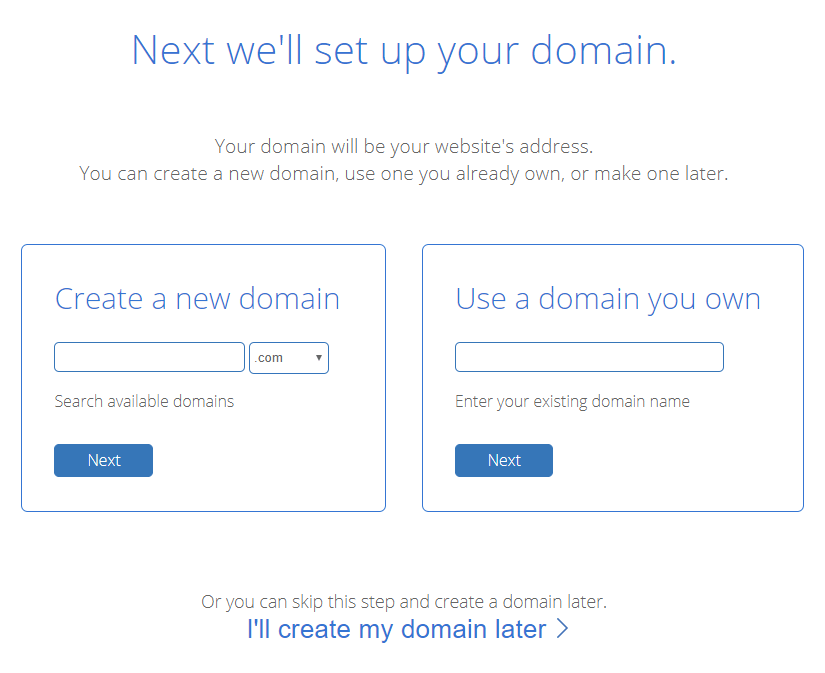 Type the domain name for your music blog, or you can also choose to add it later and click I'll create my domain later.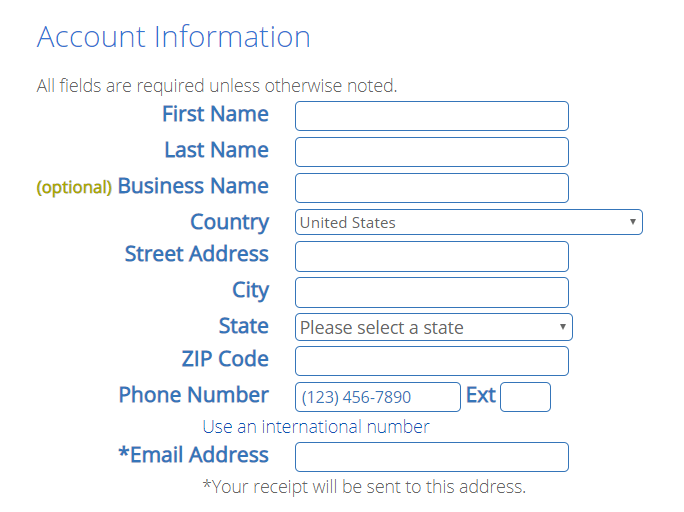 In the steps above, you need to fill your REAL privacy data. Also, I would recommend you to get domain privacy so BlueHost information will be public and not yours. If you are on a budget, you can always pay for domain privacy later.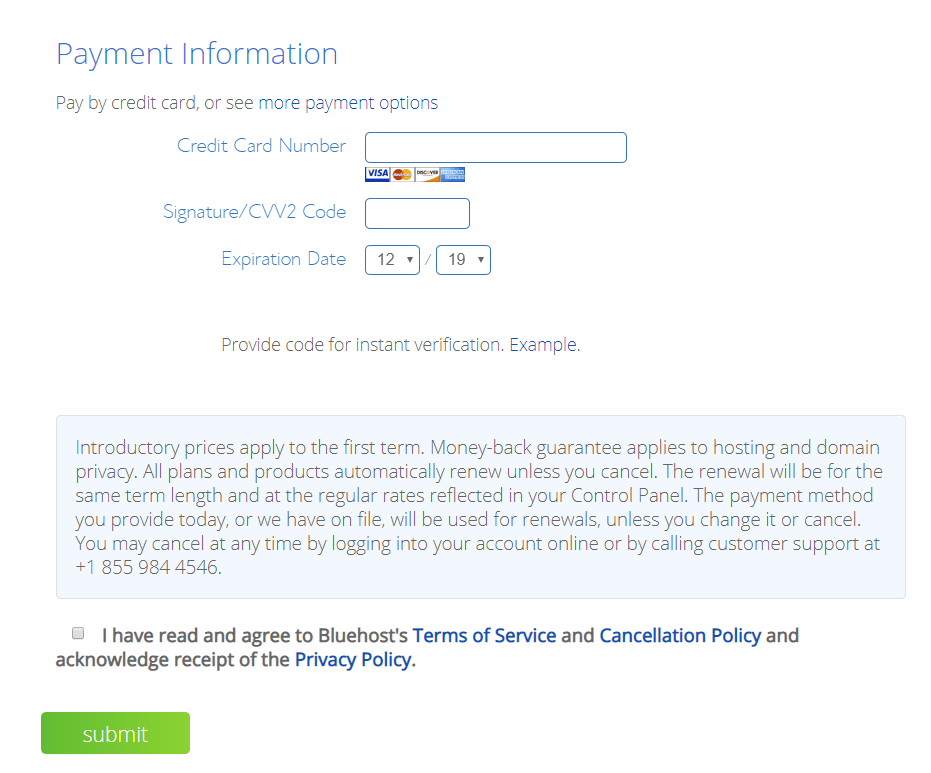 Tick the box that you are agreeing with BlueHost's terms of services and hit the green Submit button.
Congrats on learning how to start a music blog!
Click here if you haven't started already.
The next step is installing WordPress (CMS), and BlueHost makes things much easier.
Disclosure: Please note that some of the links are affiliate links and at no additional cost to you, I'll earn a commission. When you purchase hosting using my affiliate links, they compensate me, which helps make this guide free of charge to you and ensuring you get the best possible deal. I only recommend services that I've personally used and stand behind.
2. Installing WordPress
After the payment is made, you need to pick a basic theme and click on start building.
BlueHost is one of the best at one-click installers, WordPress is user-friendly so you can optimize your blog posts much easier and much faster.
After a minute or so, WordPress will be installed. To log in in your domain, type on your address bar the following: domain.com/wp-admin. For my blog, would look like randomboss.com/wp-admin.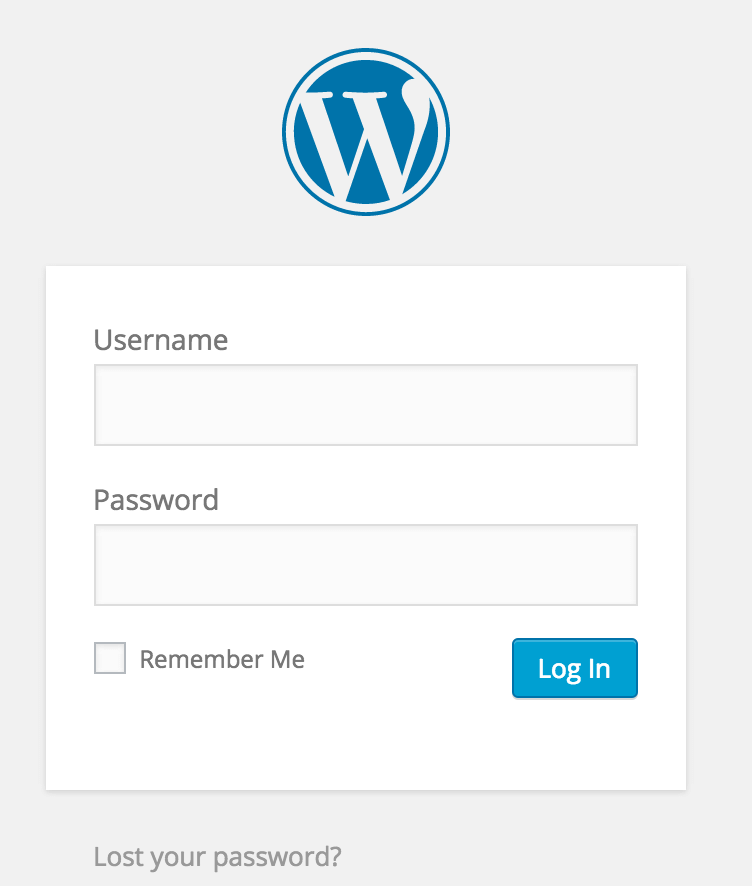 The first thing you should change is the permalinks. Head over to Settings -> Permalinks, and change them to Post name. Your music blog will be much more user-friendly.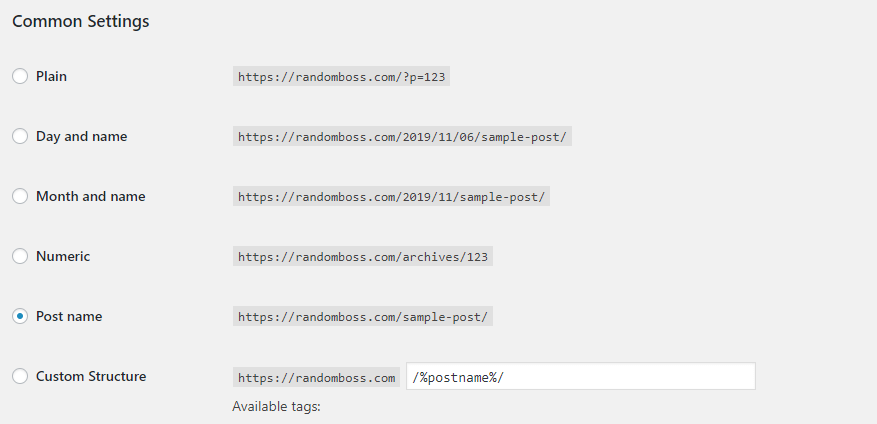 This example of yourblog.com/music-post is better than yourblog.com/2025/01/01/music-post.
3. Install Theme and Plugins
You need to install a theme that will make your blog easier to navigate and have less coding in it, so it can perform better for your readers.
You can search for popular themes on Appearance -> Themes -> Add New. All of the themes here are free, but most of them have PRO features, if you like a specific theme, you can upgrade to its PRO version to unlock the features.
The other way to get a unique theme is to get a paid theme, I recommend you to look into StudioPress WordPress themes. Superb themes, always updated by developers, and are extremely beginner-friendly as well.
A premium theme can cost you around $25-250 depending on its features. The next important step is to install some Plugins.
Plugins
Plugins can be installed on the left side, just point at them and click Add New.
If you wanna have your music blog performing well, you need to install lightweight plugins so it can have an amazing loading speed. The following plugins are the ones you should install.
Rank Math: One of the best On-Page SEO plugins in the industry.
WP Fastest Cache: Great cache plugin to clear cache and minify CSS and JS.
Grow by Mediavine: Your readers will be able to share your posts on social media.
Block Bad Queries (BBQ): It will stop malware.
WP Forms: Great contact form plugin.
Autoptimize: It will optimize the CSS, JS, and your image for fast speed.
Self Hosted Google Fonts: Only needs enabling.
WP-Optimize: It will clean your database (revisions, spam comments, etc).
WP-Rocket: When you install the WP-Rocket plugin, you will avoid installing plugins like WP Fastest Cache, WP-Optimize, Autoptimize, Async JavaScript, CDN Provider, HeartBeat Control, and many more. The best cache plugin that is relatively cheap depending on the features it has, you can get the plugin here.
The WP-Rocket plugin is paid, all of the above are free. Most of the plugins have pro versions, but the free versions do the job just fine. I highly recommend getting the WP-Rocket if you have the budget.
Check my results on GTMetrix:

4. Adding Pages
If you wanna build trust with your readers, you need to build a couple of pages, pages like About, Contact, or Copyright.
About page
If you wanna reveal yourself to your audience, make a great about page to present yourself and how you got into music blogging.
Contact page
If you want other bloggers to get in contact with you or maybe your readers for some kind of collaboration, create a contact page.
When you open the interface, then point at Simple Contact Form, you will see a button Create a Simple Contact Form.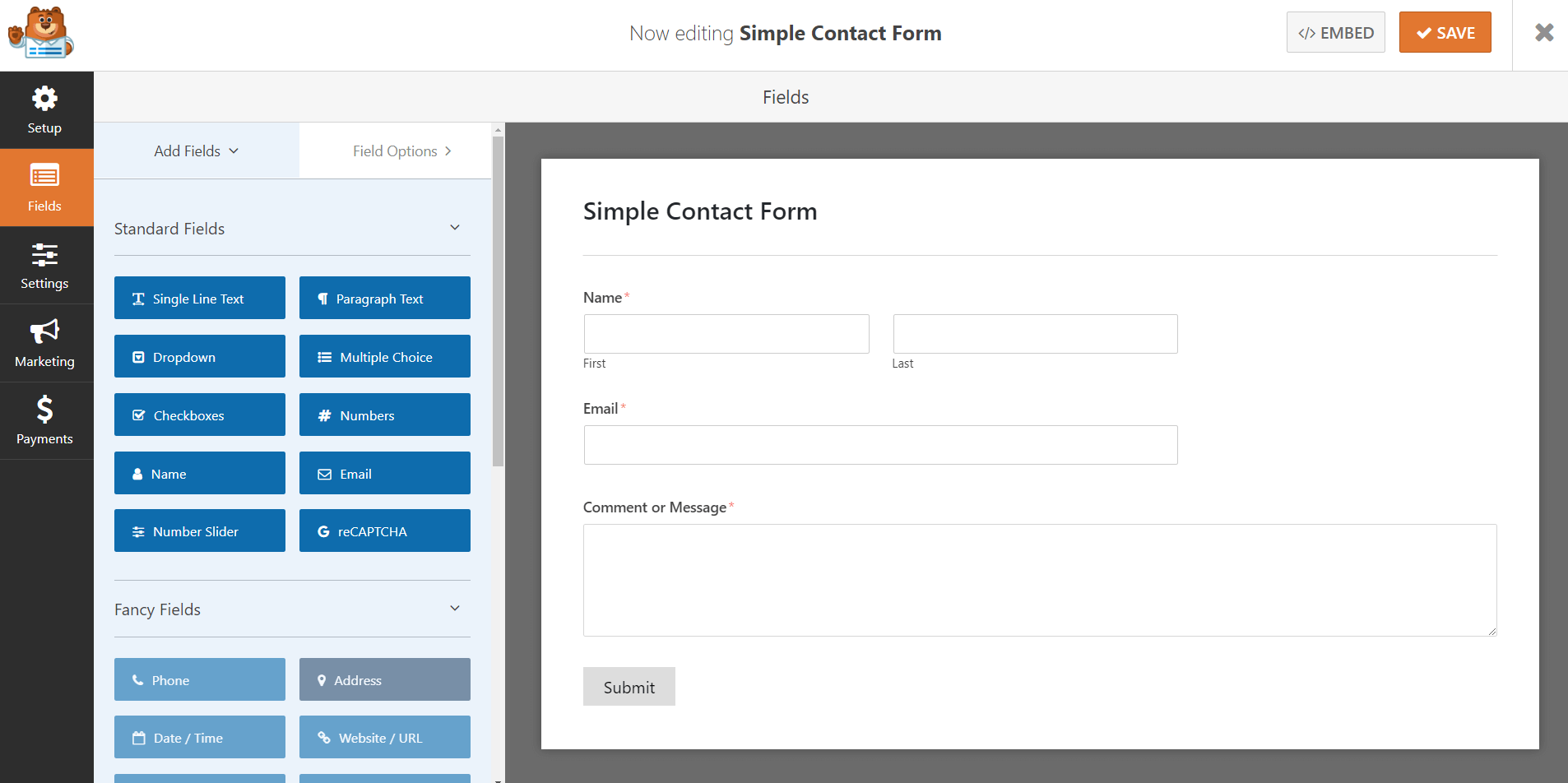 Now SAVE the contact form. Now you can go to Pages -> Add New.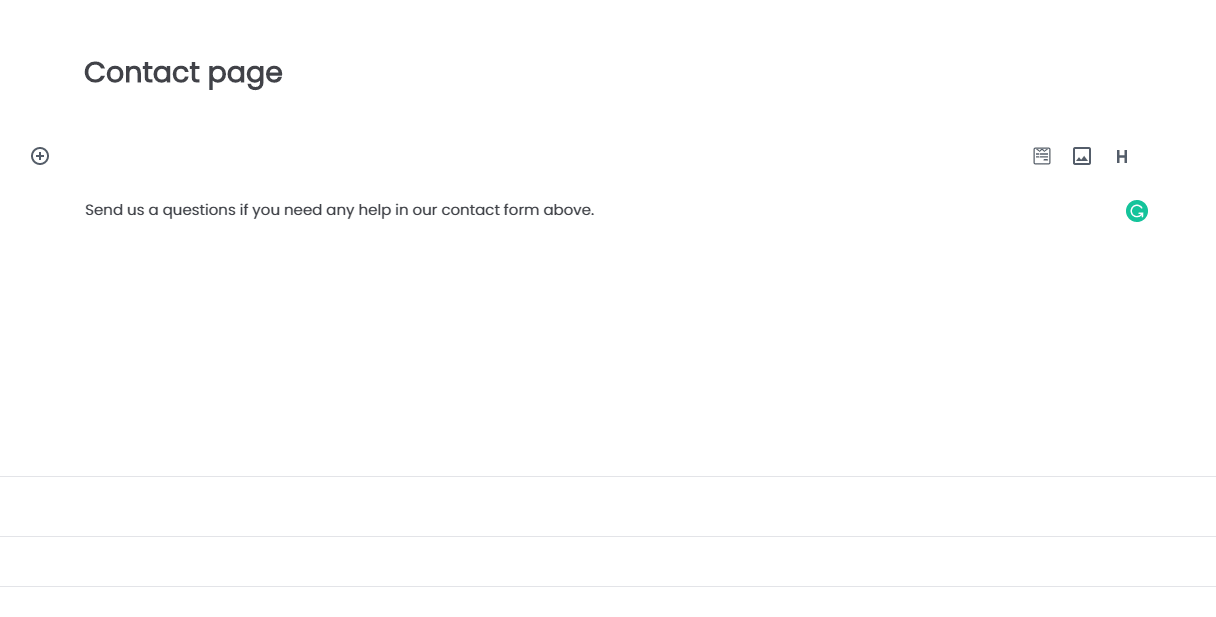 In the videos above, you can see how to create a contact form really easily when you first start a WordPress blog.
Copyright page
If you don't want people to share your content, then write a small copyright page explaining that your content is fully yours and no one can steal it without permission. Also, you can install the WP Content Copy Protection plugin to disable right-click.
5. Writing your first post
It is important to write great headlines that can be engaging so it can increase your CTR, you can use sharethrough.com for headline quality score. Don't make them clickbaity, visitors will bounce out, and google doesn't like high bounce rate.
For images, you can use royalty-free platforms like Unsplash and Pixabay.
You should always search for low competition keywords to write content about, try using SEMRush for searching low competition keywords. A great keyword should be 1000 monthly searches with super low competition that you can target.
Another very important tip is to be consistent, Google doesn't know much about your music blog, that's why you want to be more active and write more content in the first months. Once you have a great number of posts, Google will push your content higher in the rankings and you will see visitors coming in.
To write your first post, point at Posts at the left side of the dashboard and click Add New.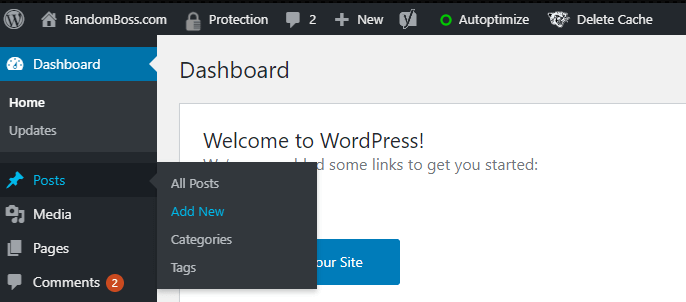 The following screen is where you write your content and headline.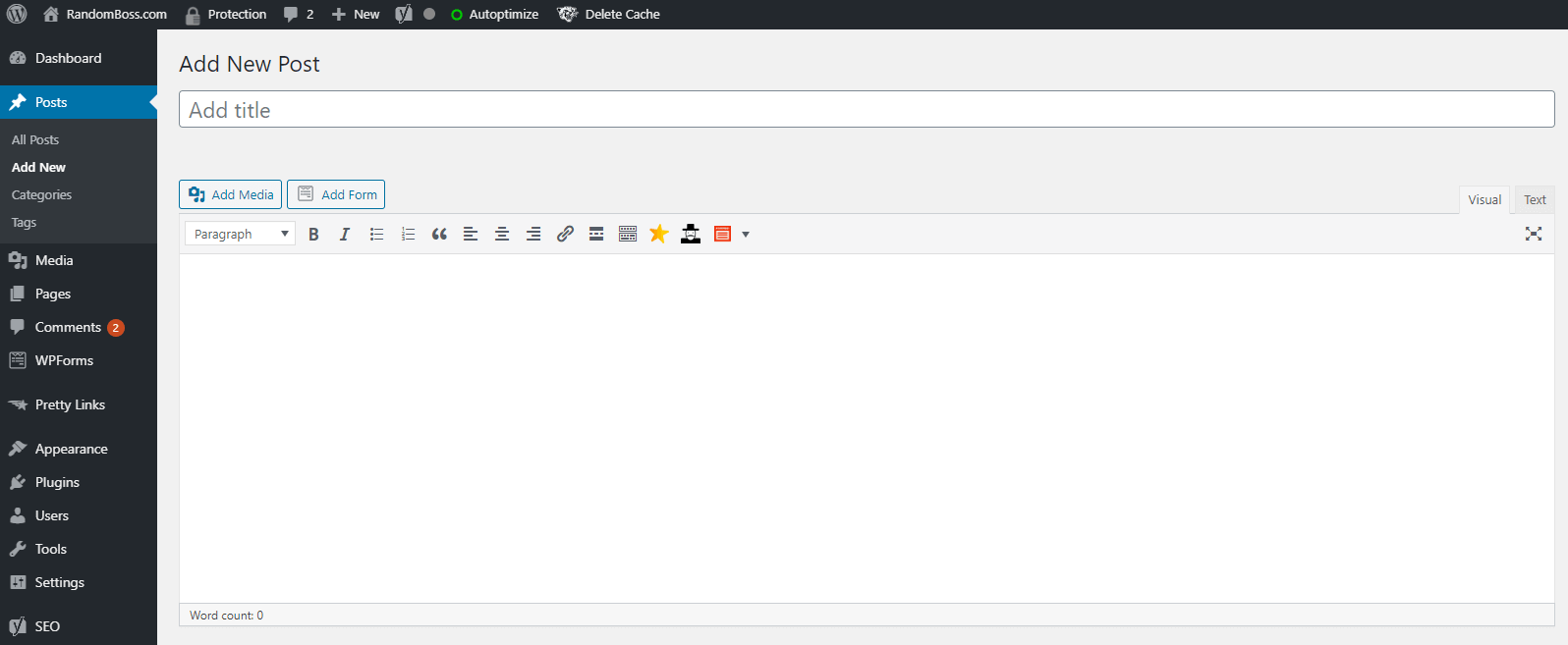 After the content is done, you need to create a category for a certain topic.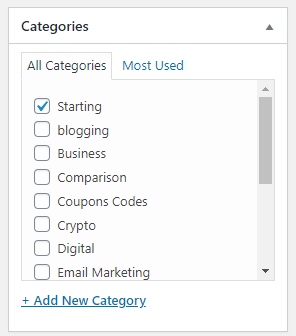 You can add a category by clicking on + Add New Category, and once you're done hit Publish.
Note: Only do it for those who don't have a target category.
Some categories that you can make:
Music Festival
Songs Reviews
Industry News
You can also install the Classic Editor plugin to easier write your posts.
Congrats on learning How to Start a Music Blog successfully!
6. Monetizing
Everyone is eager to make money instantly, but at the start, you should be a bit patient. You can monetize your science blog with display ads, affiliate marketing, Amazon associates, membership, courses, selling physical products, selling ebooks, selling music, selling beats, and many more.
Display ads and affiliate marketing may be the best profitable for most bloggers depending on your traffic. If you are able to get 50,000 visitors a month on your blog, with display ads depending on the network you are using, you can get up to $40 per 1000 visitors. That can be $2,000 profit only with display ads.
Focus on writing quality content, promote it on your social media, and visitors will come. Google will start ranking you for low competition keywords if you write high-quality posts.
If you wanna hunt for low competition keywords, check SEMRush, it is the best tool for bloggers.
How to Start a Music Blog – Conclusion
Pick the domain name
Get Hosting (BlueHost)
Install WordPress
Install Theme and Plugins
Add a few pages
Add your first blog post
Start Monetizing
Congrats!
[bctt tweet="Learn how to start a music blog successfully with no coding skills required." via="no"]
Hopefully, this blog post on how to start your own music blog helped you kick-start your blogging journey. Blogging is great to start and work on the things you actually love working on.
Starting a music blog is an interesting topic where you can meet a lot of similar people like you. Also, you have the benefits to work on your own time and schedule once you start being profitable.
If this post helped you learn how to start a successful music blog, share it with your friends on your favorite social media down below. Let me know if you found this guide informative in the comments below. For more tips on blogging, click here.
Don't forget to bookmark my blog to get the latest updates for bloggers.