This is by far the most extensive guide on how to start a wine blog step-by-step. Have you ever thought more than drinking a glass of wine? What if you drink a wine, and give reviews about that?
You know about the wines, their tastes, the companies, their flavors, and their prices and places so why don't you just make a blog and show people all about wine.
People wanna read more about wines. You can also attract a large audience with the help of a blog. If you want to start a wine blog and there are many questions in your mind regarding this, then you are in the right place.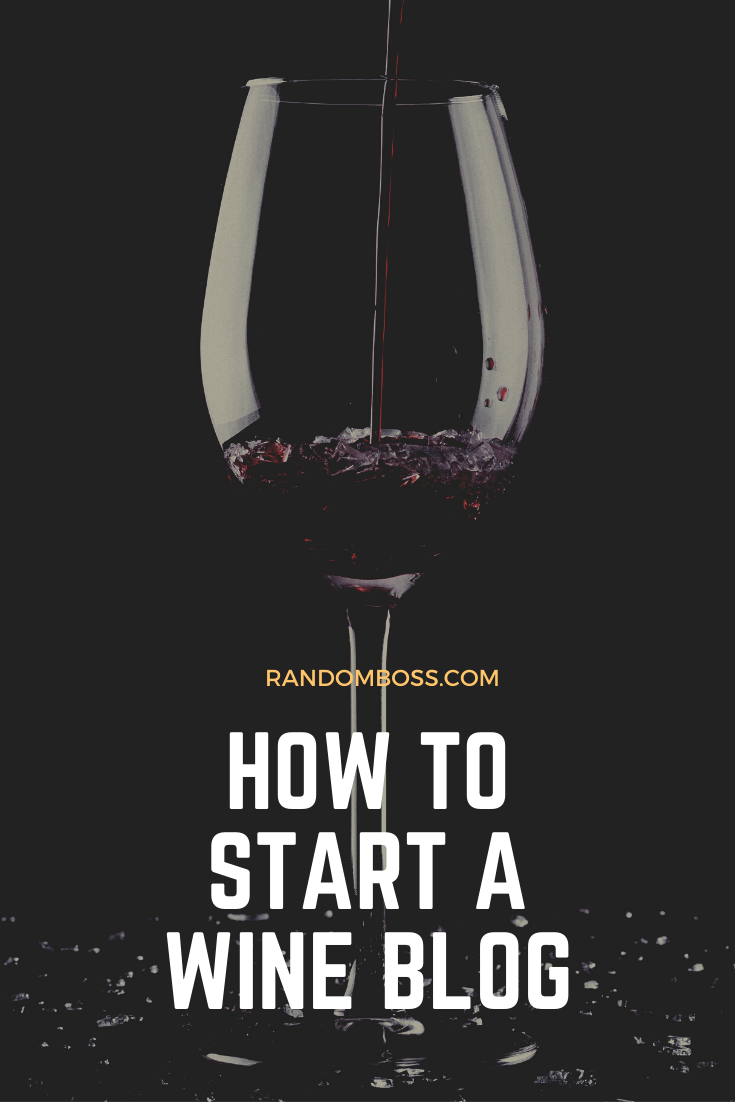 In this blog post, I will show you all the ways and I will answer all your questions regarding "how to start a wine blog?". Yes, you can build a great reputation online telling visitors more information about every wine brand out there.
Starting a wine blog is much easier than what most people think. Thanks to technology today, you can start a blog without any coding skills required.
The 2 ways you can start a wine blog are free and paid. I do not recommend the free method because you will not have full control over your blog. It will be a subdomain to a platform like Weebly.com or Blogpost.com. It will have ads all over it (which you won't get money) and it can be easily shut down if you break their TOS.
The best way for starting a wine blog is trough getting your own domain and hosting. This is a method to teach you how to start a wine blog the right and successful way.
I will also show you the ways you can do to market your blog. These are the most important things for starting a blog.
Narrow down the Niche
Some people see wine as a glass of drink, others like specific wine and color, and some people like you want to start a blog and talk about different wines. Blogging is fun and wine is a topic that is full of fun because you have to write and experience the thing which you love and which you drink very often.
Now coming to your niche. Niche is the specific topic that you write and the audience wants to hear about that. Now you have to select your niche. Wine is a general topic and it has many specific topics such as wine tasting, wine manufactures, top wine-producing companies, and experiences of drinking wine. You have to select one from these.
Your wine blog topic should be the topic in which you are interested and you have to develop the interest of the audience.
1. Getting a Domain and Hosting
What should be the name of your blog? It is very important because it attracts the audience. It should be simple and easily reachable for everyone. The name should be sweet enough that people feel good when they are speaking it, or writing it.
I know it can be tricky to find a good name, but make sure it easy to remember and catchy, but I highly recommend getting the .com for it. Please avoid numbers, hyphens, and other special characters. It should represent your blog highly.
What about hosting?
Getting a hosting that has a great loading and uptime is crucial for starting a wine blog that will be successful in the future. A slow site will result in drop in rankings and visitors leaving, that's why you need to start with an affordable host and do a bit optimization for your site.
Usually, a domain name could cost up to $18 per year, while a web host can cost up to $10 that you can store your data in it. I know it is a bit much for some beginners, that's why I have a very special deal for you.
For as little as $2.95 per month, you get a FREE domain name for one year, FREE SSL certificate that protects visitor data, amazing security features with 24/7 educated customer support with 60% OFF on hosting. This is a deal that you don't want to miss.

When you open the BlueHost's homepage, click on Get Started.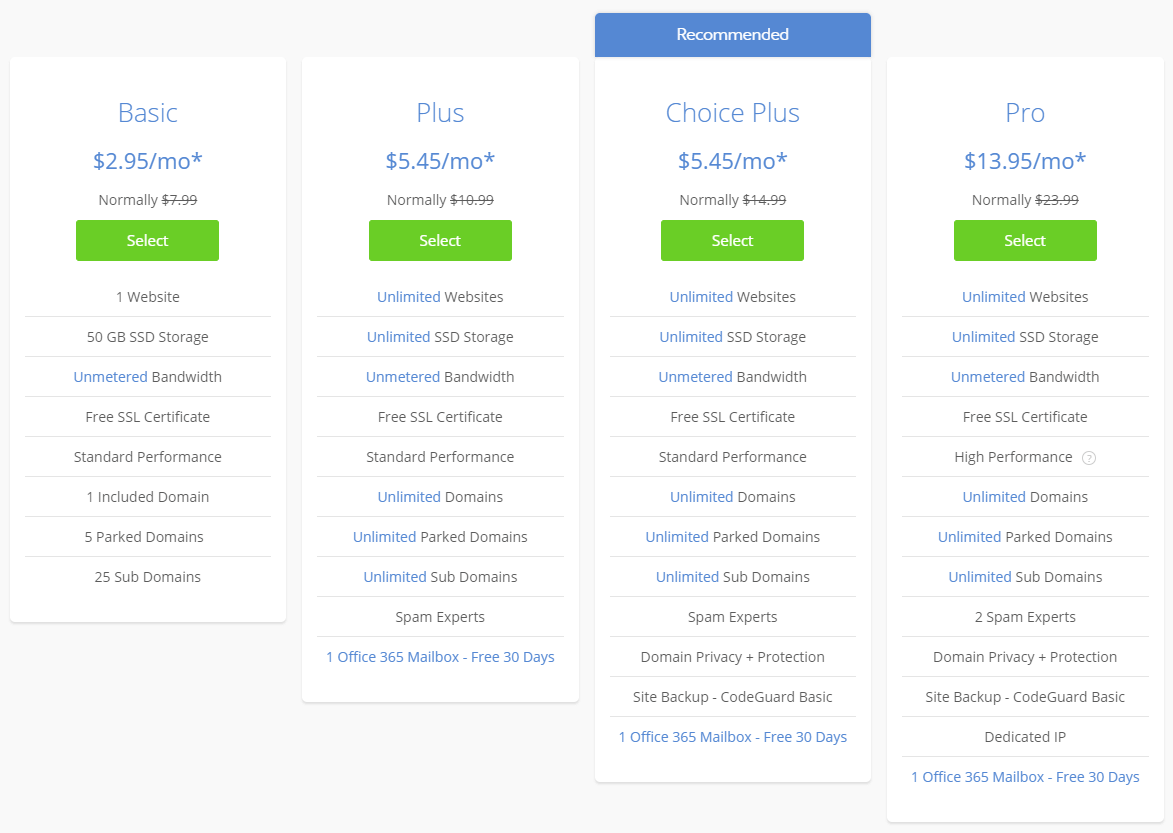 Starting with the Basic Plan
The best plan on BlueHost when you first starting a blog is the basic plan. You get 50 GB of SSD storage with unlimited bandwidth, once you reach 25k visits a month you can always upgrade to a bigger plan without any downtime.
The 36-month deal will give you the lowest price of hosting, but if you are on a budget, you can choose the 1-2 year plan but the prices will increase slightly.
Worth noting is that BlueHost has a 30-day money-back guarantee, which makes a phenomenal deal for you to start a wine blog.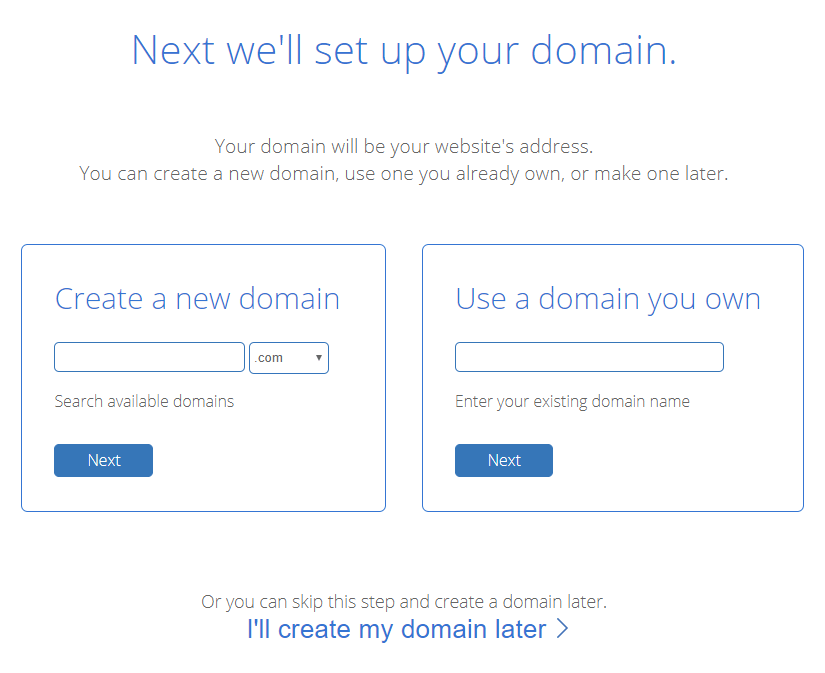 The next step is to fill the domain name of your wine blog, or you can choose to skip and add it later.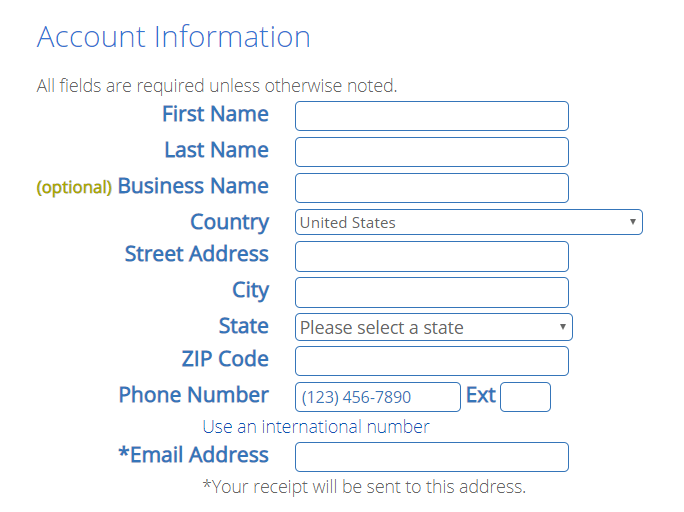 Fill your personal information and if you can grab domain privacy. It will avoid calls from people that wanna help you with SEO and promotions with your blog. If you are on a budget, you can skip this and always add it later.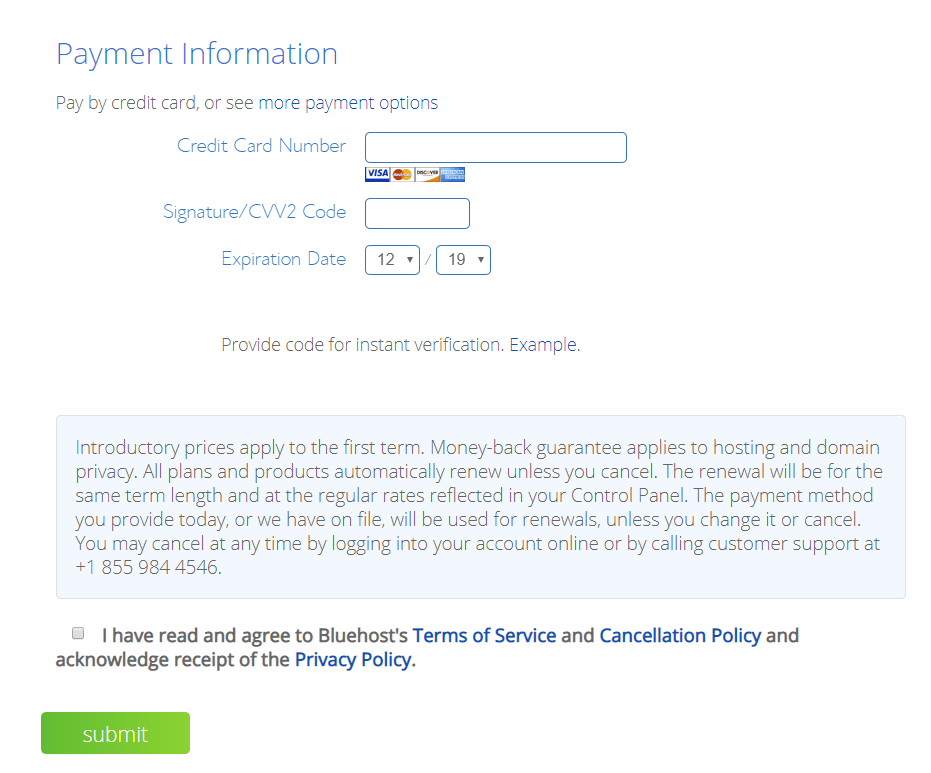 Now you need to agree with BlueHost terms of service and hit the Submit button.
Congrats on learning how to start a wine blog!
The next step is installing WordPress (CMS), and BlueHost makes this step much easier.
Disclosure: Please note that some of the links are affiliate links and at no additional cost to you, I'll earn a commission. When you purchase hosting using my affiliate links, they compensate me, which helps make this guide free of charge to you and ensuring you get the best possible deal. I only recommend services that I've personally used and stand behind.
2. Installing WordPress
After payment is completed, you need to pick a basic theme and click Start Building.
WordPress is the easier and the most beginner-friendly CMS (content management system) out there, and you can optimize your content so easy.
After a minute or two, WordPress will be installed. If you wonder how to log in, type the following in the address bar domain.com/wp-admin. For my blog, would look like randomboss.com/wp-admin.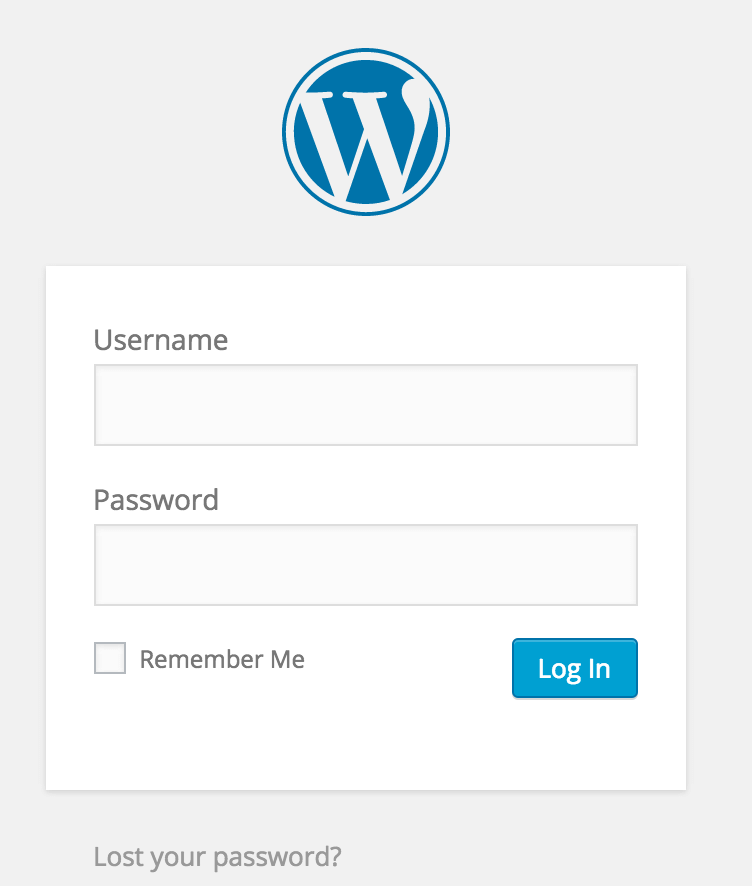 Straight from the getgo, I recommend changing the permalinks. You can do that by going to Settings -> Permalinks, and change them to Post name.
Now your wine blog will be more user-friendly and readers will be able to navigate easier.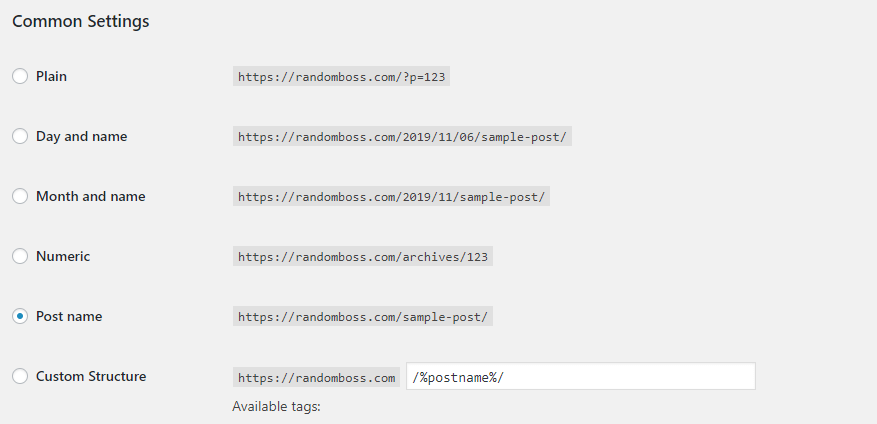 One example could be yourblog.com/wine-post is better than yourblog.com/2025/01/01/wine-post.
3. Install Theme and Plugins
If you want to have a fast blog you need to install a theme and plugins that are lightweight and simple. If you do that your blog will perform much better.
You can find the best FREE popular themes on Appearance -> Themes -> Add New. These themes are free to install, but all of them have PRO features. If you like a certain theme look, you can upgrade to unlock the PRO features.
There are also great paid themes, it will allow you to make your blog more unique looking, and also they are always updated by their developers.
I highly recommend StudioPress WordPress themes. If you want an up-to-date, super lightweight, and beginner-friendly theme, then look no further than StudioPress. These themes usually cost around $25-250.
Plugins
Installing the right plugins is crucial, you can find them at Plugins -> Add New.
If you install the plugins below, it will help you optimize your wine blog to have a high success rate on Google and other speed website checkers.
Plugins you should consider installing:
Rank Math: Great for optimizing On-Page SEO.
WP Fastest Cache: A simple cache plugin to clear cache and minify CSS/JS.
Grow by Mediavine: It will help your visitors to share your posts.
Block Bad Queries (BBQ): It will stop malware.
WP Forms: Amazing contact form plugin.
Autoptimize: Great plugin to help you speed up your site.
Self Hosted Google Fonts: Only needs enabling.
WP-Optimize: It will clean your database.
WP-Rocket: This is a paid plugin, and you can avoid installing WP Fastest Cache, WP-Optimize, Autoptimize, Async JavaScript, CDN Provider, HeartBeat Control, and many more. Great plugin to optimize your blog, you can get the plugin here.
The WP-Rocket plugin is paid, all of the above are free. Most plugins have PRO versions, but the free one is great as well. I highly recommend getting the WP-Rocket if you have the budget.
Check my results on GTMetrix:

4. Adding Pages
Adding a couple of pages on your site will result in more trust by your readers, and you need to add simple pages like:
About page
If you wanna show yourself, do a simple about me page and how you started about wine blogging. You can include your social media accounts for more relevance and people to follow you for updates on your blog as well.
Contact page
If you grow in a popular wine blogger, you will have a full inbox of people that wanna do business with you. They may want to contact you about collaboration, about wine your should review and you can also get paid for sponsored content.
How to create a contact form page:
When you open the interface, then point at Simple Contact Form, you will see a button Create a Simple Contact Form.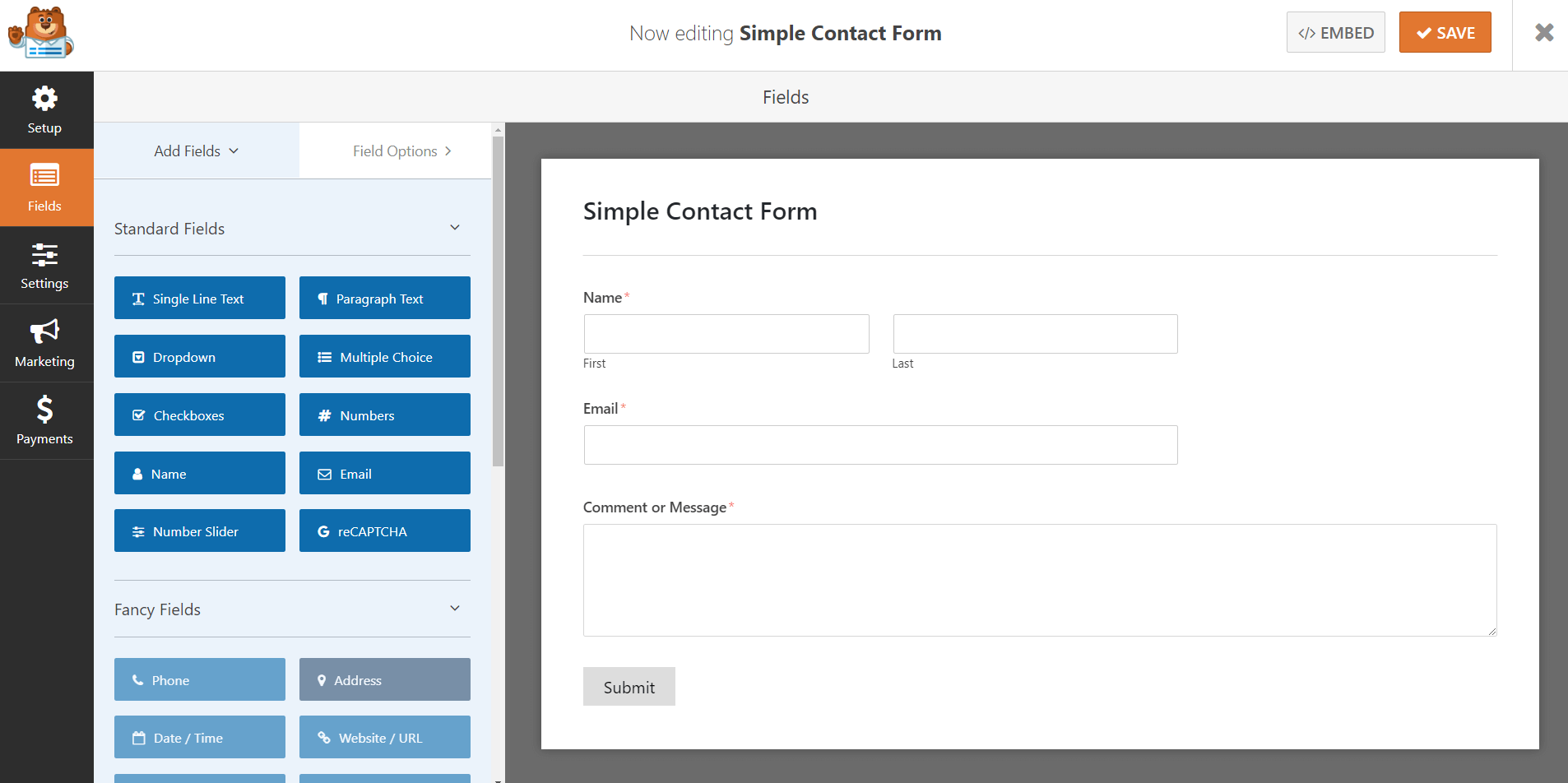 Now SAVE the contact form. Now you can go to Pages -> Add New.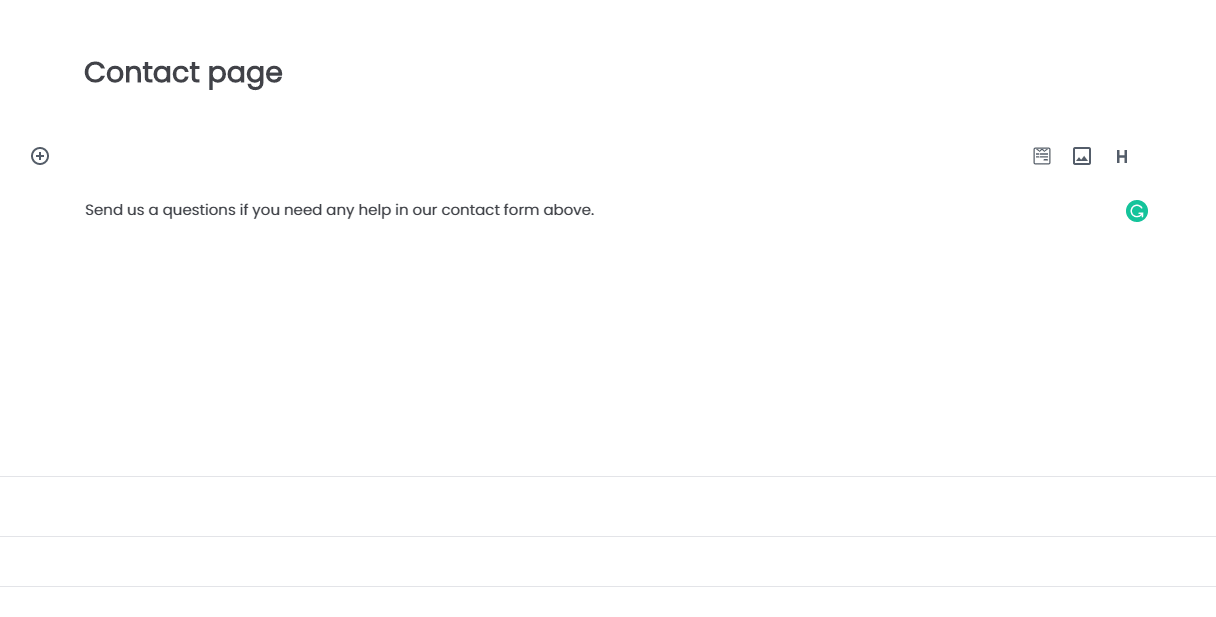 By far the easiest way to add a contact form when you are first starting a WordPress blog.
Copyright page
Do you value your content? Do you want other people to copy it? If not, you should make a page about it so no one can steal it without your permission. Also, you can install the WP Content Copy Protection plugin to disable right-click.
5. Writing your first post
The most important step is making the content. Your content should be based on reality and remember one thing, that you should not copy someone's content. The more original you are, the more you will be liked by the public.
Some people drink wine just as another beverage, some want to hear some latest news about that. Some want to know about the benefits and which wines should be avoided. Some want to get to know about the new taste and product in the market. Some want to drink many new colors and many more.
Your content should be based on the above-mentioned things. You have to write every new product that comes into the market, you have to give your reviews. If you want to make vlogs, then make them on the wines.
It is important to be yourself, make powerful headlines and something like this to help you to judge a headline score. Don't make the headlines clickbaity, because it can result in high bounce rates. Google doesn't like this.
For more free-royalty images, check Unsplash and Pixabay.
For blog ideas on what you should write, you can use SEMRush, it is one of the best tools to give you low competition keywords around 1k monthly searches with low competition.
How to engage your audience?
People want to see something interesting. You can add some brilliant ideas like drinking wine on a tour with friends. Drinking wine in summer and winter in the snowfall.
You have to capture some artistic and great photos of the wines from different angles. You can capture your own pictures with some poses with wines and give a challenge to the audience. It would be full of excitement. You can also announce giveaways people will enjoy that too.
Your content should be error-free and you have to provide relevant content. You can use interesting language so the readers read your every post. You can add some detail about the flavor for the people who want to read in the "see more" section. You can share your daily life experiences and can catch the callers if you are doing a podcast to share their experiences.
How should to grow your audience?
After you are done with everything, the last step is of growing your blog in an improved way. You have to make your blog up to the mark that you do not find the audience, but the audience will find you. The following tips will allow you to get more exposure:
Quantity over quality: The very first thing in the start that is considerable is you have to post consistently. The public will be more engaged if they see you working consistently. Once you are consistent with uploading, then work on your quality and make it better.
Collaboration: This phrase is a must if you are going to start anything. You have to collaborate with other wine bloggers and daily life bloggers. This world works on the rule of "Give and take". So, you have to take some benefit from this. They will feature you in their blogs and give your shootouts. You can get the guest posts on their blogs for free and you need to utilize it. You can also call them for a podcast and take an interview. People like unity.
Communication with the audience: Always allow constructive criticism because it will help you grow and learn from mistakes. You have to communicate with your readers. Answer them if they are asking anything. Reply to their messages and comments. You should be grateful to them for their presence.
Make a schedule on how you wanna post on a weekly bases and stick with it. After a while, you will see visitors coming in.
To write your first post, point at Posts at the left side of the dashboard and click Add New.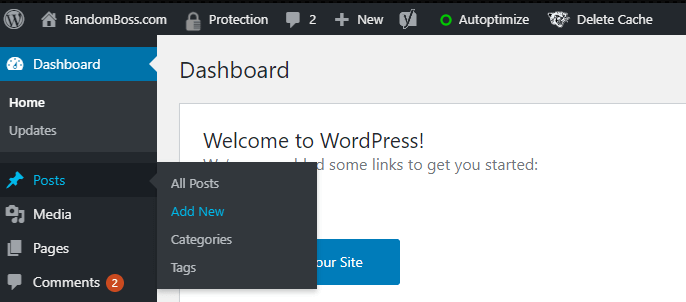 The content and headline should be written on a screen like this: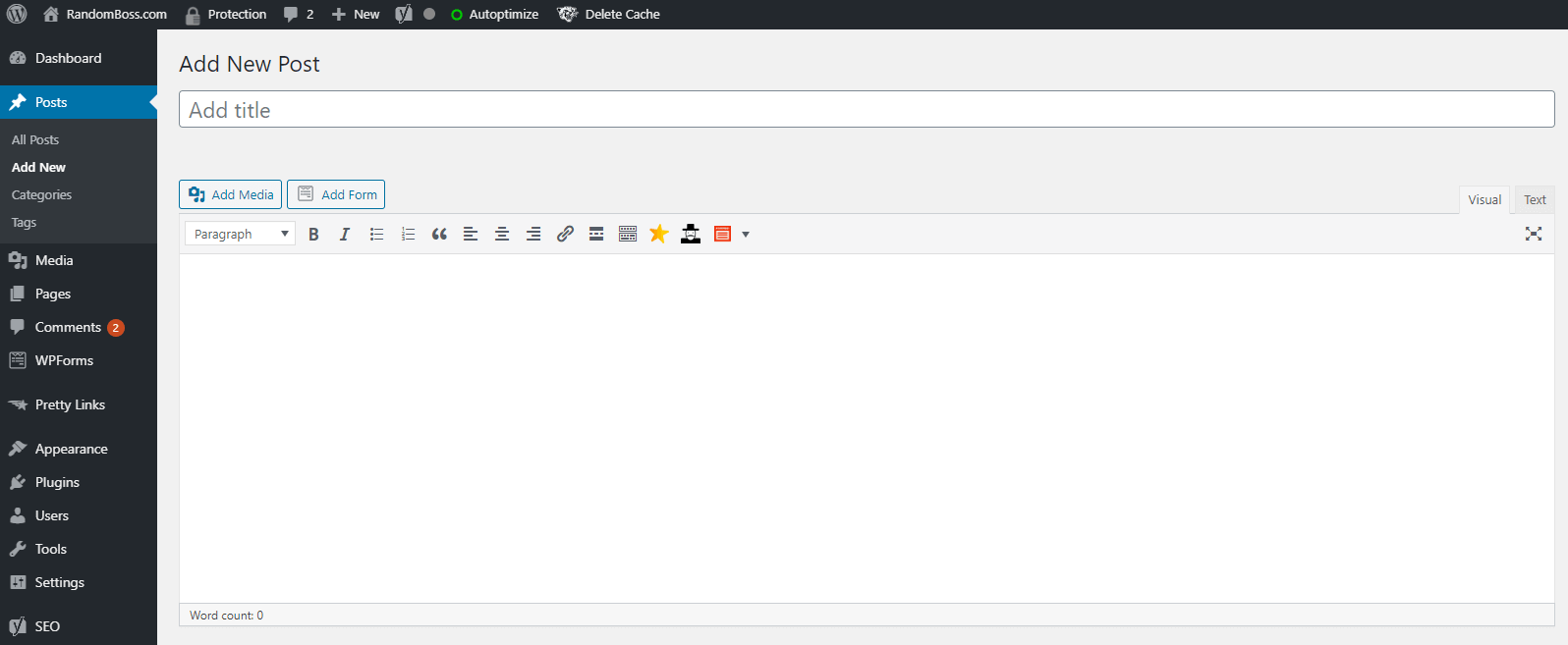 After the post is done, you need to create a category.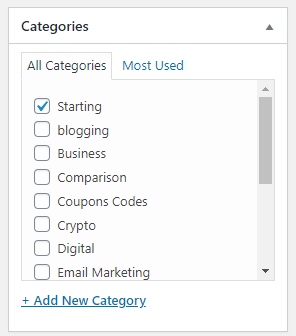 To add a new category, click on +Add New Category, and after you created it you can tick the box and hit Publish.
Note: Only do it for those who don't have a target category.
You can use the Classic Editor plugin to write posts easier.
Congrats on learning How to Start a Wine Blog successfully!
6. Monetizing
Ah, everyone is searching on how to make money blogging once they have started a blog. You can monetize your wine blog with display ads, affiliate marketing, Amazon associates, membership, courses, selling physical products, selling ebooks, and many more.
Display ads and affiliate marketing are one of the most profitable and depend on what kind of traffic you get, you can earn up to $40 per 1000 visitors with both methods combined.
50,000 visits a month could result in $2,000 earnings for you. This is very possible, but you have to work hard if you wanna get to this level.
Write more content about your blog, promote it on your social media, and visitors will come. Google will start ranking you for low competition keywords if you have good informative posts. To hunt down those low competition keywords, check SEMRush, it is the best for bloggers.
How to grow your Wine Blog?
Now once you started a wine blog, you need to know more about the essential things to grow your blog and your audience.
You have to do some investments in your blog. It should be a unique and new idea that the public automatically comes to it. If you want to make vlogs and videos and share your experience when you go to different bars, then need the following things:
A camera, not a phone camera but a mirror camera will work best for you.
A mic, so that the people reaching you, can hear you in a better way.
An editor to edit your videos because people want to see something new and different. You should know how to add some transitions and music in your vlogs.
If you are going to write about the wines, and share your experience through your words, then you have to buy a picture camera. You also should know how to edit pictures.
You also need some investment in yourself. It means you have to buy different wines, taste them, and write content about them. You have to visit different bars and places which offer wine. You have to buy wines from different companies and show the audience which one is the best.
There are many sites on which you can promote your content and increase blog traffic. The top three are Facebook, YouTube, and Instagram. These three are different from each other and you have to select on the basis of your content.
If you are making vlogs and videos or doing podcasts, then YouTube is best for you.
If you want to take pictures and write content about your experience, make short videos, then Instagram is best and suitable for you.
You can use Facebook if you want to stay connected to the world and do some extra sort of stuff and both related to videos and pictures.
Note: Instagram is best for the highest audience engagement, YouTube works really great for informative content and Facebook is great if you wanna get personal with your audience.
How to start a Wine Blog – Conclusion
Pick the domain name
Get Hosting (BlueHost)
Install WordPress
Install Theme and Plugins
Add a few pages
Add your first blog post
Start Monetizing
Congrats!
[bctt tweet="Learn how to start a wine blog successfully with this complete guide. 🔥" via="no"]
Building and staring at a wine blog is not that easy, but it can be if you work smartly. You just have to use your mind to bring many new ideas that people want to hear. You have the talent and you just have to know "how to put your talents out?".
Wine blogging is easy if you find yourself in it. Do what your heart and mind say. Do not write and make blogs while seeing others. Produce your own original content and soon enough you will start seeing results. You got to work on things you actually love.
Hopefully, this blog post on how to start a wine blog helped you start. Blogging is a great method to start making money if you are a beginner.
Also, the benefits are that you can wok on your own time and schedule. If this was helpful to you, please share it on your favorite social media down below, and for more tips on blogging, click here.